West Face Eiger
Sorry it took so long,  You know European travels get the best of me,  and I don't have huge red bull incentives and photographers following me around  to write every moment of my life down for you all. 🙂
So here is how it went down,  Thursday I call Miles , "hey whats going on over that way,  Should I leave La Grave, Is the Triple crown possible" The Triple crown is a project that Miles and I have been talking about for a couple seasons now,  Just one of those things you have to wait for and be ready for (snooze you loose projects)  I will tell you guys about it some other time if Miles and I ever tick it.  Lets just say some of the guides I have ran it by don't think it's possible or think I am joking,  Well unlike Myself and Miles,  I don't think those other guides ski as much as we do 😉 and the Triple crown was missed this year, but not forgotten.
So back to the story,  "Miles what do you think,"  Miles lives in Chaminox with his Wife Liz Smart  who as of recent,  in fact pretty much days before the Eiger received her Pin and is now a full cert UIAGM/IFMGA mountain guide,  Congrats Liz and welcome to the club. She was pretty much almost getting off the plane back from Canada and her last exam as we were leaving for Grindlewald.
Miles got some beta from a friend that had just climbed the North Face, (Nordwand)  and came down the west face and said it looked good.  Thankfully it was reliable beta from another guide,  It's funny what kind of beta tends to get passed around amongst the locals and the ski bums in La Grave,  so you really never know until you get there and see for yourself,  You just have to speculate and have good theories and then get there and support them with your own eyes.
Miles ended the conversation with "It's Good to go,  Let's go tomorrow",  having waited patiently with aspirations for this objective for quite some time,  I dropped everything and packed the car.  I had a house full of friends from Norway too,  So I wasn't being a good host.  That night there was a raging bar b cue party on the river campground too that pelle was throwing for his wife's birthday party.  So I tried to contain myself .  Despite a big party night, and my usual dose of campfire cocktails, I was in at about 01:00 in the morning and set my alarm for 05:30.  Everything went like clock work,  I was in Chamonix at 10:30 and jumped in with Miles and Liz,  we were in Grindlewald at 15:00 and ready to catch what we though would be the last train to the Eigerglacier.  We unfortunately missed the last train because we were reading a summer schedule,  so the train left us 300 meters below our hotel room 🙁  It turned out being quite nice to skin the 300 meters up to the room though , as I had been in a car since 05:30 in the morning and moving the legs was a good thing.
The view from where the train dropped us. North and West respectively!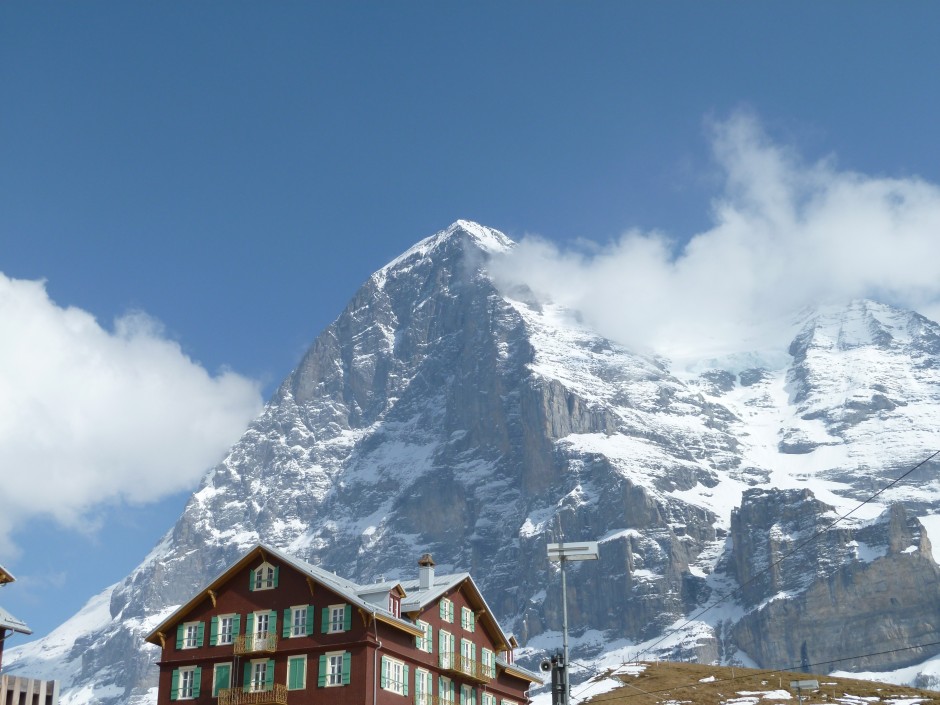 Liz was quite tired and still jet lagged from the transition over to this side of the pond,  so she got some rest while Miles and I skinned up about another hour or so to inspect the entrance slabs and see what kind of problems we might encounter in the early morning. This was the approach.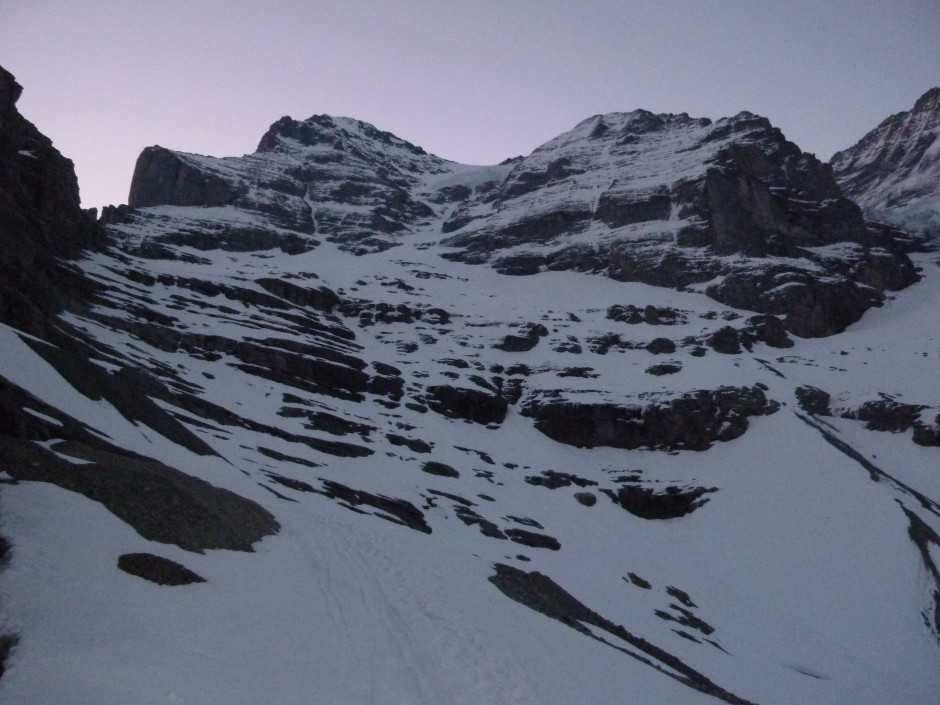 Miles up above the first slabs and negotiating more of them.  A few fixed lines, but it was possible to skin around all of the slabs and weave a skin track through the small maze.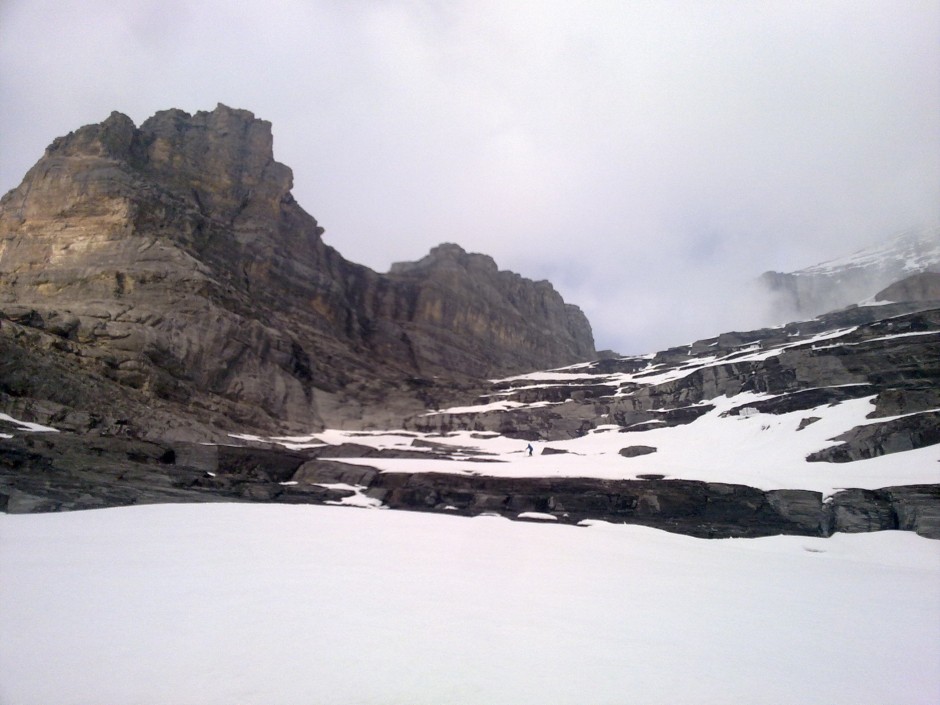 Top of the first slab and fixed line.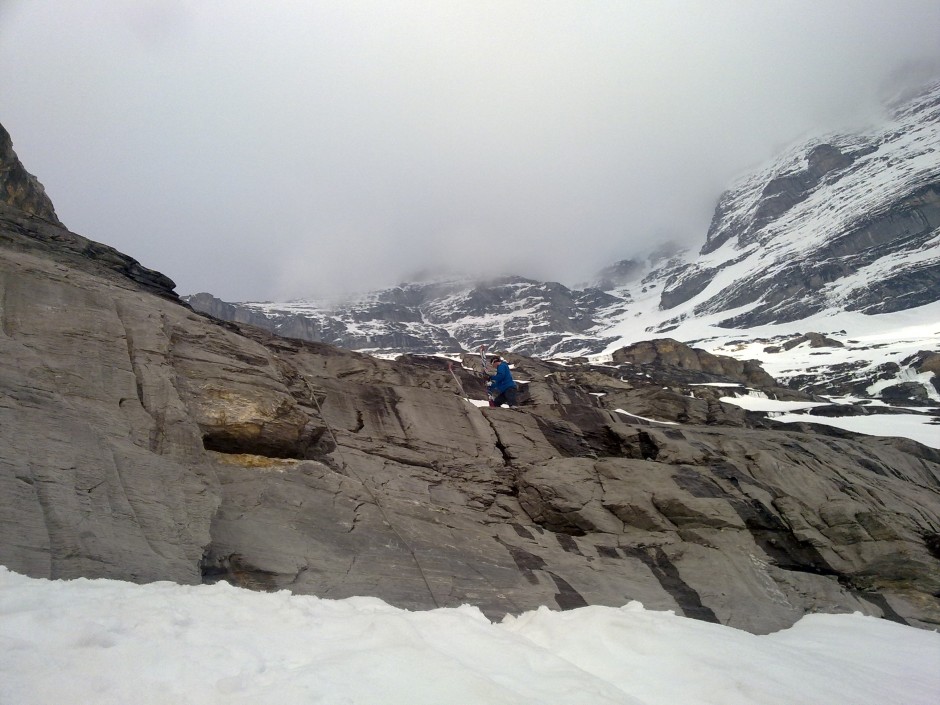 Descending back down to the Hotel room for a good nights sleep and stoked for the morning.  We actually got a few good corn turns in here and a  nice warm up.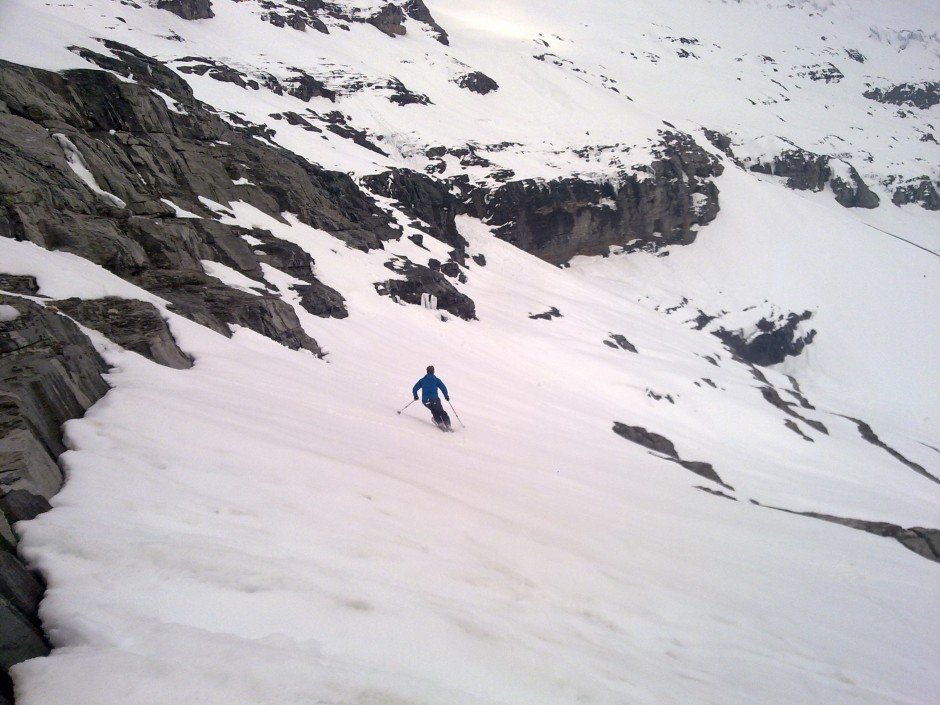 Miles doing some freeriding on the lower west face of the Eiger at sunset.
loving the view.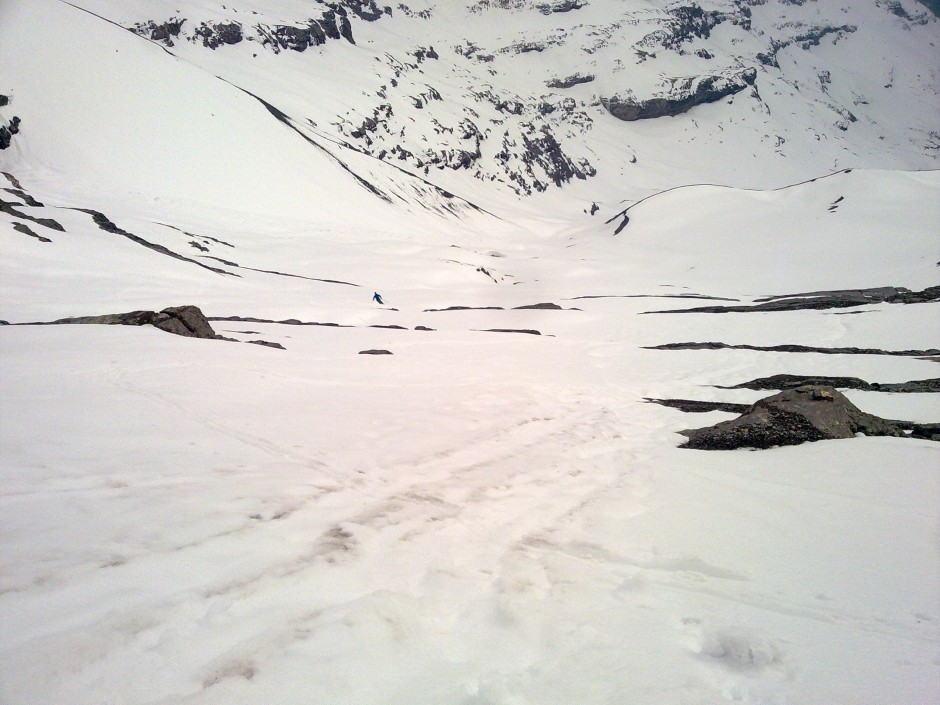 Bright and early,  well not that early 06:00 after a nice night in a bed.  So nice to sleep at a bed up in this zone.  It was funny to see all the climbers outside sleeping in bivies and dirtballing it.  I am glad we flipped the coin for the beds.  40 swiss franc a person gets you this.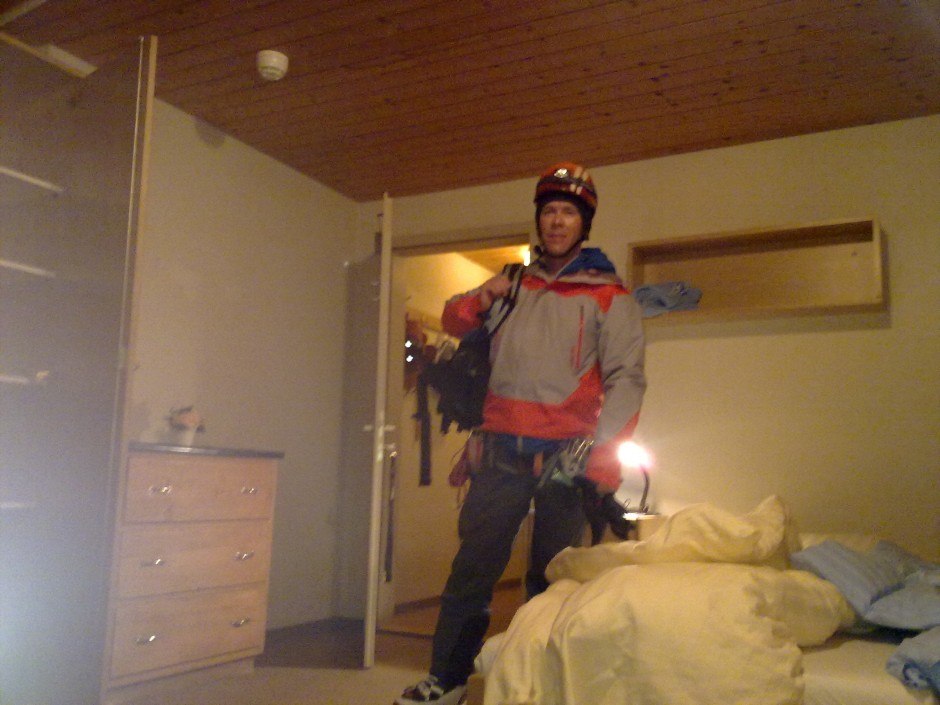 Liz looking fresh and stoked.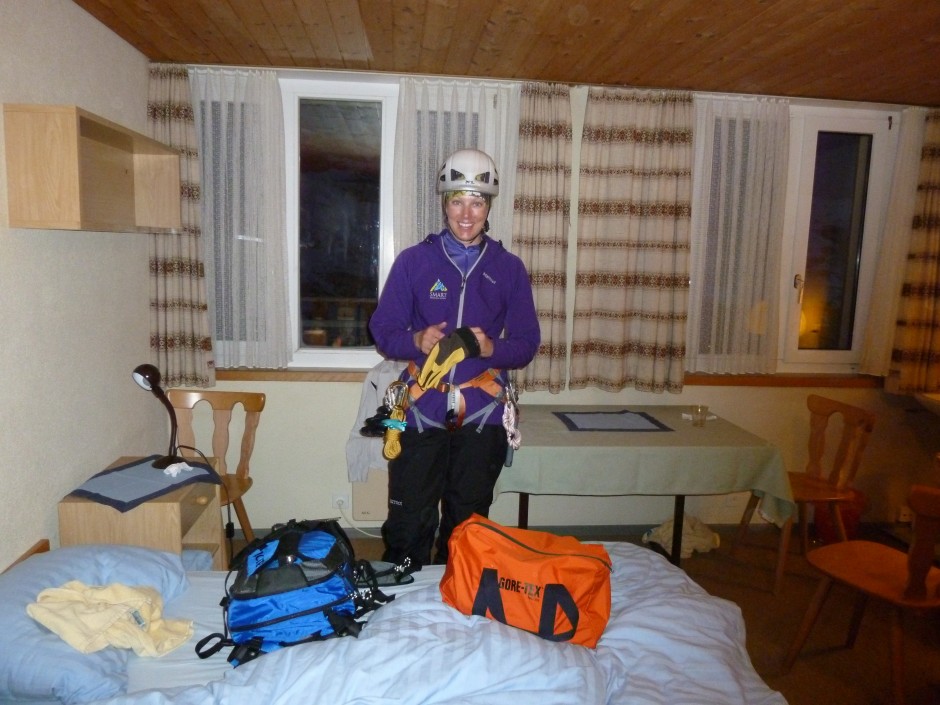 The view outside in the morning,  Miles looking pretty happy and it's only beginning,  The short video to follow is kind of pointless, but I think its funny,  Just Miles standing speechless and me walking into the shot kind of speechless as well.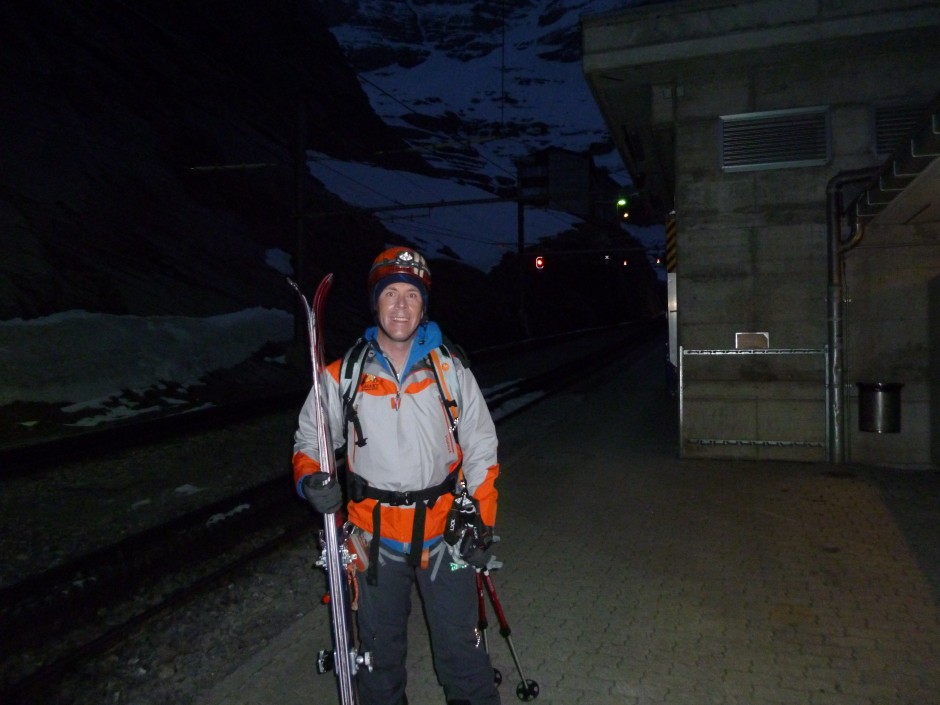 Starting the skin.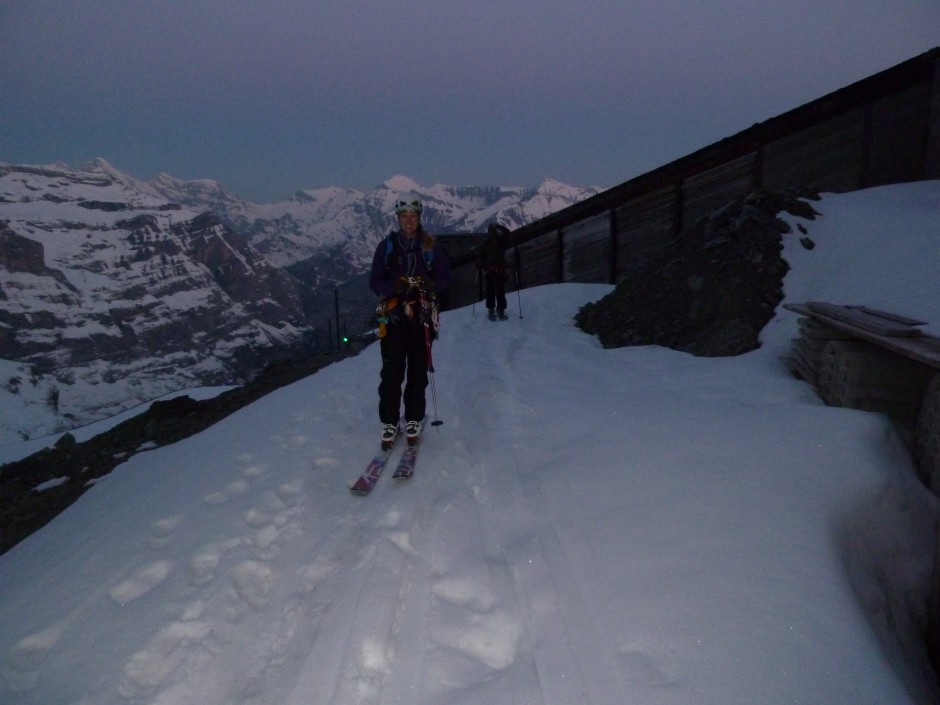 The first 15 minutes of any day sometimes 30 minutes or more usually sucks, but this felt good from the get go,  I guess when there is no miserable walk in the dark approach in the morning,  and you start at the business, your psyche tends to be a little different,  We were all stoked, the team, energy and communication could not of been any better.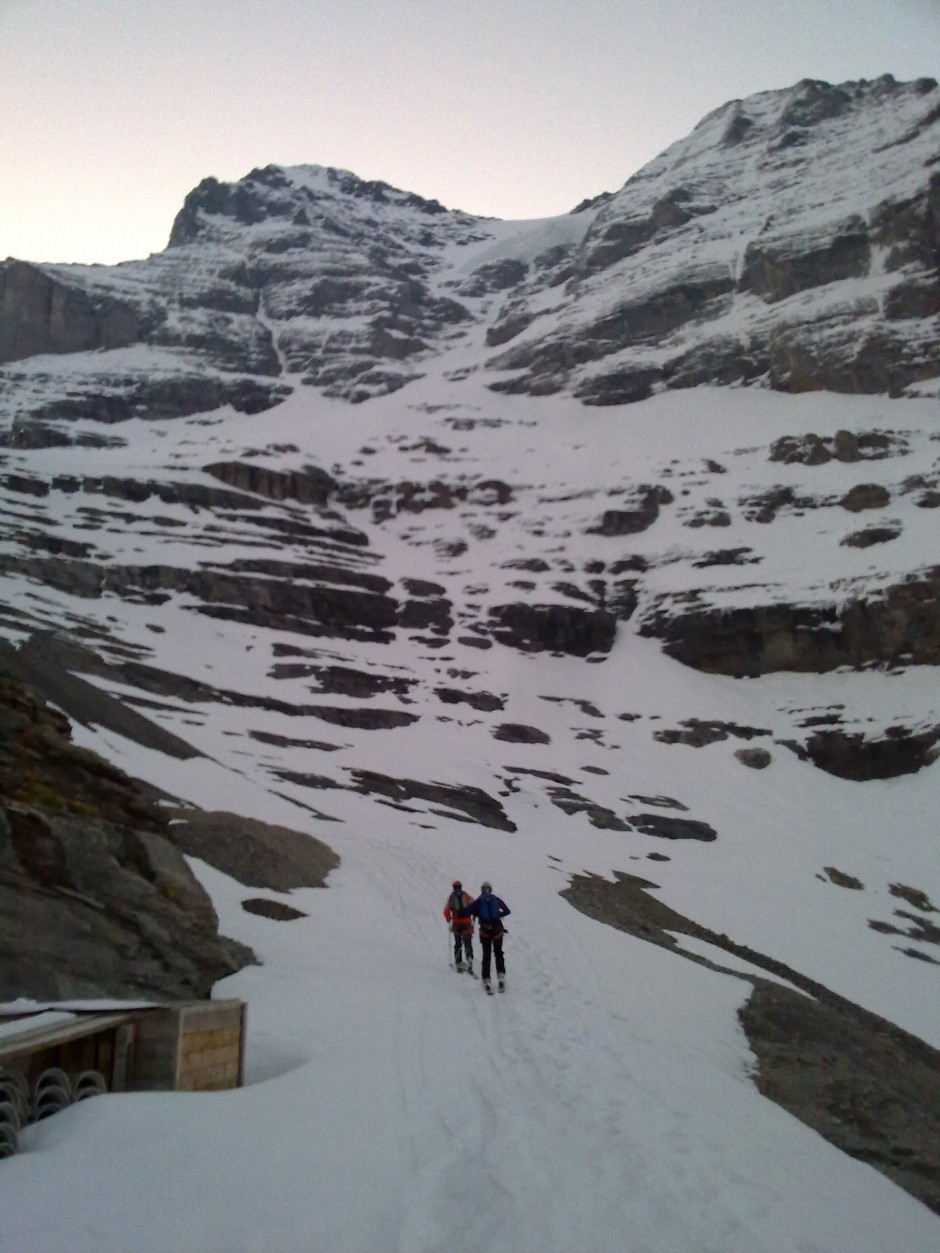 The setting was breathtaking, surreal and exceeded my expectations in every way.  Liz demonstrating some steep skinning on frozen boiler plate.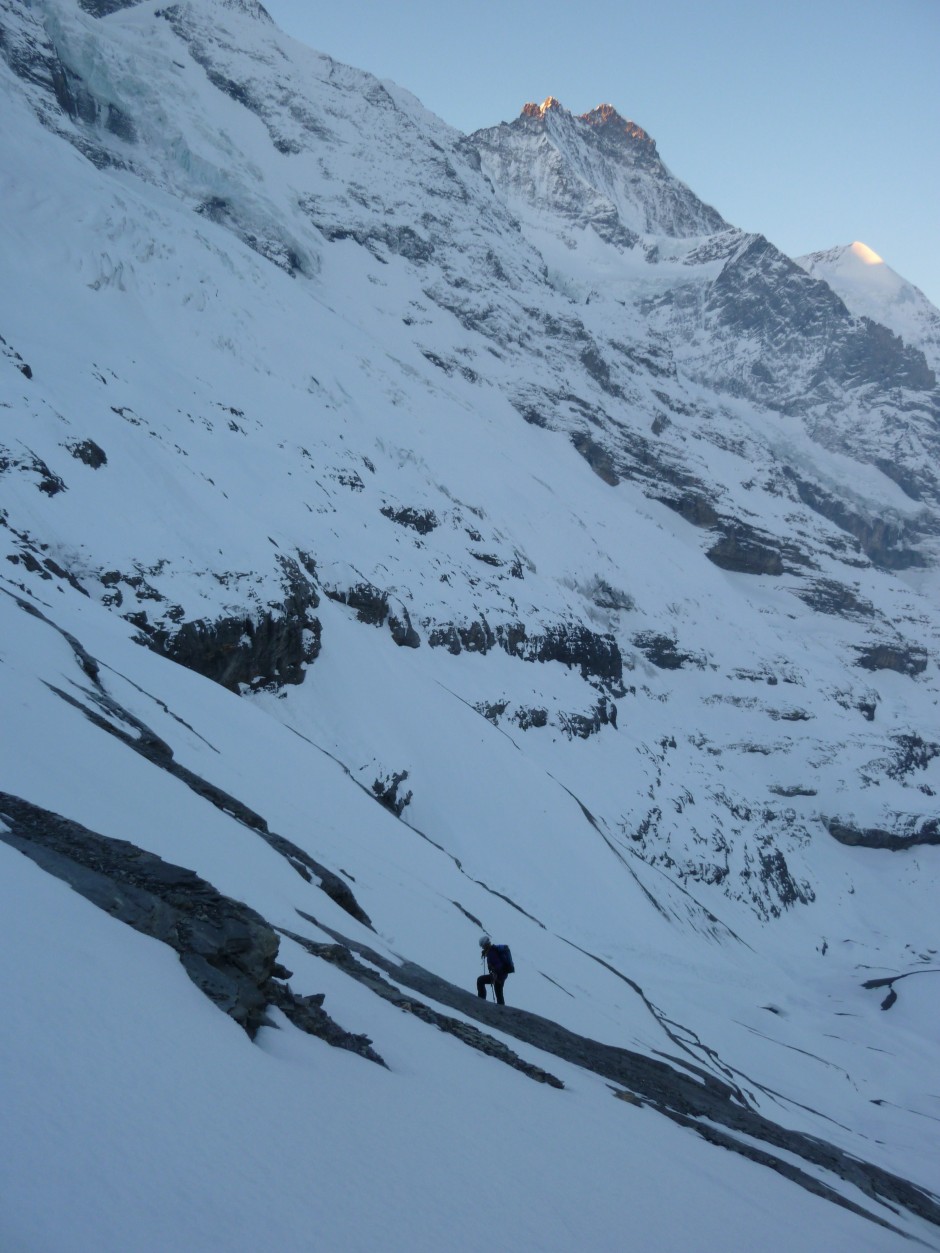 UIAGM mountain guide Liz Oakes Smart,  smiling in stride.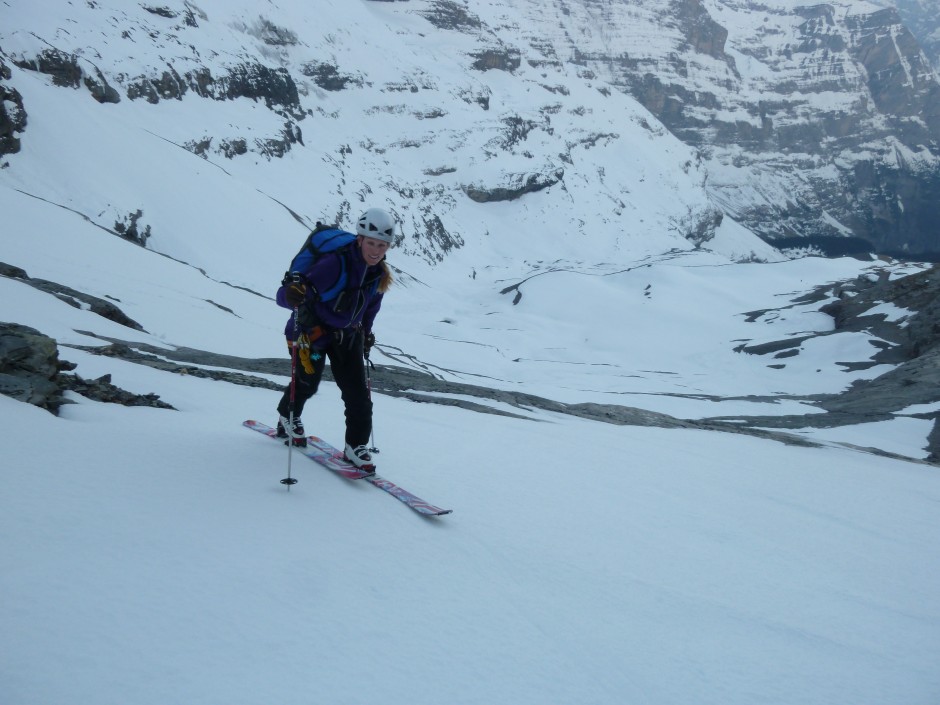 One of the biggest objective hazards of the day,  besides the firm snow, insane amount of exposure and the element of the unknown, was that giant hanger up there.  We discussed our plan of excepting to be under it but only as long as we needed too moving fast after a small rest until the hazard was below us.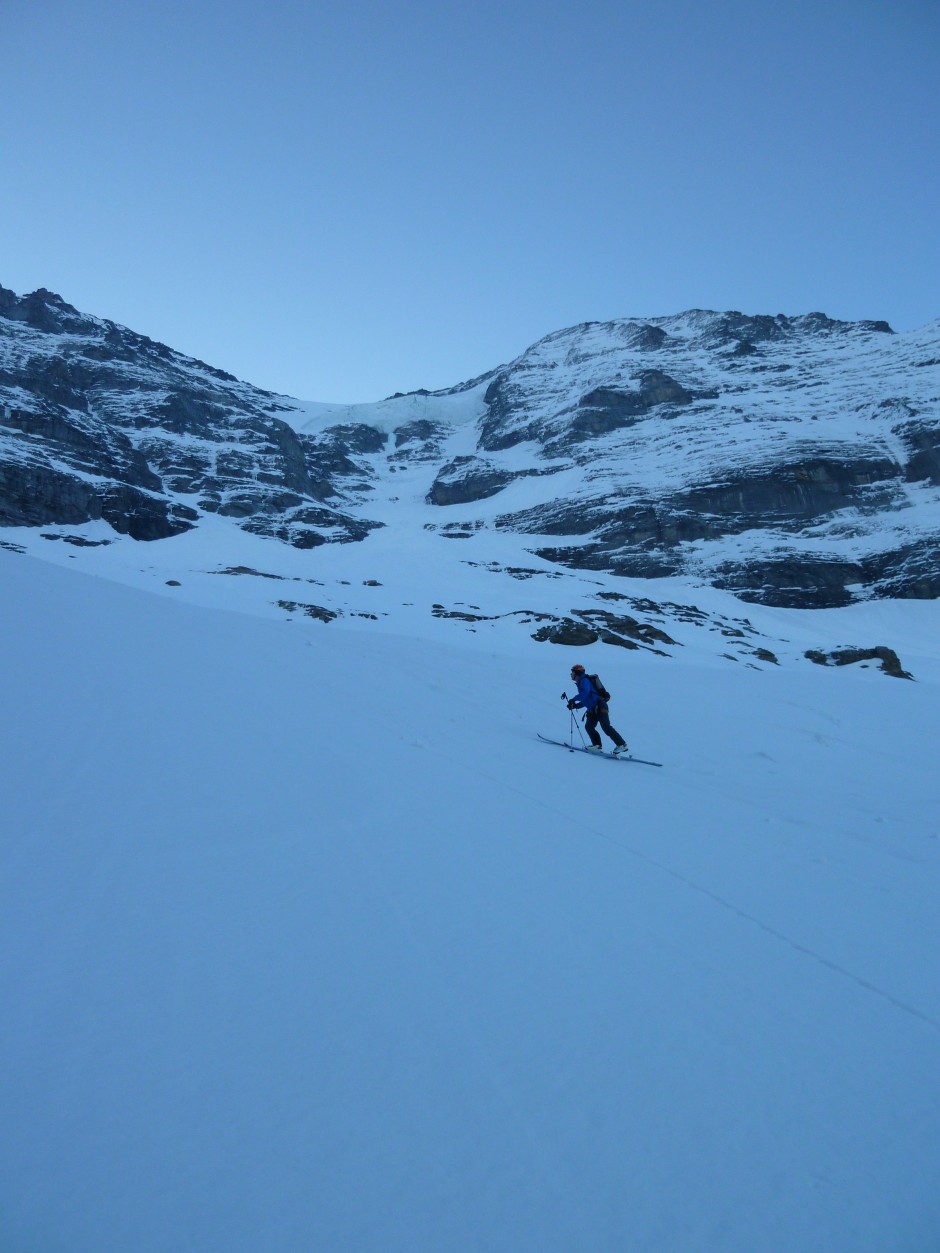 Here is me booting my way up in crampons and axes out.  I broke my dynafit crampon at the start of the skin near the slabs.  I had borrowed some from Miles and they were already broken ,  but I broke them the rest of the way 🙁  It really wasn't that bad though,  it was about the same pace to walk or skin given the steepness of the slope and the firm conditions.  The reality was that there was only about 45 minutes of skinning anyway before we all transitioned to Crampons and axes for the rest of the climb.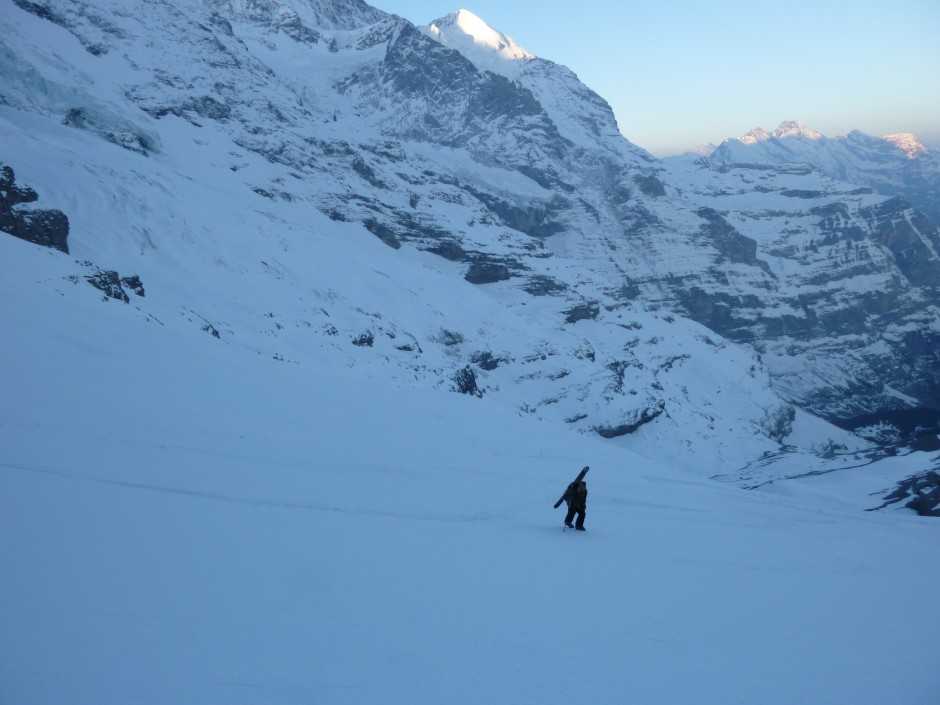 We took a nice long break after stashing the skins and still out of the fall line of the nasty Hanging seracs.  After putting on our points,  and a good rest,  it was about a 45 minute don't stop just keep moving kind of experience.  We had to be right under that monster.  I was using Jedi mind tricks, and kept telling myself "there are no seracs up there"
There were some small Ice pitches to deal with,  Pretty fun,  but the reality was we were all soloing from the moment we put our crampons on.  Not difficult climbing, but attentive and accurate footing and awareness f0r 1650 meters over 6 hours really is a test of your heads ability to deal more then the physical strength it takes to do it.
Liz and I below,  and I for the first time all day wishing I didn't have aluminum crampons.  They got the job done thanks to two axes,  but I did a bit more work with my calves then I had too throughout the day in some places given the lack of steel on my feet.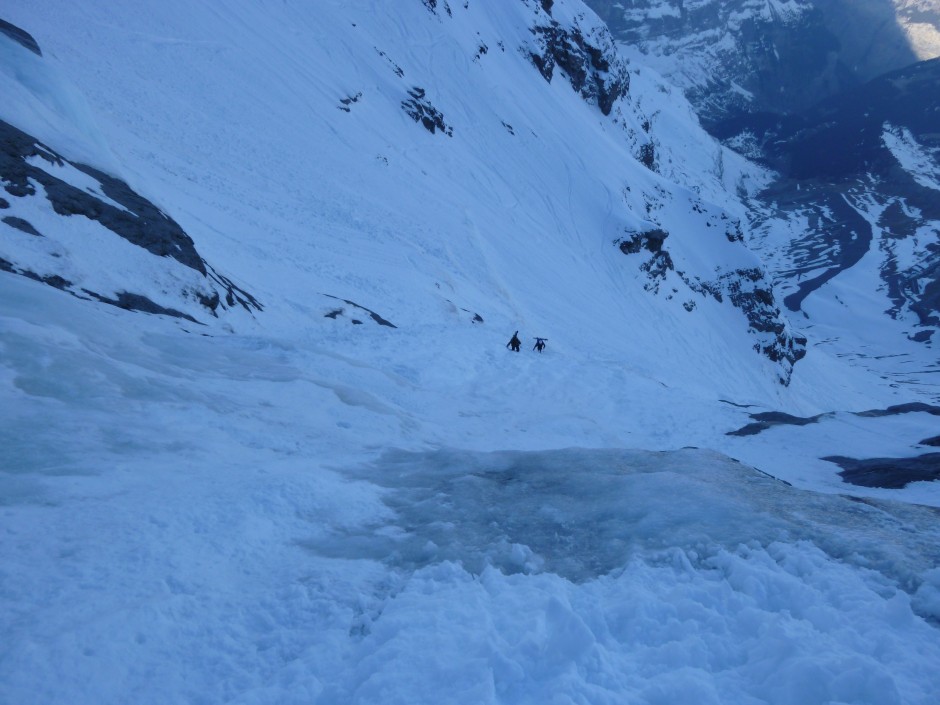 Finally pulling to the side and up close and personal with that monster.  It was active too, we never saw anything go,  but there was a nice alley of debris right down the fall line below it.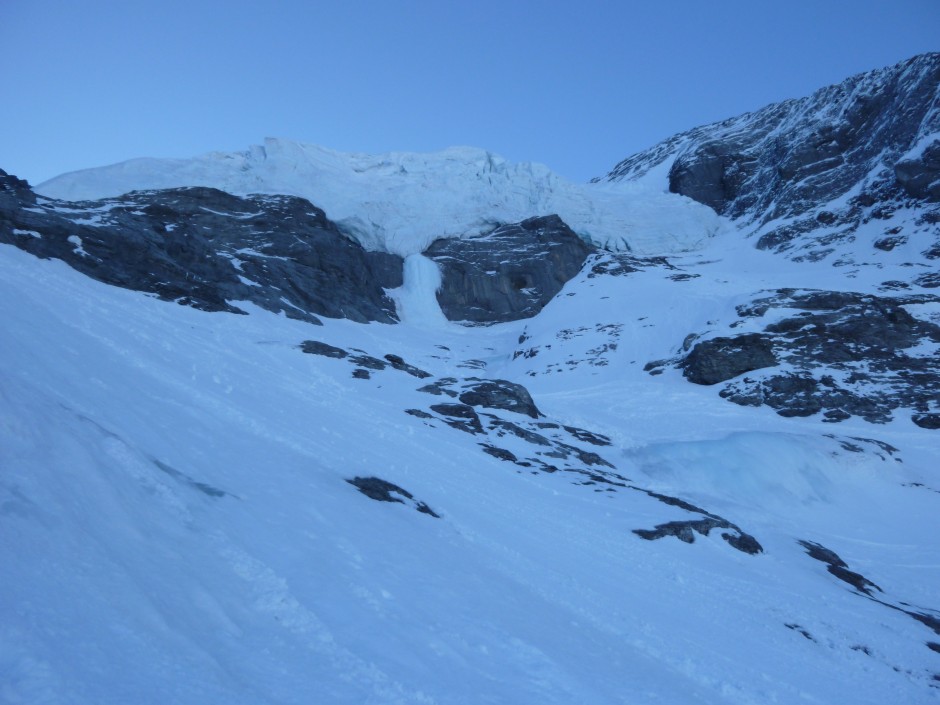 Psyched to be pulling into this zone and over our first crux of the day.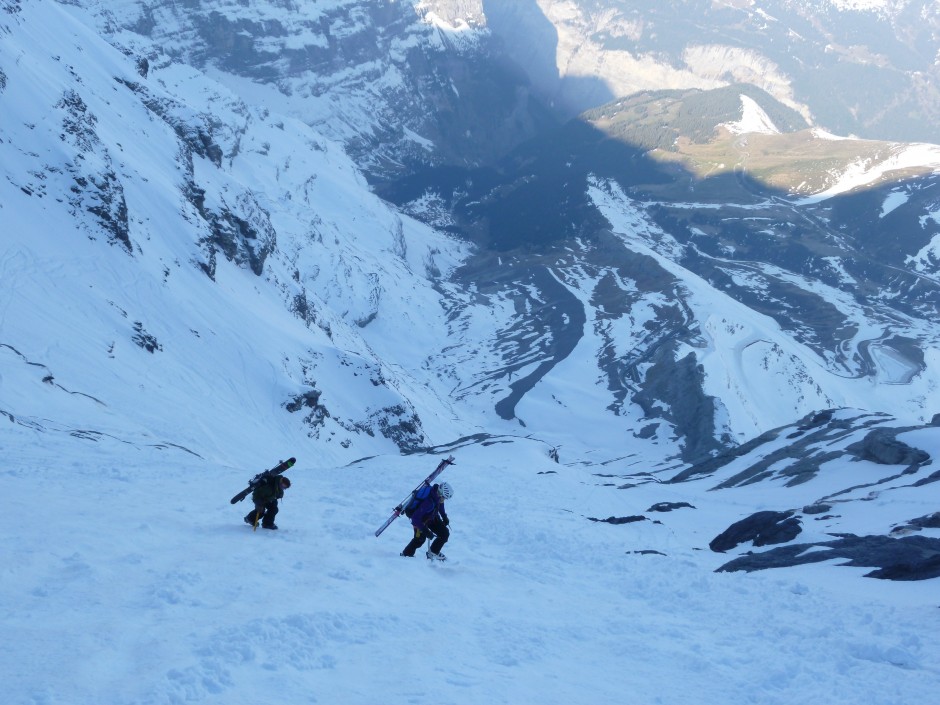 Guide Tip #137  In case of Serac fall ,  stop, duck and cover,  Works everytime, same for avalanches.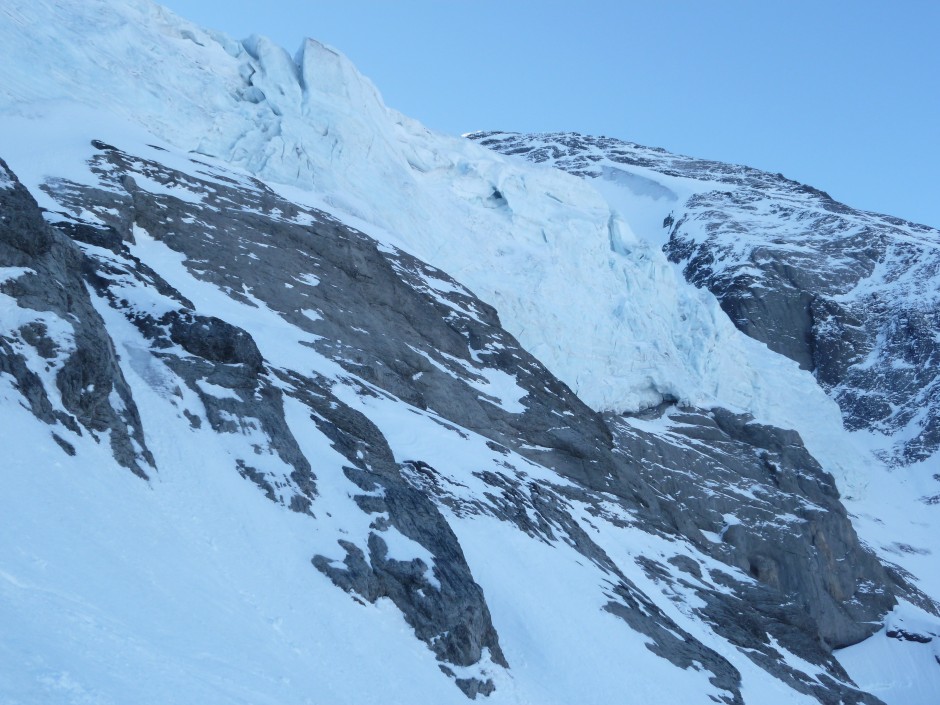 Miles looking ever relaxed in rest step position.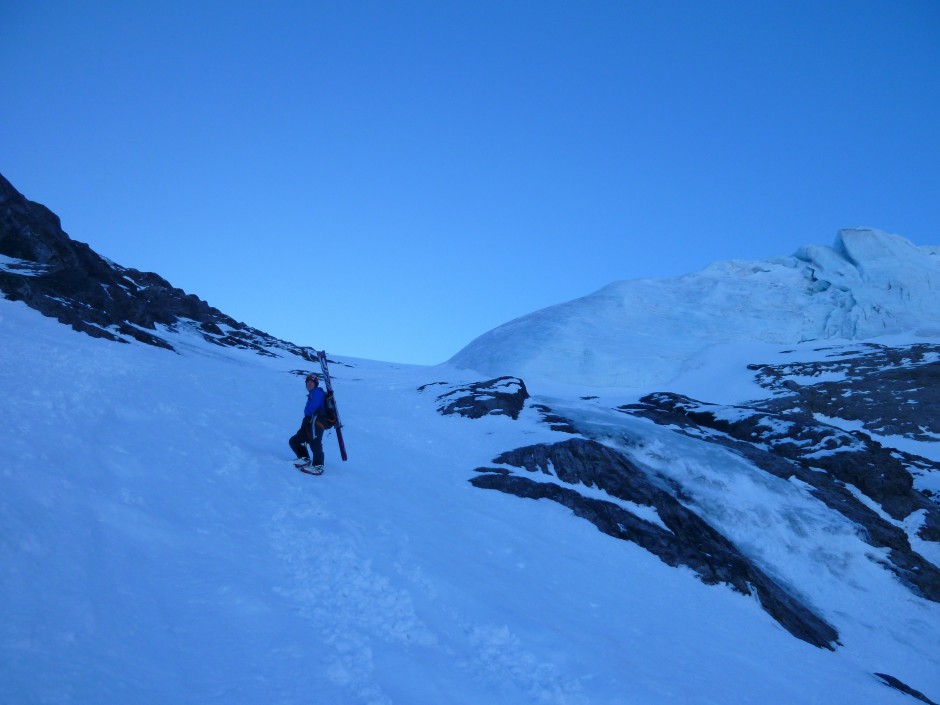 Thats right folks,  those are S7's on my pack,  equipped with Plum bindings,  which in my opinion are arguably the best touring bindings in the world.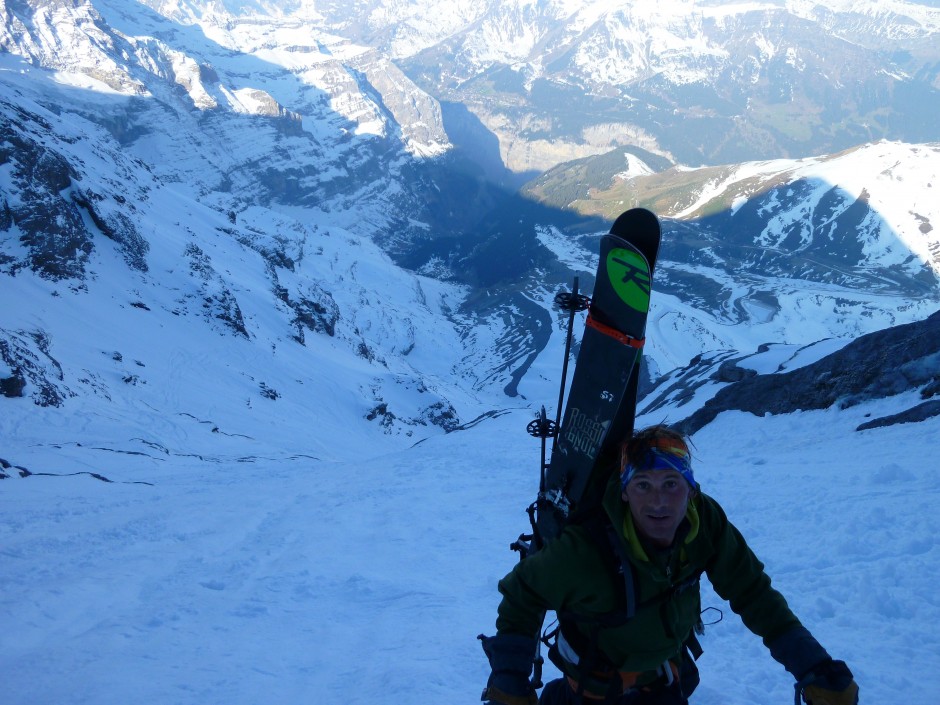 Keep on keeping on!
Here is a small video clip to support the view and position after arriving out of the Serac zone.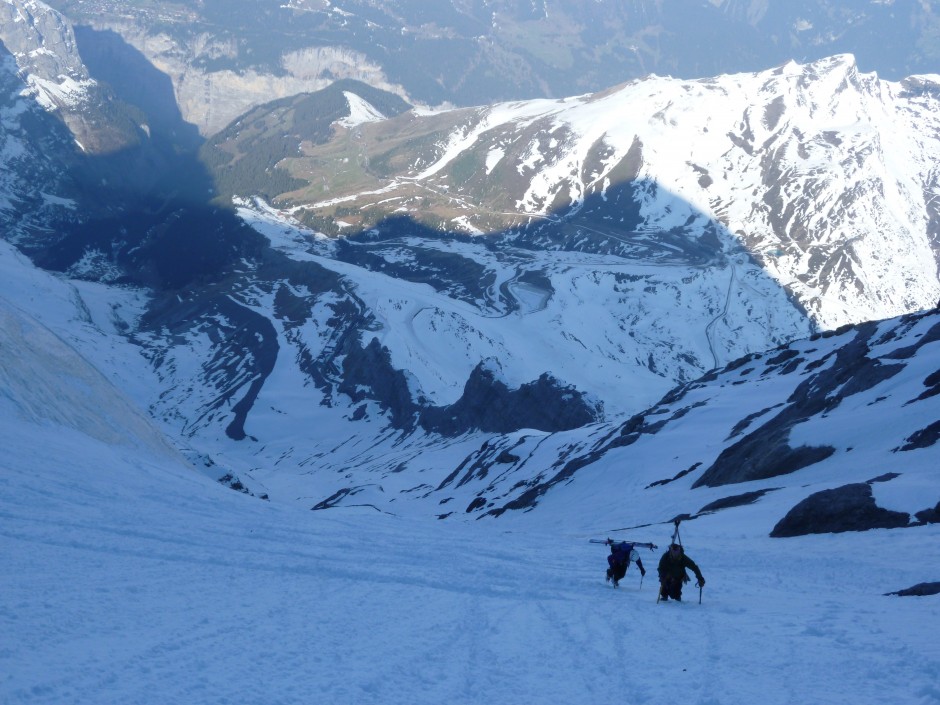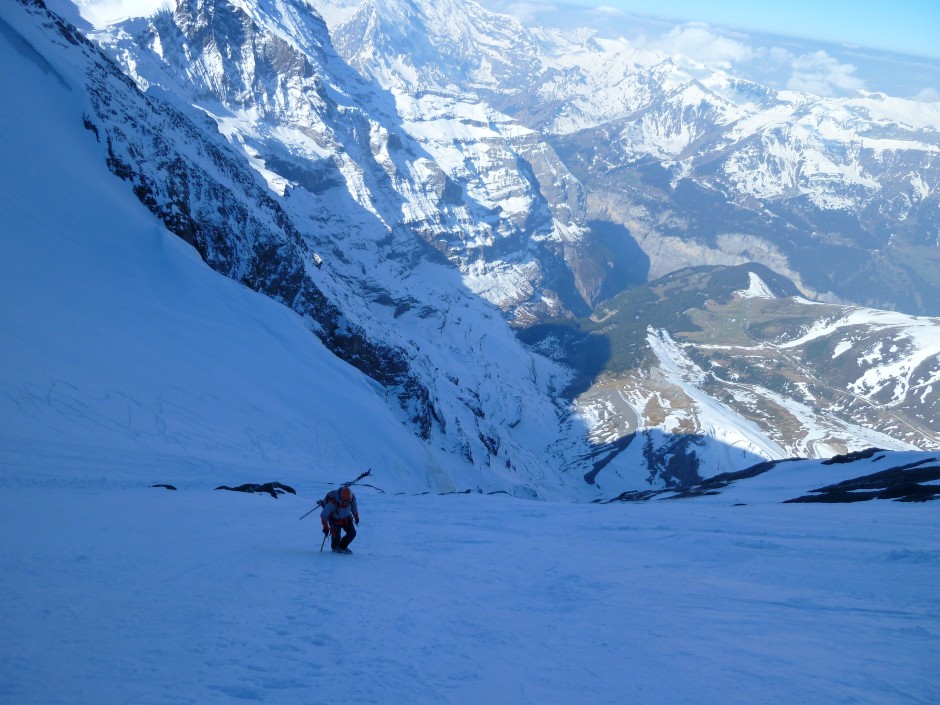 and another fun video that shows were Miles is in the next photo and the fun we were having,  I attempted some bad humor in a really bad German accent.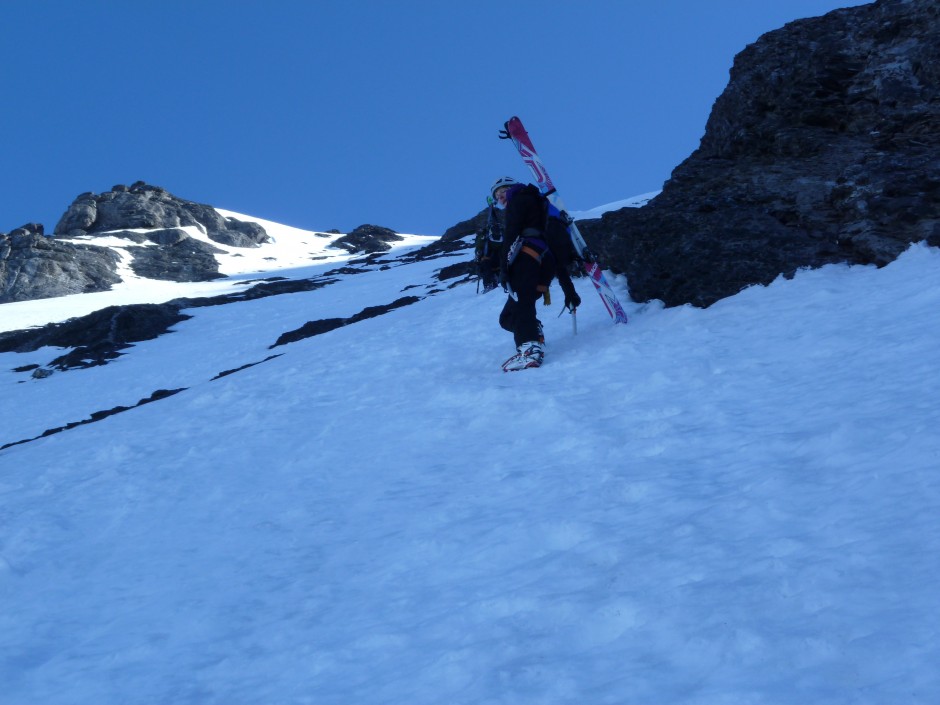 Feeling the burn!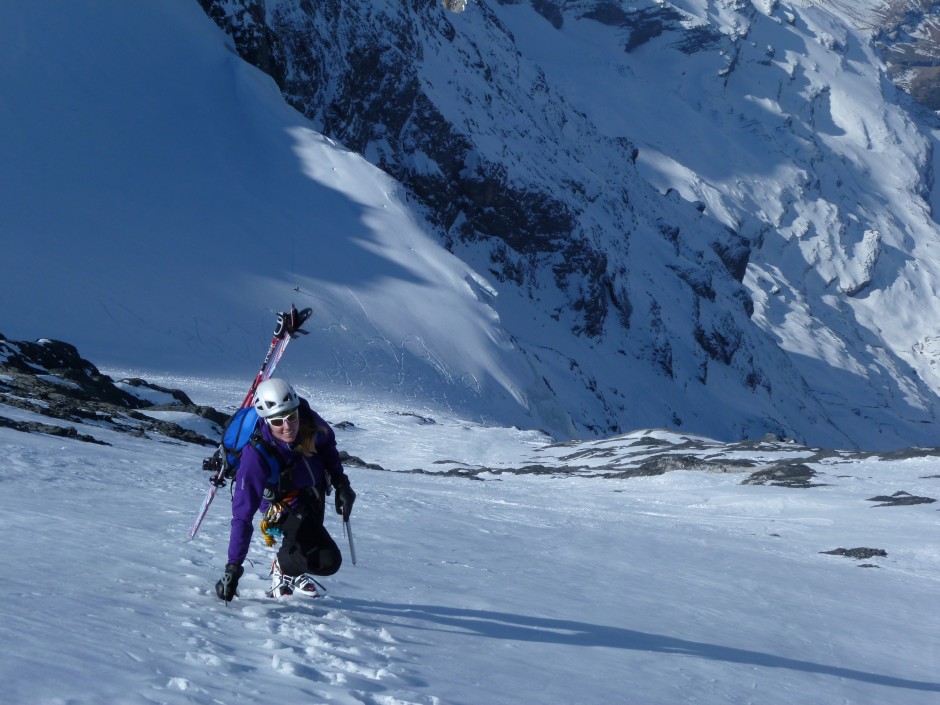 This was our first real break of the day,  I hope the pictures do it justice, but probably not. We finally took some food and water and a proper break in one of the most exposed places I think I might of ever been .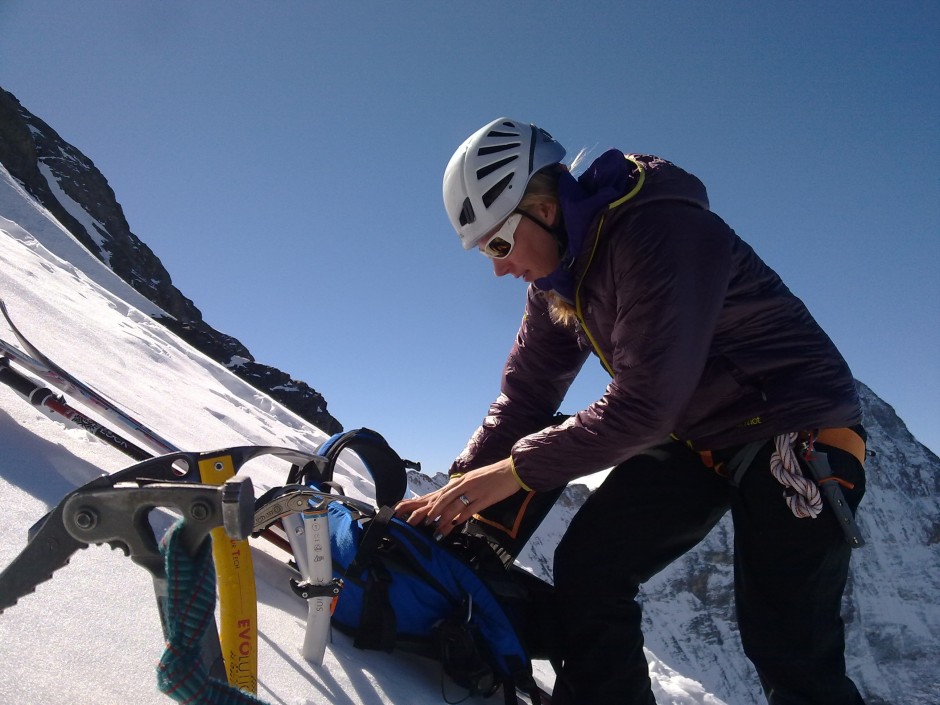 This is a new technique for spotting or should I say short harnessing.  Miles is sitting with his back to the Nordwand as Liz peers over him for a look,  Notice the technique used by miles as he holds Liz in place by the harness, 🙂 This is a very advanced technique and body position is everything, notice how Miles is braced and leaning forward, in the ready position to throw liz down the west face, LOL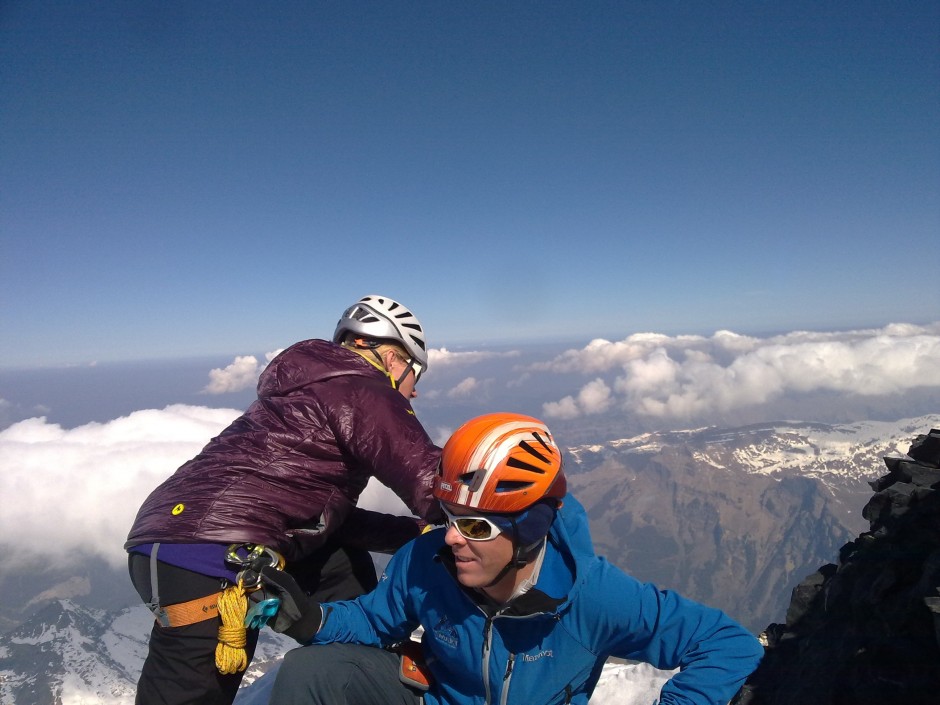 And the view down the historic Nordwand.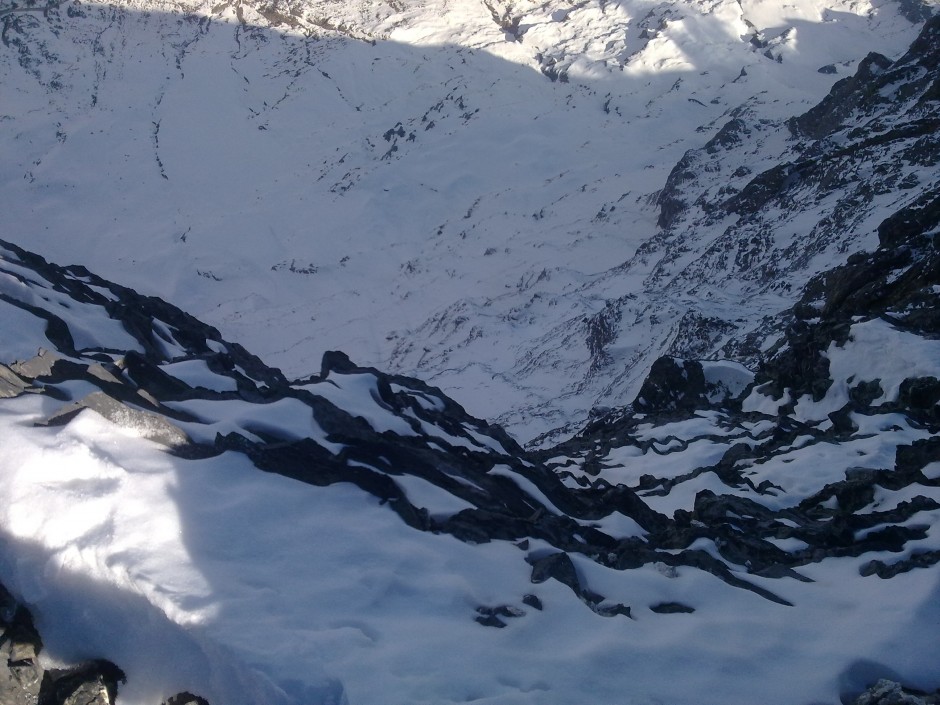 Self portrait.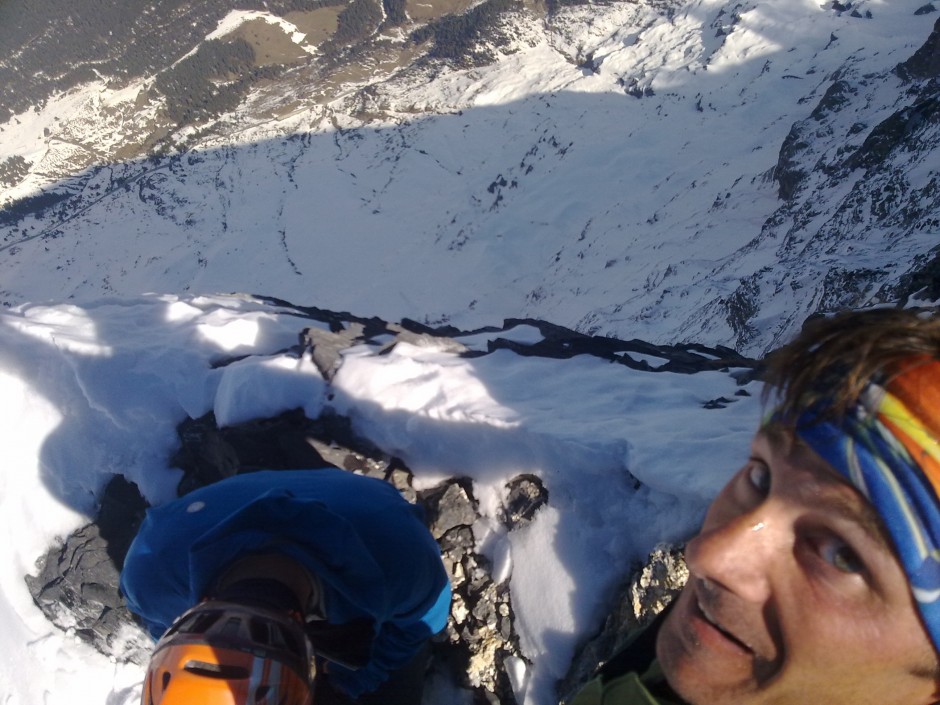 Places like this can create smiles like this.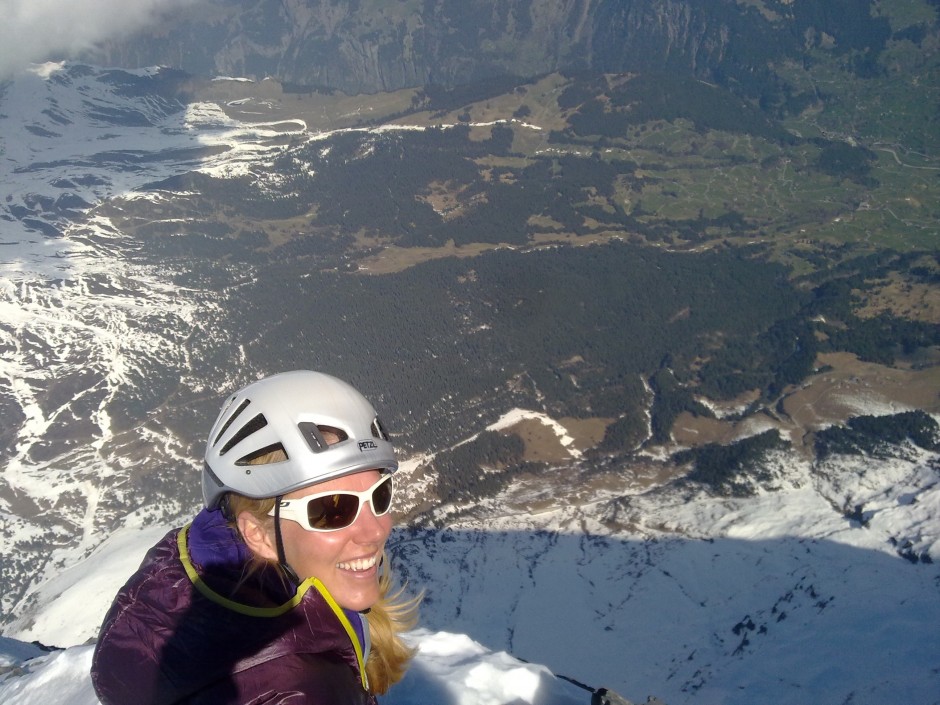 Miles and I looking at something important,  but not sure what?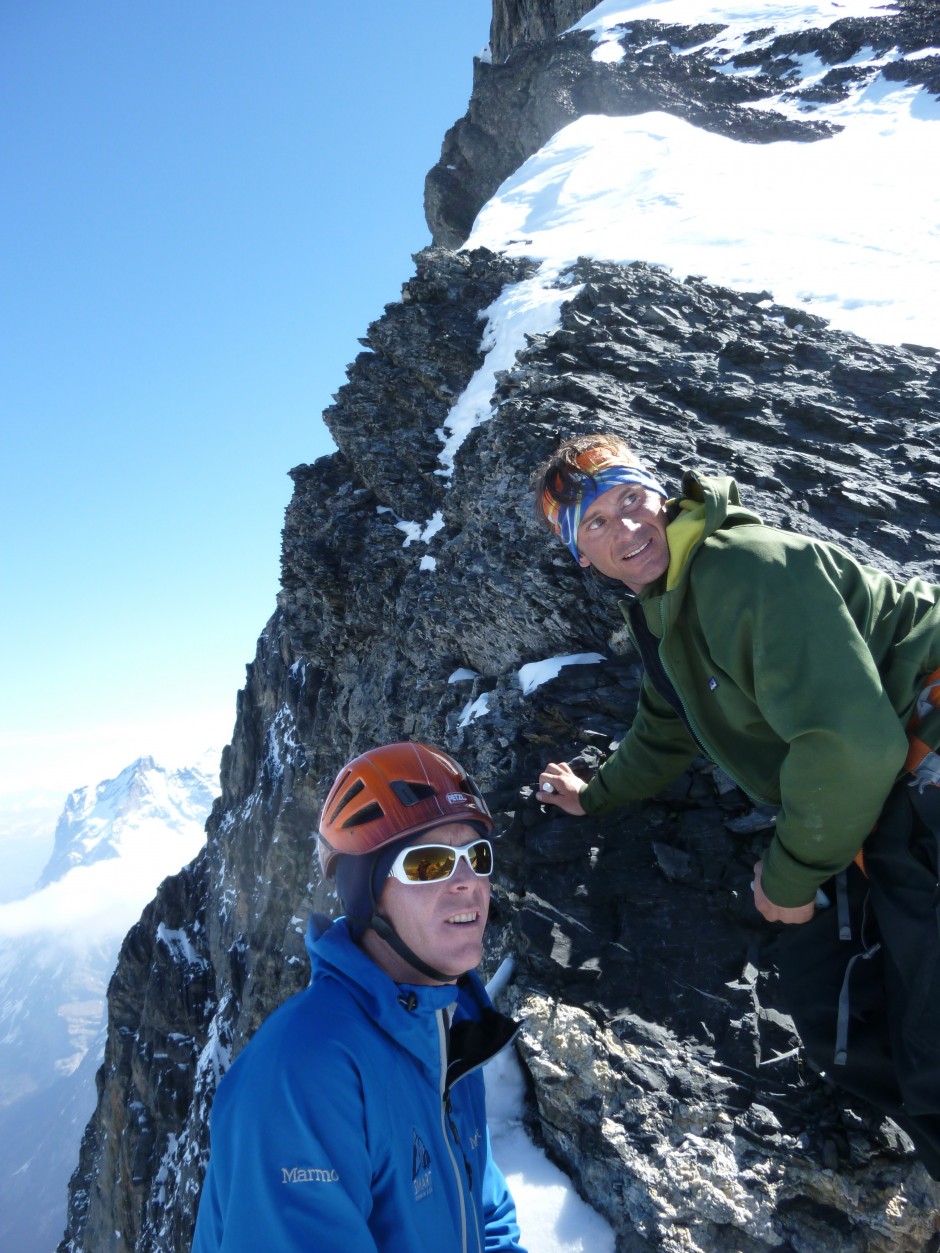 And up the mountain we go again after a much needed break to take it all in.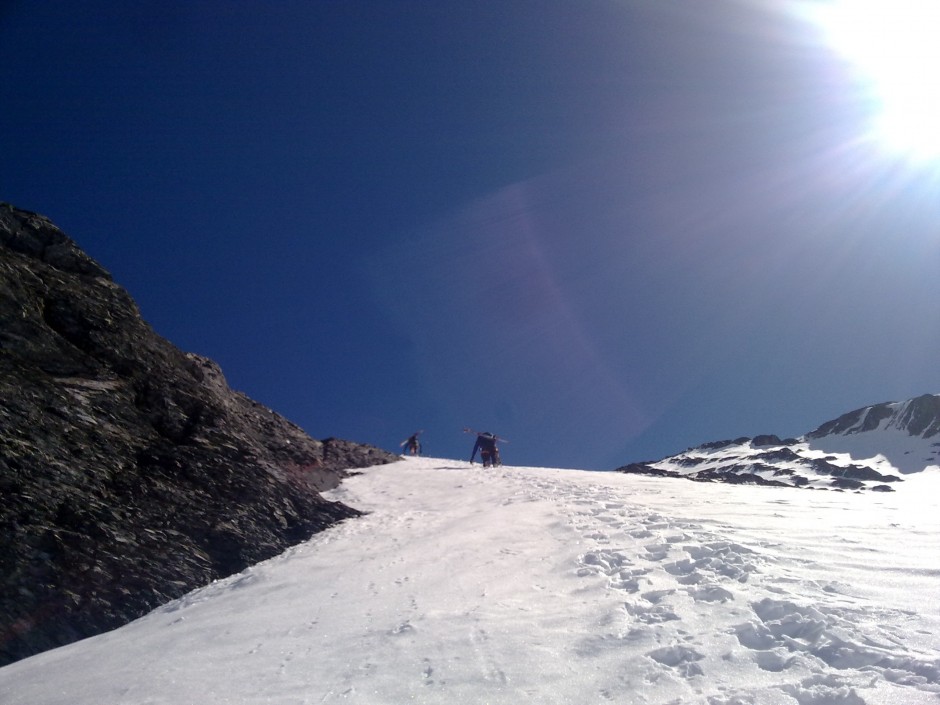 More of the same and reality setting in of where we are and what we were about to do.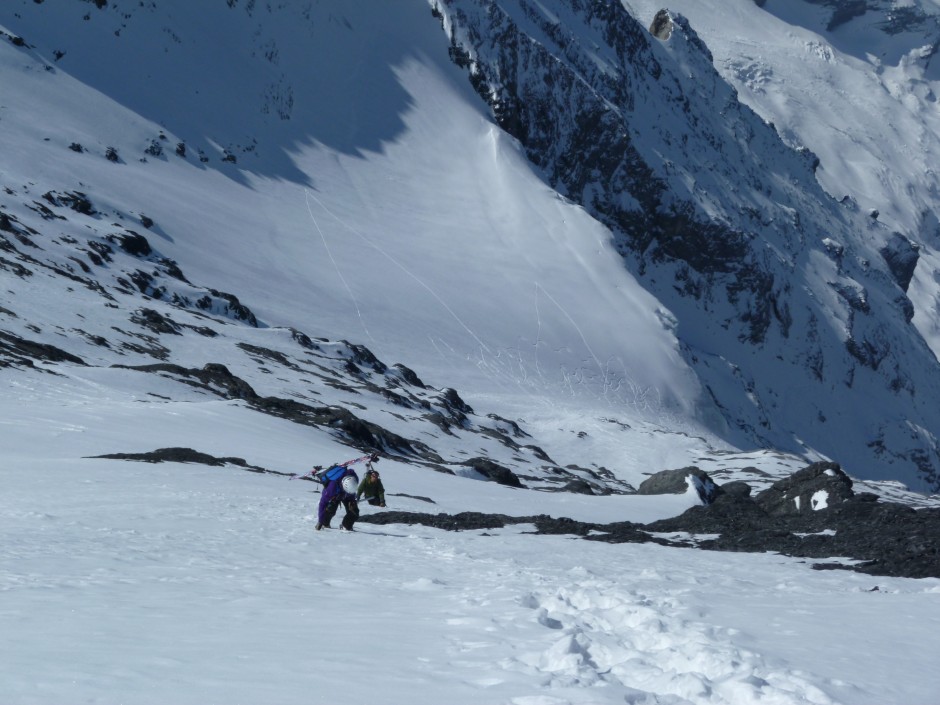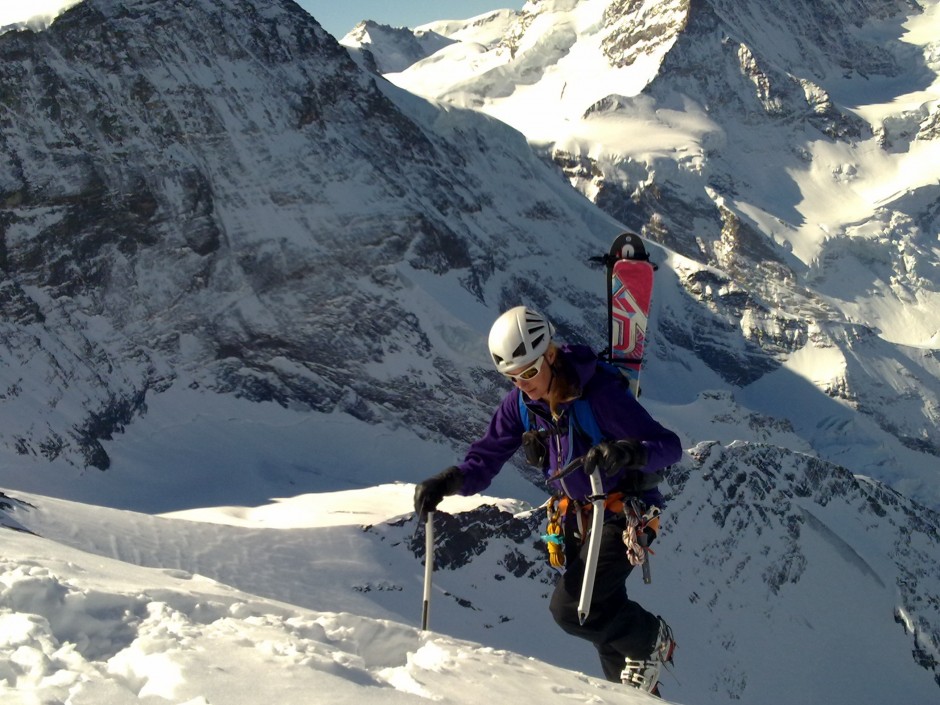 Pretty close now,  the final roll and then the home stretch.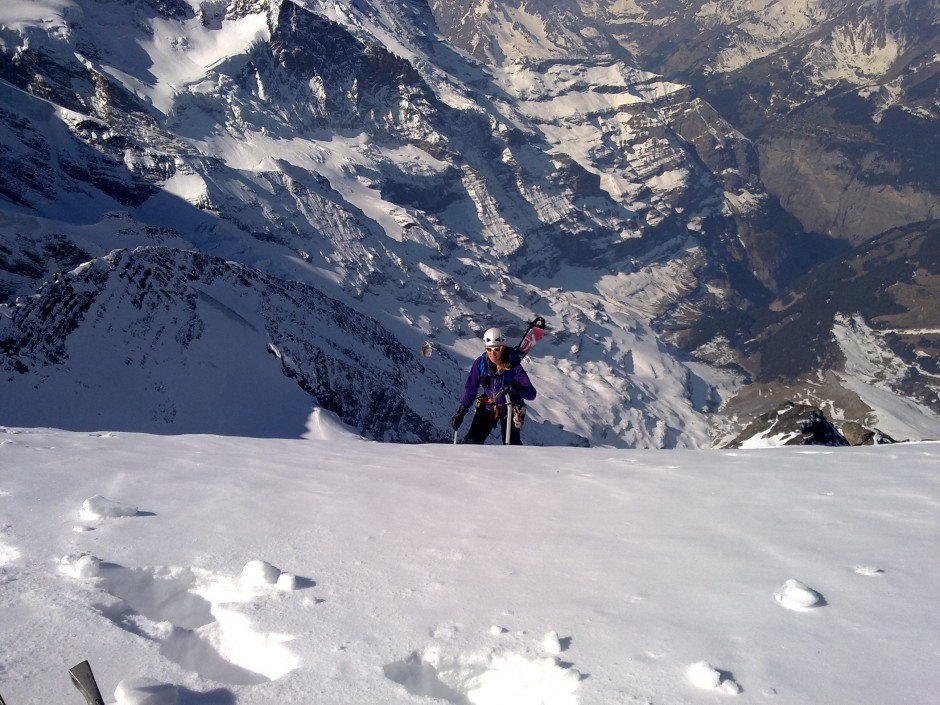 Liz and Monch in background.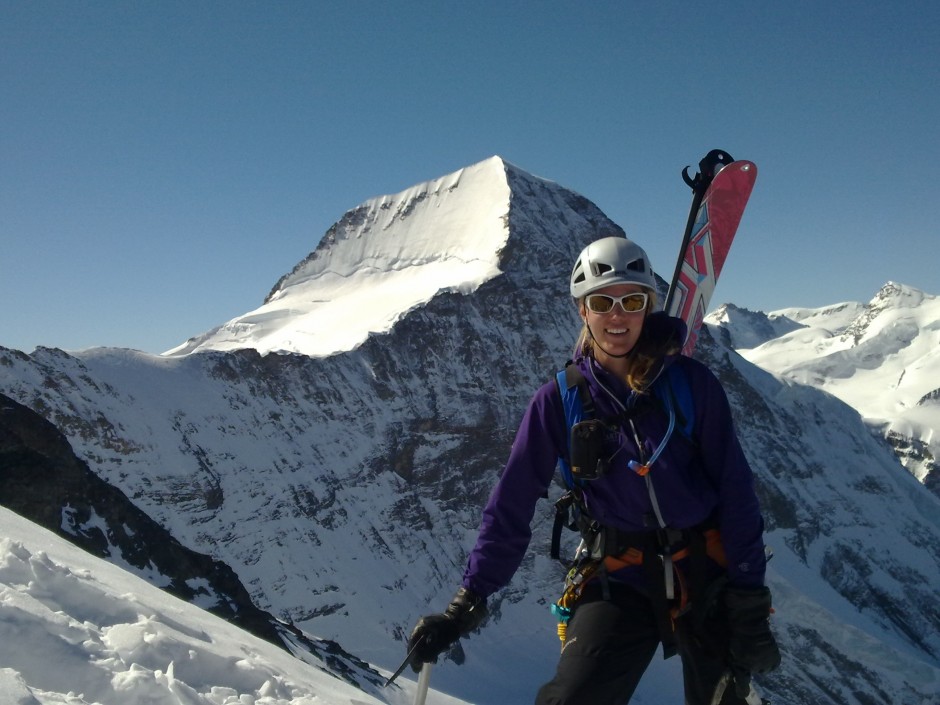 Monch and the Jungfrau.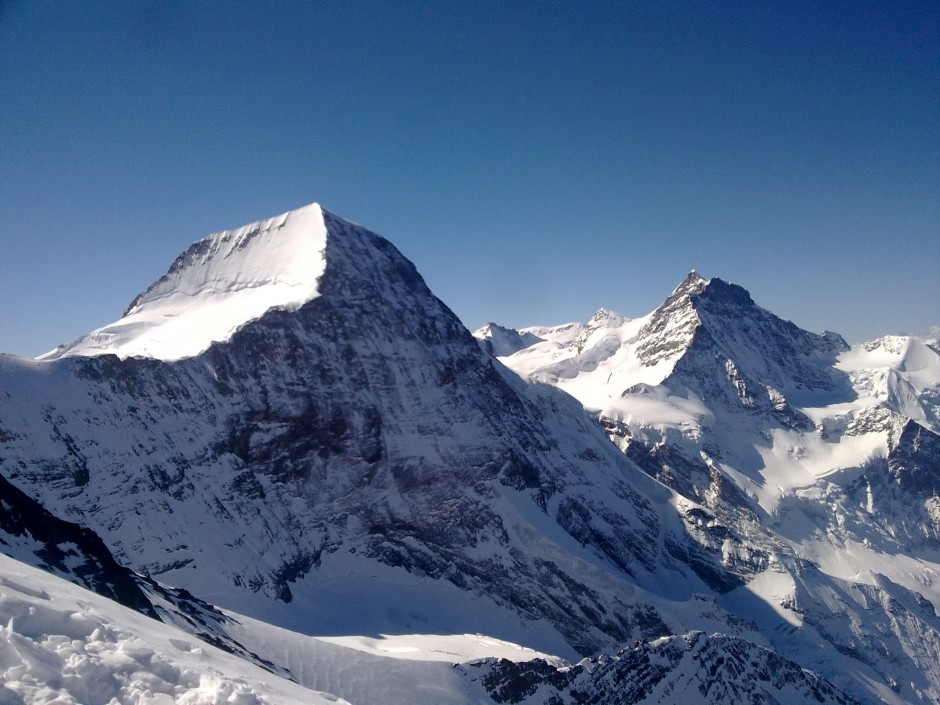 The home stretch looking down at what we were about to ski 🙂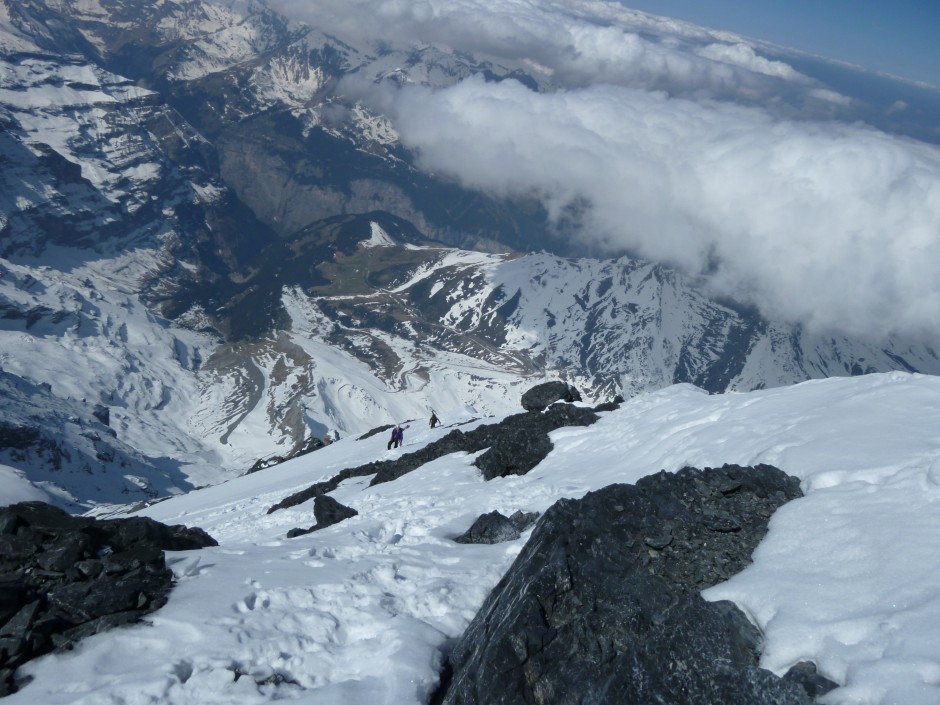 The cross over step and Pied Plat or classic French technique so elegantly demonstrated by Liz as she makes her final steps to the summit after six hours of climbing.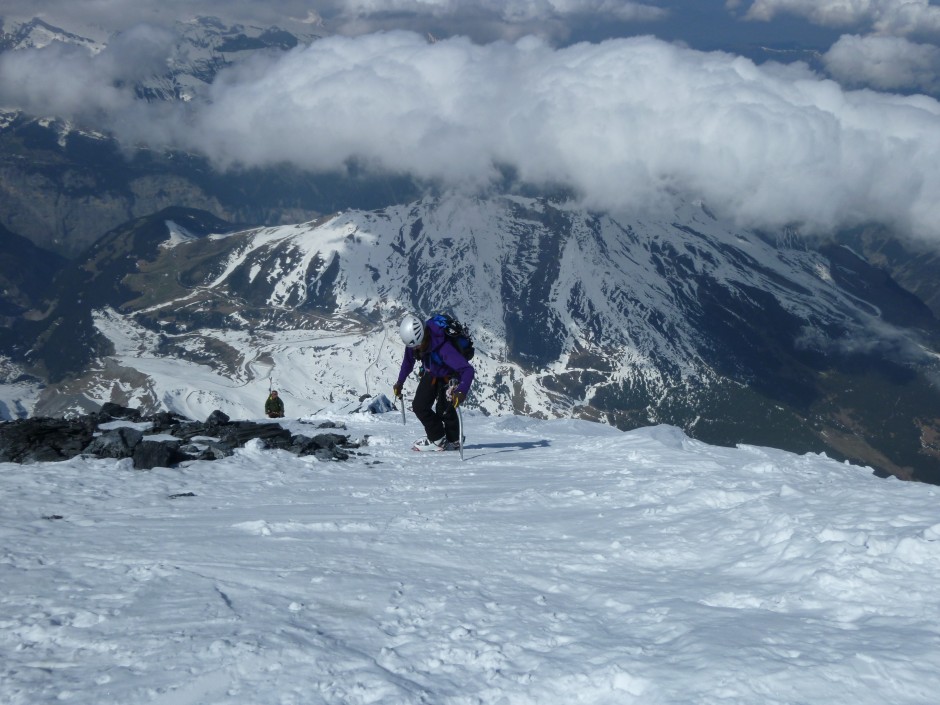 Another fine demonstration of the rest step and it's applications,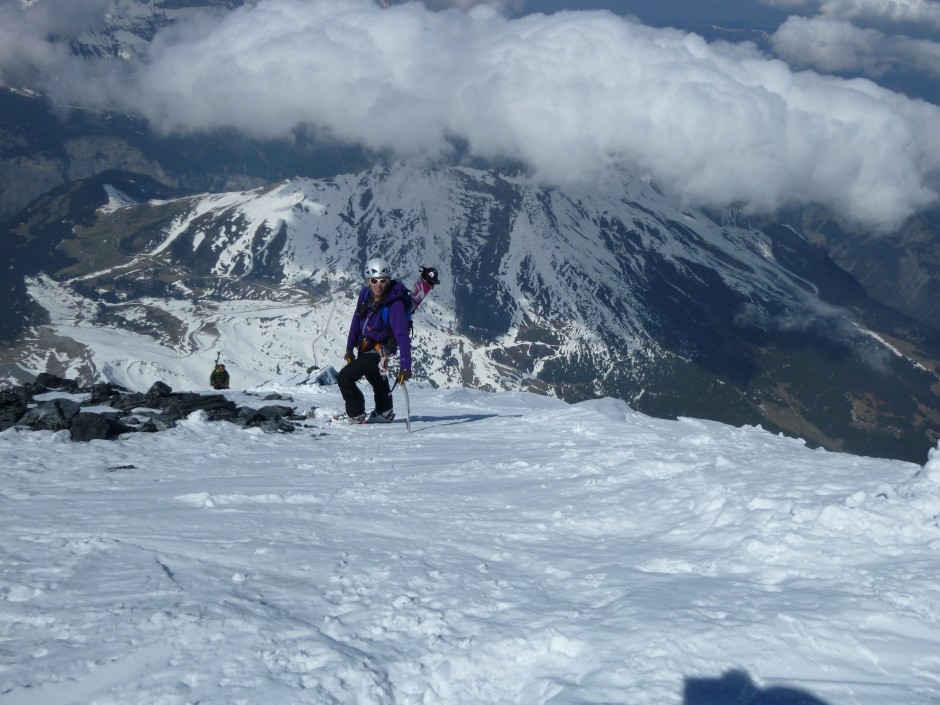 My final step to Glory with the best touring setup I have ever owned in tow.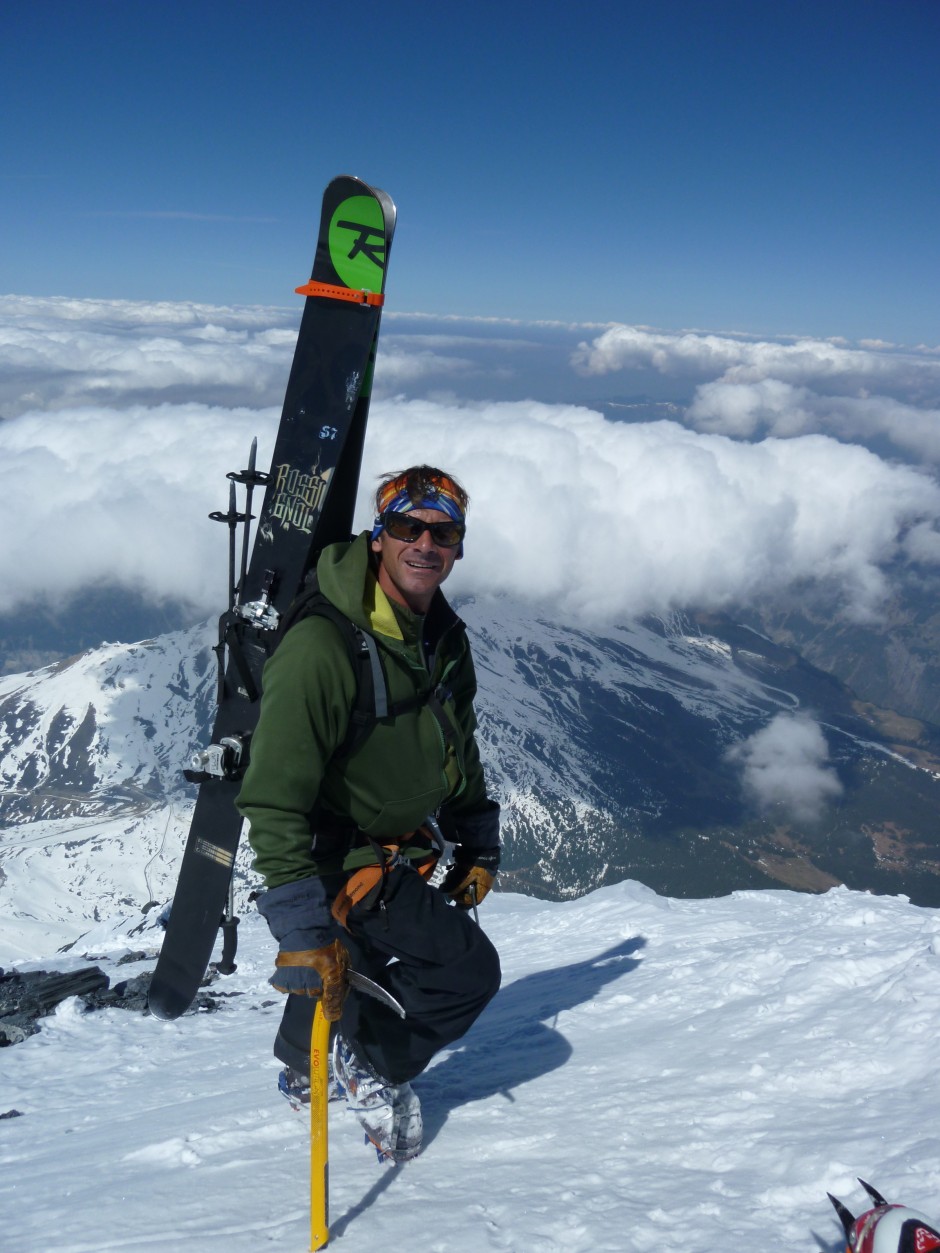 The happy couple sharing the summit of the Eiger. So cute!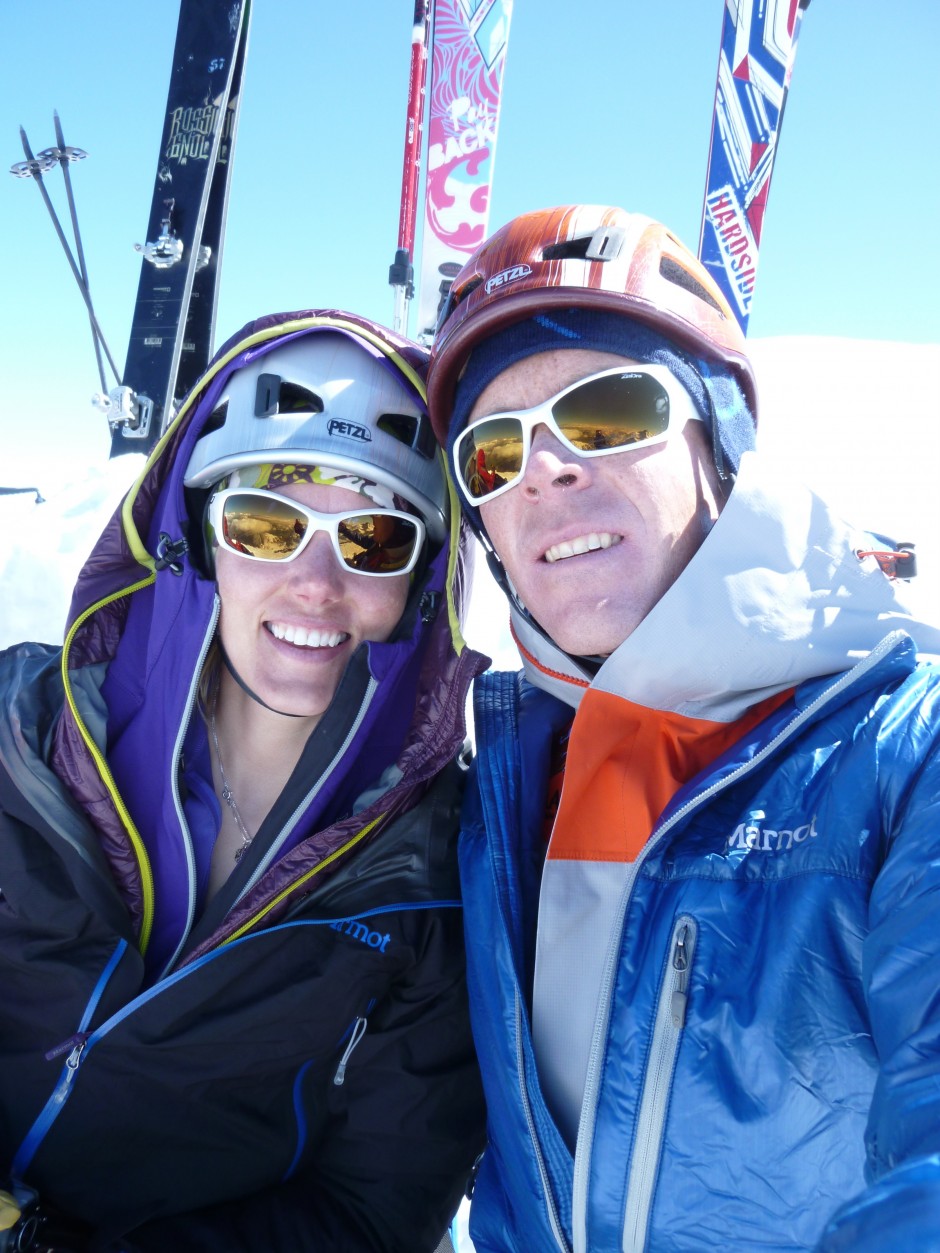 Miles stoked on his K2's and Plums in all his glory on the summit of the Eiger.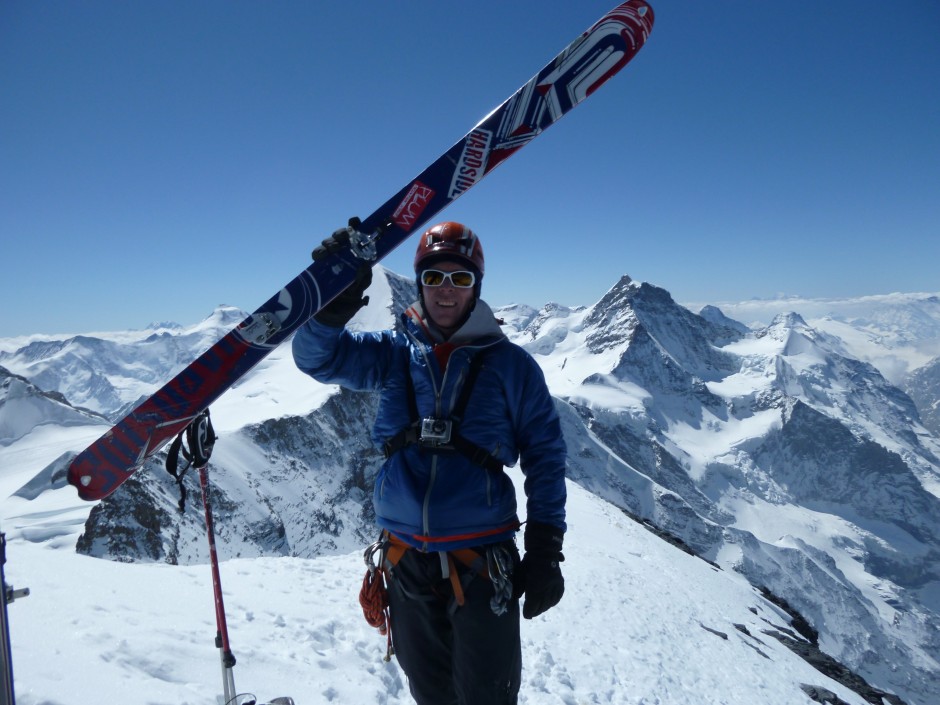 and me stoked on my S7's and plums in all my glory.  Rocking out on one of the best instruments I have ever played. I'm not sure, but I would bet that those might of been the biggest skis to ever go up to the summit of the Eiger? And if I had to do it again,  I would bring the same skis.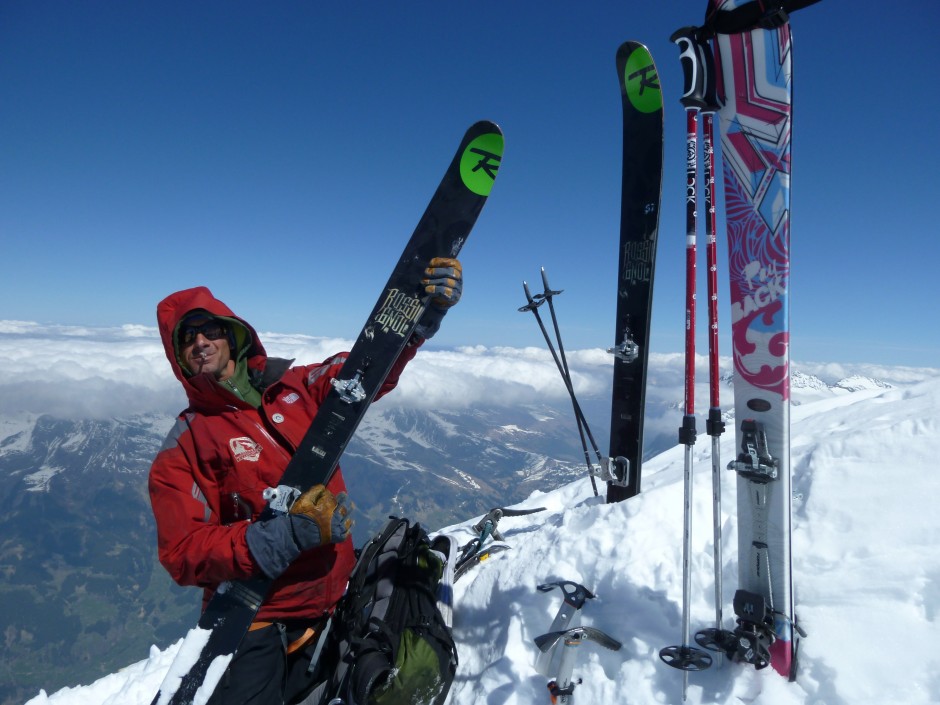 From left to right,  Liz, Miles, Monch.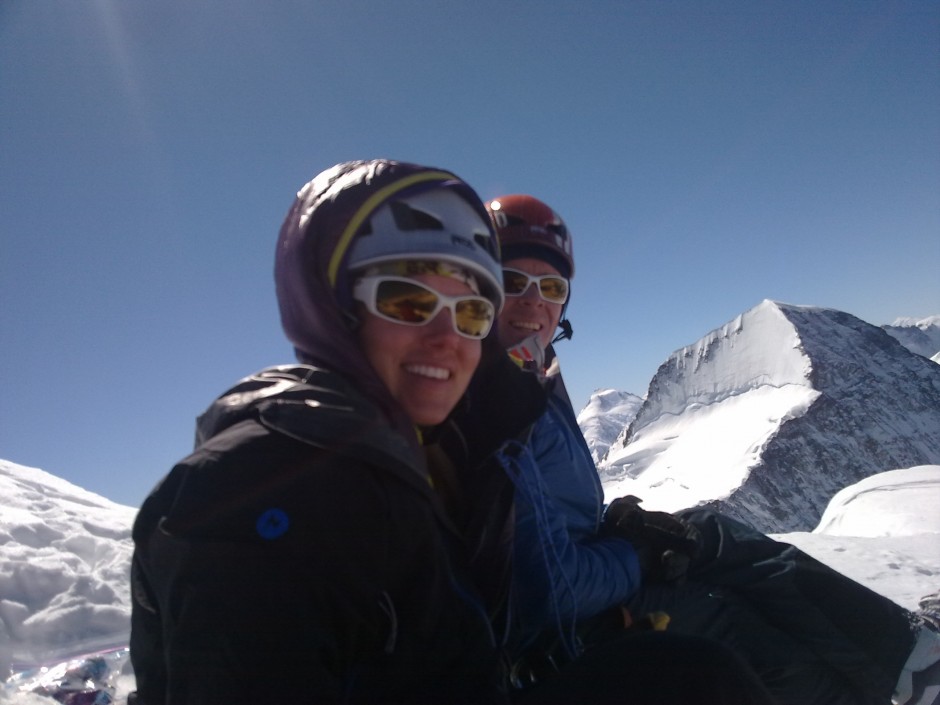 A well earned Summit stogie.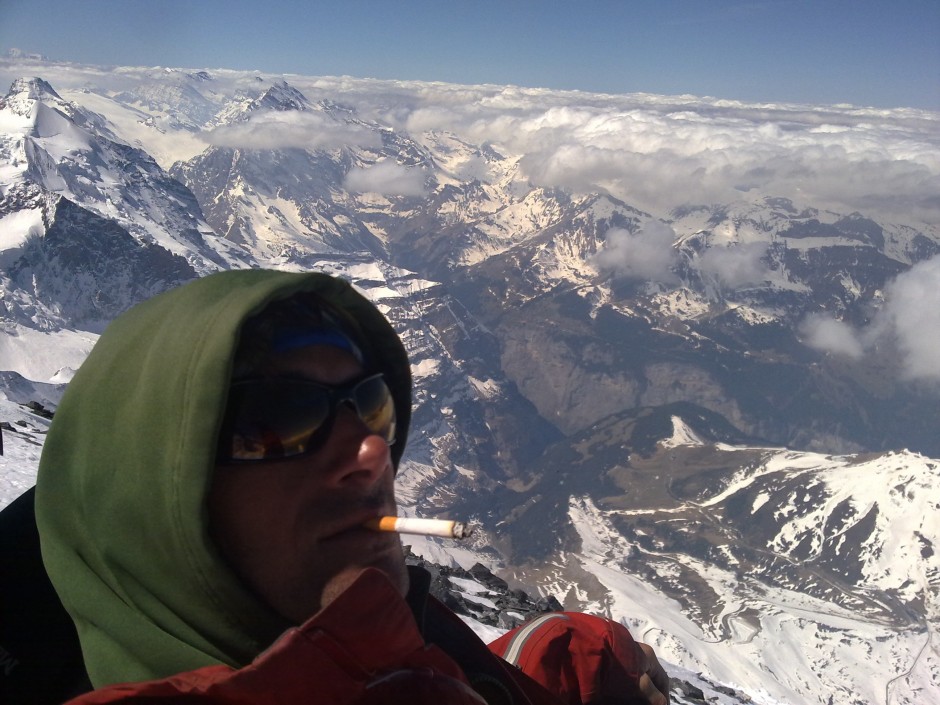 The points are coming off and reality setting in for what we were about to do.   We spent an hour on the summit after arriving at 12:00, 6 hours after setting off.  Perfect conditions, calm, to light wind and just simply beautiful in the sun.  Our intentions were to let the sun warm up the West face as much as possible, but it never truly hit the perfect transform due to a light breeze coming up the glacier and the time of day,  Might of been better to be another hour later,  but then the clouds would of hosed us,  You can't have it all.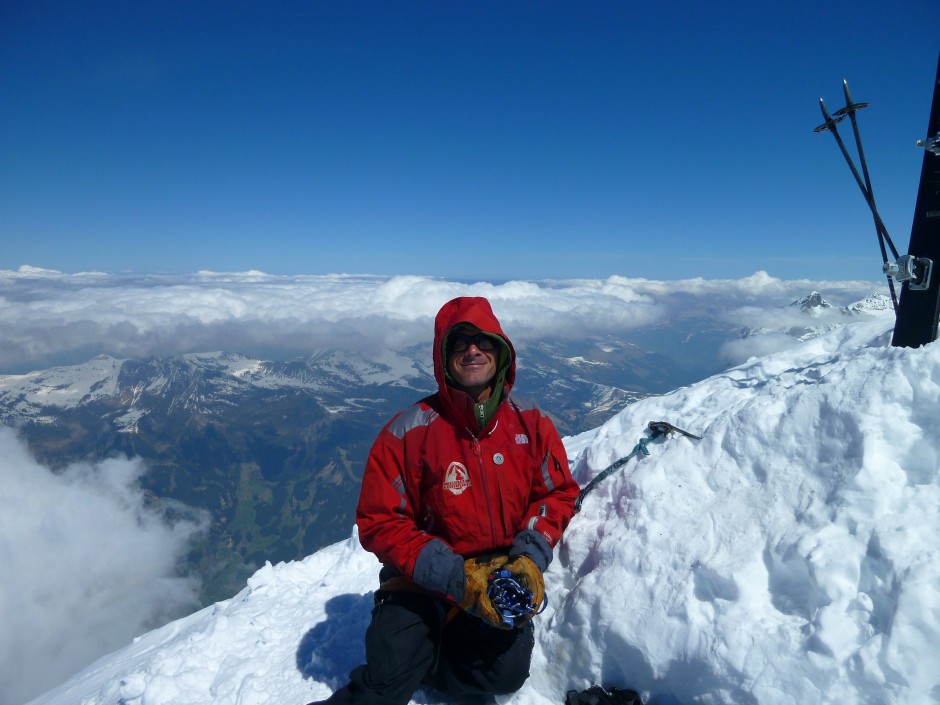 Miles negotiating his first turn and probably feeling a bit exposed.  The snow was rock hard here, and the Nordwand is right at the edge there folks.  2000 meters of air about 70 cm from the tails of his skis.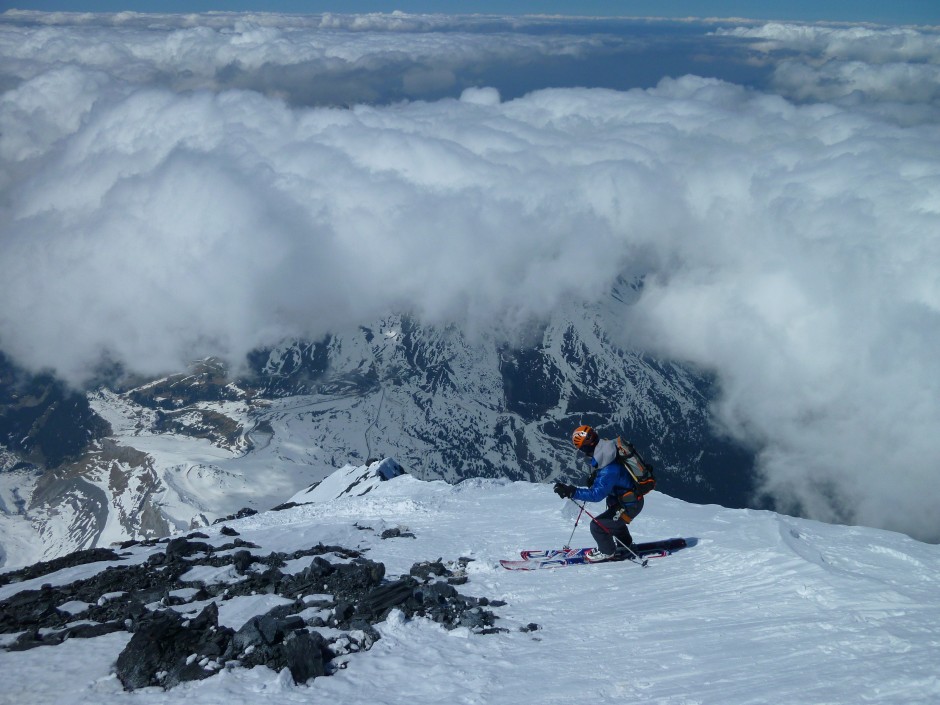 Maybe the next photo puts it into perspective for folks. 🙂
after skiing for about 20 minutes, we decided to take a break and just see if we could get the sun to do a little bit more of its magic and took another 20 minute break in hopes of softer snow.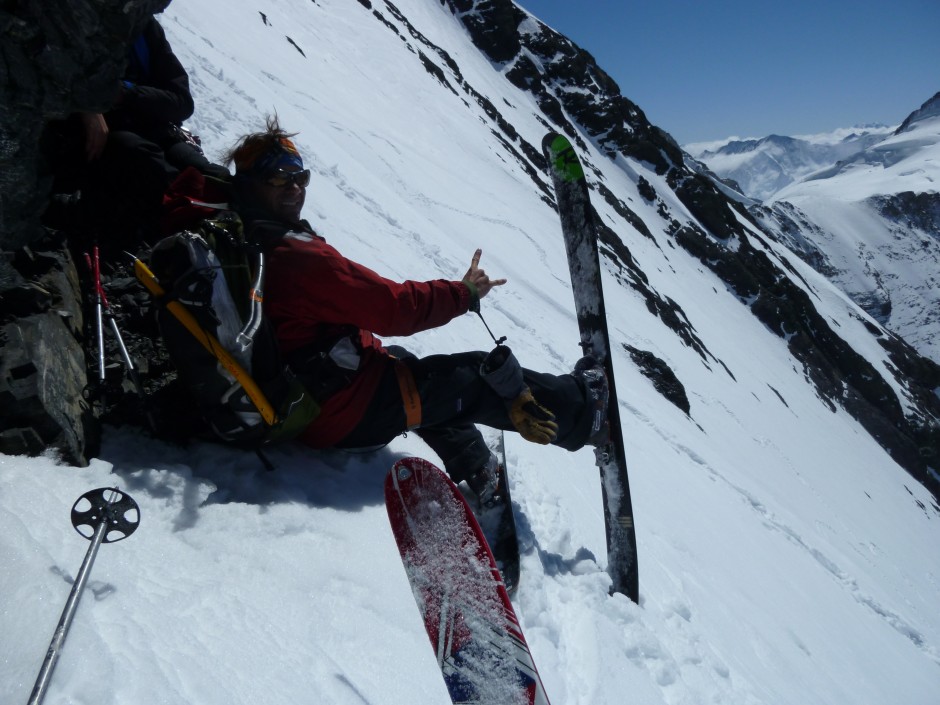 Looking down from our short break.  The snow never really got to soften up and those clouds were coming in fast so we boogied,  Despite, firm and variable snow,  The skiing was amazing and conditions were actually quite ideal for an objective like this.
Looking down from here, We discussed a plan to thread a line through the rock bands down and skiers left to get out to the big open slope,  The skiing in the zone we are in now was our ascent line,  but it was choked with cliffs and variable snow and a bit more exposure then necesarry. We opted to abandon our climbing line and take a chance out left to see if we could find a sneak,  but we had no confirmation that it went from our vantage point.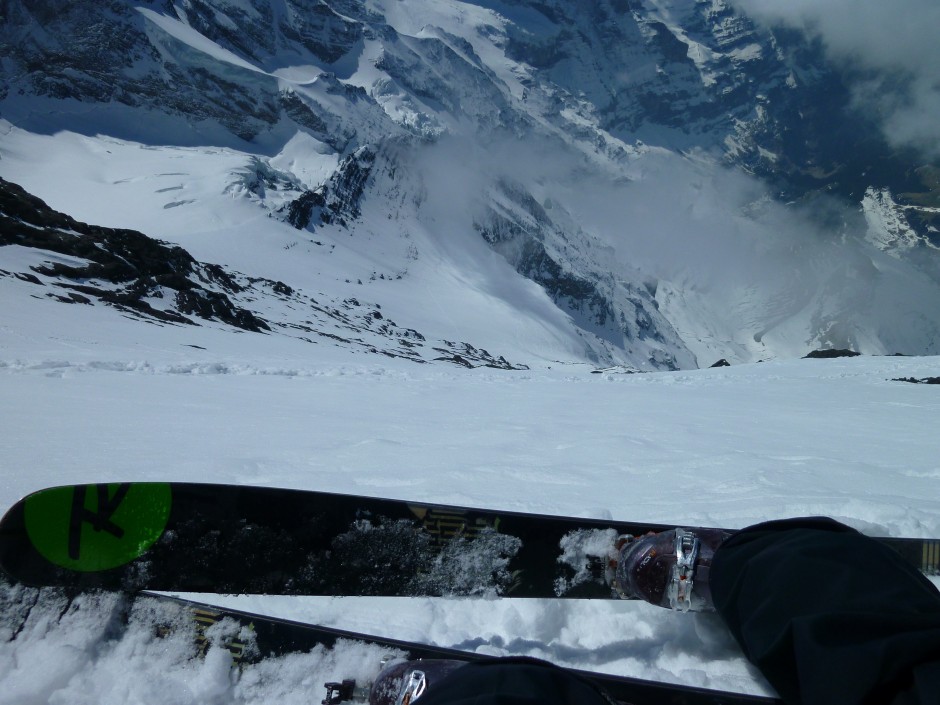 Miles milking the view and the clouds growing fast.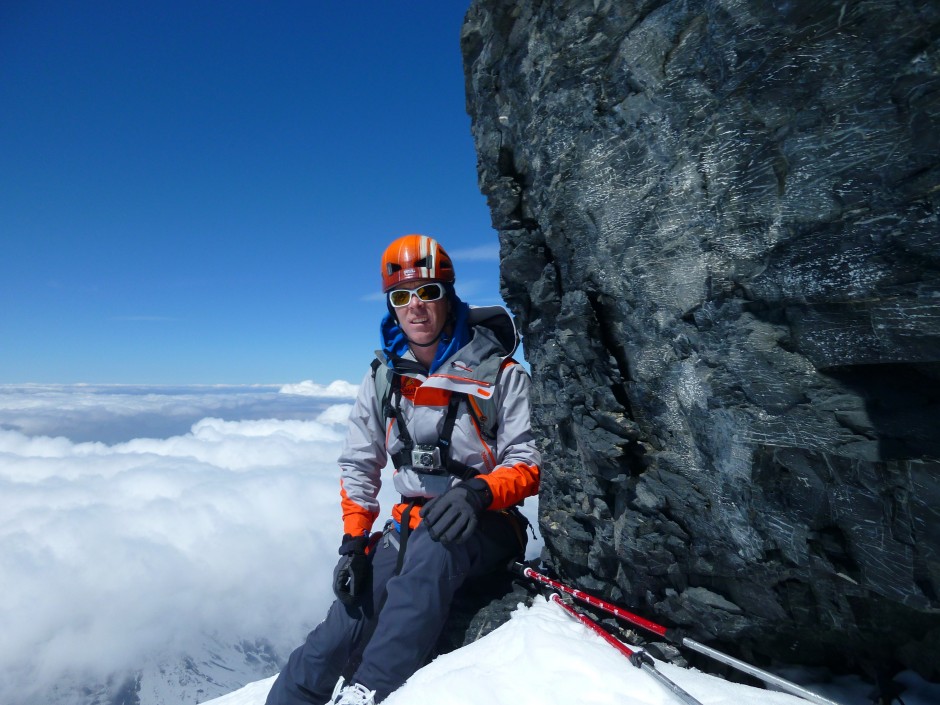 Setting off for some fun route finding and exposed skiing. Down and left hoping it would go.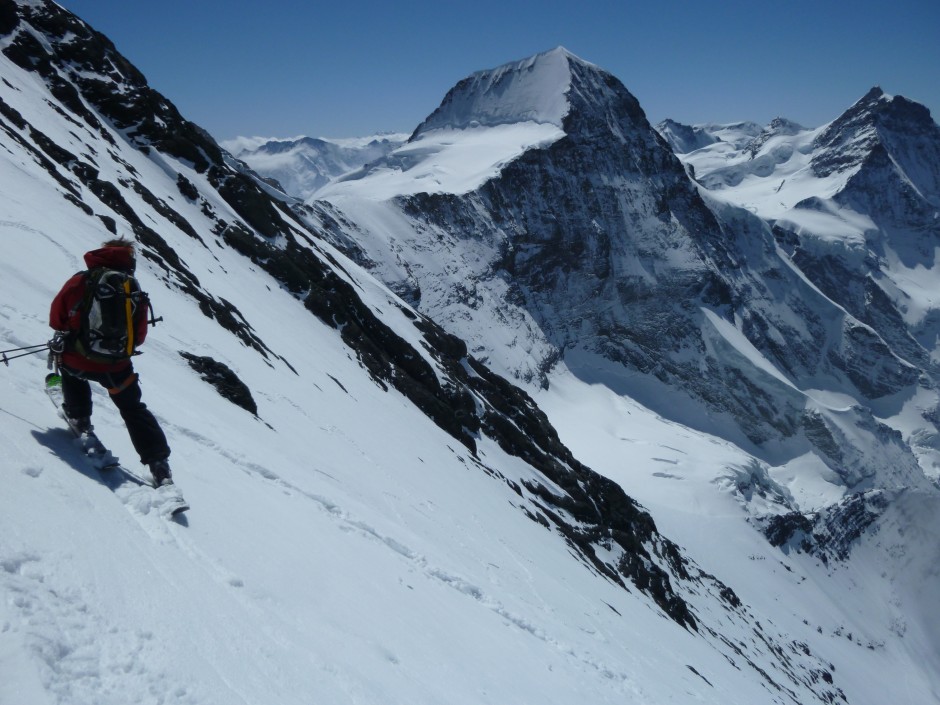 It felt steep given how firm it was. But I think it was steep too.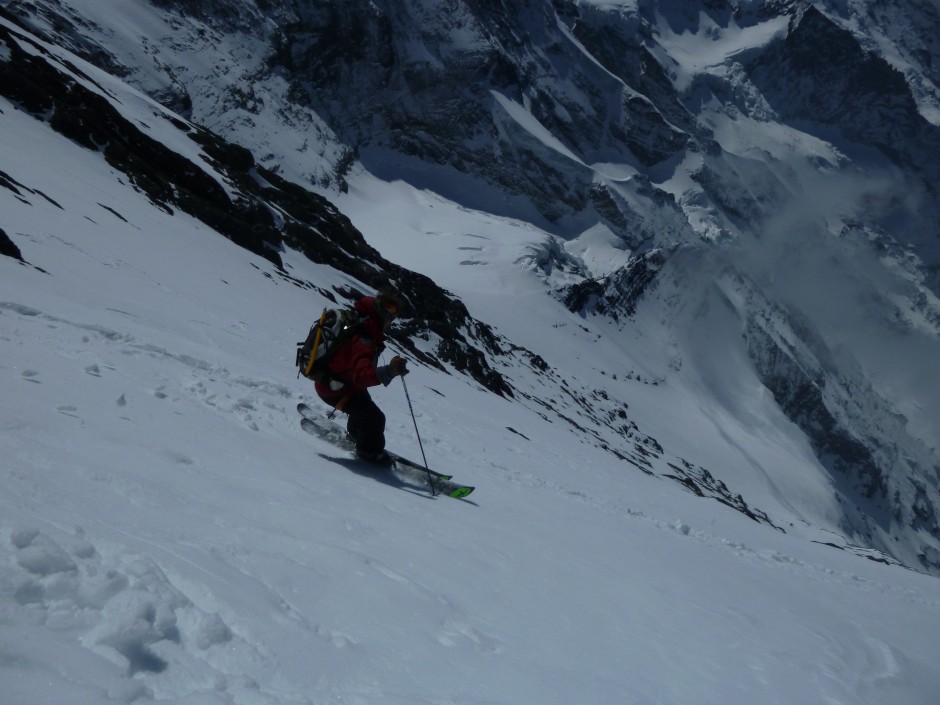 Doesn't look that bad from this vantage point, but I found a line through the cliff bands and got myself out here,  looking back up at Miles and Liz making there way through the maze.  Super firm edging skills to make it through, but it was worth it for the next shot. Look in the photo above of what the unknown view was through this band when your looking down at it.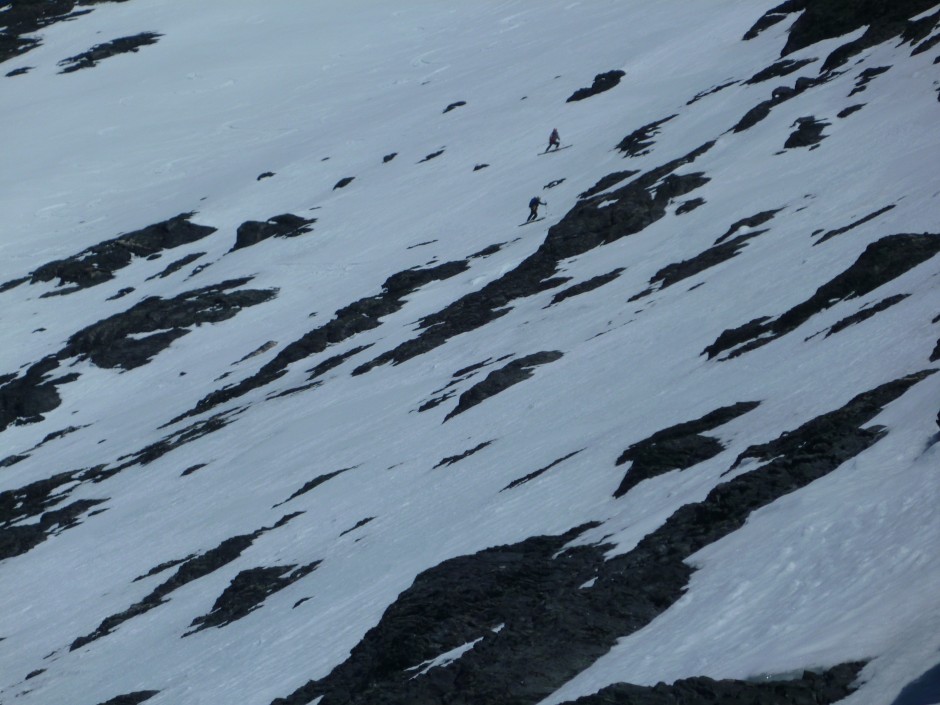 Miles and Liz are little dots up at the top of all those patches, can you see them.  It's bigger then it looks.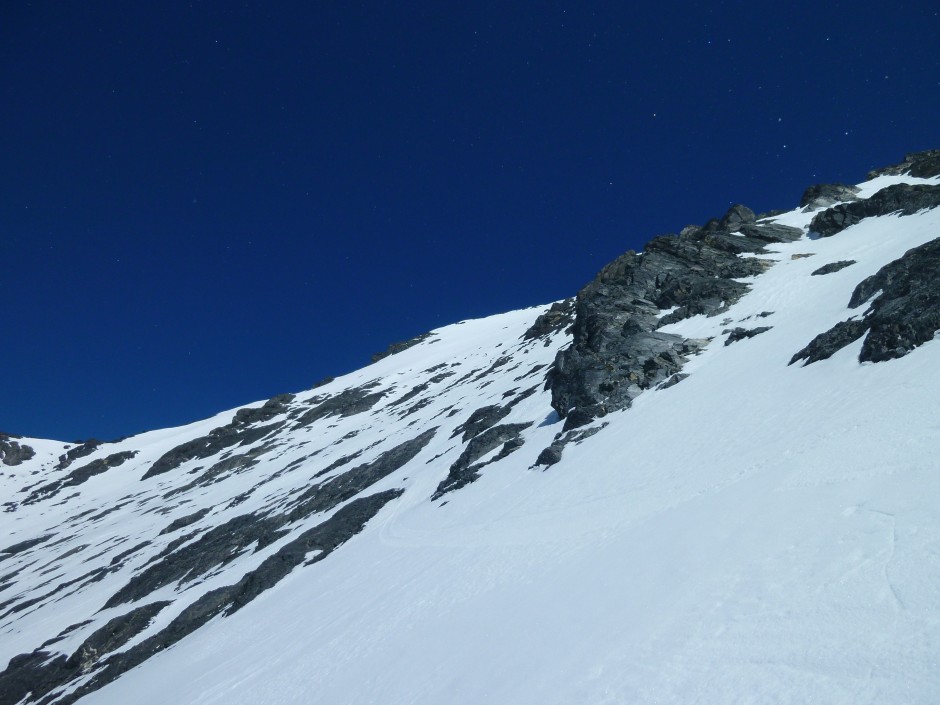 And looking down at what was still to come. Loving it.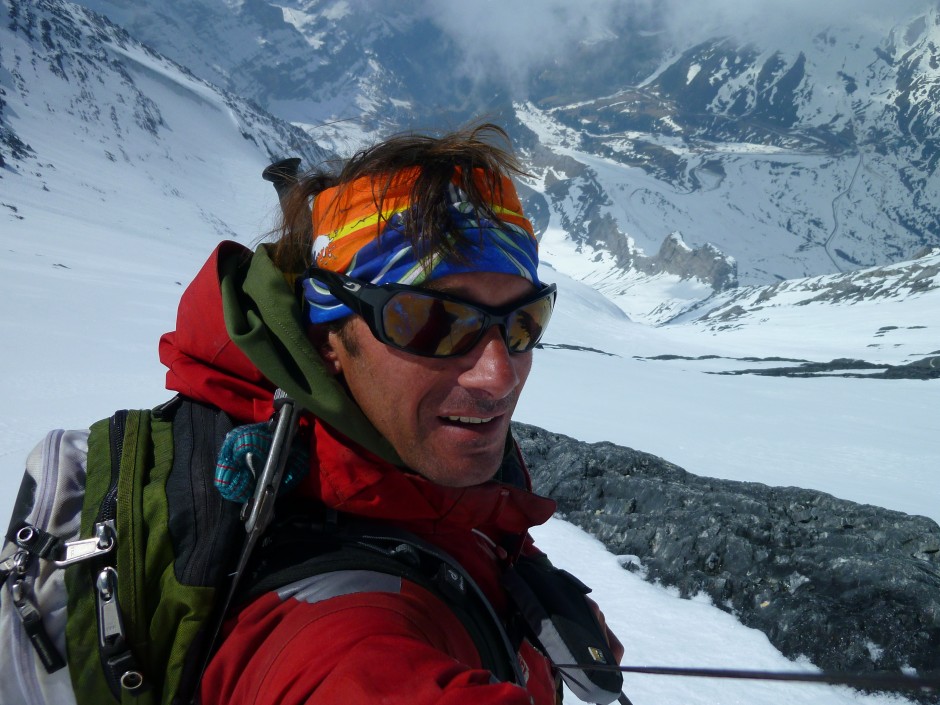 Liz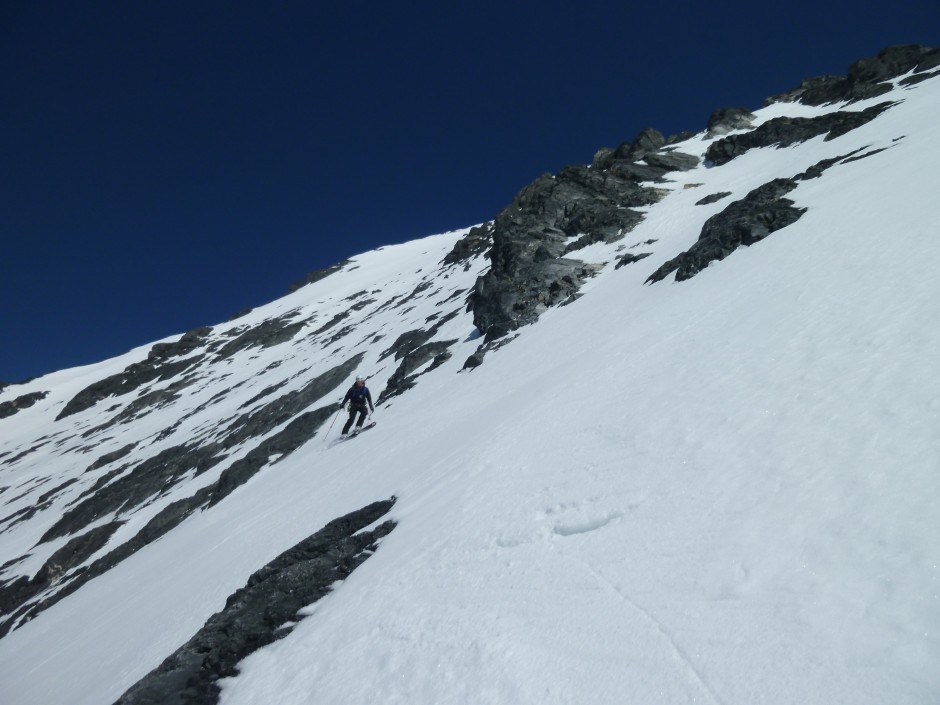 and Miles,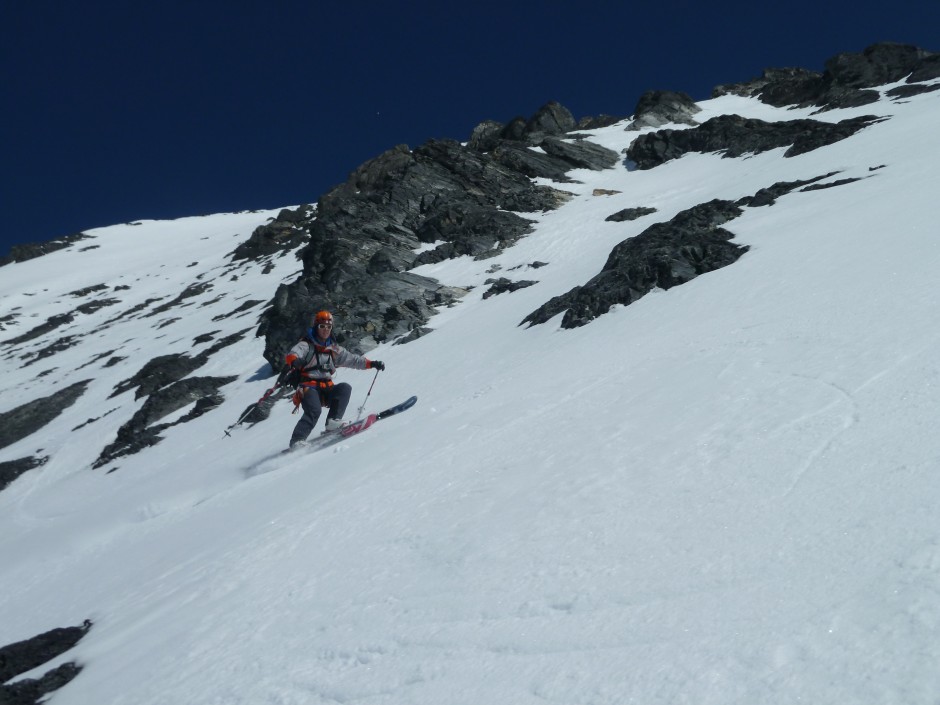 Stoked to be on the other side.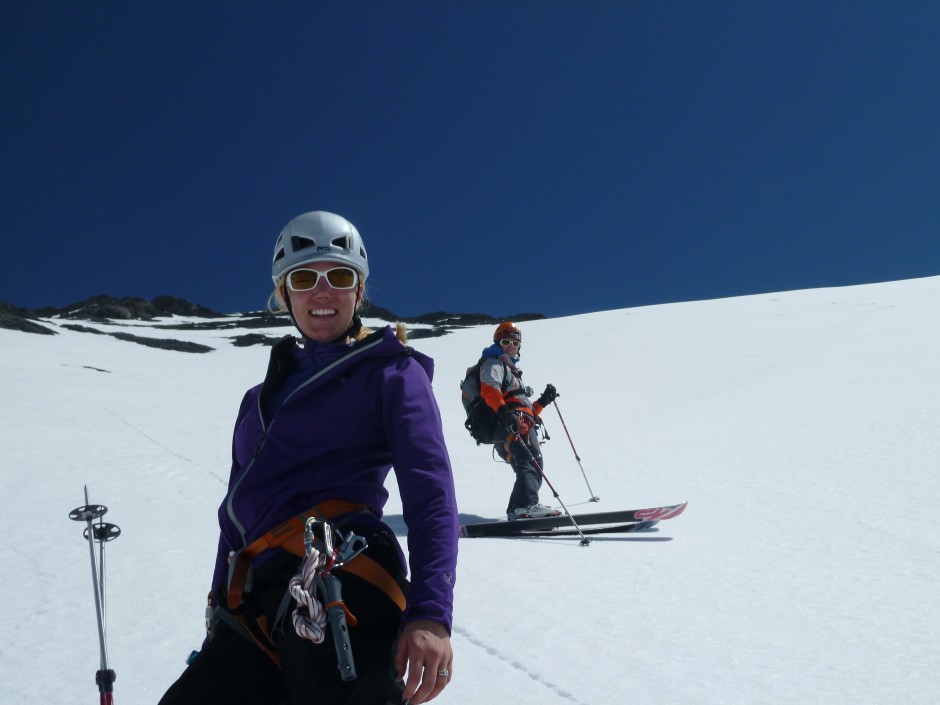 I just skied the whole shot of that open face to here and by the time I got to the end of it, this was my view looking back up,  see if you can find Miles and Liz in the mist that was about to temporarily close out on us. I am just above the big Serac at this point in the descent.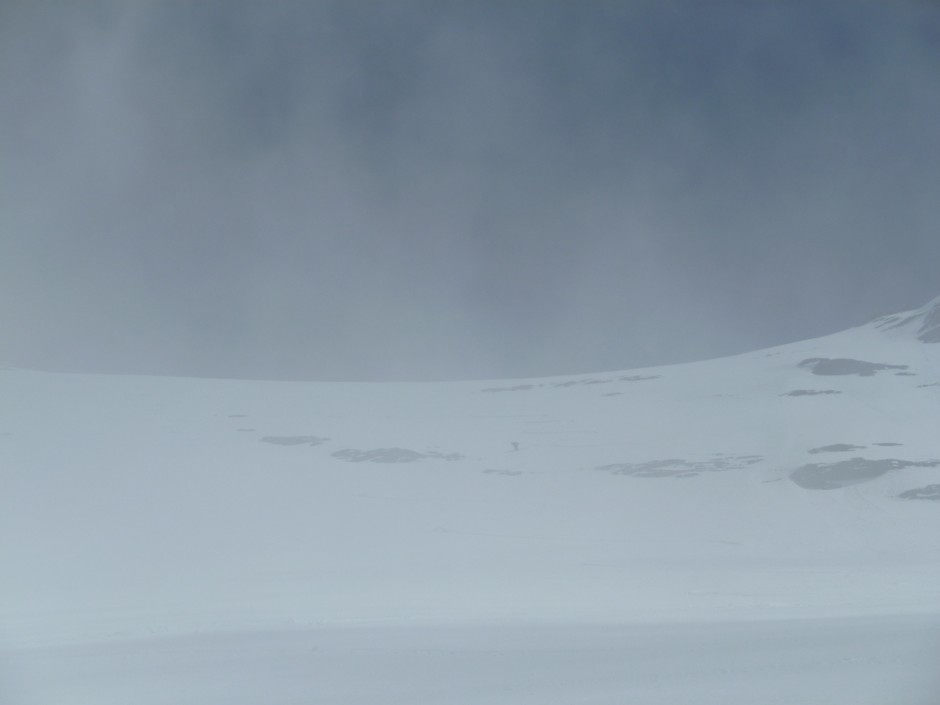 My view looking down as the clouds roled in.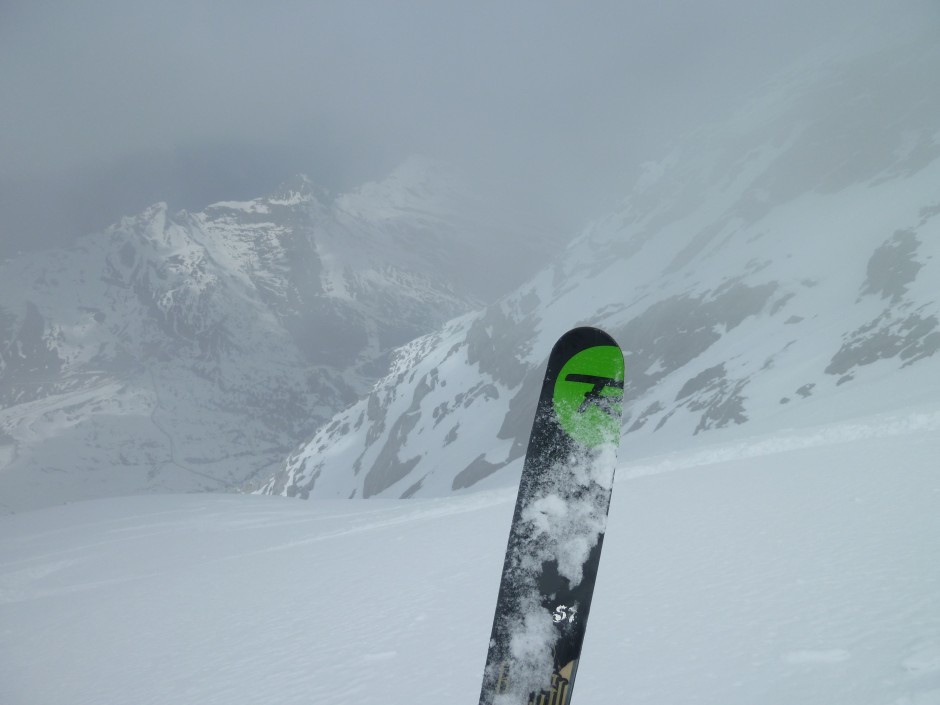 Can you see the skier below? Can you still see them,  Visibility went to about 10 meters if that.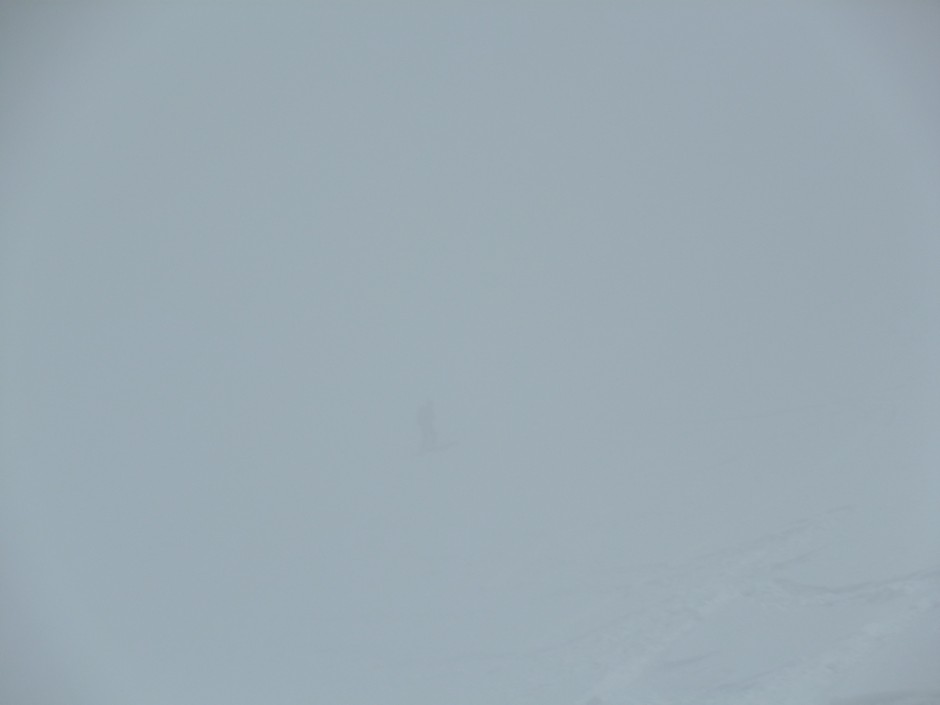 Miles emerging from the clouds and milking some good snow.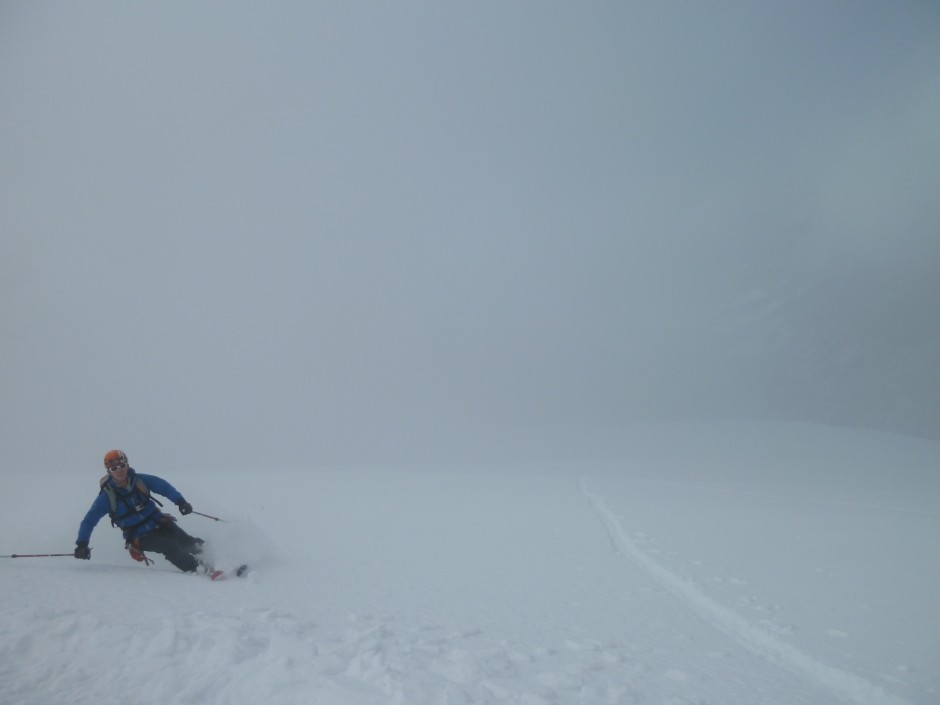 Waiting for a window of vis and seizing the moment.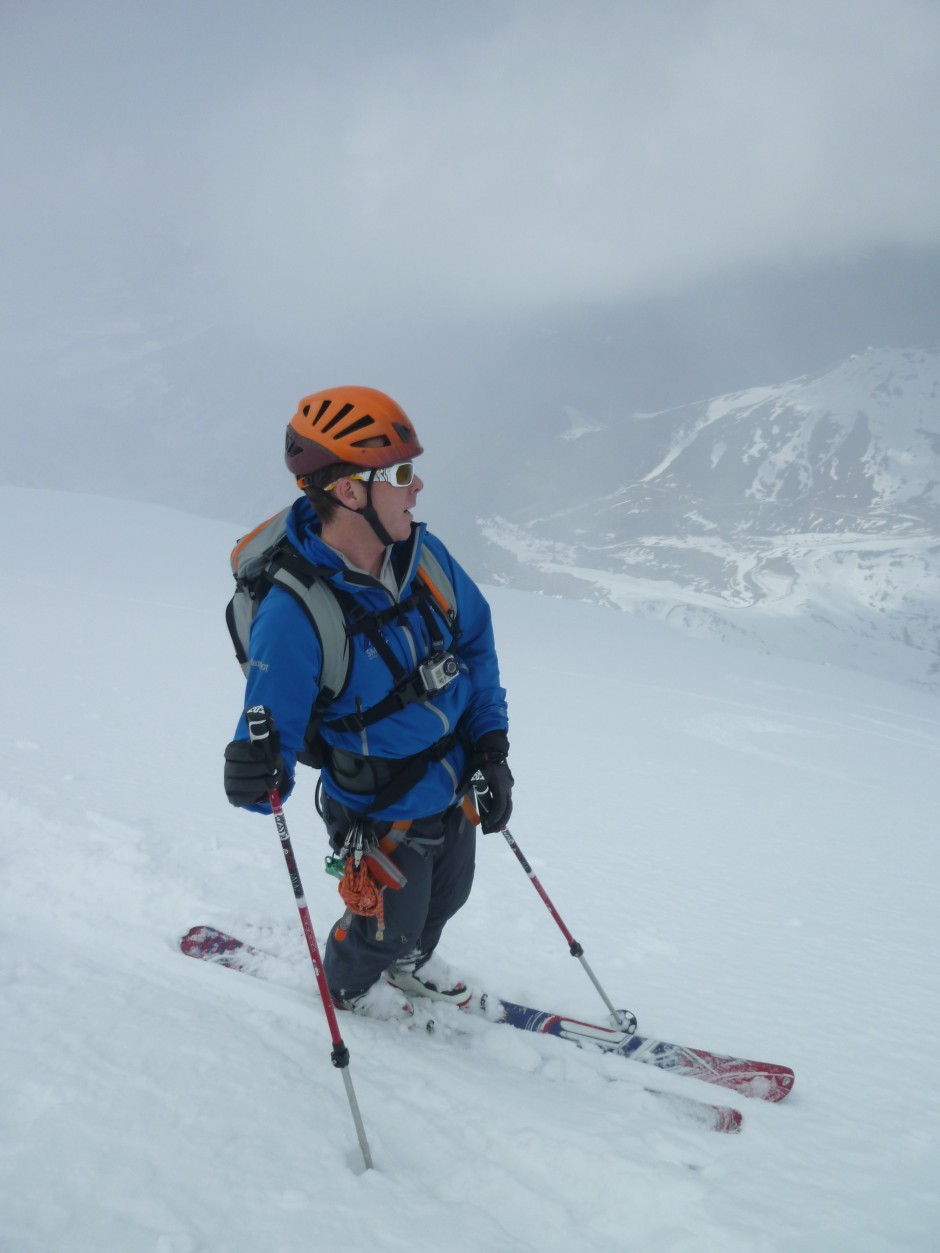 Liz finally emerging from the clouds.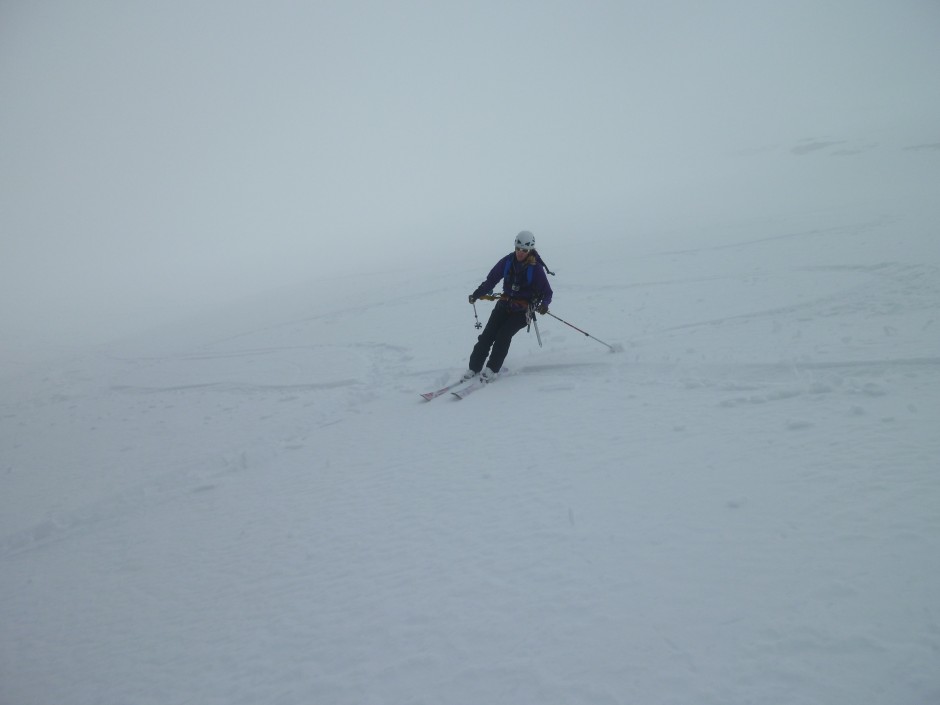 It's opening again,  lets go.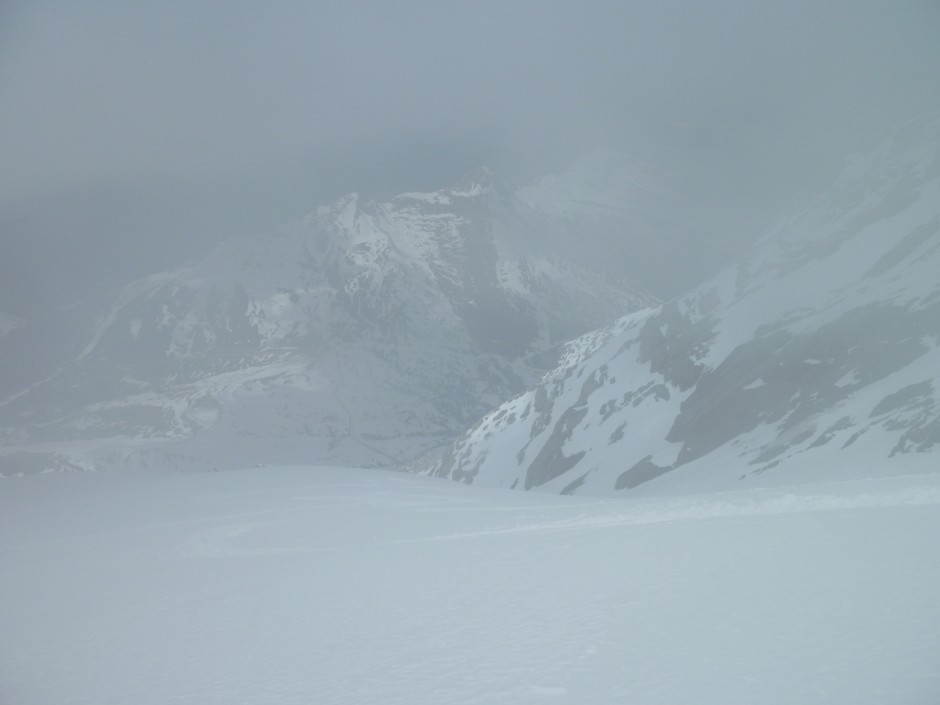 Liz and Miles skiing together like a happy couple in an amazing environment.  That cloud floated past us and above us but was still building up top.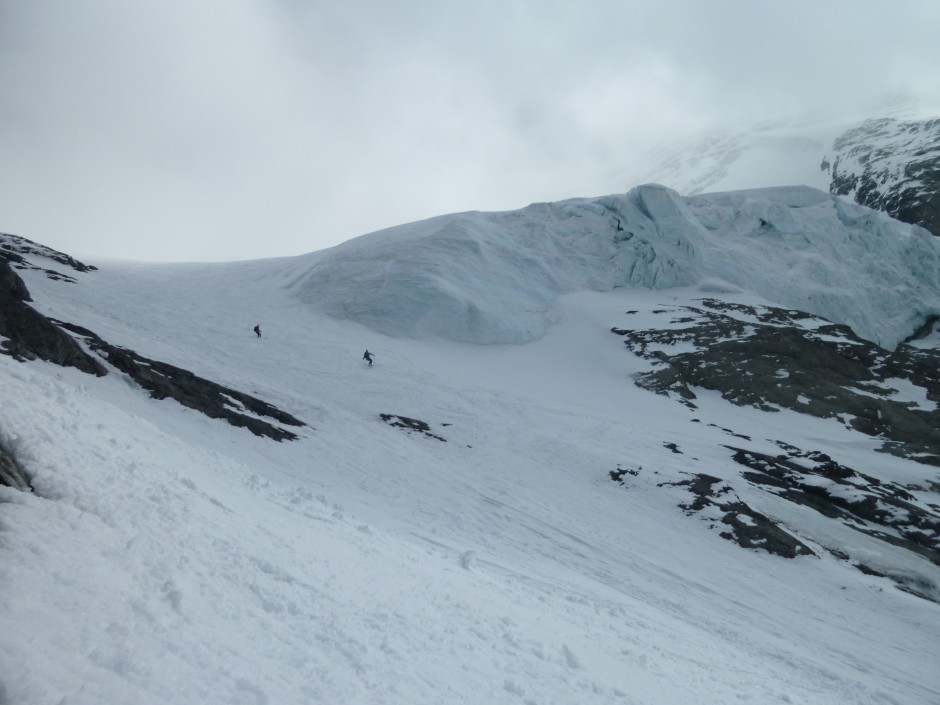 Smiles.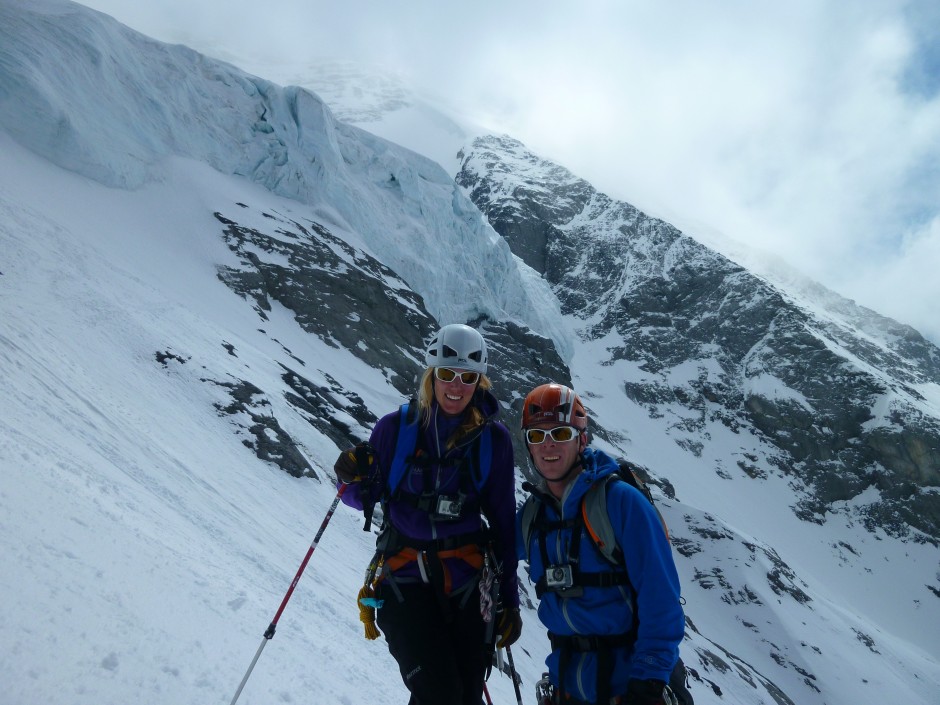 More Smiles.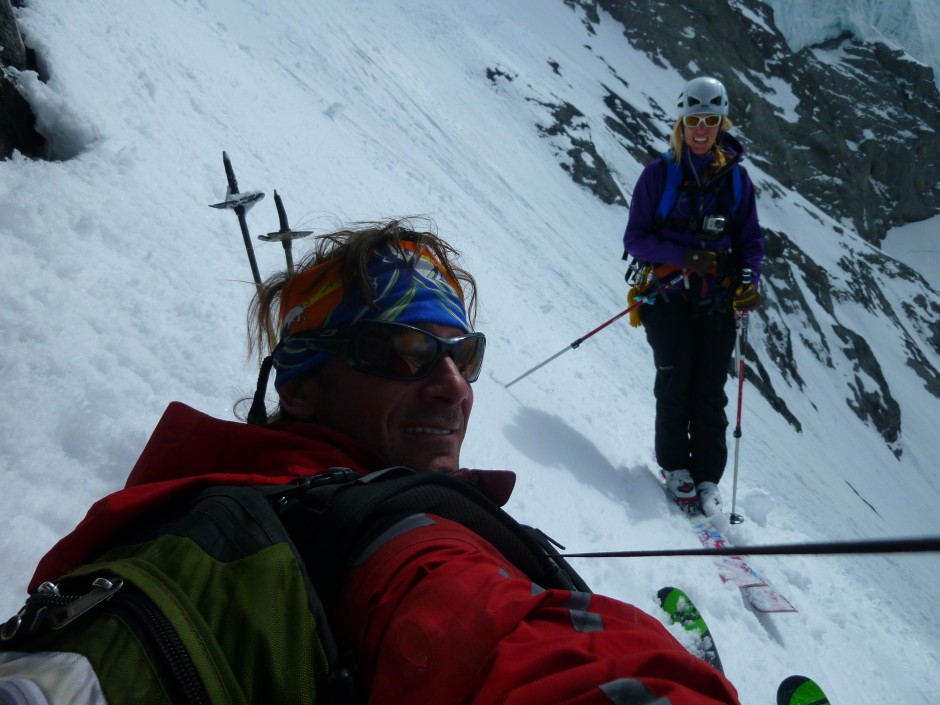 and in case the picture looking up at Miles and Liz skiing together didn't look steep,  this is what was still below. Miles taking the next pitch.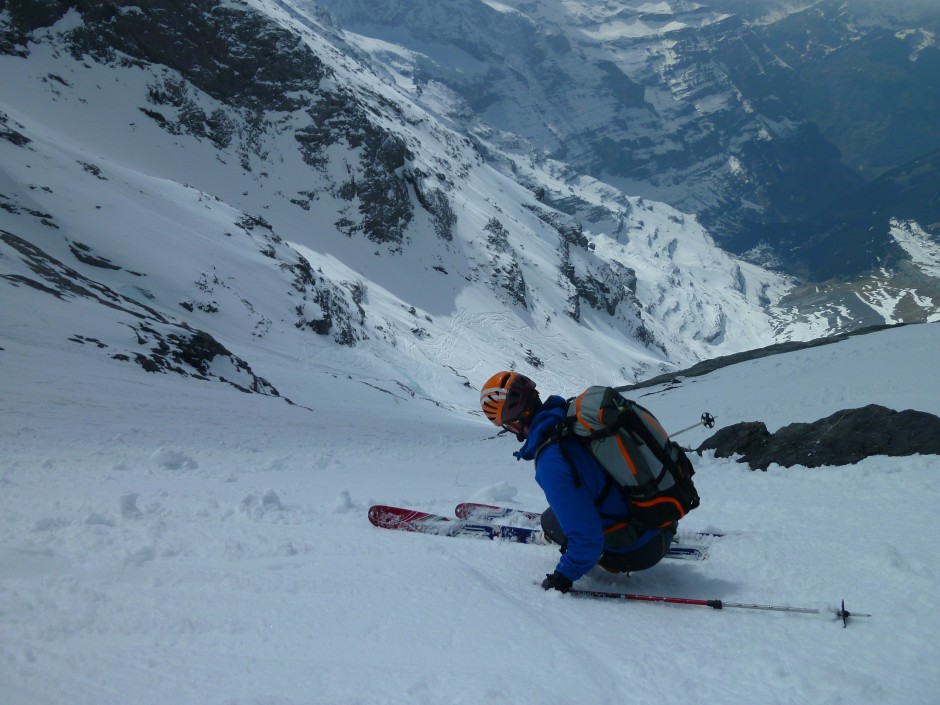 Finally out the exit and catching Miles and Liz as they finish their time under the ice. That thing was huge.  The picture also shows the runnel we had to climb up in the morning when we were directly under that thing.  Sorry no pictures from that part of the day,  sometimes it's just not the right time to take photos in the mountains.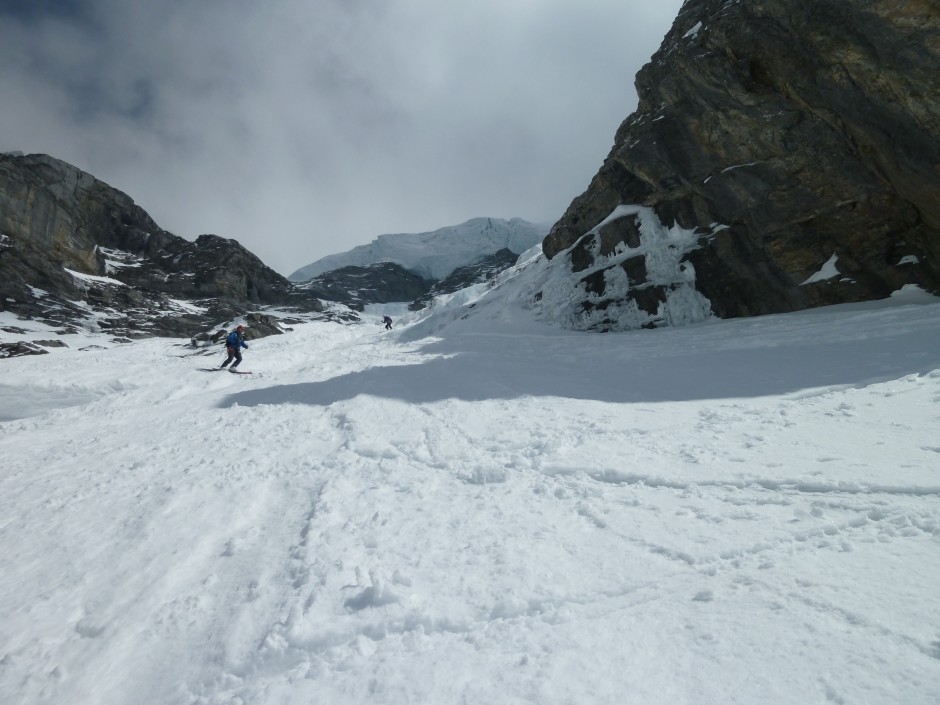 Miles pulling to an island of safety.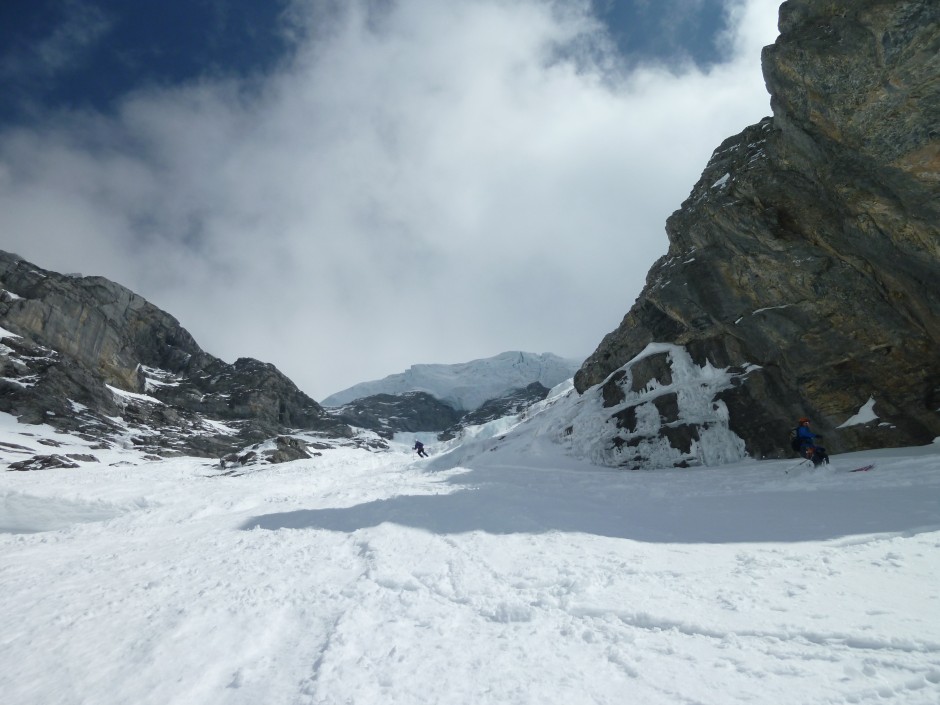 Miles and Liz enjoying some high speed hero snow (corn) as I just arrived to where we stashed our skins for the day.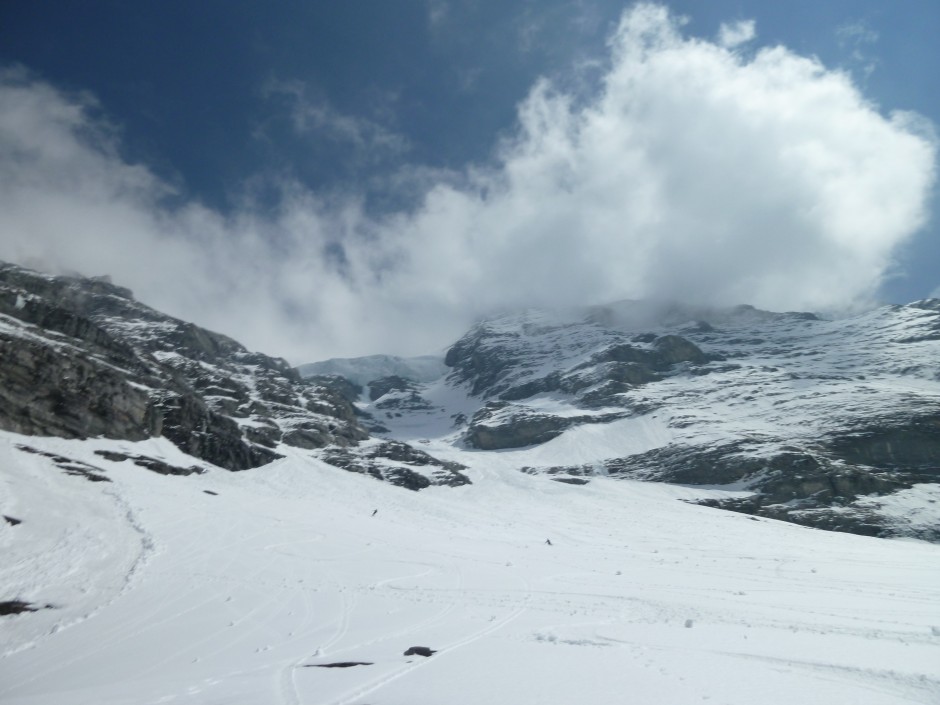 Super fun skiing through this zone, but getting progressively mushier as we descend.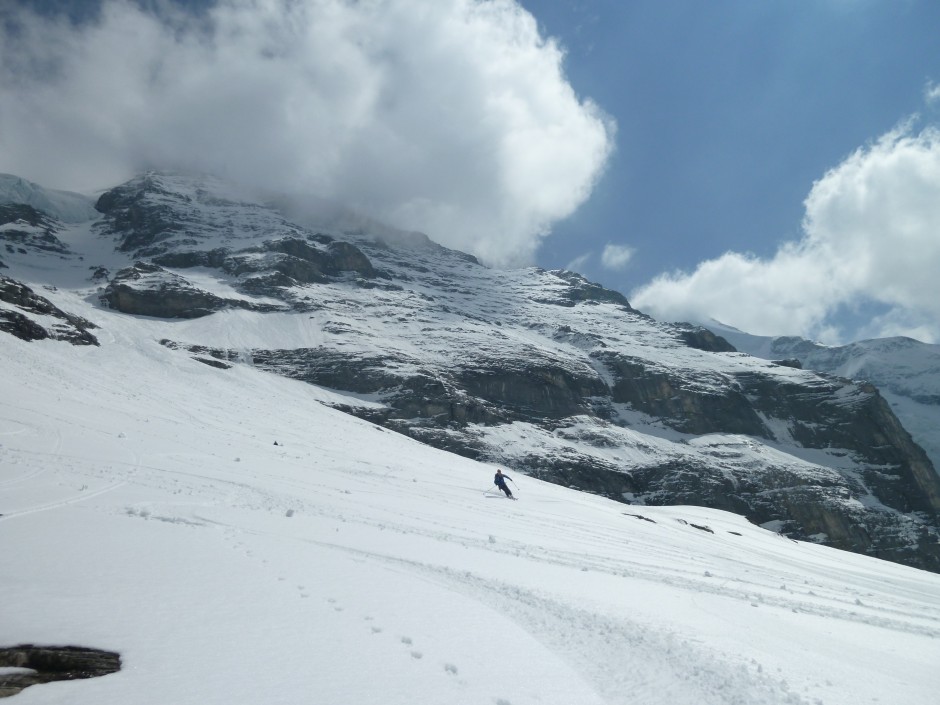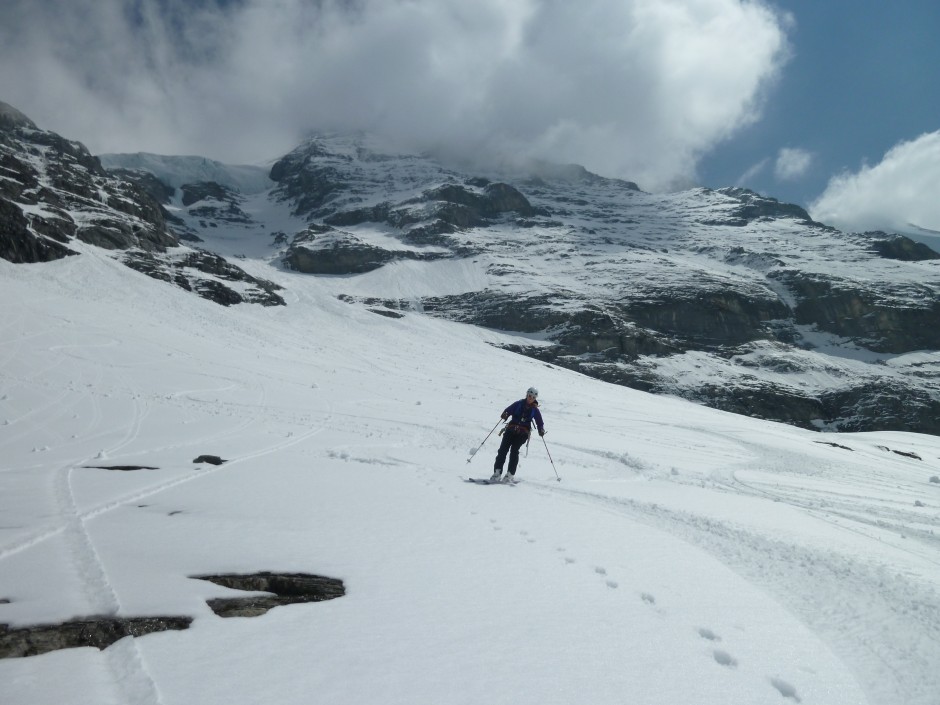 A well deserved smile at the end of the day with the line in view behind Liz.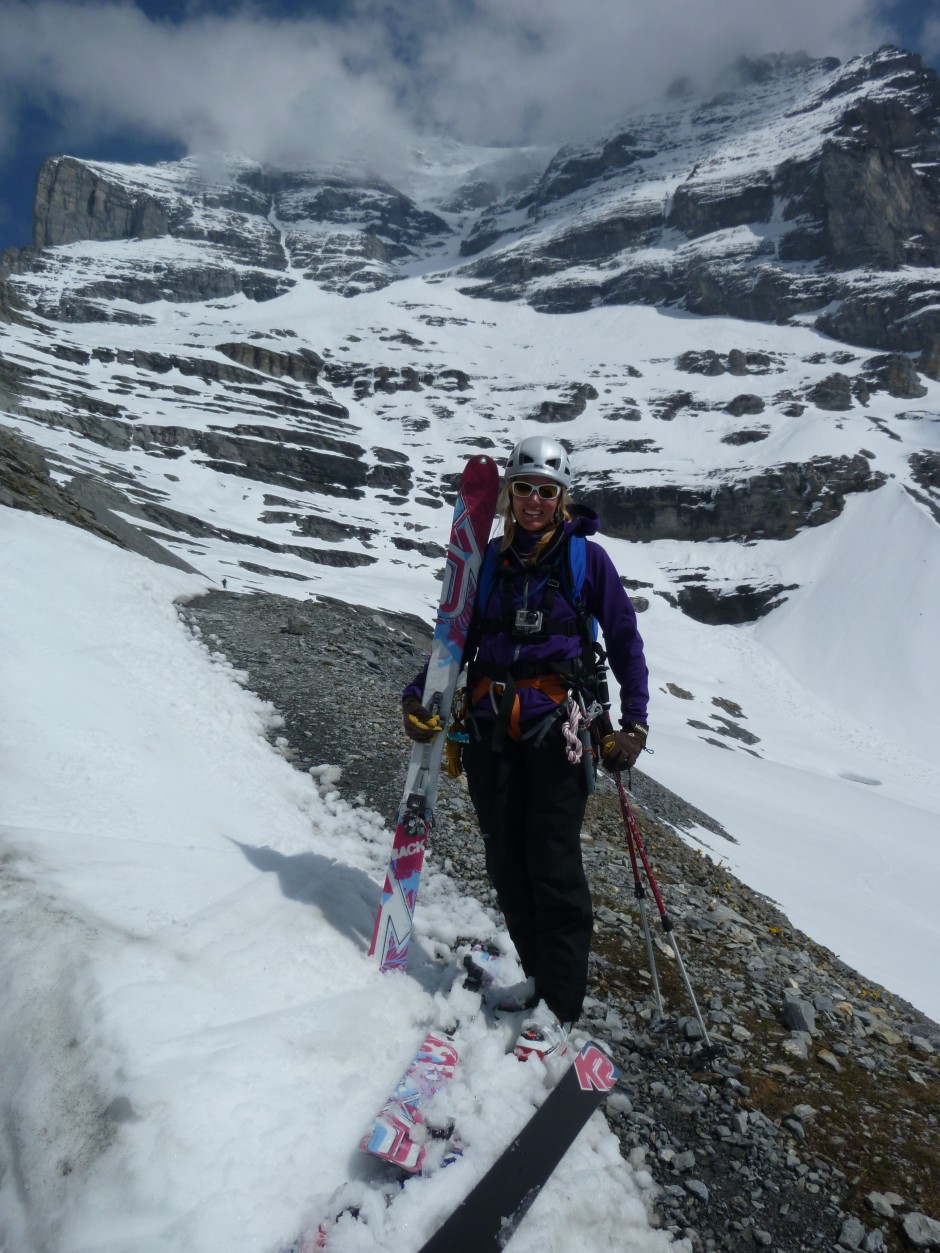 Maybe the best run of my life, and one of the biggest smiles I have ever had,  Maybe it was the skis and bindings  I was on though,  I love those things, Since I don't have a girlfriend , they are the next best thing.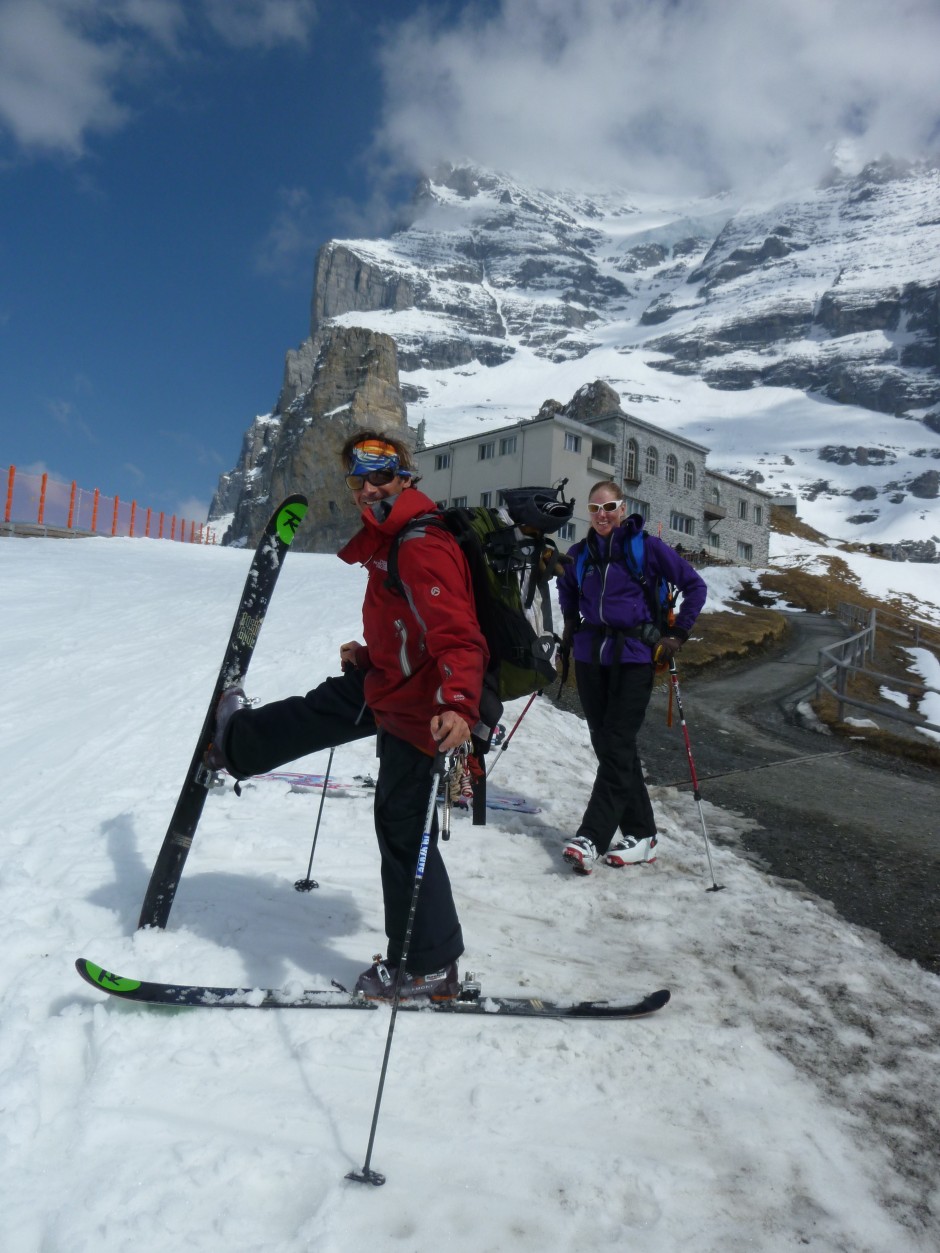 I know at this point, your probably sick of the happy couple photos,  but those are some serious smiles. The happy couple once more, living the good life.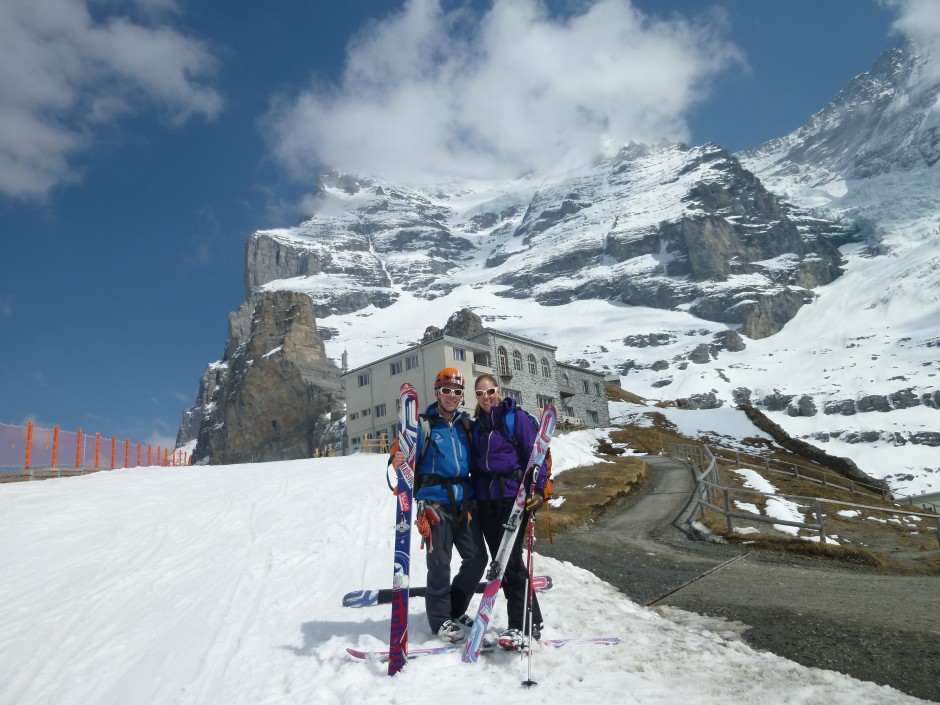 Got to love the Euros ,  look at the refuge in the next photo.  Never in a million years would a refuge like this be built on American soil.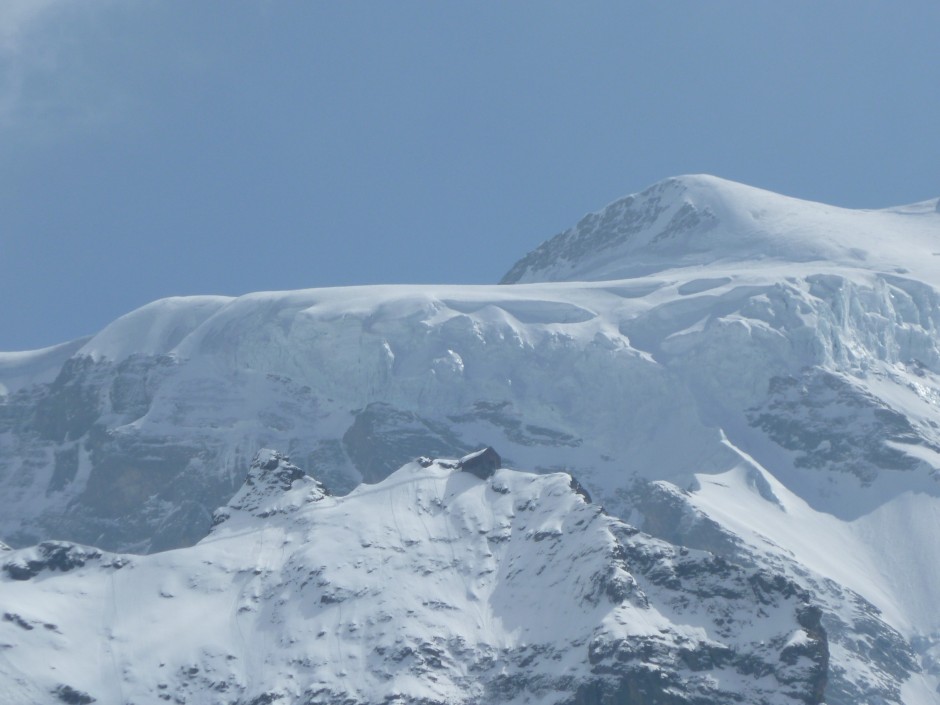 Looking at the summit rib that we skied just poking out of the clouds.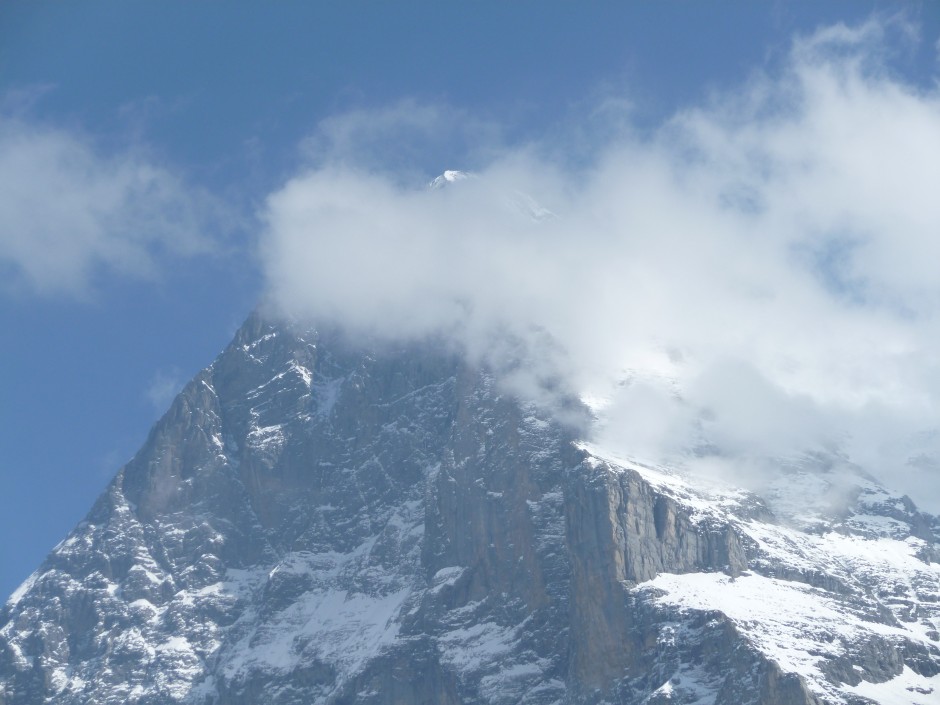 A little more definition of the upper part of the face.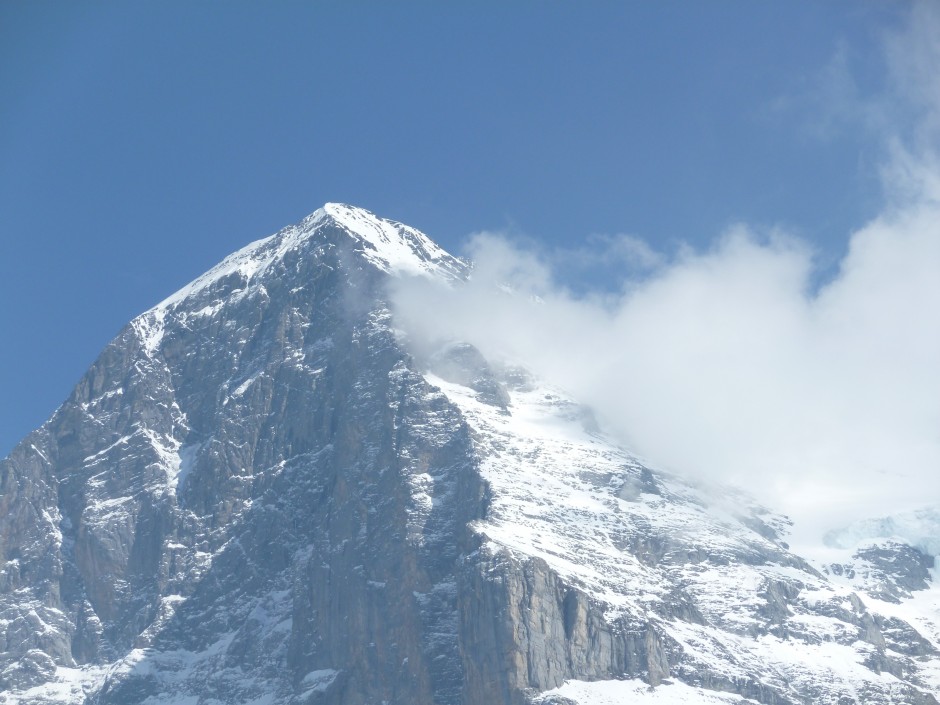 Damn Clouds never really cleared for a full shot.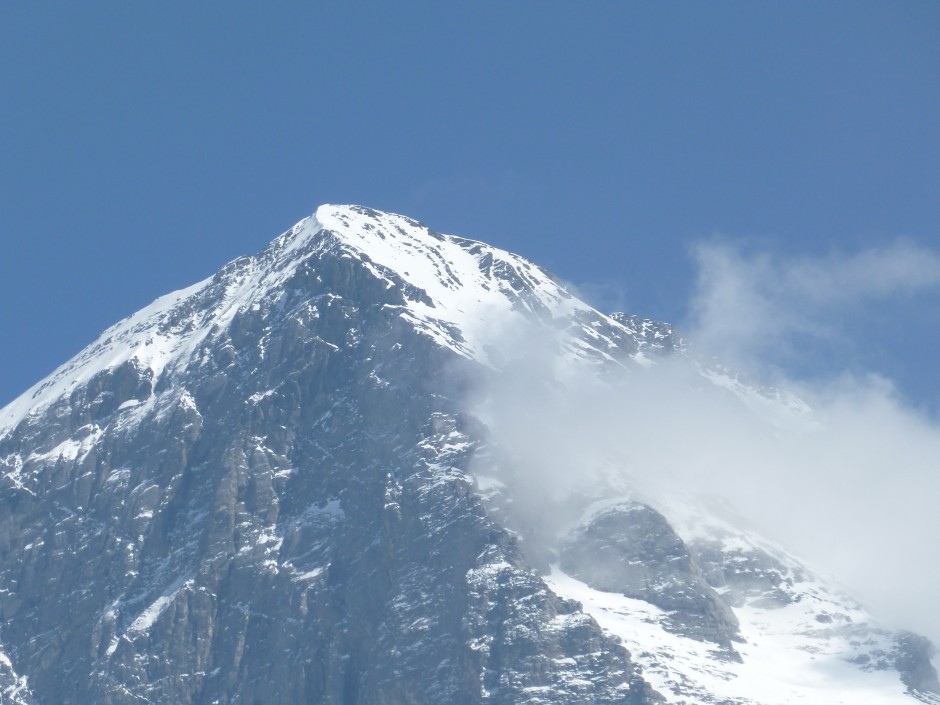 And me with probably the biggest smile I have ever had in my entire life.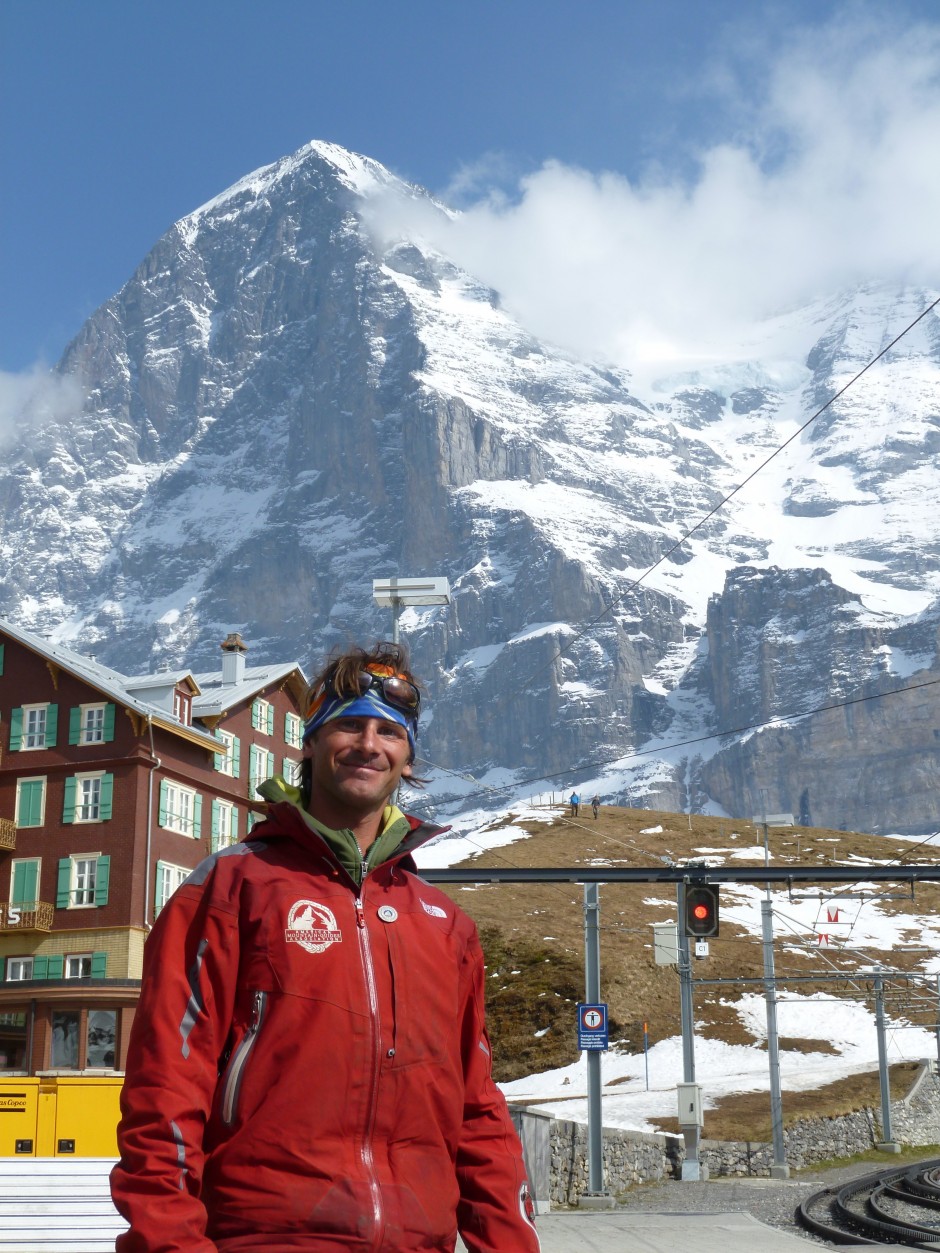 No wait,  that is the biggest smile I have ever had in my entire life. After a 1950 meter descent to the train station and COLD BEER in the sun. 🙂 🙂 🙂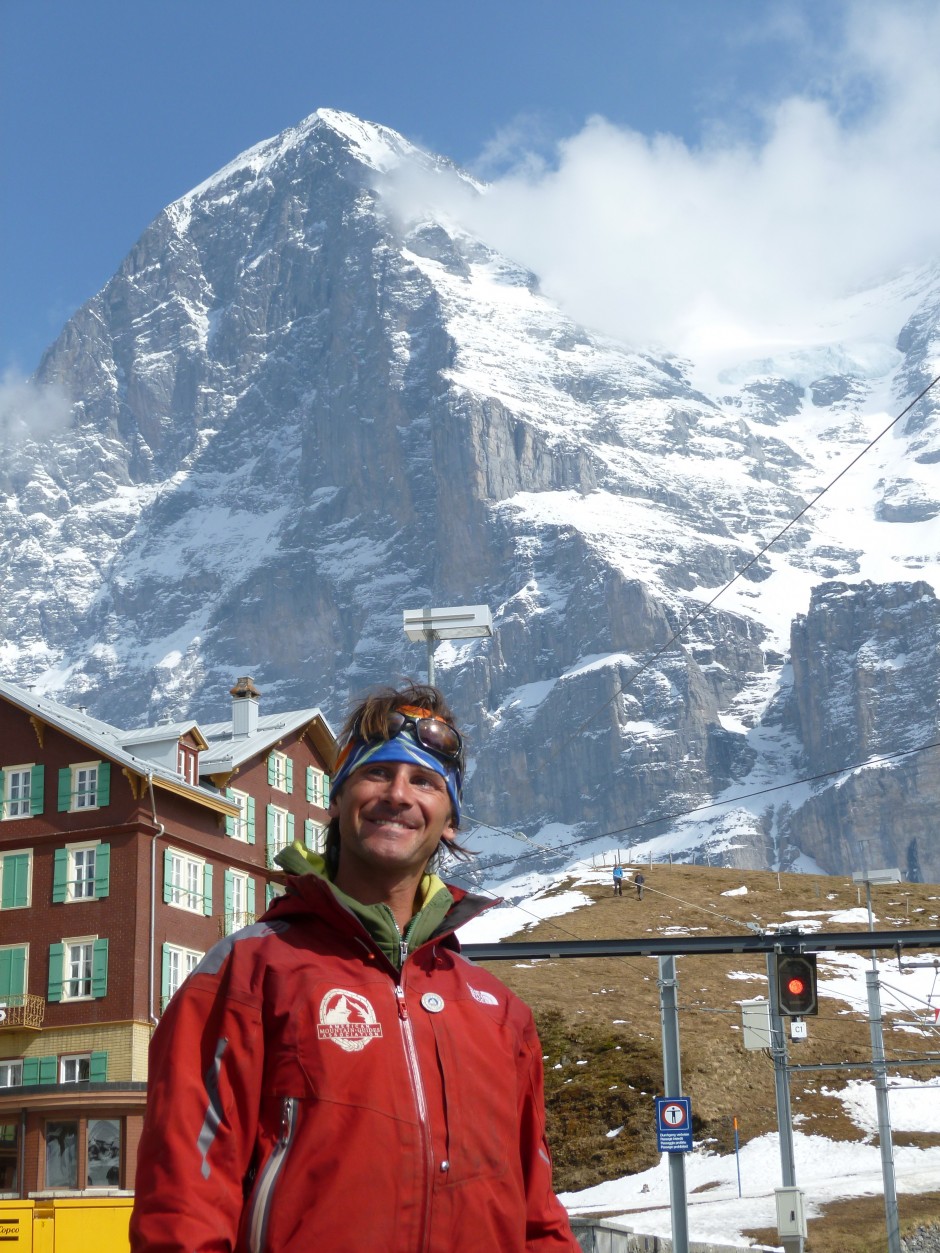 In closing, I really thought the day should of been harder then it was,  not too say that it wasn't serious, exposed and required a full set of skills and experience, and precision skiing given the snow conditions and the consequences,  but it just felt smooth all day. Yeah it was physical and mentally challenging to be a fly on the wall for that long, but the relaxed approach and calm demeanor of the day made it enjoyable.   I think I have to owe that factor to the Team.  It was just nice to move efficiently and not worry about who your with.  In all we were mostly thinking on the same level most the day and that just makes moving in the mountains such an amazing experience.  I could not of asked for a better experience and a better group of people to do this with,
Thanks Liz and Miles for an unforgettable descent, looking forward to skiing with you again soon.
Ok folks,  See you next time,  I don't know when that will be,  I am off to states on Tuesday and we shall see where the tide takes us,
It was an amazing winter,  Amazing snow, this descent was by far my highlight, but despite what everyone is saying about conditions this winter in the Alps,  (just read my previous blogs and see for yourself how good it was) I am thankful to be going home alive once again and I am looking forward to some sunny days on the rocks. But I guess there still getting snow back home and it sounds like A-Basin is still open,  so maybe I'm not done yet,
Regards,
Joey V.