Ok, sorry everyone that cares.
I got way behind and there are some special posts to follow with more detail.  Here is a quick summary of some of the fun that went down in La Grave in a nutshell over the last two months.  All in all it was an amazing season and the pics and people are truly what makes La Grave one of the most special places on the planet,  Enjoy and be sure to check out the posts to follow for a more detailed show down of some priceless times.
Cheers,
Joey
The Derby De La Meije Ski Jorette Parade
The Man, the Myth, the Legend and my new found Hero,  Russ taking in the good times and living the good life!!!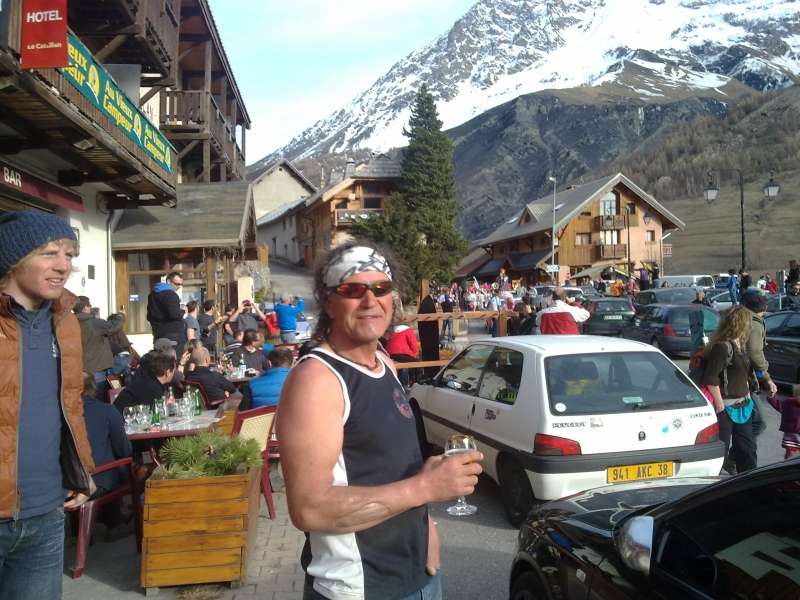 Sergio in his element and being Sergio once again.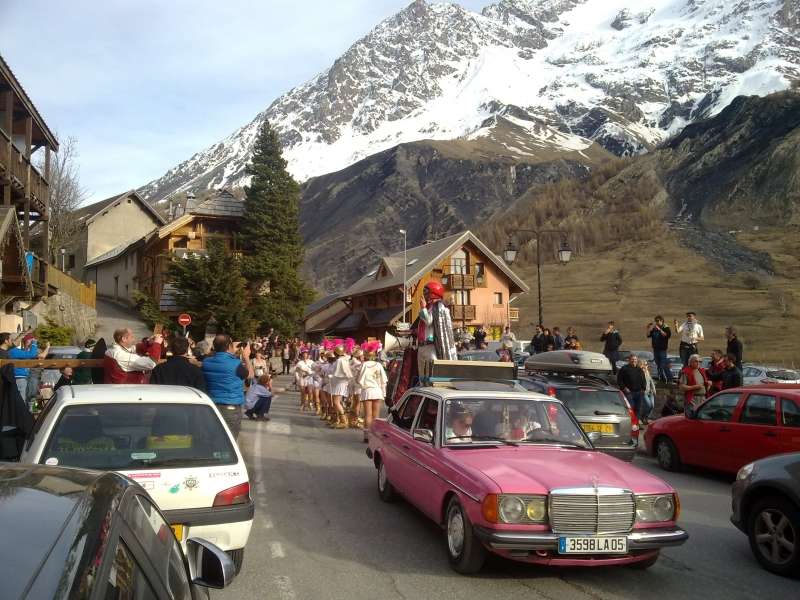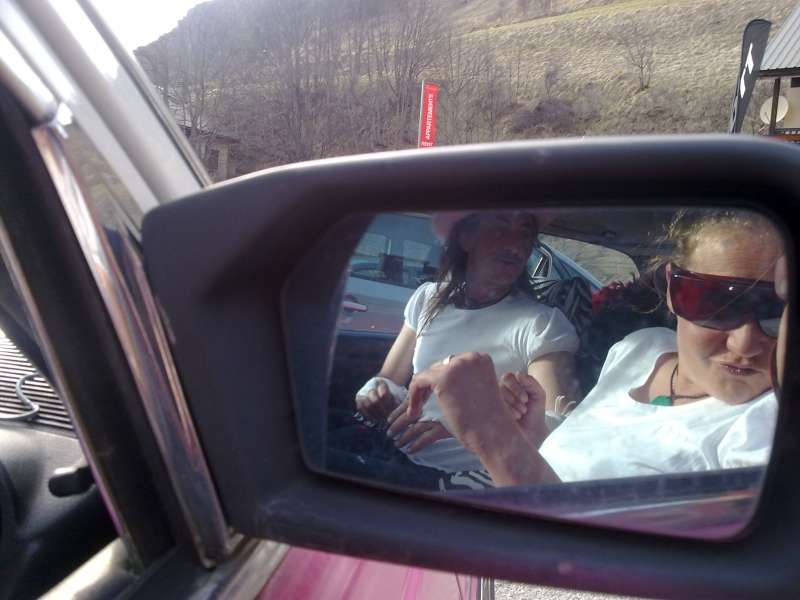 This Man for President, he gets my vote.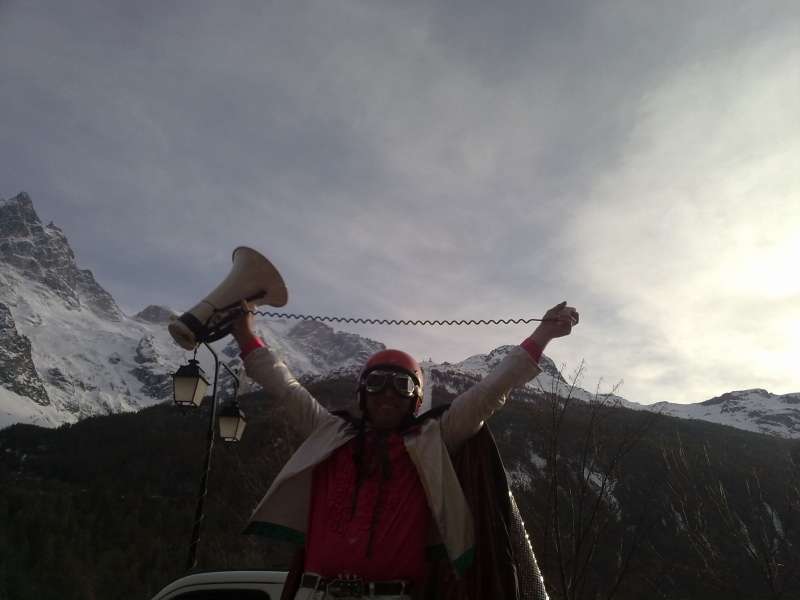 Line Dancing takes on a new meaning in La Grave.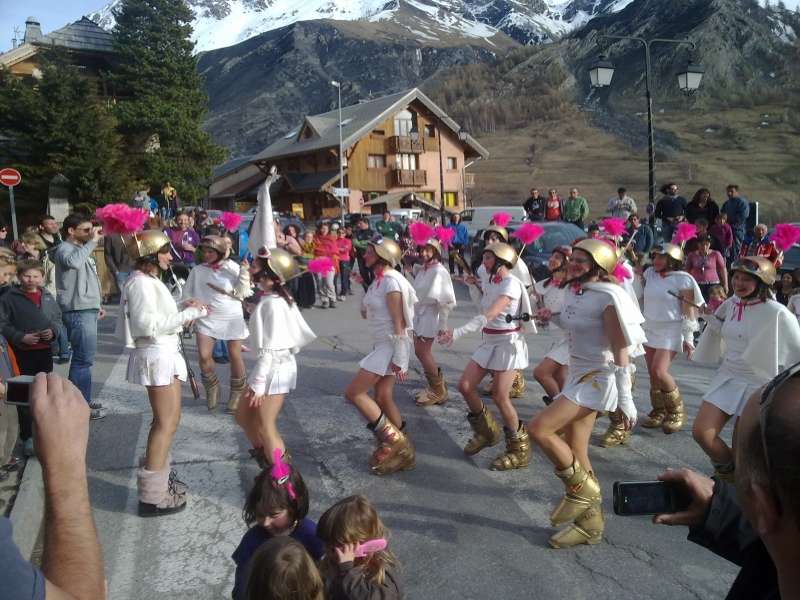 Cousin Monte and Russ taking in all the action! Look closely there are a bunch of chickens in the photo!  Oh, the madness of a Derby.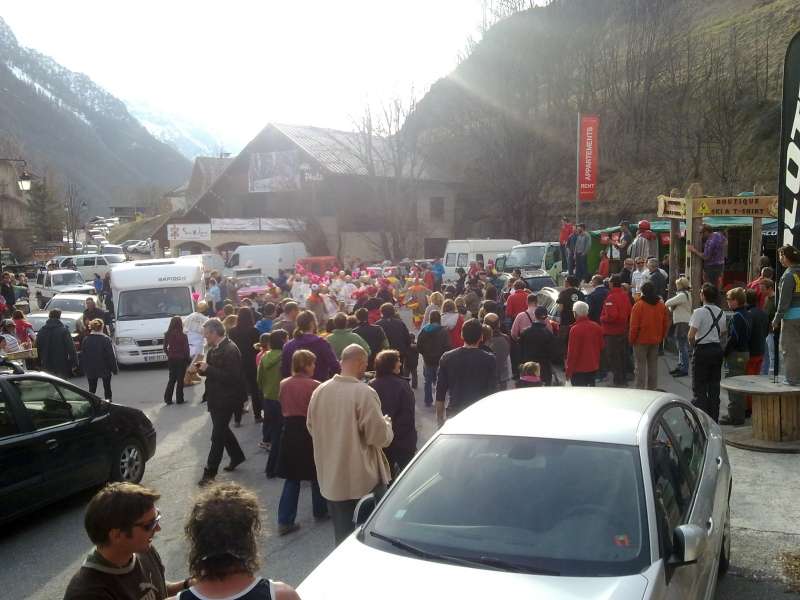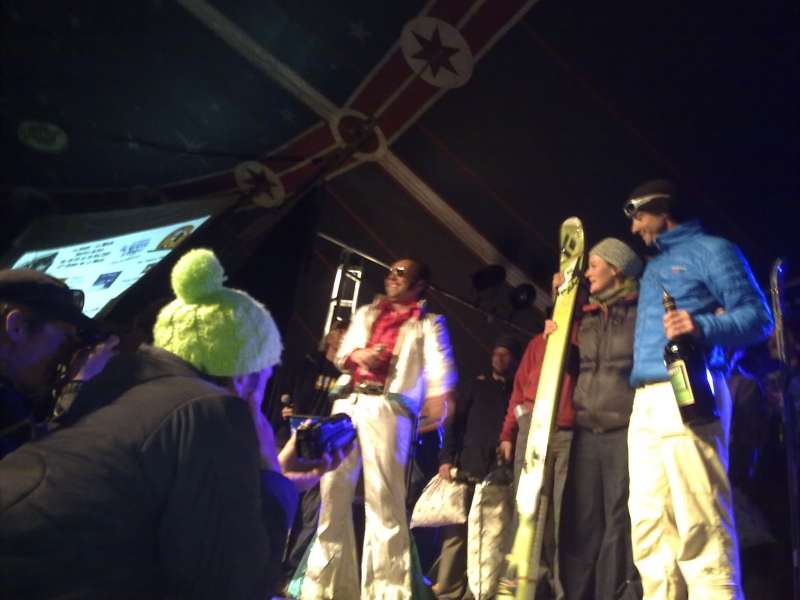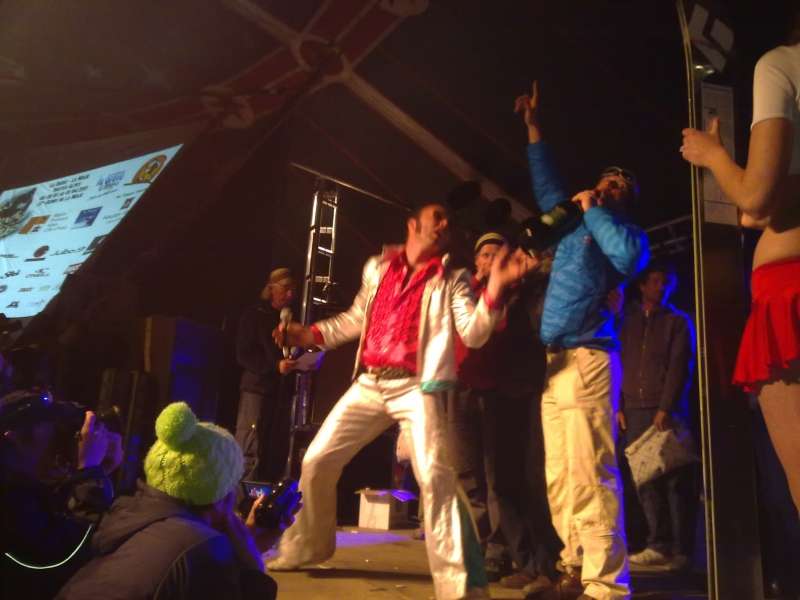 Only in France could you name your band something like that and not have a complete media up roar.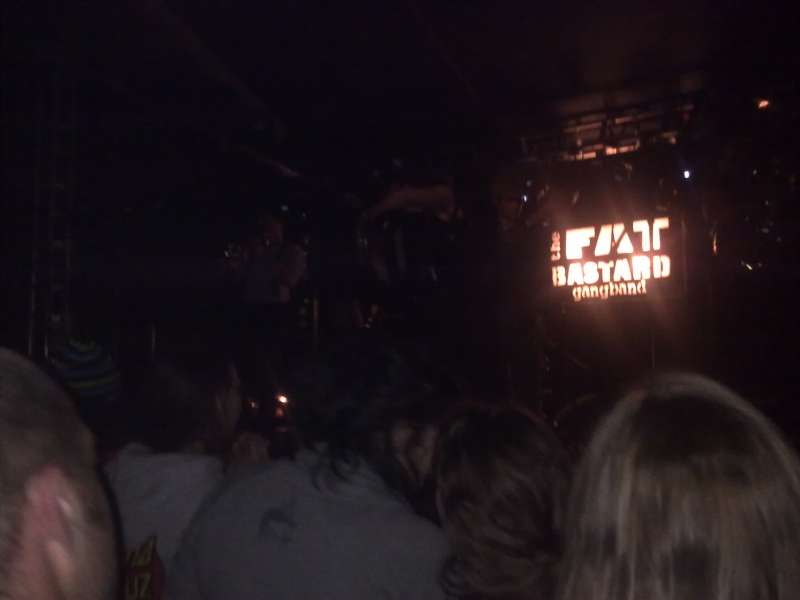 Cousin Monte taking care of Keith's Sandy you know what!!!
My cousin Monte came for a long overdue visit during Derby week and beyond.  While in town he sampled the snow, the cheese, the wine, the characters and still found time to stick some needles in my friends.  Monte is a licensed Acupuncturist and studied Chinese Medicine from Mr Miagi all the way over in china,  Look him up here if your in Arizona and he will show you how to catch fly's with chopsticks!!! http://www.acupunctureflagstaff.com/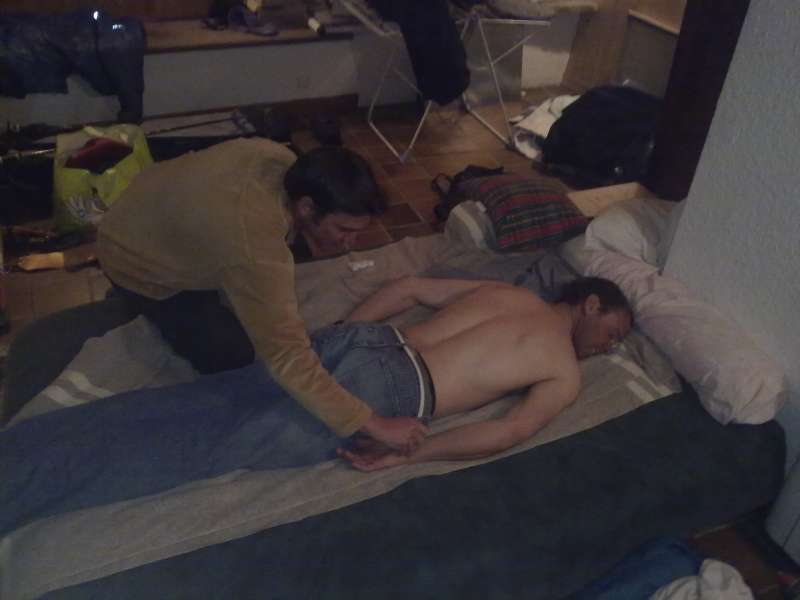 Keith trying hard to get the sand out of you know where!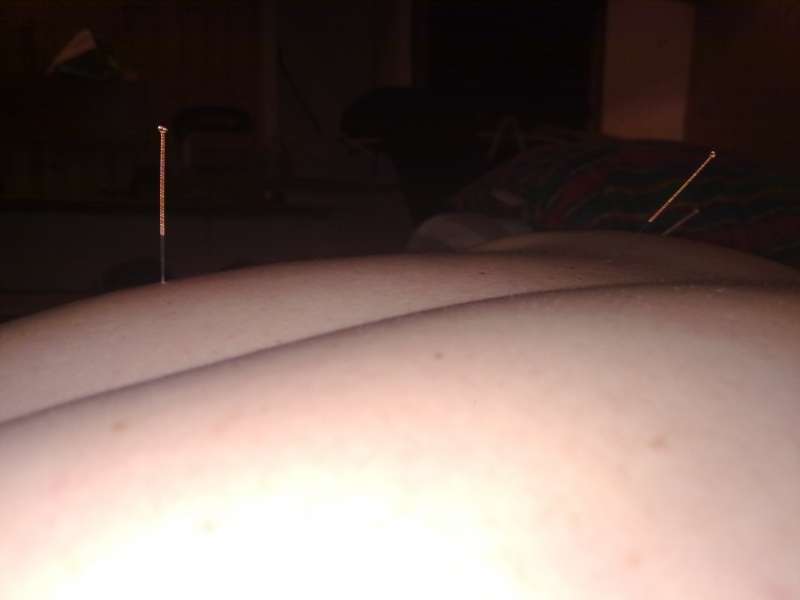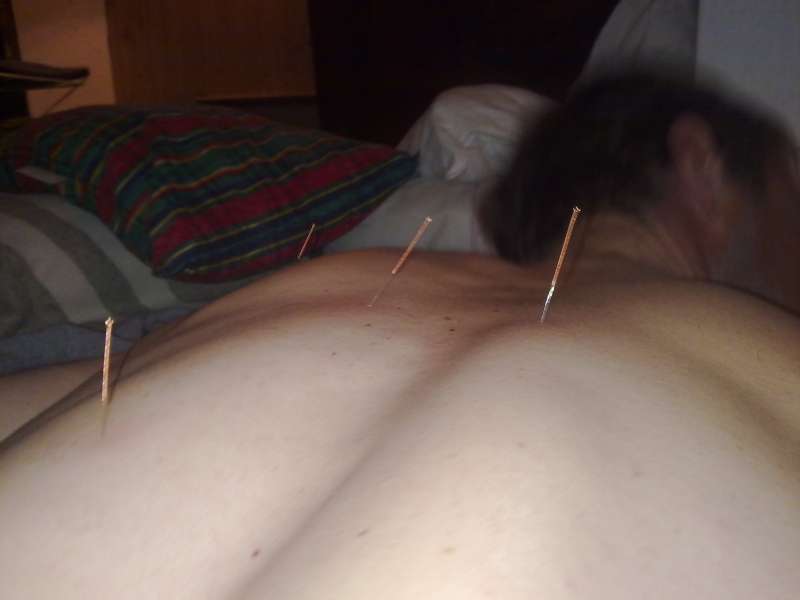 The Doctor is in the house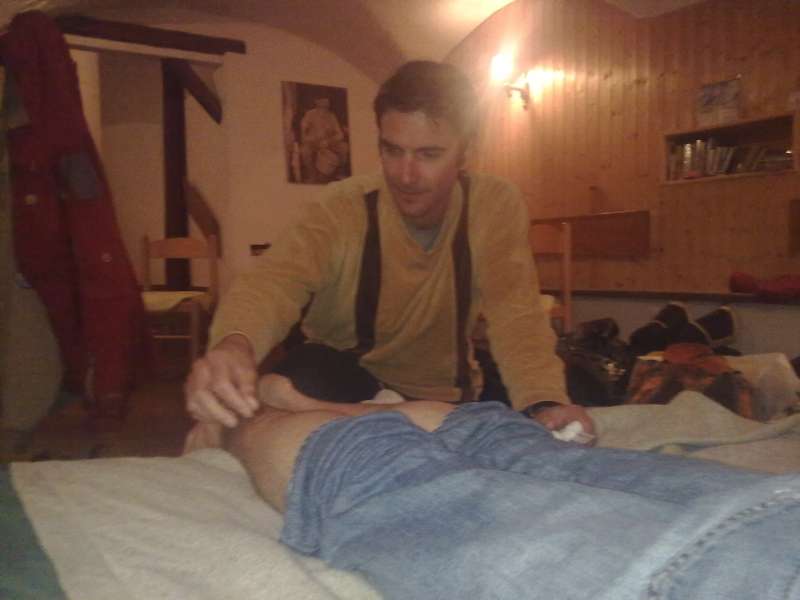 Genepi La Voute De Phillipe!!!
So this was an evil night,  When Phillipe breaks out his own Genepi, you can't put your glass down for more then a minute without getting it filled again.  There are many Genepi's some commercial but the special ones are personal and home made.  It was an honor and a rough morning to share Phillip's Genepi.  If you don't know about Genepi then click here to find out about this special flower of the Alpes.  http://en.wikipedia.org/wiki/Genepi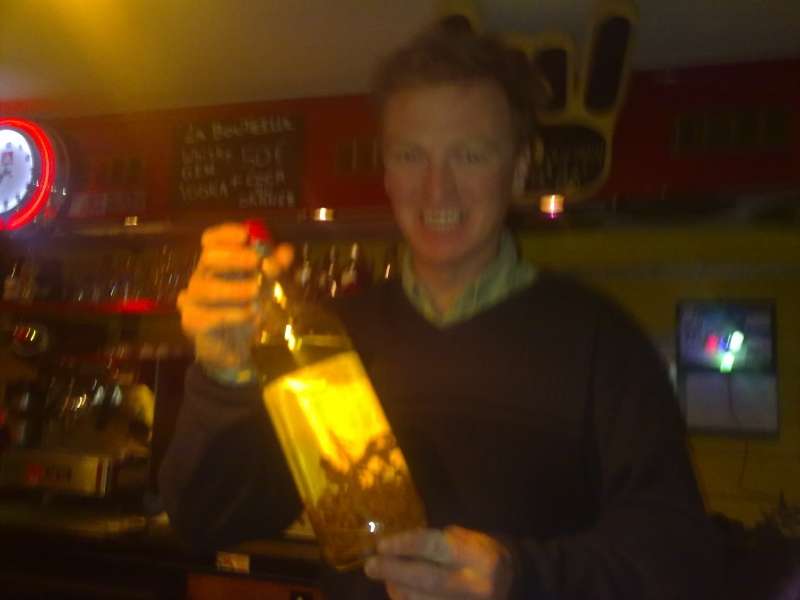 That is some potent stuff right there!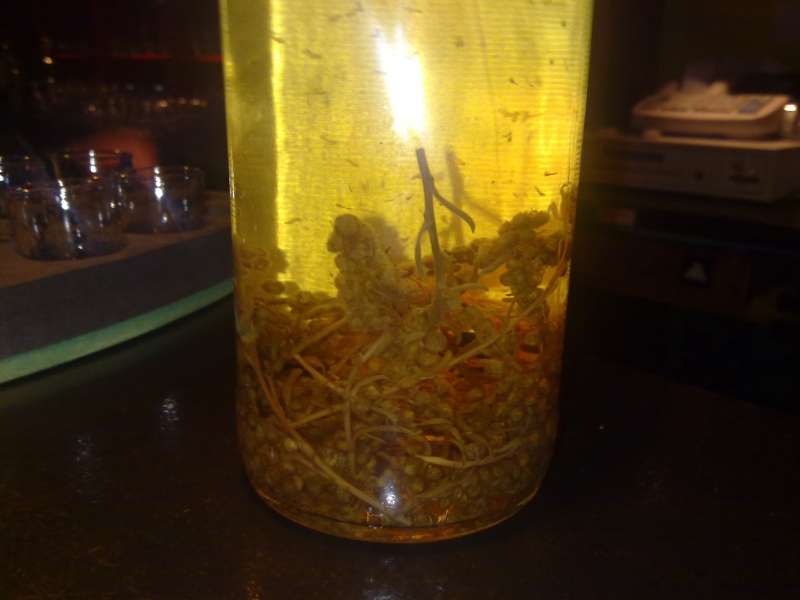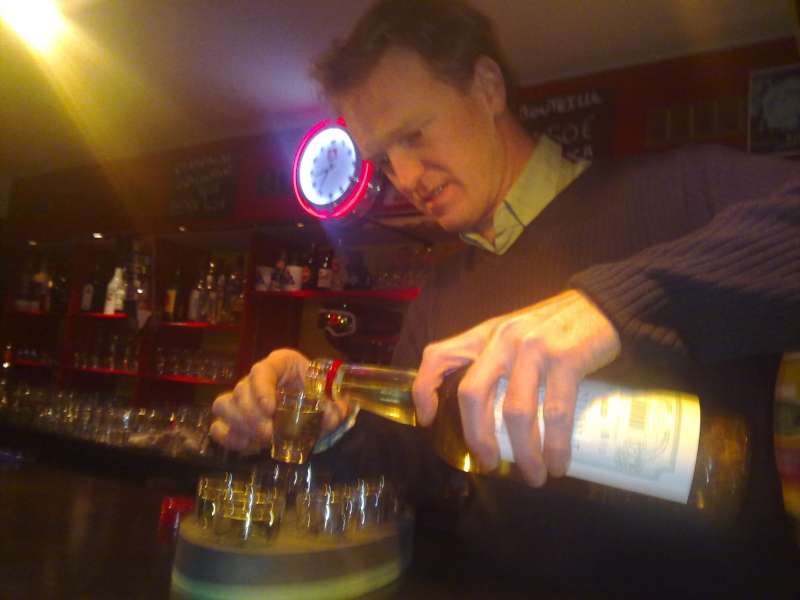 That guy over there in the red is what will happen to you if you drink to much of this stuff!
Tim obviously excited to sip the good stuff!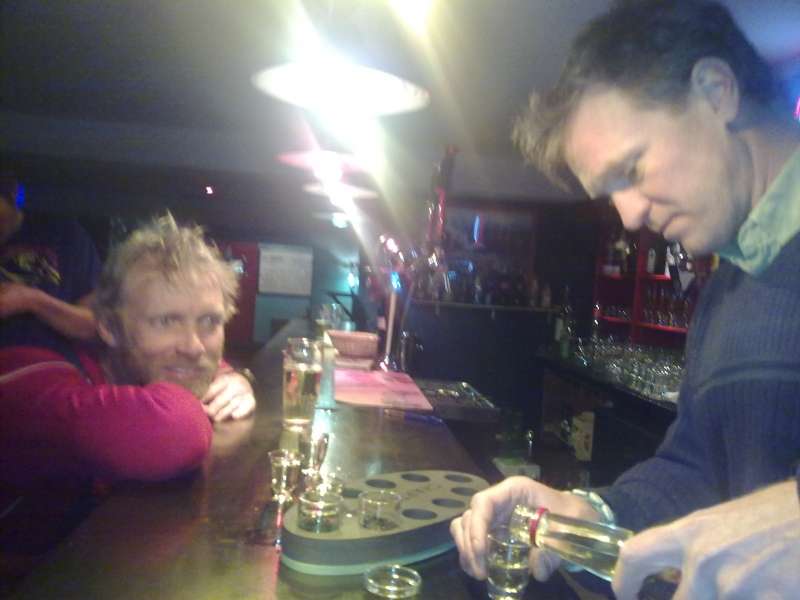 The last night at the K2 pub.  It had already closed at Derby, but we opened up one more night with a Bar-b-cue and open mic hosted by yours truly.  The after party went into the pub to here local band The Feelz Good play while we did our best to drain Pella's kegs one last time,  and amazing day.
The man Russ supporting an open mic guest Henna who was singing on stage with a mic for the first time.  Its a shame we couldn't get her to sing into the mic because she has an amazing voice, but everytime Russ and I put the mic near her mouth, she turned away, 🙁
More importantly though,  Guest appearance and full blown Cameo of the stage goes to Ptor Spricnicks for sitting in on Le Baterie and a fine supporting job I might add.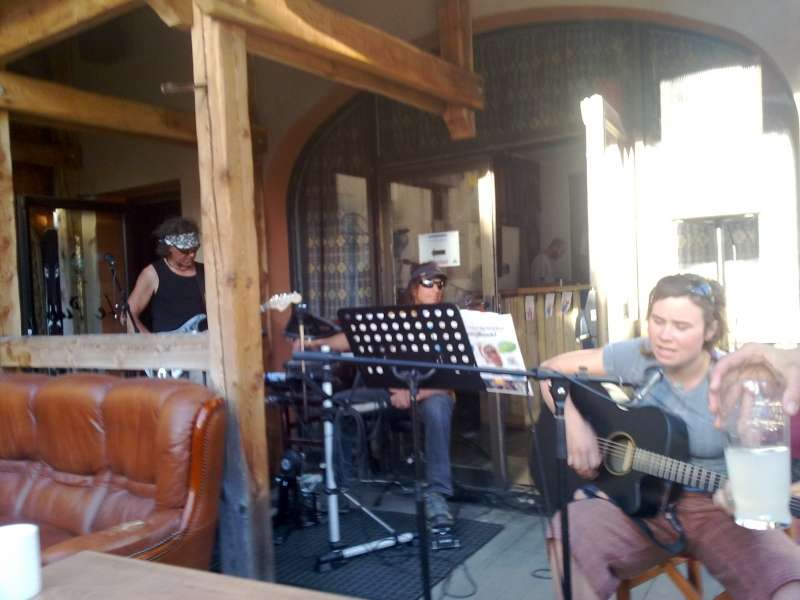 Rocking to the Feelz Good and maybe one of the sexiest female singers alive!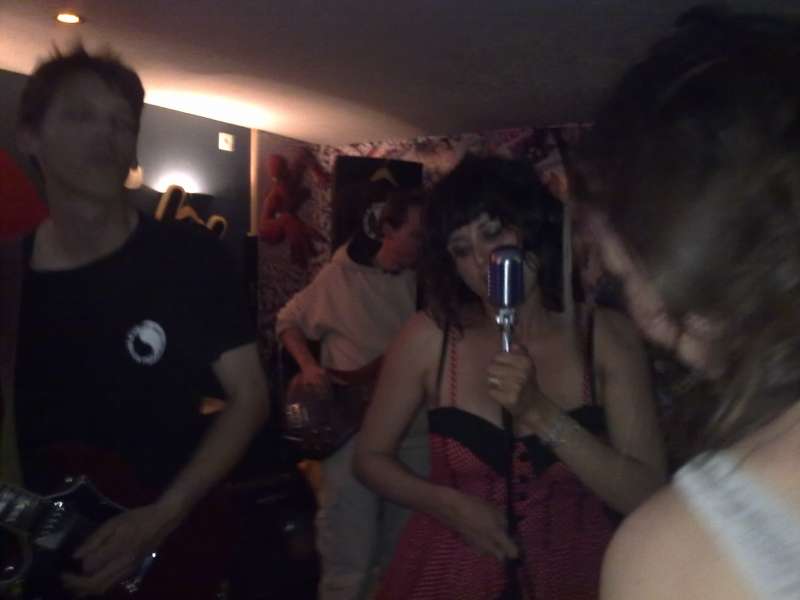 Can't have a K2 Band without a guest appearance on the mic and who better to sit in then Russ, Once again showing you all why he is so much better then you!!!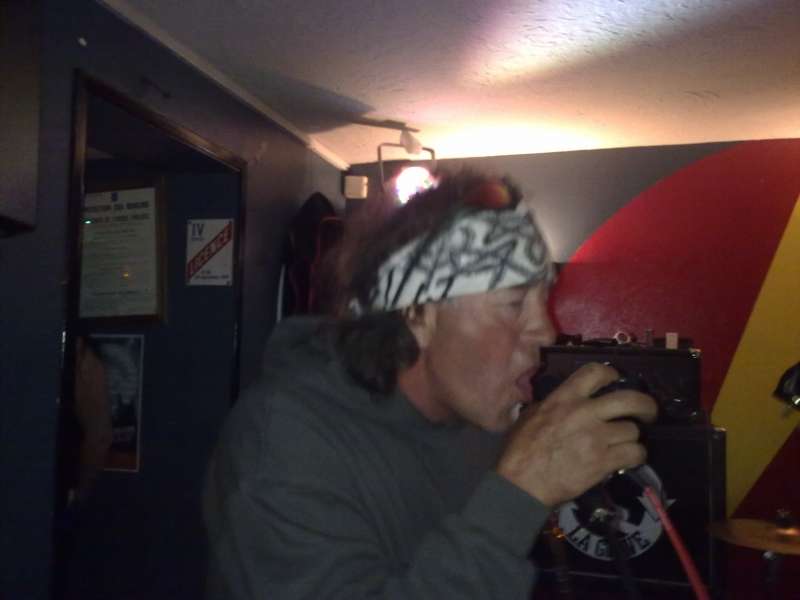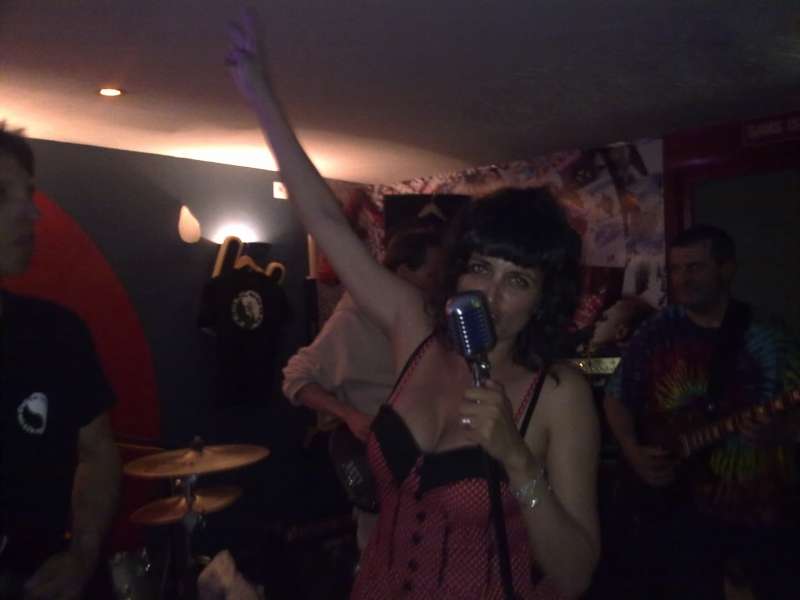 Gilbert, Ben, and Bruno holding it down!!!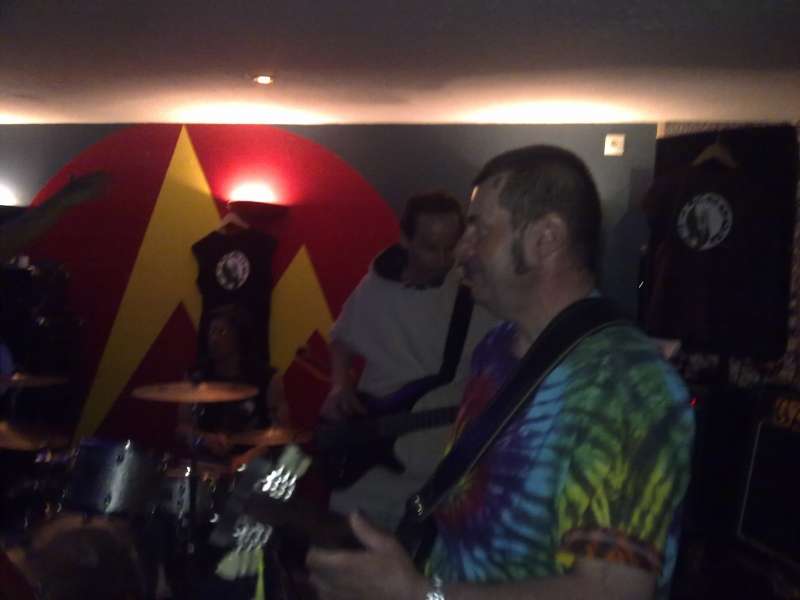 A day of craggin with some awesome friends, Barney and Monica joined me in Borg ' D' Oisan for some good pre season fun.  If your stuck in La Grave and looking for a quick hit take the 20 minutes to drive here.  The pitches are long and steep, the rock is clean and unique and it blows Freaux out of the water.
Monica being talked into a climb and doing way better then she though she could!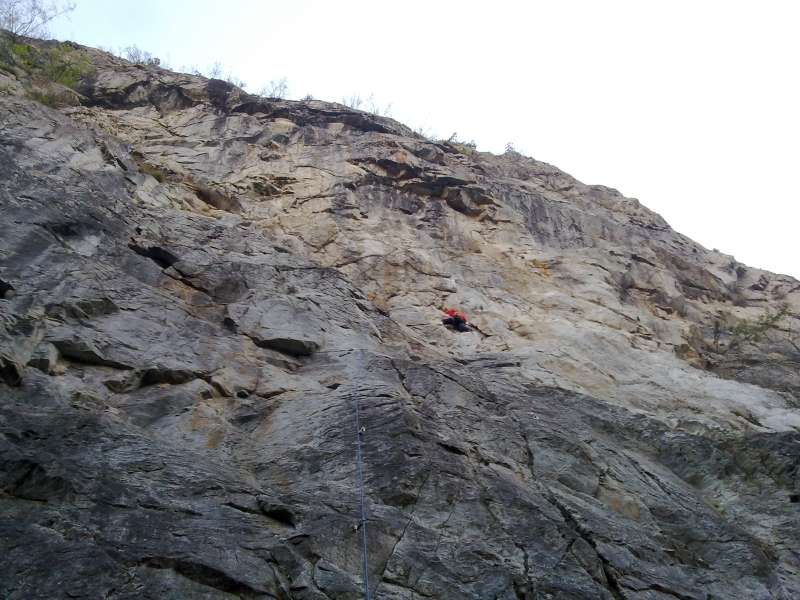 The view of the beautiful Geology that surrounds Borg!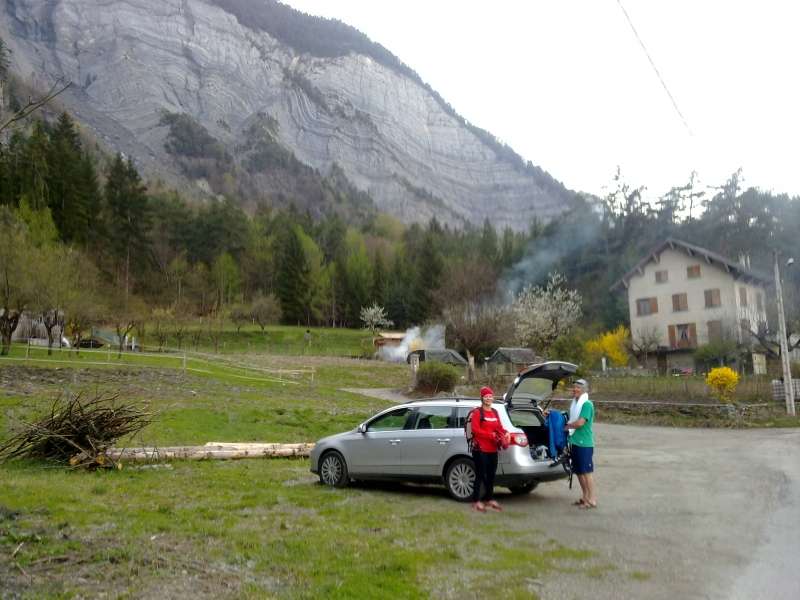 Guitar Hero!!!  Metallica!!!
Of Course no time in La Grave is complete with out a bar b cue at Kurt's house, number one ski bum and guitar hero extroardinar.  Of course Kurt only hosts these parties to prove to all of us that he is better then us at Guitar Hero.  I have to admit , he is pretty good and the game kicks ass.  Looking forward to July 9th in Paris with the two in the photo as we will be seeing Megadeath, Mettalica , Slayer, Slipknot and anthrax all at one venue,  Hell Yeah!!!!!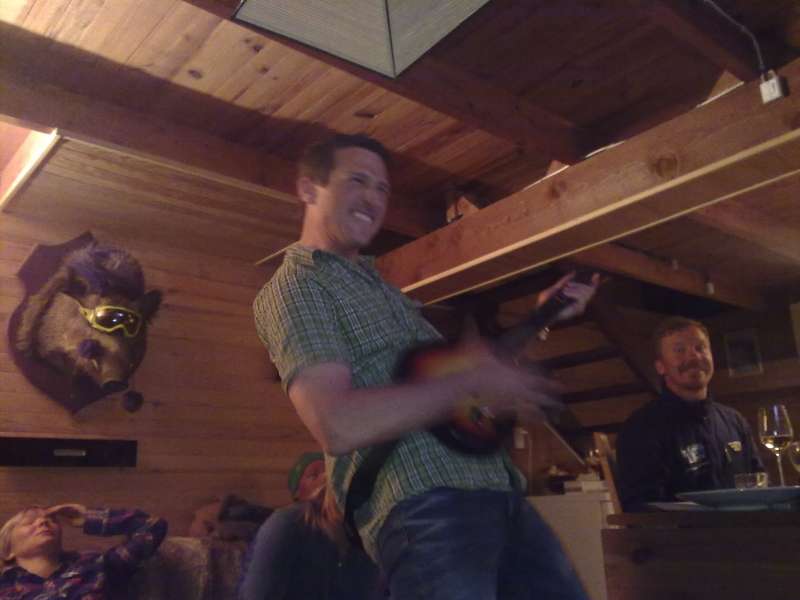 A quiet evening on the river above the Freaux ,  pretty special night for those that were there, Thanks for hosting and organizing this one Russ!
Sorry for the blurry photos, Camera phone, but you get the point! Special people, in a special place!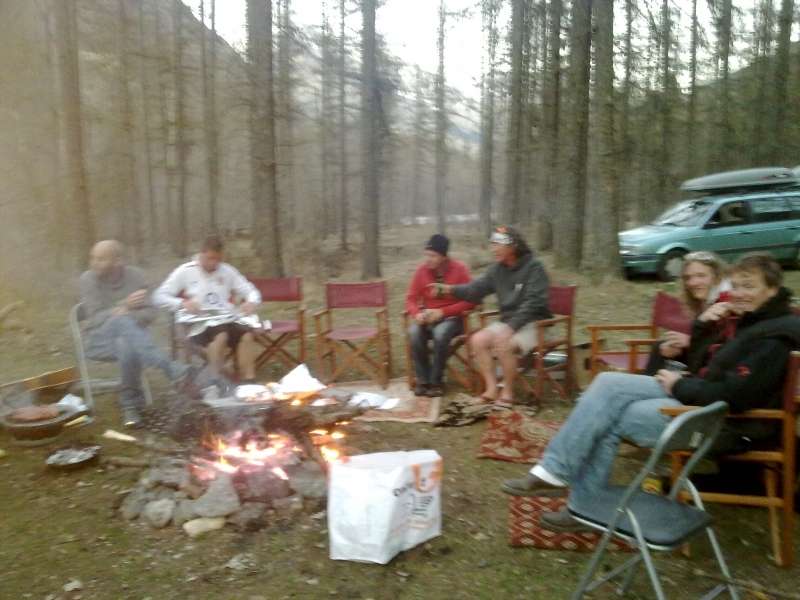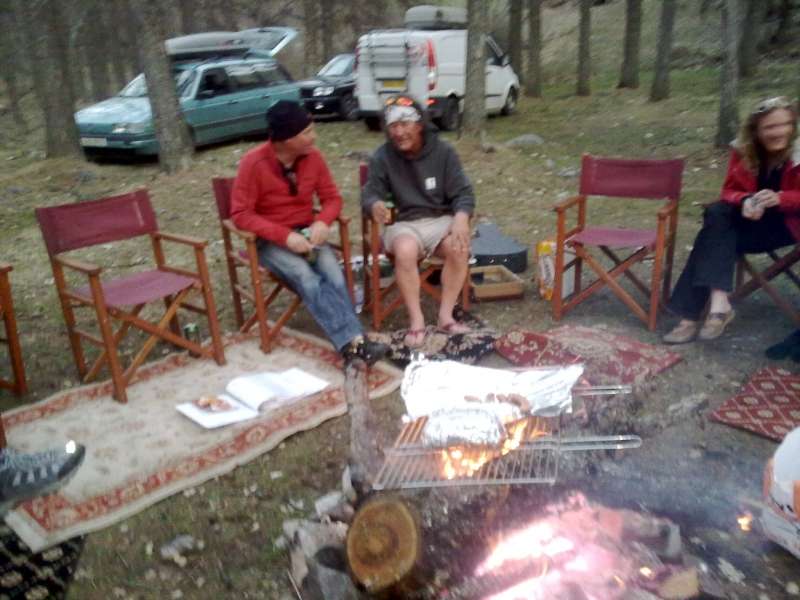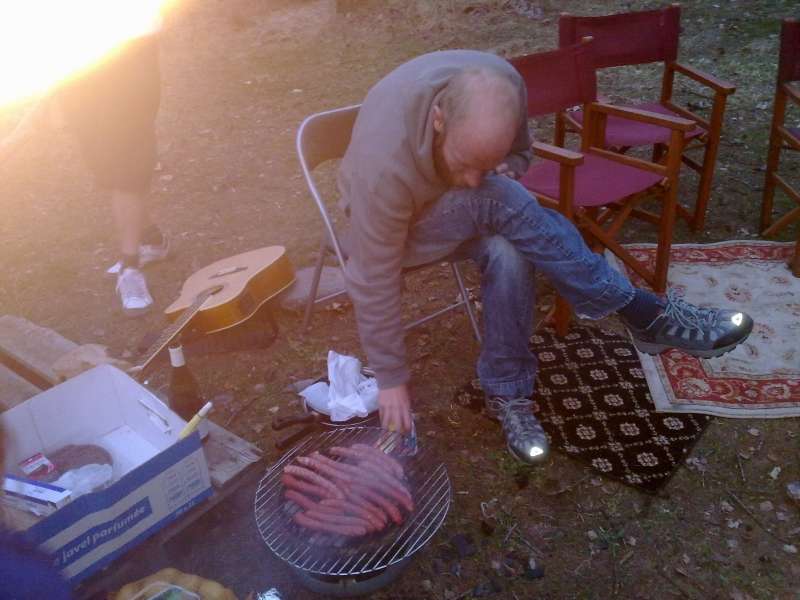 Another fine performance from the Man!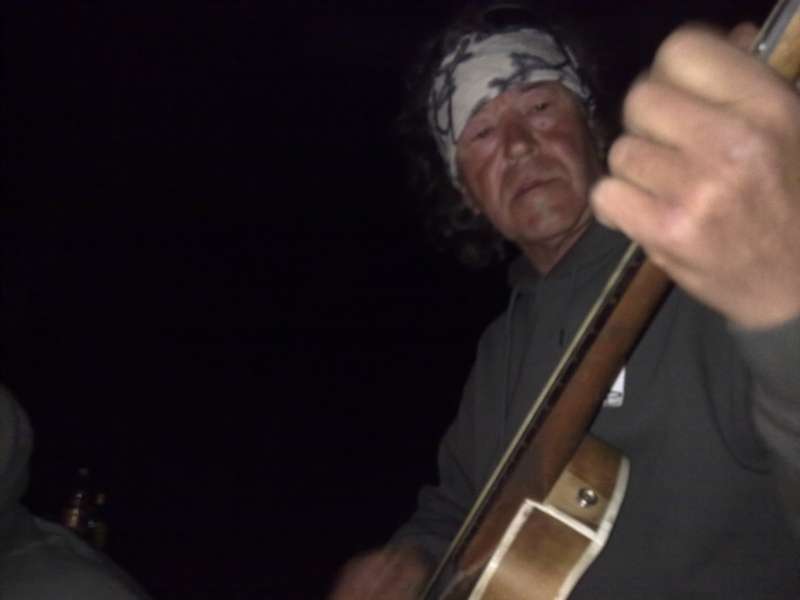 Thats what I am talking about!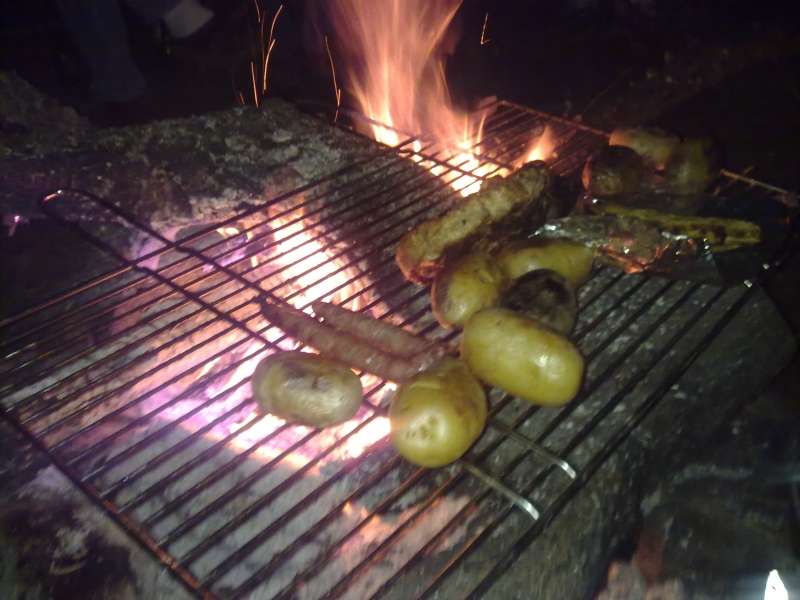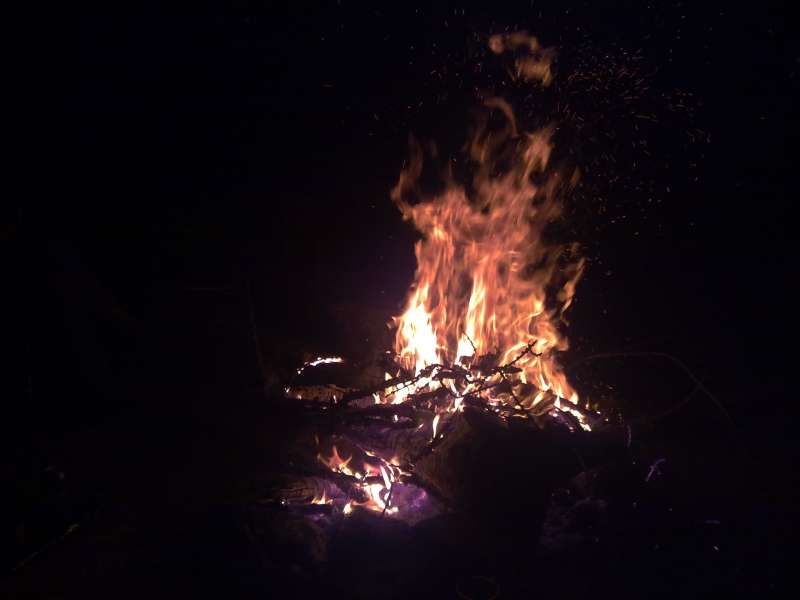 Russ being the boyscout that he is!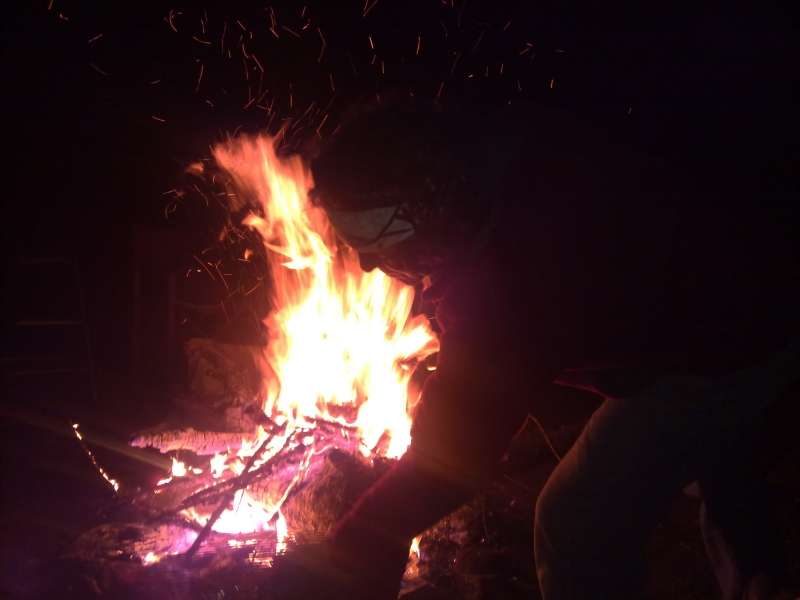 Keeping it Real!
This is a real man keeping it real,  That is an old white knuckle snowboard mounted for mono with a wide stance.  Russ still rocking this thing for full descents in La Grave.  On closing day he skied all the way to snow line in a rotten Iso pack to about 2200 or so before he hiked out for a complete descent to La Grave for the final run.   That makes him so much better then you for a 60 year old.  You only wish you could keep up with this guy!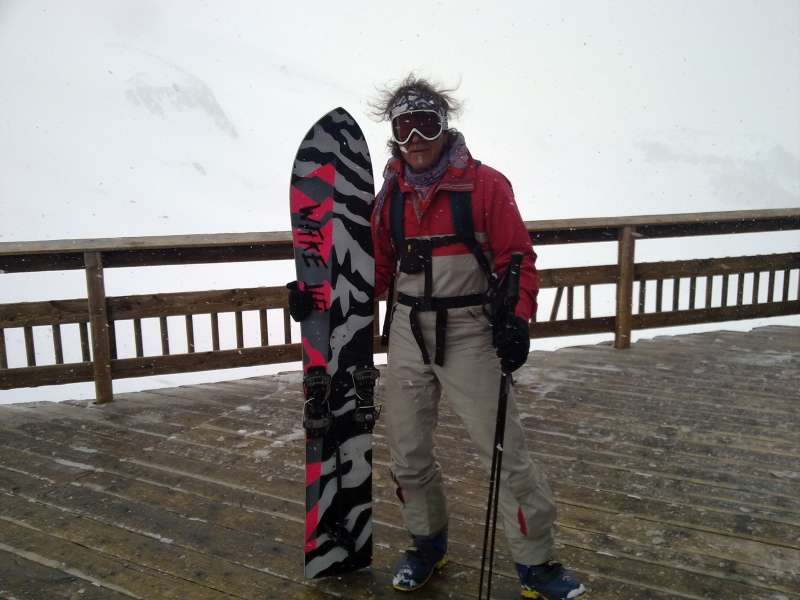 Just smiling when I can at 3200!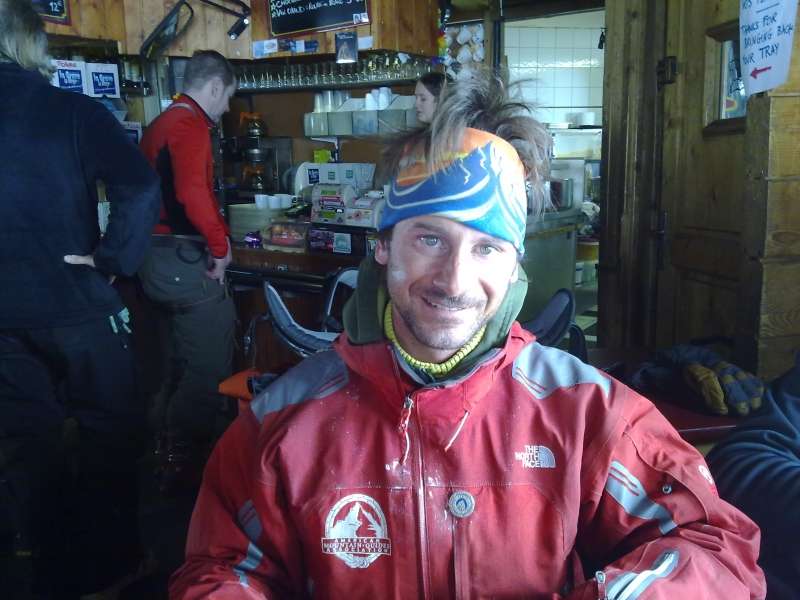 Anki not being able to make it through one of my boring House parties!  Whats wrong with Finish people, I thought they could party?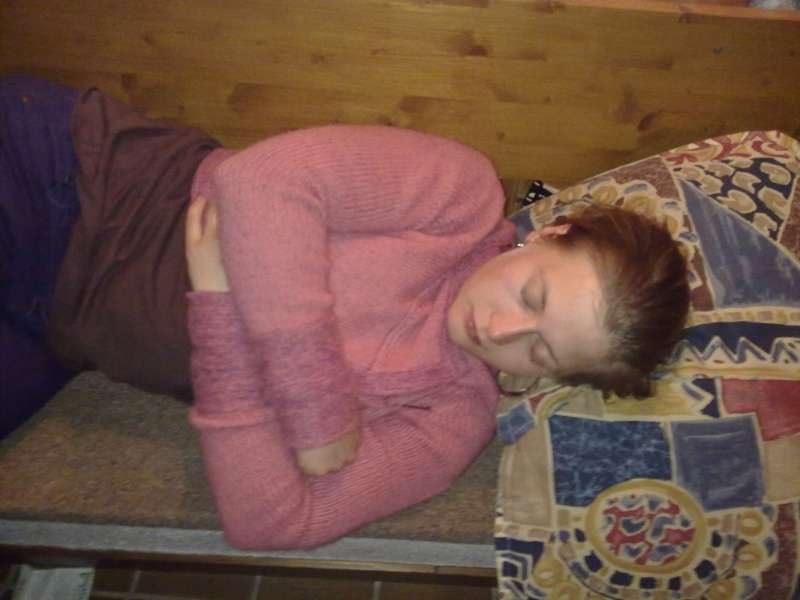 AVALANCHE PATOU!
Ok, this was interesting,  Moments after the rescue completed I arrived in the Banan only to observe this crown, a bunch of shoveler's and probes trundling around in the Debris.
Turns out not only are the tourist from Les 2 Alpes as bright as a box of rocks, but so are there ski instructors.  After seeing tracks in the patou and deciding it would be cool to hike up out of the couloir for not much fall line but a nice traverse for a few turns through a loaded slab with endless history,  the ski instructor hiked his clients into this trap.
From what I was told, the Instructor and client went for a full ride over all the cliffs and into the debris pile all the way to the lake.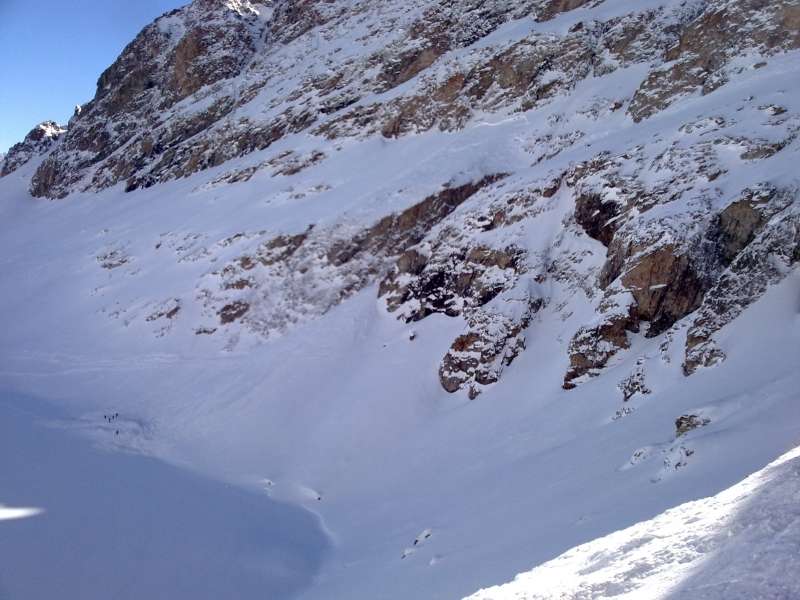 Lucky as hell to be alive.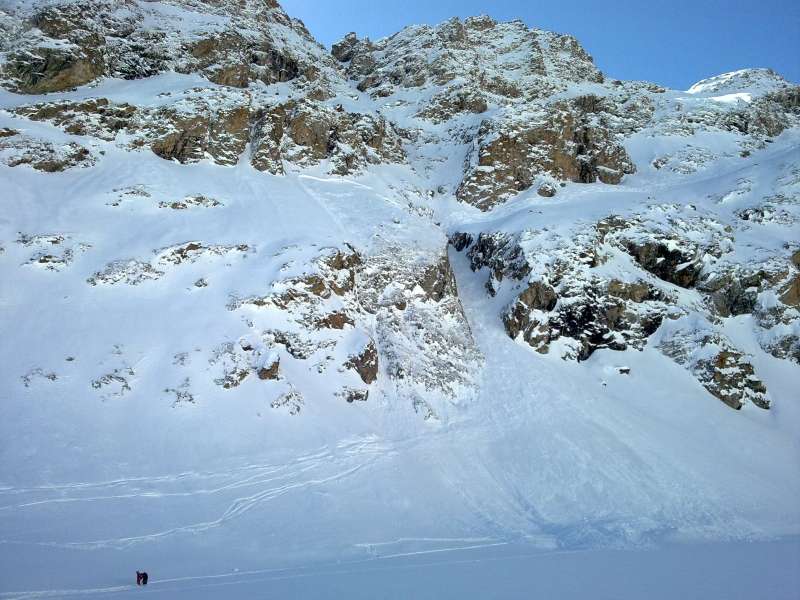 Instructor and clients finishing there hike out Sans Skis and some gear!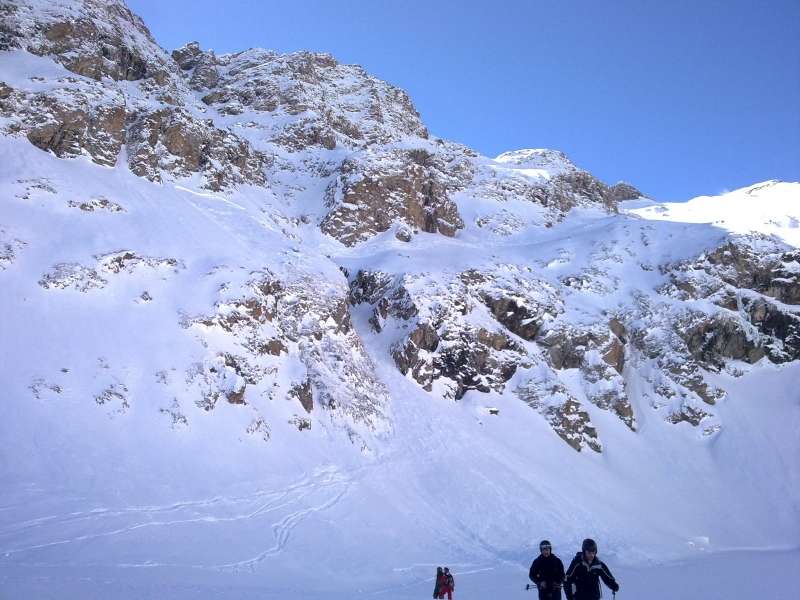 So this was entertaining.  Apparently we didn't have this in the states.  This is a limited edition VW golf Bon Jovi series that a local owns and drives around town.  I'm so jealous, I bet you didn't know that Bon Jovi was my first concert in 6th grade.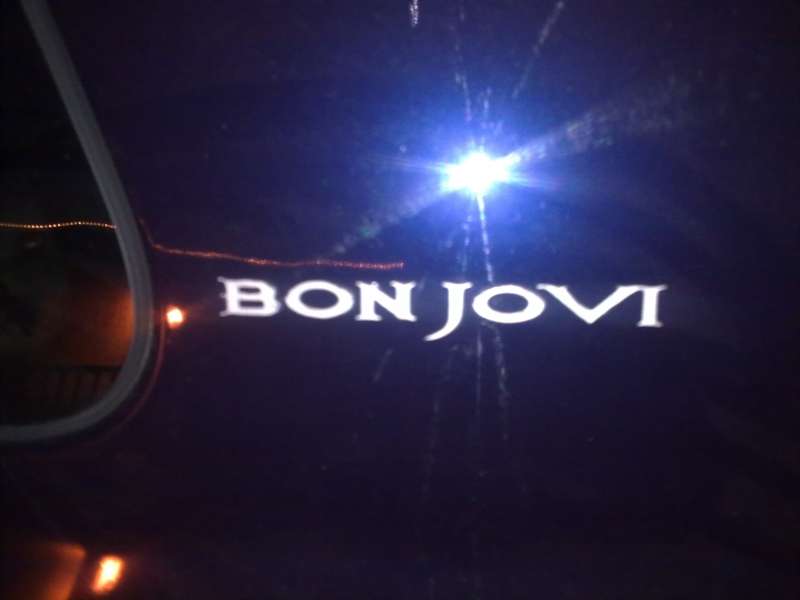 Buildering at the Bois De Fait!
Cyril opening a new line with a pint in hand!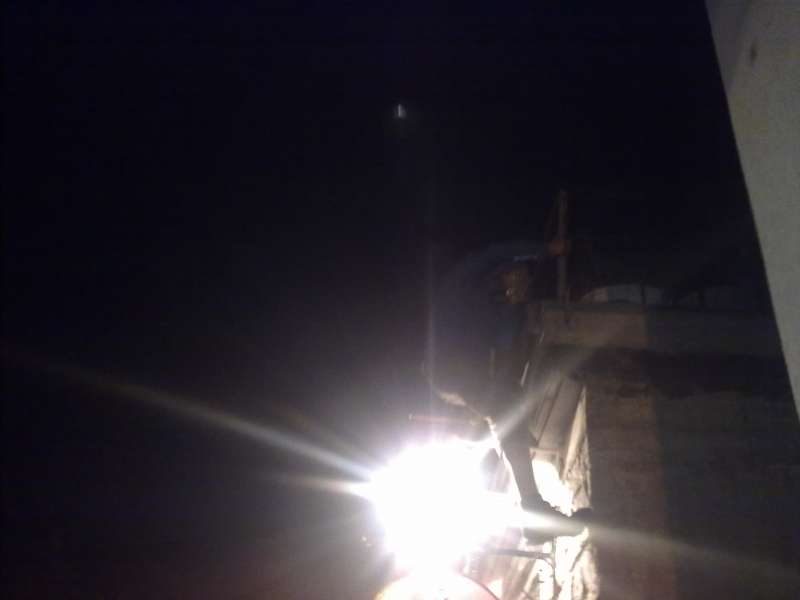 The K2 Chef Valdic pushing his limits!
So I took a run with Valdic the polish chef from Skiers Lodge.  We were on our way to the Brech Pa Cave to get back to 2400.  I was taking a short run with him and helping him out with some technique.  He said " Joe it is my goal in a few weeks to be able to ski something crazy like the Patou or the Banan.". I said follow me and took him to the Patou for his first time and we broke it down one turn at a time.  He did awesome and made it from 3200 to P1 in an hour with his first Patou ever!  Congrats Valdic and thanks for the run.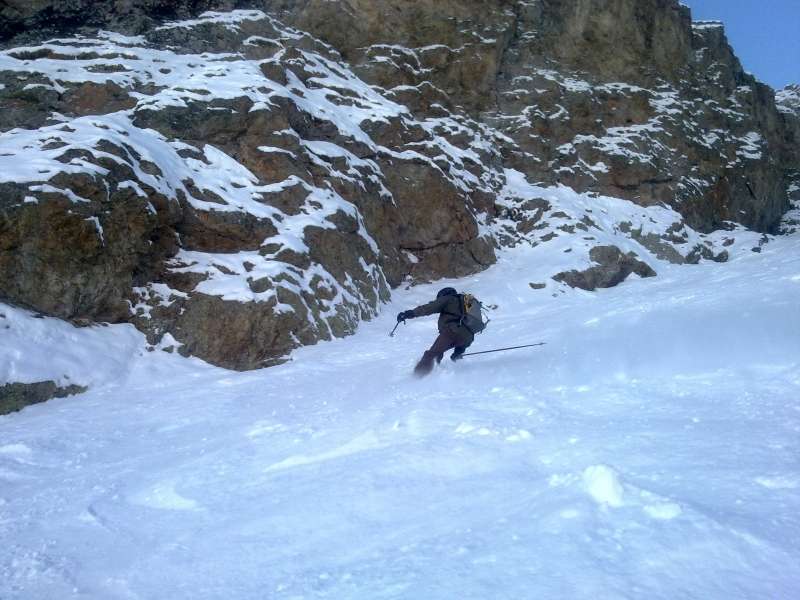 Celebrating life and the fact that he just skied his first couloir!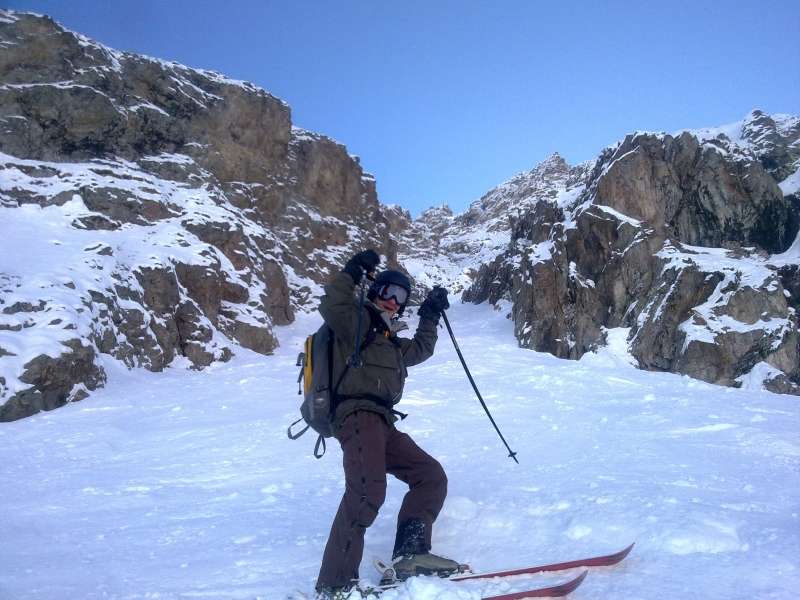 Some of the really gay stuff that goes down at 3200 🙂  Don't ask!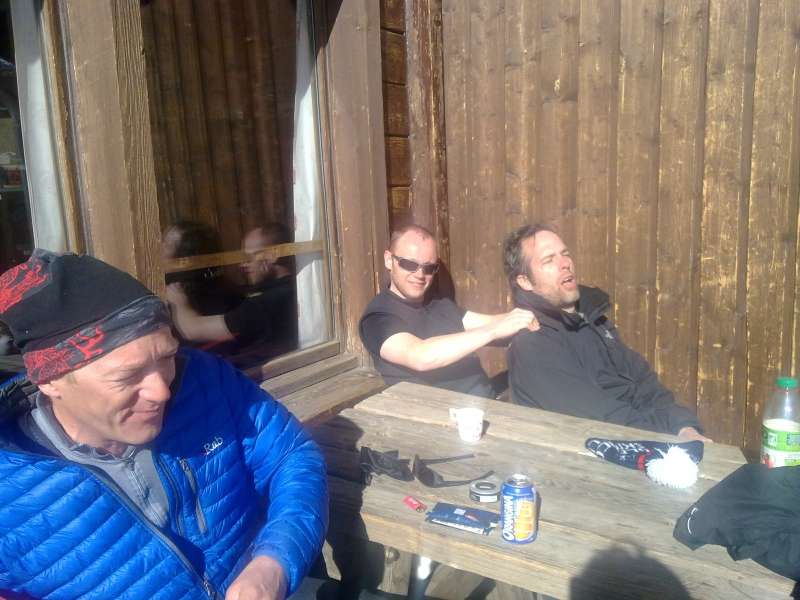 The Lange Triplets out cold.  Watch out everyone these little groms are the future!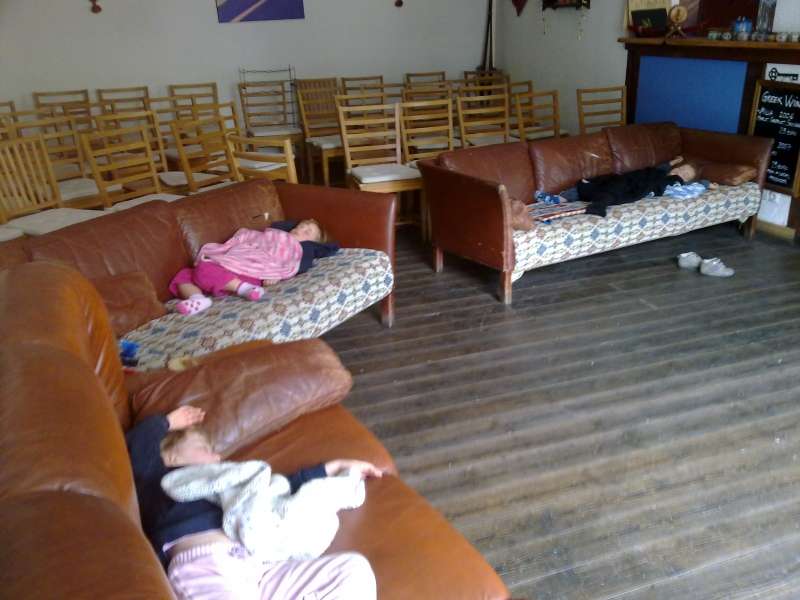 I had a client who was a doctor who reduced a dislocated thumb at 2400 and then use the walk mode bar of a Garmont to splint it.  Funny because I don't have the walk bar on my Garmonts anymore, so hopefully its being used for something important like this!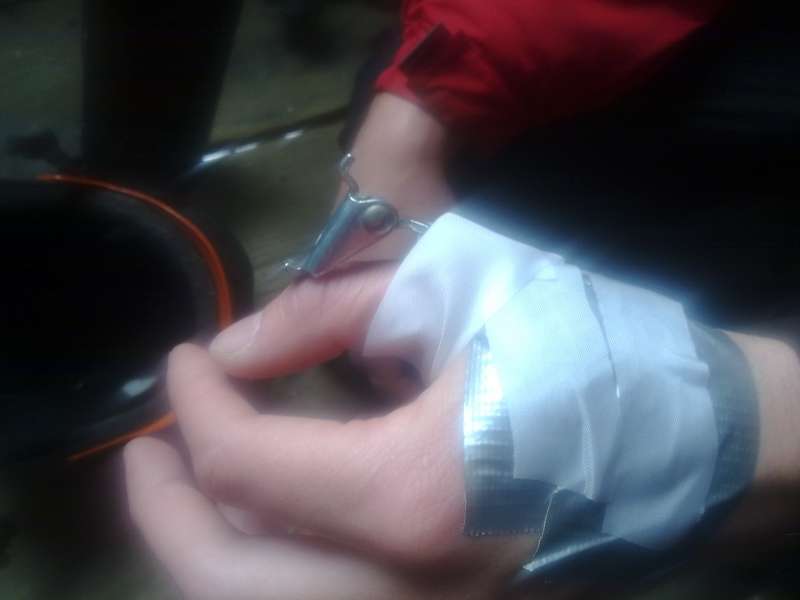 Onyx binding might get you killed!
Well maybe it won't get you killed, but it might if your using it on big skis in a place like La Grave.  Some photos to show you one of the sketchiest things I have seen in a binding!  I used to think the Marker Duke was the worst binding ever made next to the Fritschi, but I think we have a new winner. I could tell you some of my own personal experiences that made me almost see Jesus, but this one takes the cake.
A complete shear of the mounting plate,  and you can see the kind of forces you put to torque a binding like this from such a small mounting area to support a big piece of plastic.  Not Ideal for a fat ski and aggressive freeriding, but if all you do is ski in Lower 48 and tour whooptie pie,  Eat your heart out then, but if you ski terrain that your life depends on your shoes staying on,  then don't do it no matter how much you save.  You get what you pay for folks.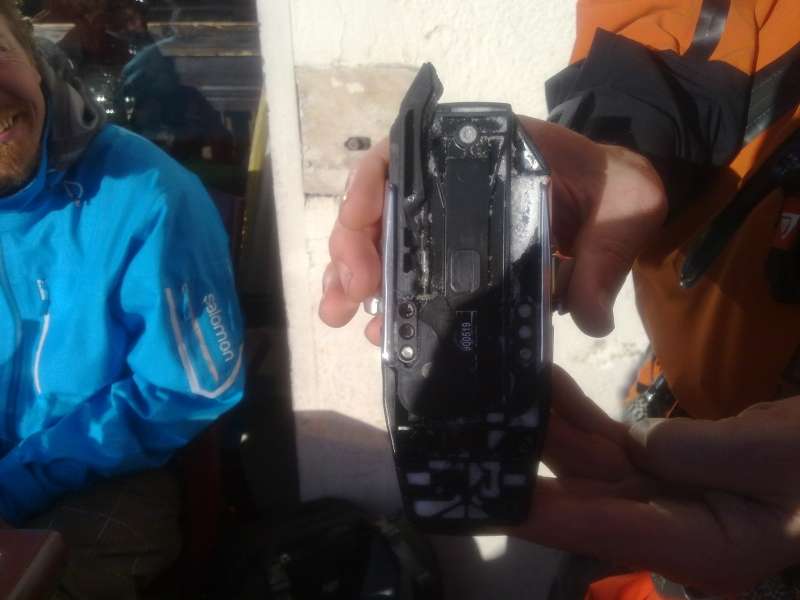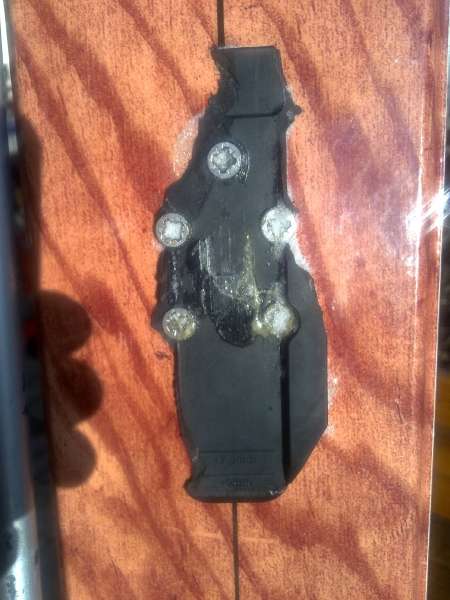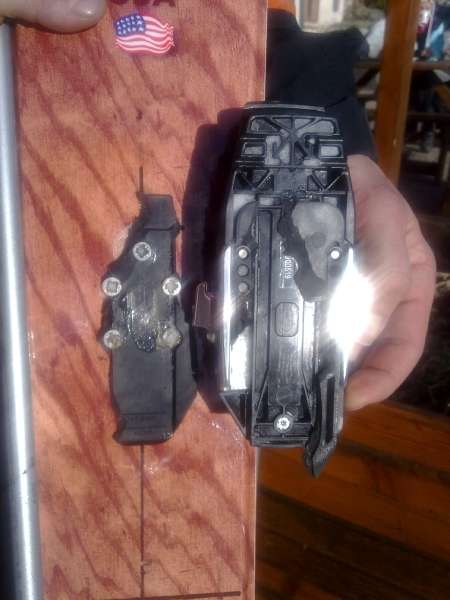 Lars finding another multi use for his helmet.  It's his new equipment bag when his pack is full.  Can your helmet carry this much stuff!,  Awe the entertainment of Apres ski at the Castillan!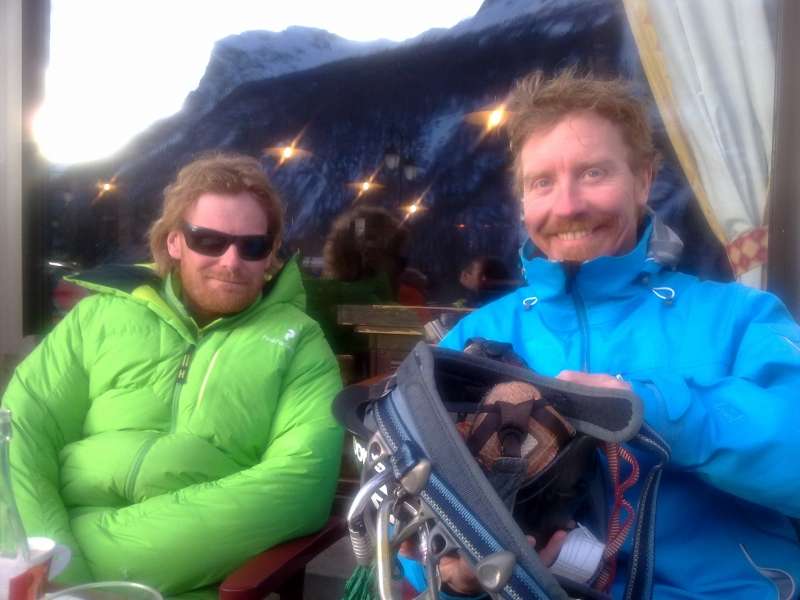 Roast Beef goes skiing!
Chris the other cook from the lodge heading out for a classic dress up day with the crew on Ida's Birthday,  Somehow, Chris looked normal to me like this and I feel the outfit should suit him everyday,
sounded like a fun day and a fun party that night too, 🙁 but I wasn't invited.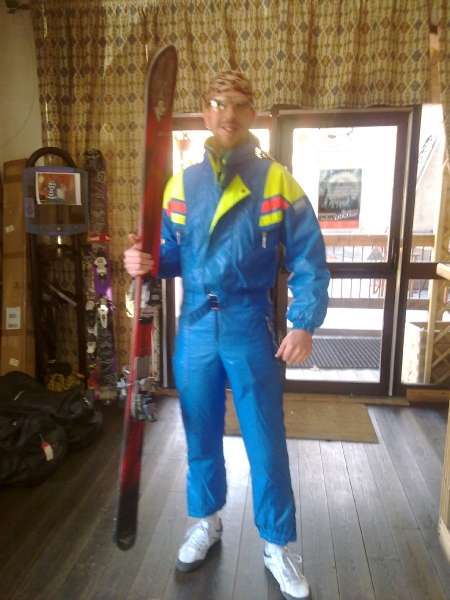 And finally the view leaving the Tram Doc looking down at P1 on my last lift on the last day of the season,  The locals know how to enjoy this place without snow, But the locals also appreciate this place for what it is, not the snow conditions!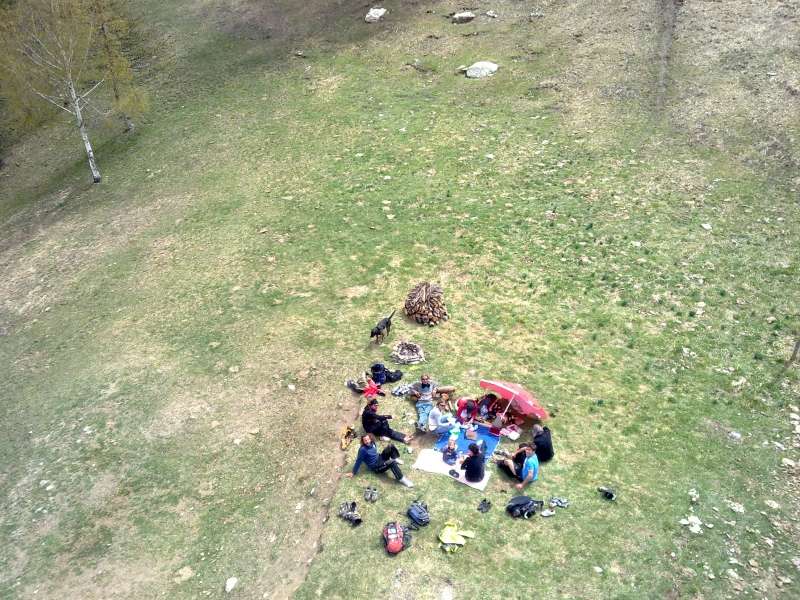 So there it is in a nutshell, some highlights from my camera,  this was a general post, but I have more to come and I am plugging away.  I finally sorted over a thousand photos and 2 months of collecting them into some what of an organized library.  So more to come and more focused stories that will be sure to make you laugh, or cry for that matter coming in the next days.
Enjoy
Abiento