Ok, so I claimed it before it happened, and I followed through.
For those of you that have seen GNAR, the BN skiing is little league,  The boys in the movie although charging were playing mini golf for there BN lines,  Hands down, I will claim that I won the BN catagory for this stunt. And quite possibly a first descent of the Pan, "the best lift serviced run in the world in my opinion" in true BN style.
2 months prior to the event I claimed and talked a big game of my plans, However because of the seriousness  of the line and shit talker that I am, I don't think anyone believed me,  Needless to say I followed through, and I win for the best BN descent of all time!
Here is what I wrote on my Calender two months out!
Skiing the Pan Naked (will talk to mom on the traverse while pole whacking and pissing on the traverse) This event will hands down win the La Grave game of G.N.A.R. I am so much better then all of you because I am claiming before sending!!!!!!!!
Although the line was skied Naked wearing only a harness because that is good style and I didn't want to be stupid not to say that skiing this big north face naked wasn't stupid, I still wanted to be a responsible guide on foreign soil. However, I didn't call my mom, because 1 She wouldn't understand, and 2 I was a little preoccupied to use my phone. Secondly I did not piss on the traverse, although it would of been easy seeing how it was all hanging out anyway,  but I am sure most people have pissed themselves on this traverse anyway.  This wasn't some little exposed perch that you see the boys pissing on in GNAR,  I had a a bit more going on, but I would bet my frozen left nut that the boys peeing in their lines in GNAR never peed in a spot as uncomfortable and exposed as the traverse in the photos too follow. So to be honest with my claim, there was no phone call, and no peeing!
So not only was this posted for an April 1st event, it just so happened to be the Derby De La Meije.  If you don't know about the Derby, well it's the closest thing to a Chinese downhill that I have ever seen.  It is the burliest race of all time,  if you think you can win it, you will either win or die trying.  This is the big leagues of all races. Here is a link to what goes down on the Derby.  http://www.derbydelameije.com/index.php?pg=presentation_en&lng=en&im=4
Anyway, it being April 1st I figured I could bail out with an April Fool's joke for making the claim, but the idea seemed to good to resist. I sent!!!
So the first photo is my dream kit,  I finally have two pairs of skis that I have dreamed of for years.  I have had ski sponsors off and on now for awhile of all sorts, but mostly just hand outs, and never really what I needed, or what I wanted was not available so I would always settle and usually wind up buying what I needed anyway.  I skied Rossi for years and promoted them hard, but I was on loners from a local shop, so it was really a one way road for me.   I always had to give them back my skis at the end of the lift season and for about 4 years I was without my own personal skis after our lift closed and our season really was just begininning for people like me :-(.  After years of dedication to Rossignol, I had a chance to move to G3.   Rossignol was my dream ski, but I never got past having loners from a rental shop that I guided out of.  At the time G3 was the only company that really thought guides did something and I was excited for the new relationship.  Early this season without warning, after 3 years or so  G3 dropped me and the new guy asked me for an application and a resume for next year.  I am pretty sure I was dropped for giving negative feedback about their binding.  It truly is one of the most dangerous bindings ever made. I was asked for feedback and unfortunately for me I was honest.   I was guinea pigging it here in La Grave, and had some frightening near misses before I gave up on it. I only used it for about 2 weeks, and I was lucky enough to survive that long on them.  So with that being said I have to give  Special thanks to Tim Petrick and Thomas Veillard of the French division of Rossignol, for seeing my needs through.  They did what they could to get me the equipment on short notice after being left empty handed by G3  to late in the season to find equipment without warning.   Really it was all thanks to Tim as I have had the chance to ski with him, so I think he knows what I get into.   And Tim is one of the most genuine people in the industry that I have ever met and he loves to ski and is pretty damn good at it.   Thanks boys, you made my world and I can honestly say I have the sexiest skis on the planet now. Better late then never.
In the end though  I  actually bought the pair I needed from the Rossi shop because what I needed was sold out for the year and their were a couple pair at the local shop.  Tim looked everywhere he could to find me a pair of 178 S7's which is my all around go to everyday tool. Unfortunately I couldn't buy them during the season because the shop owner was holding out to sell them for retail to someone who didn't need them as bad as me.   After watching them sit on the shelf all year with only a few weeks left in the season and most of the tourist season over, it was safe to say no one was gonna buy the small s7's and I was able to buy them from the local shop.  It was nice for me, because at the time I was the only one considering a tech binding on these, the local shop owner told me you can't put tech on these skis.  I had already been doing it on the loners I had, I never saw tech as any different then Alpine bindings for performance, I just saw them as better and more versatile. To my advantage, I ski light skis and short because I tour quite a bit and La Grave is more technical then most places I have skied,  so I want control over speed in this zone. Needless to say, as soon as I got the skis I needed it was game on. They let me do the stuff I was dreaming of doing the way I wanted to do it. I actually didn't have a touring set up until April this year, that was pretty messed up and I missed out on some nice opportunities based on my available quiver. 🙁 .  I have never had to borrow skis so much in my life as I did this year.  Lets just say borrowing skis sucks.  And working on rentals around clients with nicer stuff then you is often frustrating.
The smaller pair is what I took to the pan,  They have been outfitted with Plum bindings out of  Chamonix / Thyvex, France, for those of you who don't know about these bindings they will change the game and in my opinion have set the standard for all other Low Tech bindings to follow.  This Descent of the pan was their maiden voyage, and more recently I took the same set up to the West Face of the Eiger, Blog to Follow.  When I saw these bindings for the first time I just had to have them instantly.  I called the same day and ordered a pair direct.  It was a no brainer for this ski and exactly what I had been looking for.
So check out some Plumes, you will not be dissapointed, They Blow Dynafit out of the water for a solid, mostly metal where it counts freeride binding.  While companies like Dynafit and Onyx / G3 keep adding plastic, unnecessary bulk and more moving pieces to their bindings, Plum has gone the other way and in my opinion the right direction.  They have simplified the design, removed materials and plastic where not needed and made a simple binding with only the necessary components. I don't ski Low Techs like their only a touring set up as do most naysayers and the "pros" will tell you they are not solid enough for skiing hard.   I would argue that I tend to be harder on this type of binding then most, from hucking cliffs, or more often in these parts Ice,  to fall line moguls, to even the park if its in my way, I don't change the way I ski because of the gear I am on, and this binding truly gives me the confidence to think that way. Check them out here http://www.fixation-plum.com/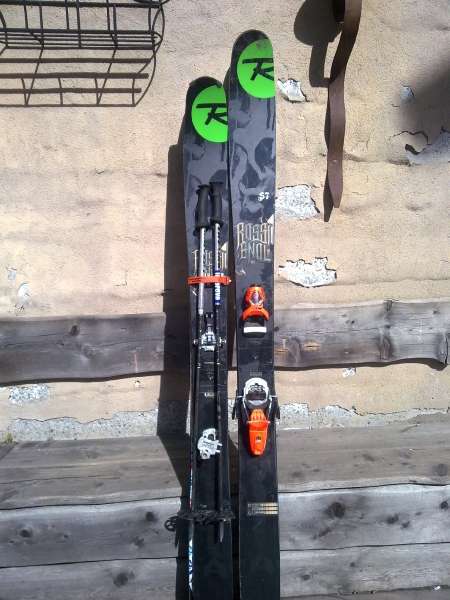 The next photo is My S7's and I putting in the traverse after it had been reloaded the night before. This is one of the most exposed places I have ever been naked, 🙂
To put it into perspective, the week before someone (a French Aspirant guide from Chamonix) fell off this traverse and was killed.  2 months prior a La Grave local and a super solid skier with plenty of knowledge of the terrain fell off the traverse as well,  He lived to tell the story which is more then a miracle.
Needless to say I took my time with axe in hand, it is about 60 degrees in spots and falling here usually means game over.  Moving slowly I kept saying to myself don't do anything stupid as if being naked wasn't stupid enough.  I was thinking in my mind what the headlines would read if I messed up.  (Naked American guide Falls down the Y Grec)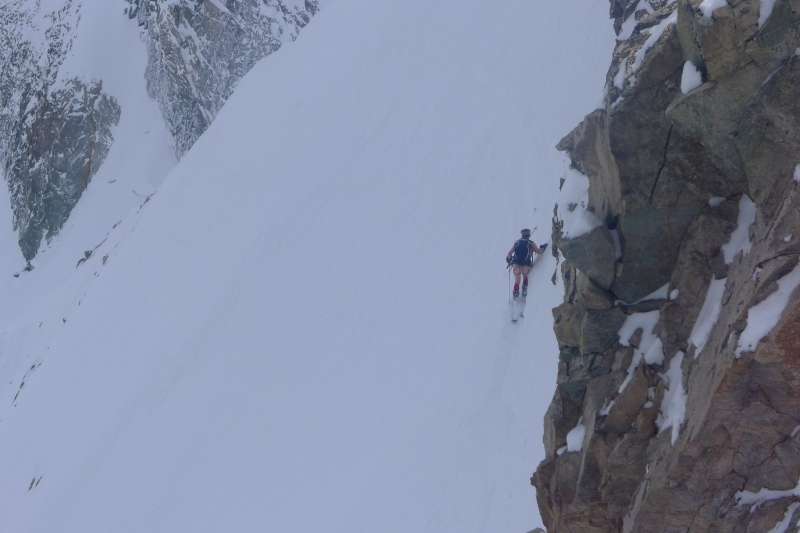 The photos are courtesy of Keith Garvey and a camera phone 😉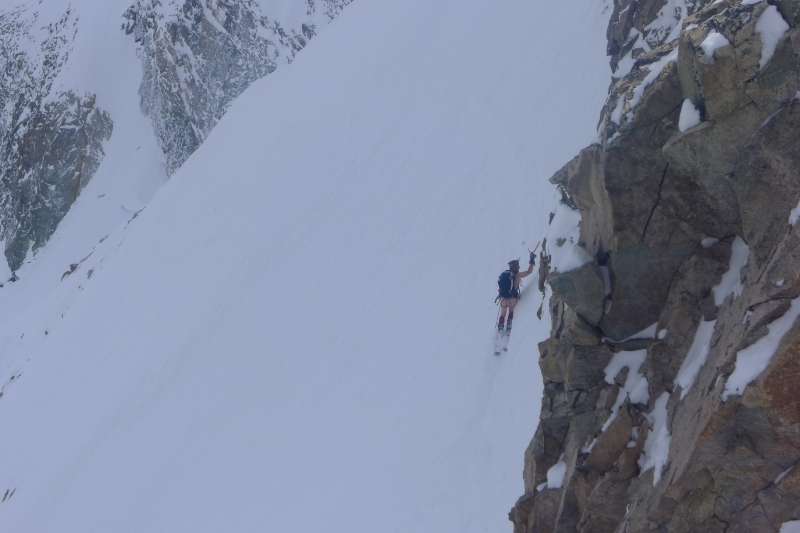 Almost there,  You feel like you just want to let it run here and be done, but this is the worst place to stuff a tip or hit a rock,  one more wave before the home stretch. My dick really wasnt that cold,  it was my right leg hugging the slope above that got quite numb, and my right hand probably because I was over gripping my axe in the uphill hand, Naked Exposure like this I guess gave me the tendancy to over grip, no pun intended.  A Little pole whacking and Axe Whacking,  When I whack with y axe I tend to grip and whack from the Shaft of the axe for best results.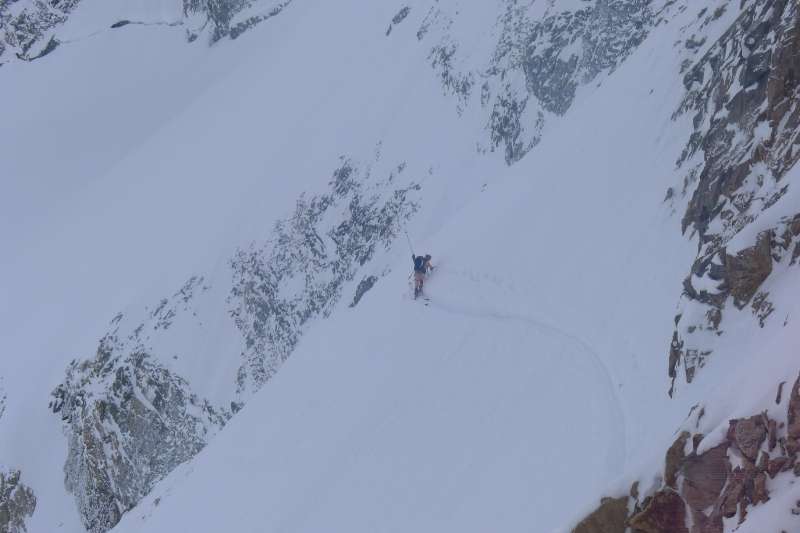 Making Anselme Baud proud with the double pole plant.  The face was a bit variable and firm in places,  weird snow, weird flat light, weird shapes in the snow, weird exit over the shrund,  I took my time and made every turn count.  I really couldn't see shit.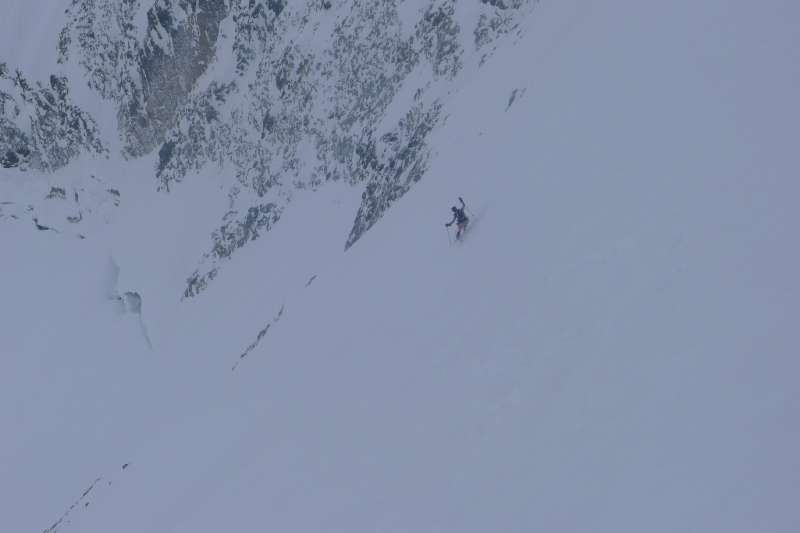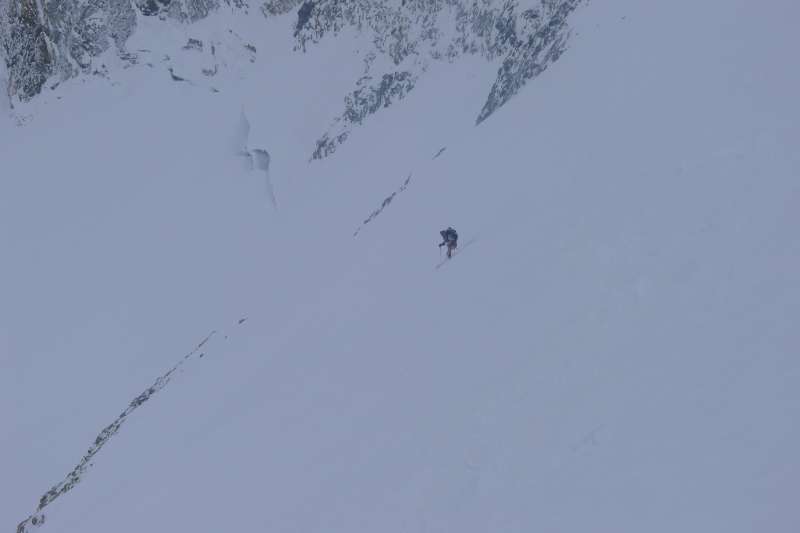 Almost to the exit shrund and low on the face.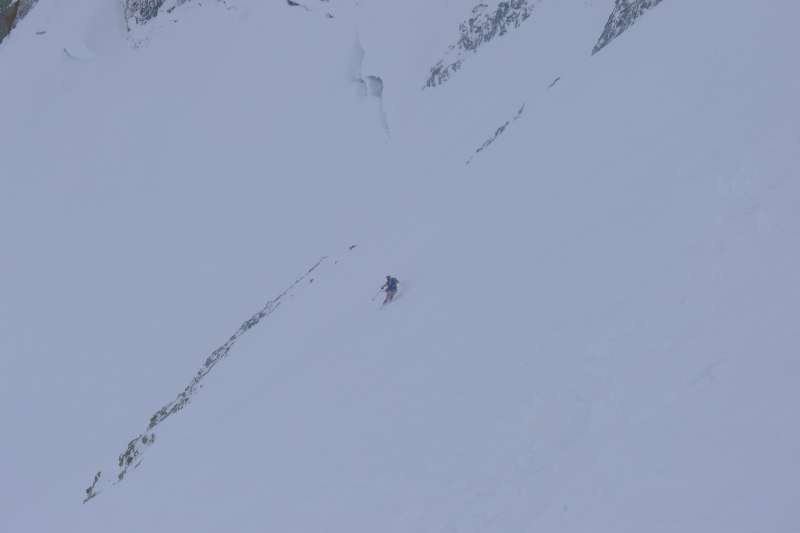 The track I left behind waving my dick in the wind! Thank you S7's and plums for the ride of my life and your maiden voyage. Looks like a small skier track to the lookers left of mine, Who was wiggling?  I'm not sure who it was, but I know he had K2 Darksides on his feet and still didn't open it up,  LOL  Still a fun line buddy,  nice one.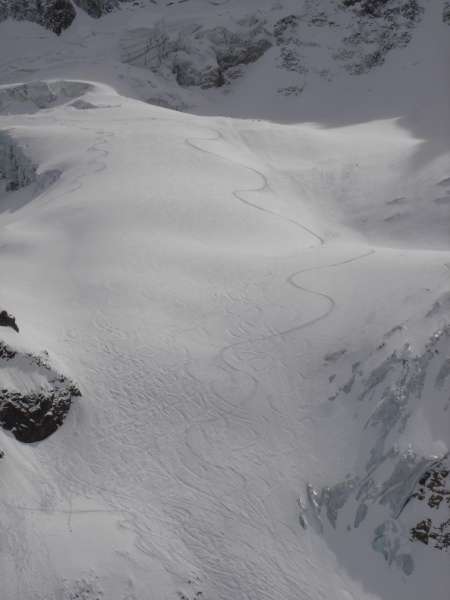 Looking back up from the safety of the Vallon moraine at something that seemed sureal for awhile. Too much fun.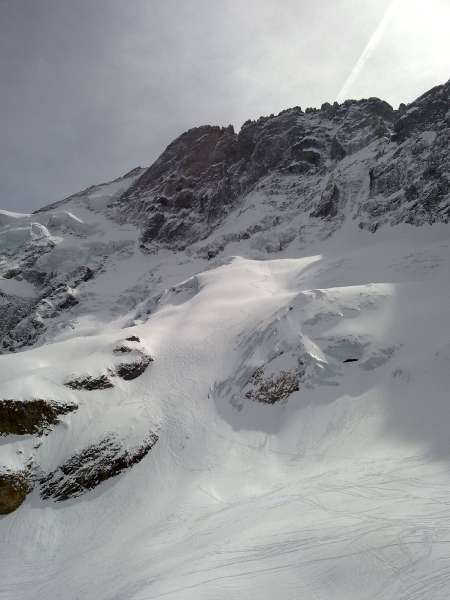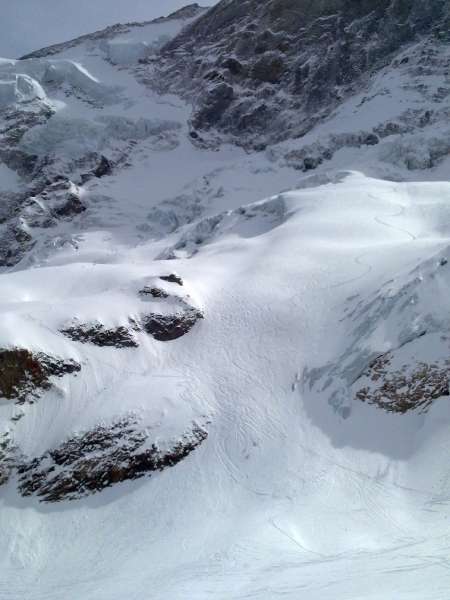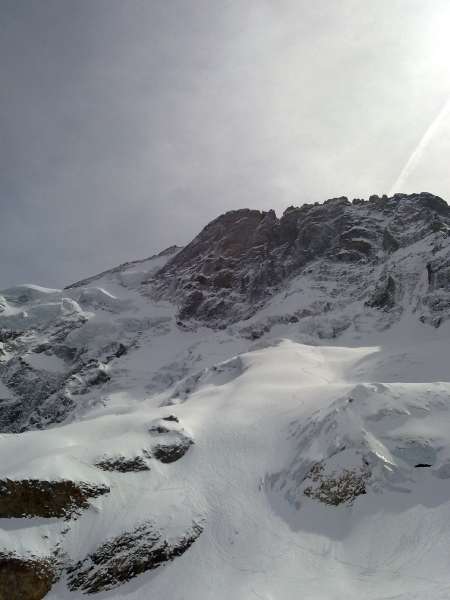 The line in it's entirety.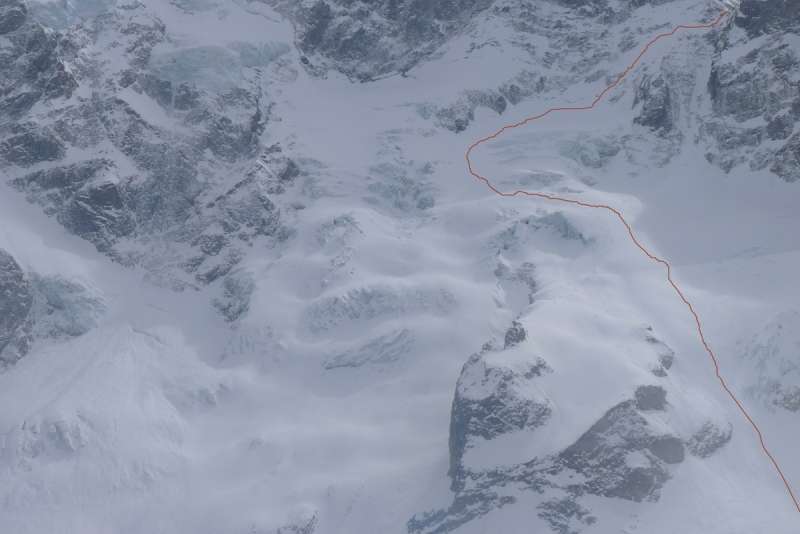 Yes that is a Speed skier kiting his way over my tracks.
And you can see what you would fall down if you stuff the traverse,  That is the Y couloir and yes we do ski that.  It only saw 2 descents this year that I am aware of.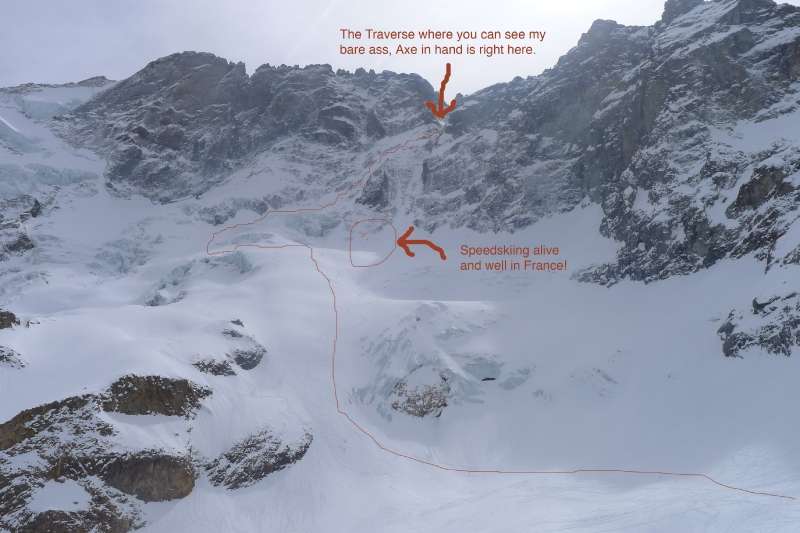 Thanks for reading, and hopefully this blog will include some video soon if Tyler ever gets his shit together, LOL
Thanks to my Cousin Monte for the following video
So that is proof why I am the best fucking skier on this mountain, and why I am so much better then all of you and although I maybe didn't win the complete game of GNAR, I am claiming that I hands down win the BN category.
Stay tuned,  for my next blog, skiing the West Face of the Eiger
Cheers
Joey