Well, I just posted, but I have to post again
So it snowed, The Forecast didn't call for much, but on the 18th we storm rode and on the 19th bluebird, For the 20th it called for 4 or 6 cm total, but we storm rode today with no visibility and not so many people on the mountain. We couldn't see shit, but guess what, Trees and Couloirs if you know where they are.  Unbelievable day and everyone is surprised. I opened the Freaux again for the 3rd storm in a row.  It's great to be the guide and always go first just to make sure 🙂  My job doesn't suck.
We saw nothing all day except the holes in the trees, the powder in our faces, the pillows in the trees and of course the walls of the couloirs.
You really have to be here all season to appreciate this place.  So many people wait for snow before they will come.  Then they rape our little village and slash the mountain until the snow is tracked and gone.  Then they leave and they truly miss the spirit of this place and what it takes to be a skier that can hang on a mountain like this.  To all the people who stick it out and ride it for what it is and the way it is because they know the beauty and what is so special for the spirit here,  Well played today and it's worth the wait.  You all deserved it and more tonight 🙂  I love the forecast here, it will always surprise everyone and the lame powder chasers who only care about snow missed out because they chased 5 more cm somewhere else,  Suckers!!!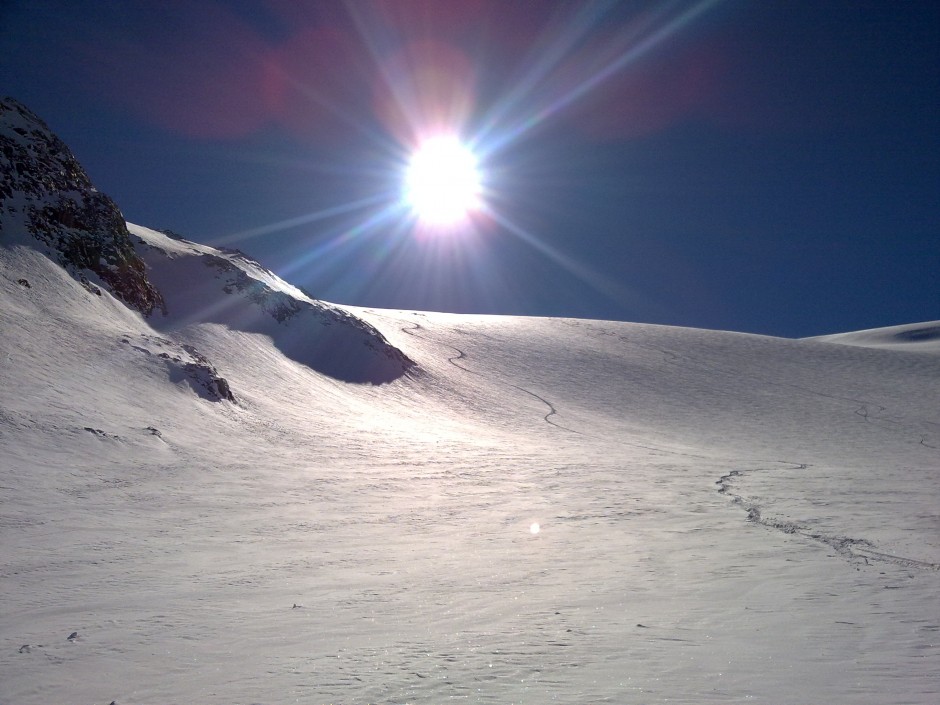 The above Track was layed by me while opening Chirouze right yesterday with Crystal Wright, Local boy of 16 years Franck and Crystal main squeeze Brian.  What a run, the best part , no one could see our tracks from 3200 because we layed them far side off the glacier. Lets just say $$$$$$$$$$$$$$$$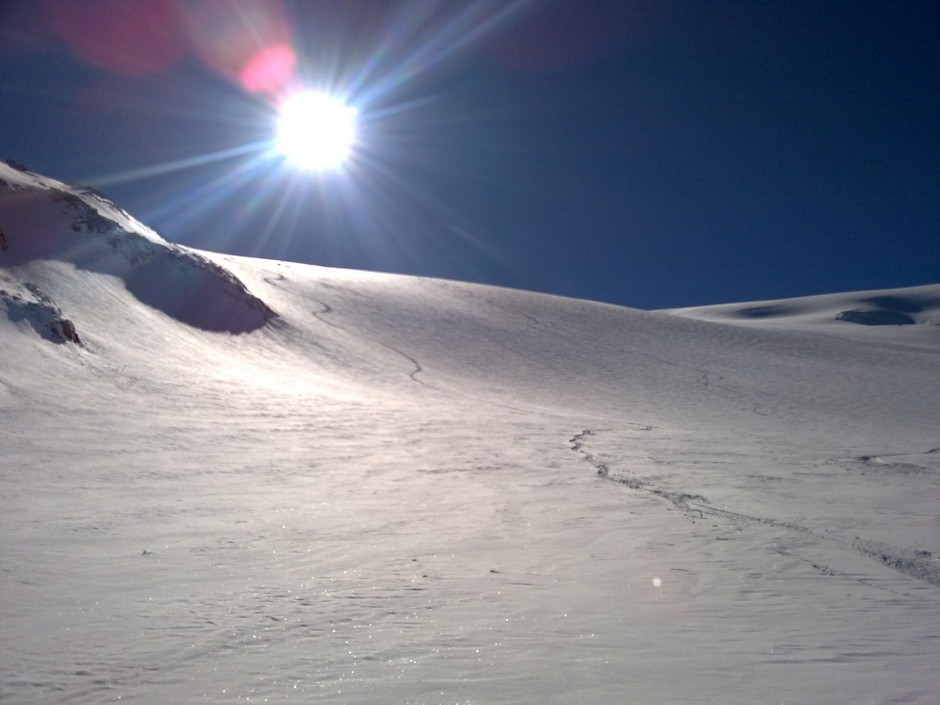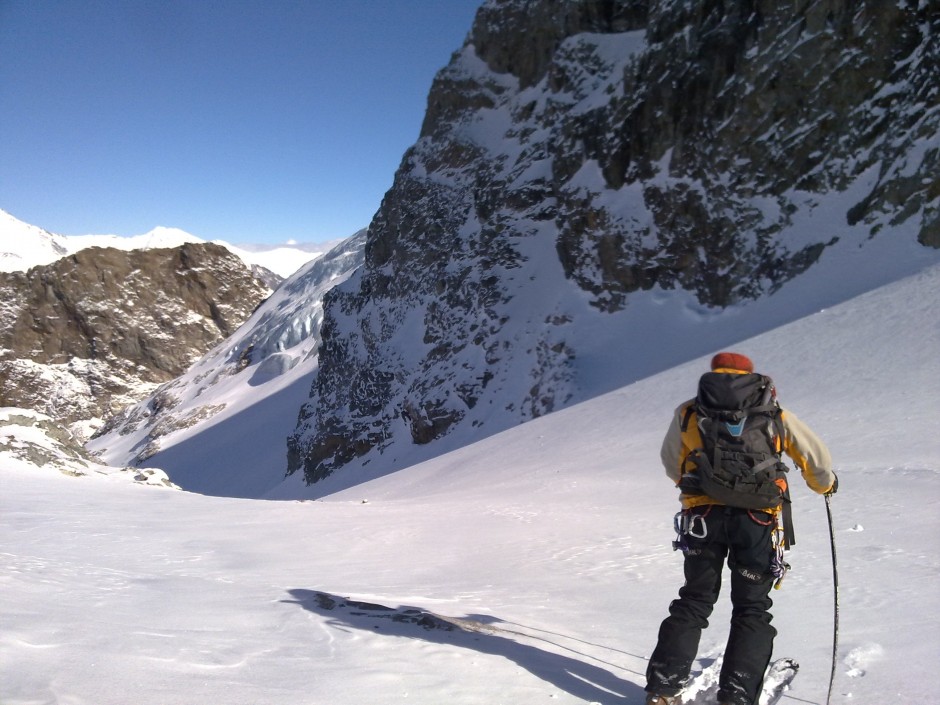 Frank opening some tubes under some beautiful back lit Ice!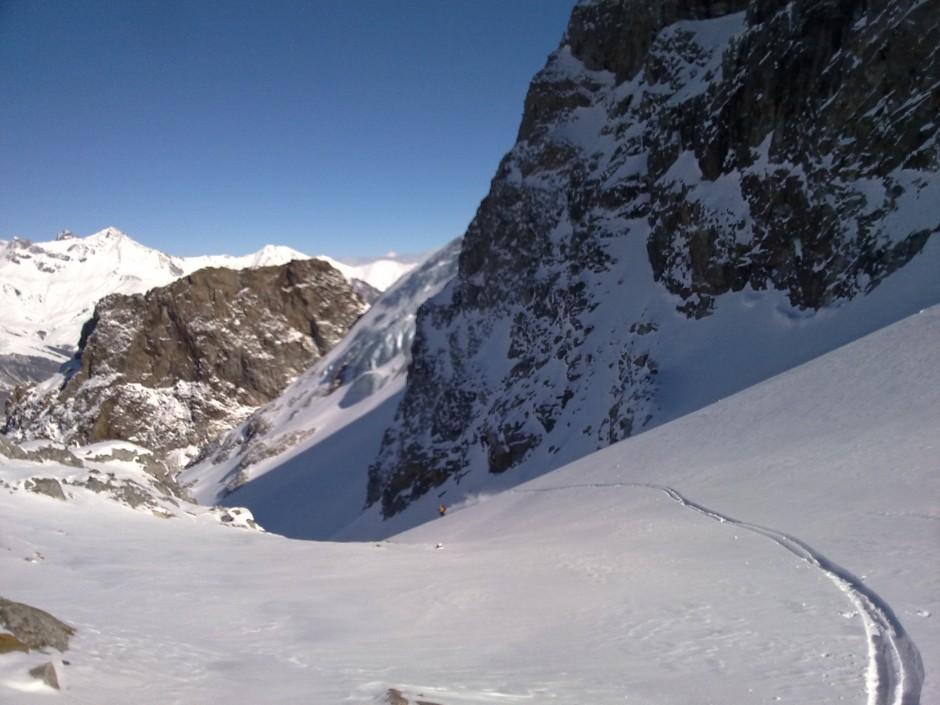 Crystal and Franck below the Ice under the direct Right entrance. I skied a line through the center of that Ice Last April 🙂   Crystal You having fun?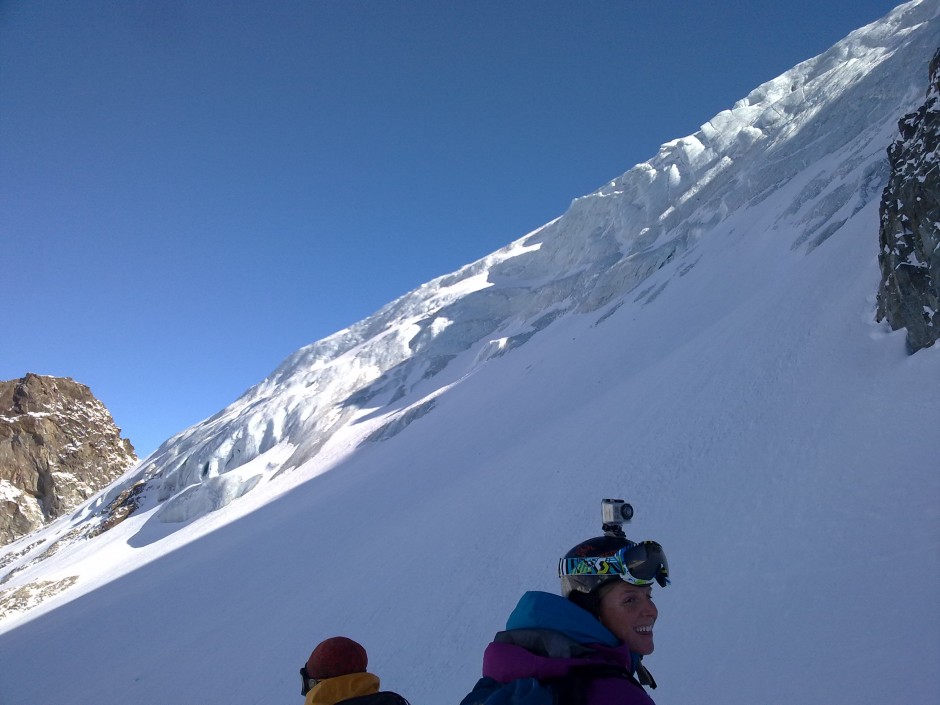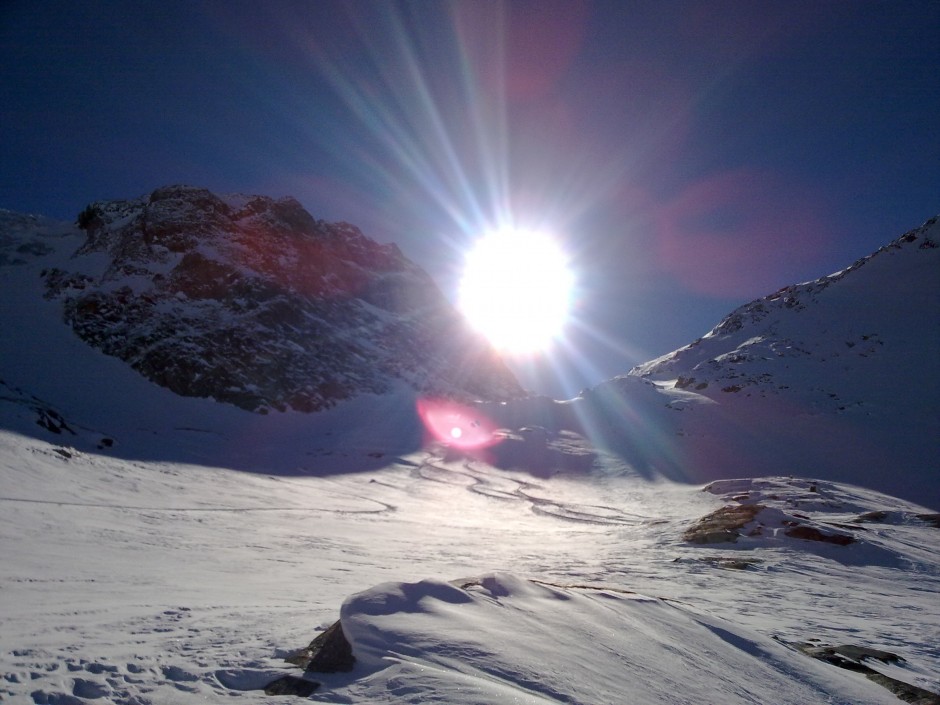 Bluebird Powder and no one around because there is no snow in the Alps!
Are you sure this run is open?  There are no tracks here, Does anyone have a trail map?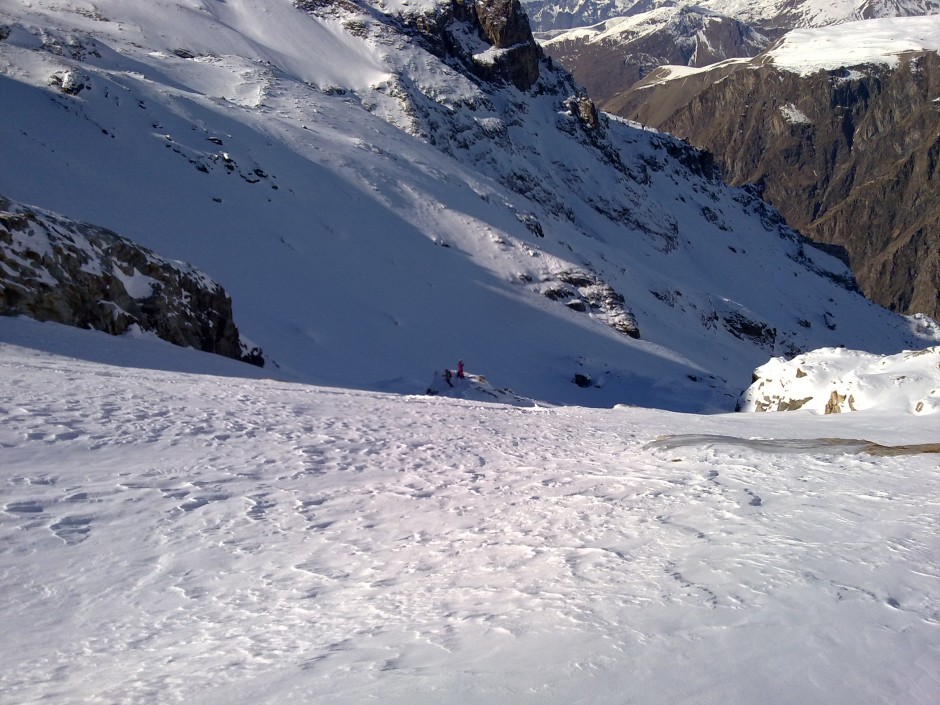 Powder Tubes!!!!!!!!!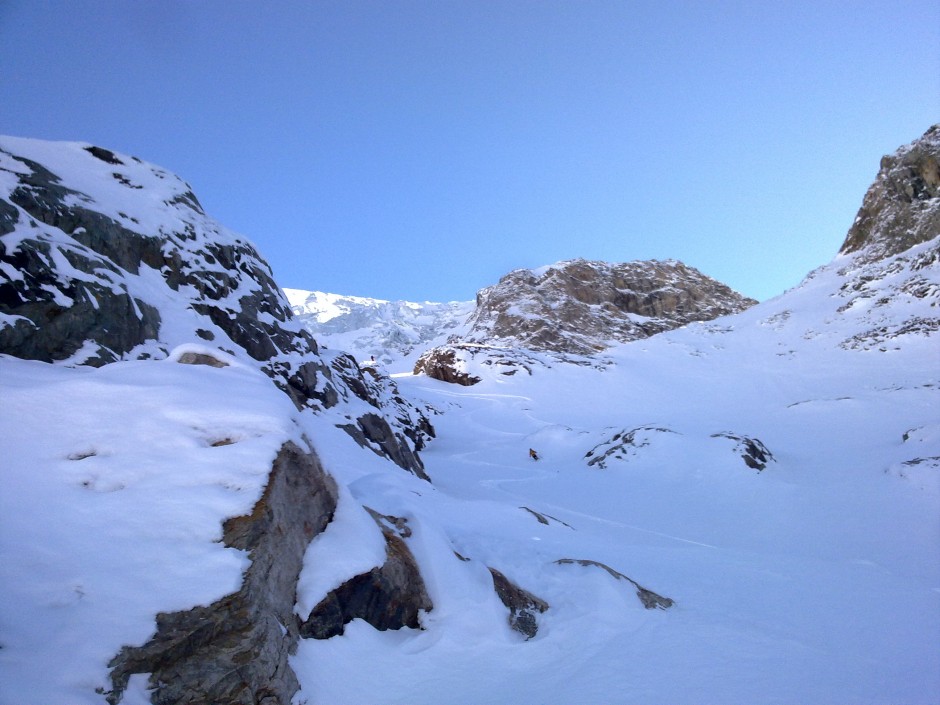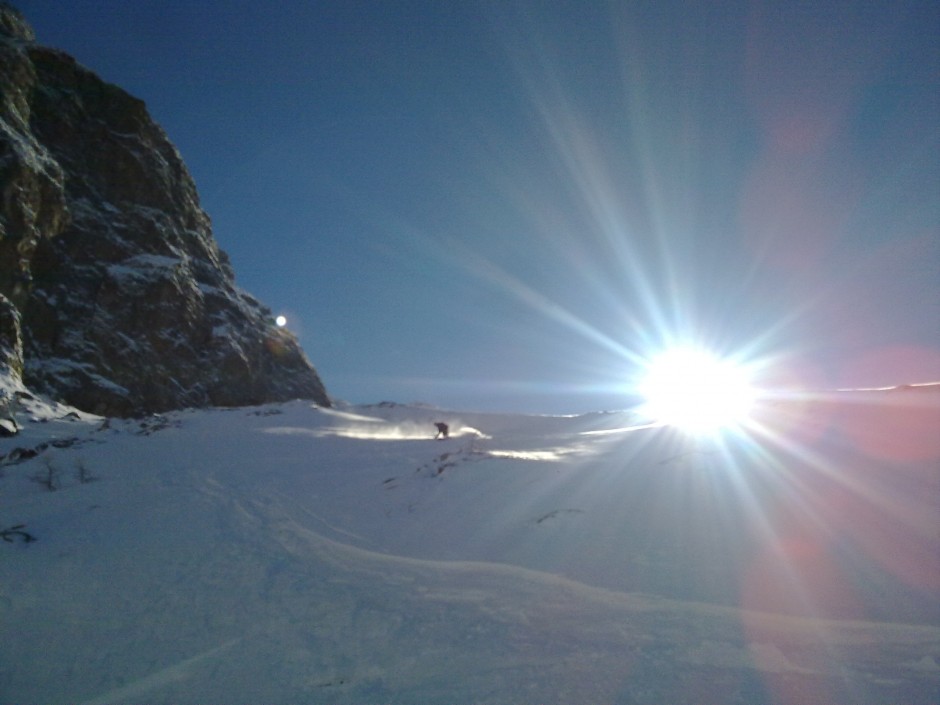 A pretty happy Franck after 5000'ft of untracked madness.  Now the business, yes it was a thin exit, but quite fun. We managed without the rappel and did some pretty fun billy goating and target practice.  Mini golf rules when you can keep the rope in the pack.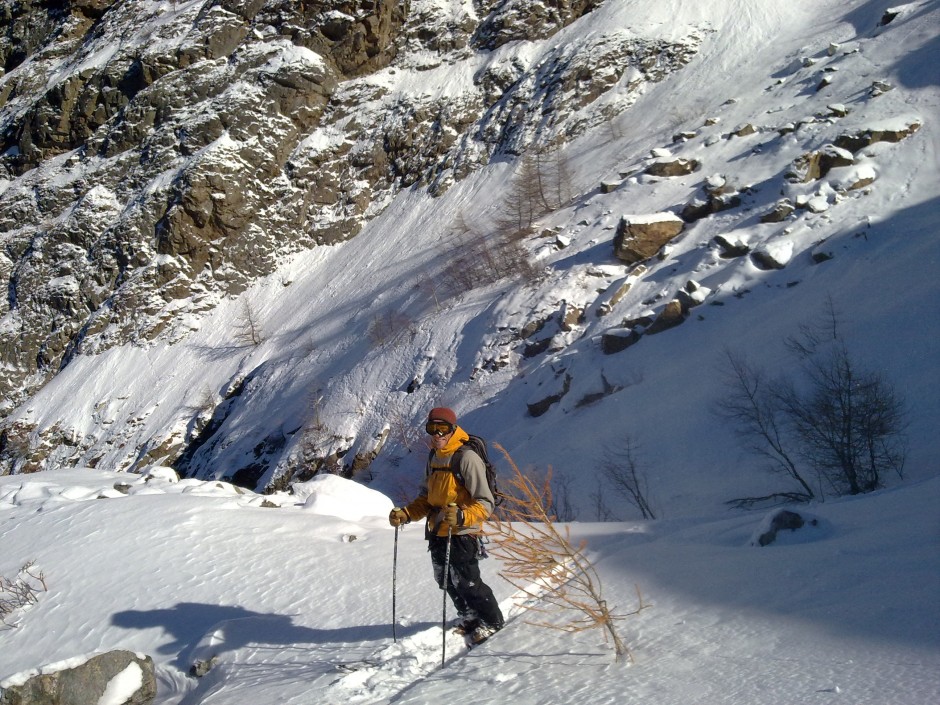 So Today was the 20th and i worked with 4 guys from poland and after waking up to the storm total I was selfish and skied more for me then them, They were lucky to get me today, We opened everything we could :-0
Opening the Banana in No visibility conditions. The couloir was sick once we found it!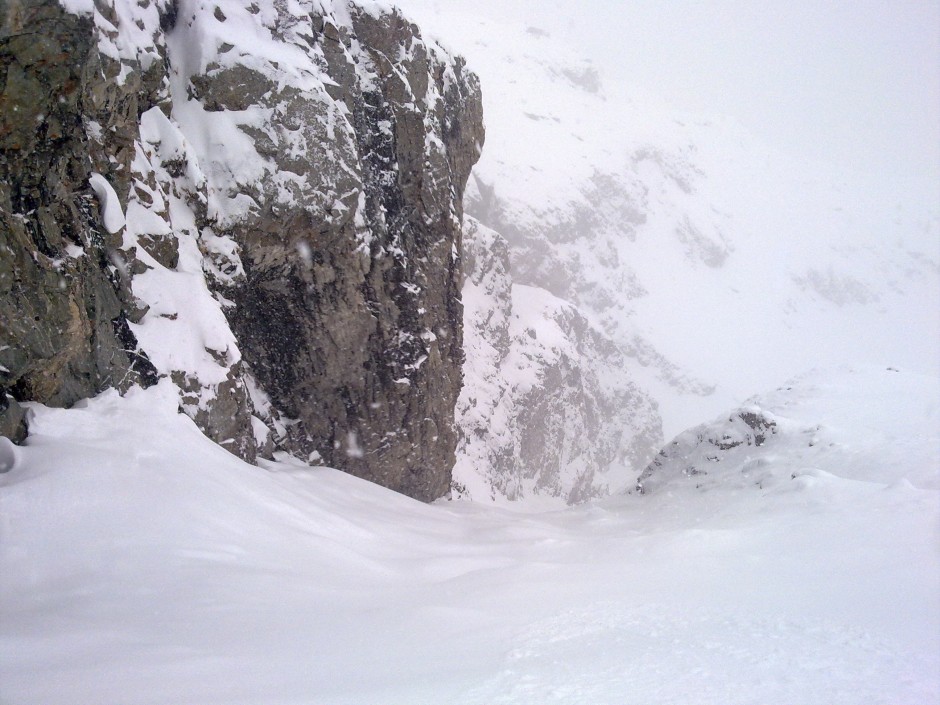 My job doesn't suck, this think sluffed with me the whole way, but the fun surfy sluff that you dream of. So good, why did a guide get here first with clients? Locals????
Looking down with what I consider the best ski on the planet on my feet and about to surf the shit out of this thing.  It's too bad I don't have a ski sponsor but I would not have a problem buying as many of these babies as I can afford.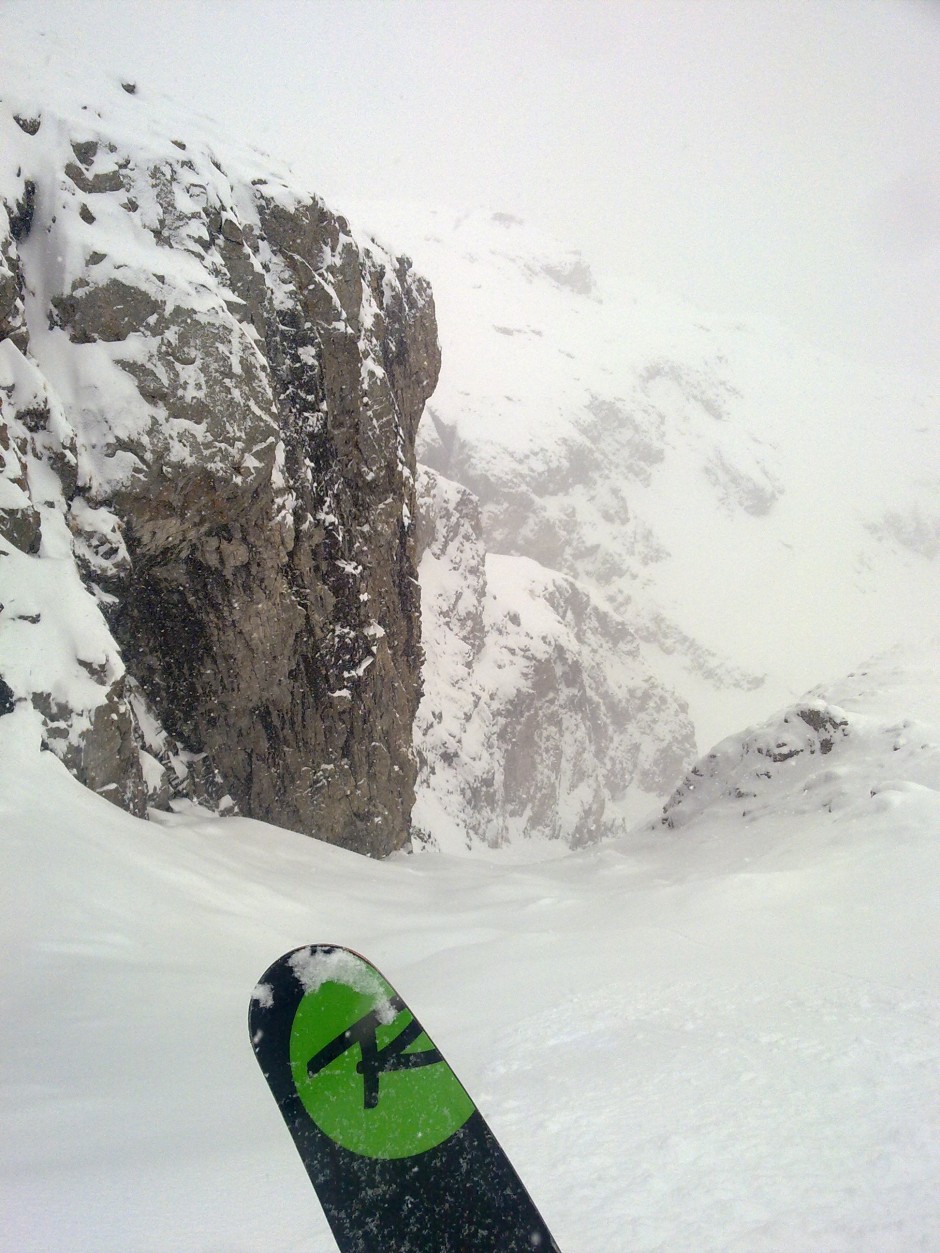 Someone is happy to be at work today!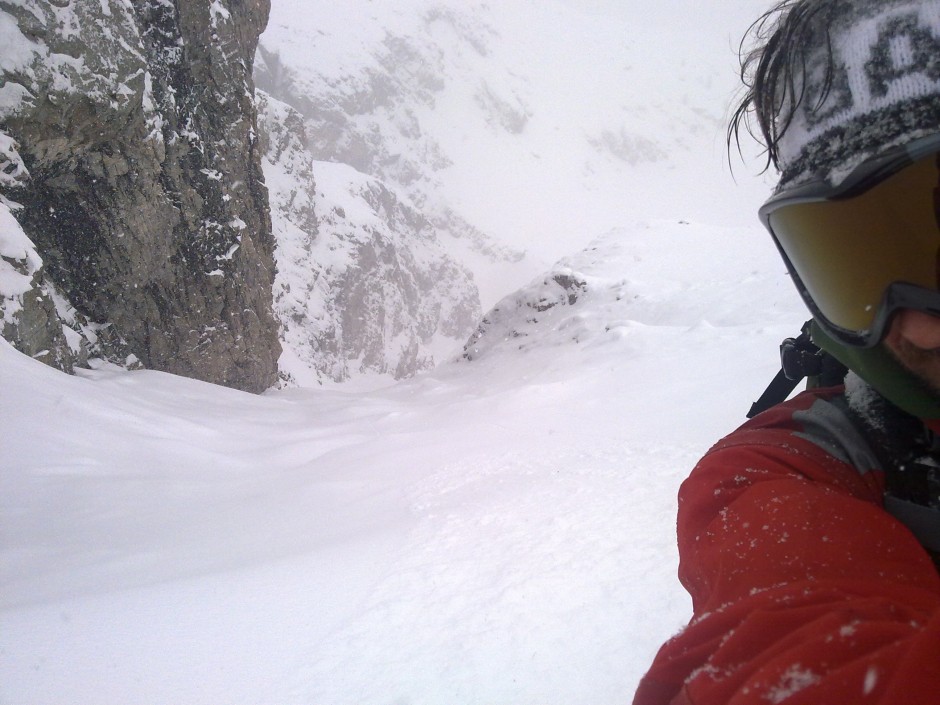 I couldn't stop, I roled right into the the Freaux out of the Banana for a fat road run.  Here you see my clients negotiating the pillows in the tech entrance, Steeper then it looks and not a good place to fall!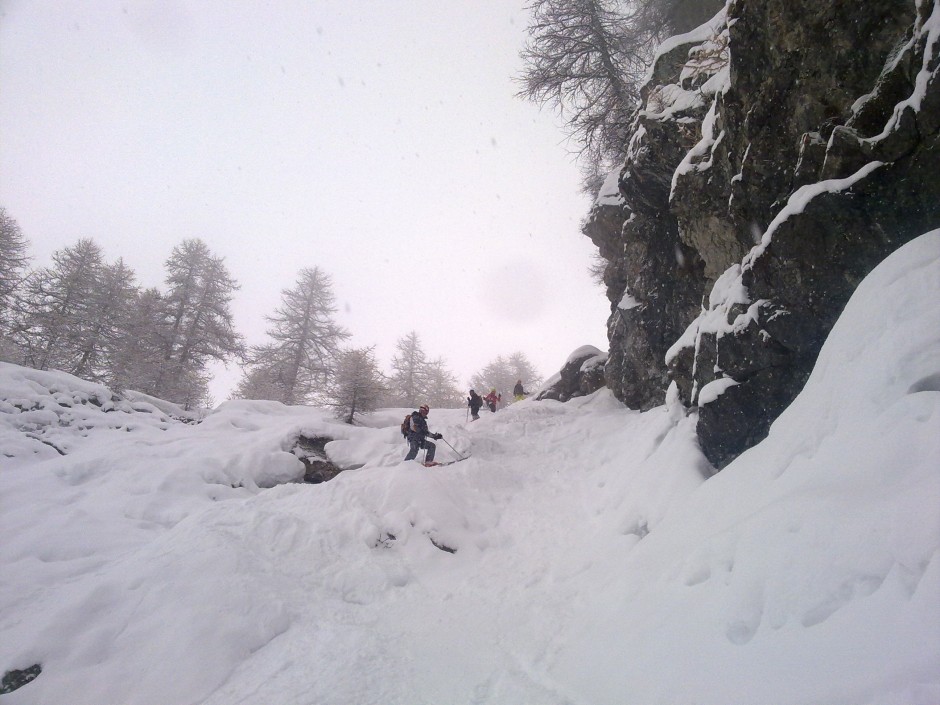 Rocking my A-Basin bandana,  I know where my routes are, but i also know were I belong and it's not in Colorado where I can't get away with this stuff. Thinking of the boys back there and prayers and thoughts are with you boys, Ski one for Leif,  RIP my man!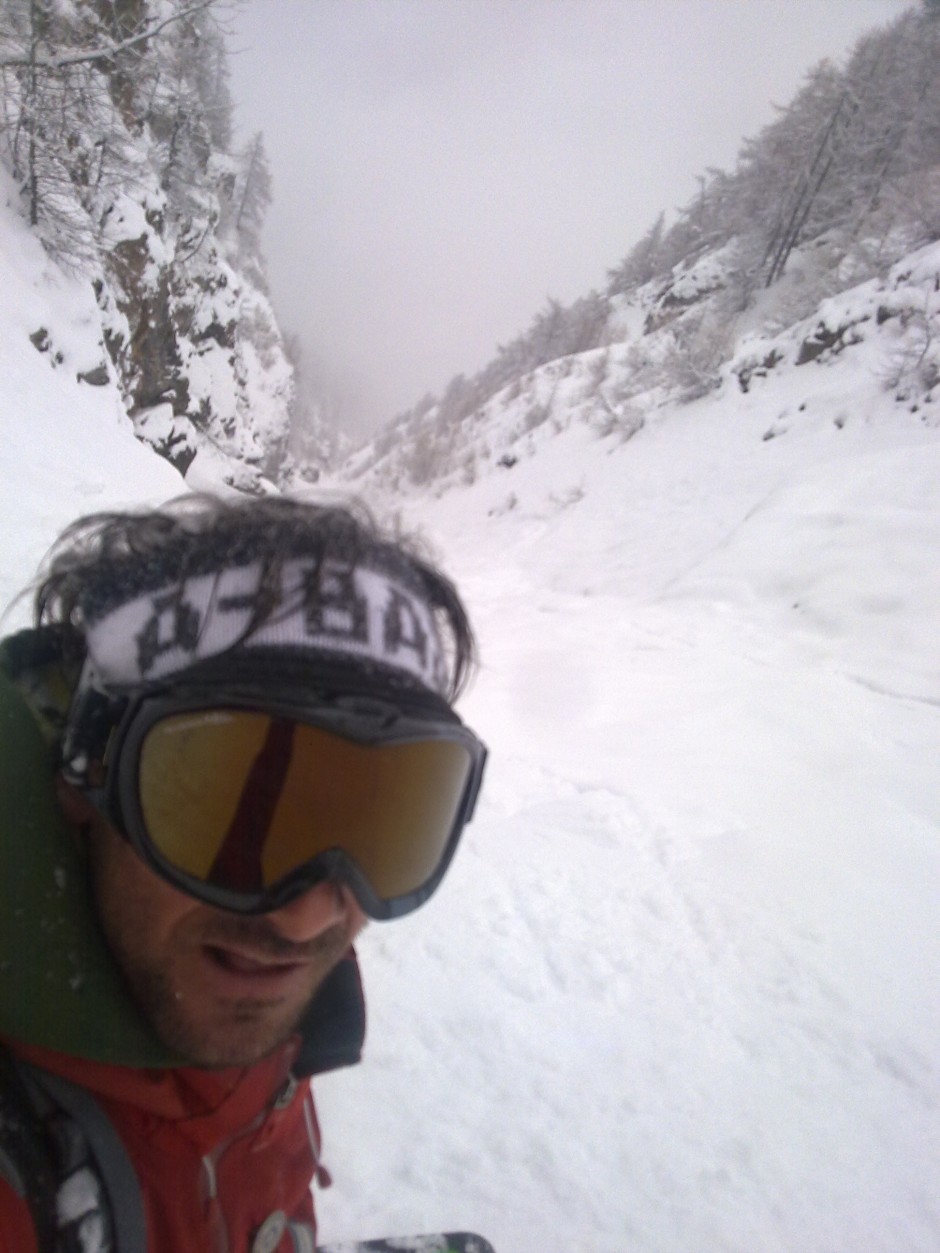 Game on, Nice to see some white trees in the cloud.  Let me go first and make sure it's as good as it looks! 🙂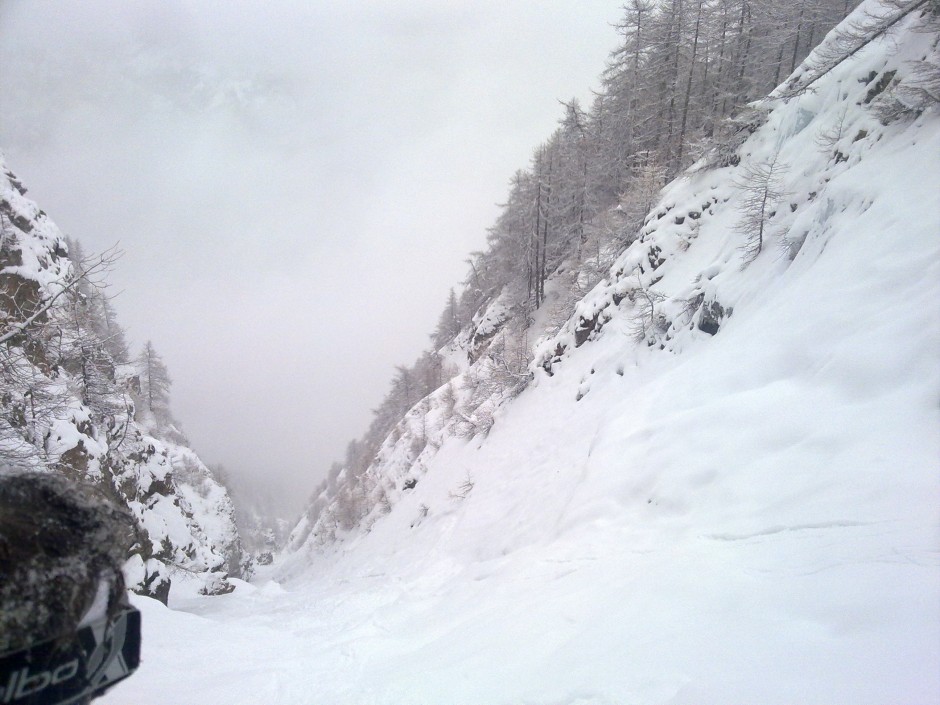 It was some fluffy goodness, Should of gone to Cham I heard they got 5 more cm then us!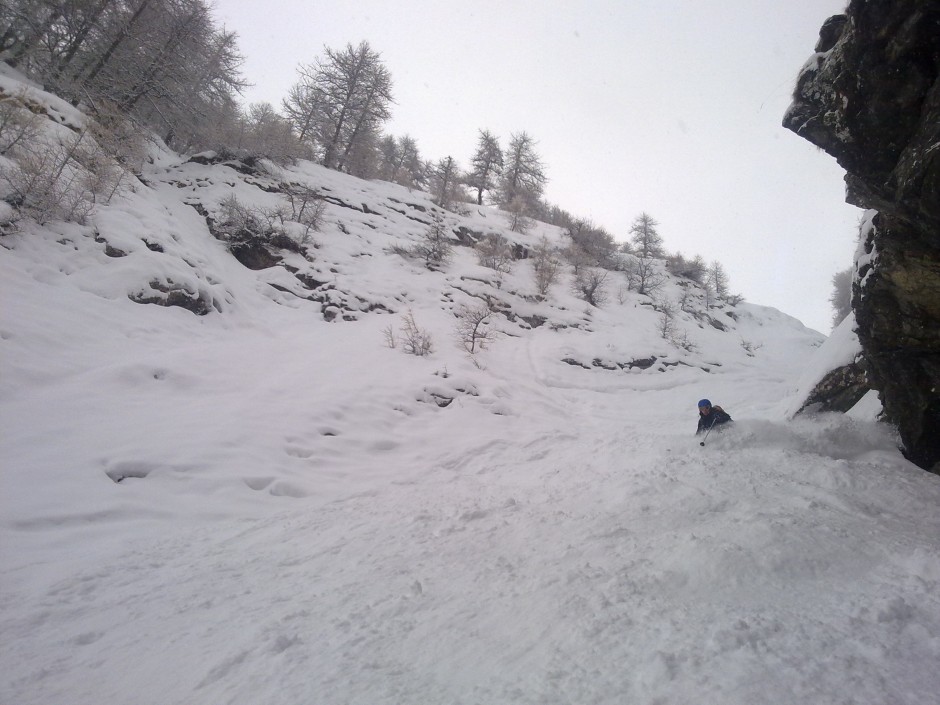 Threading the Crux, It's easier to just jump the whole thing, but this move is cool too!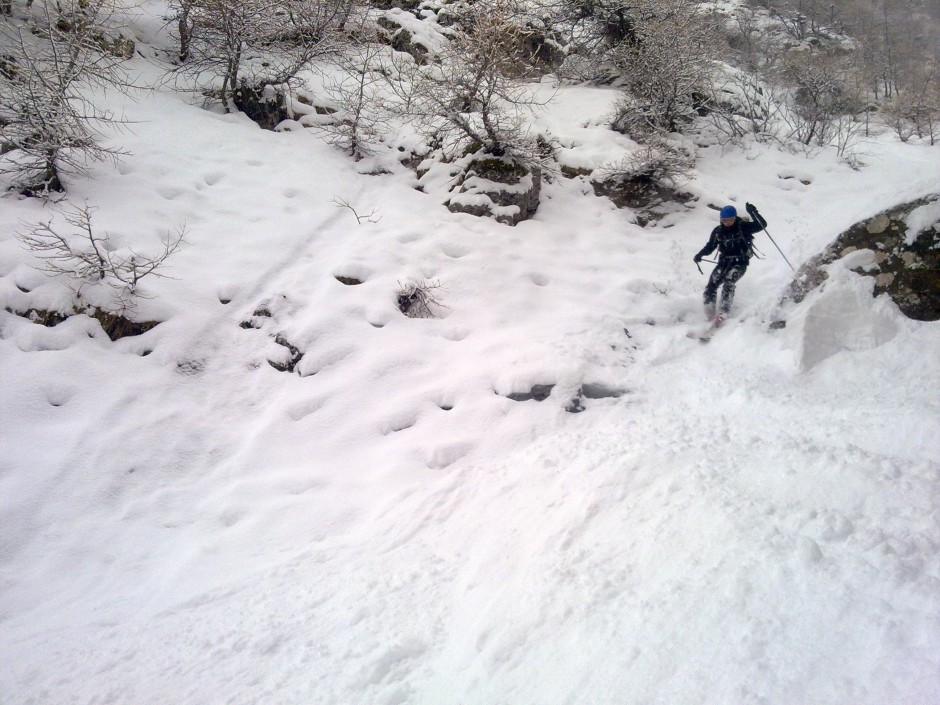 lining up the move.  You really just have to commit!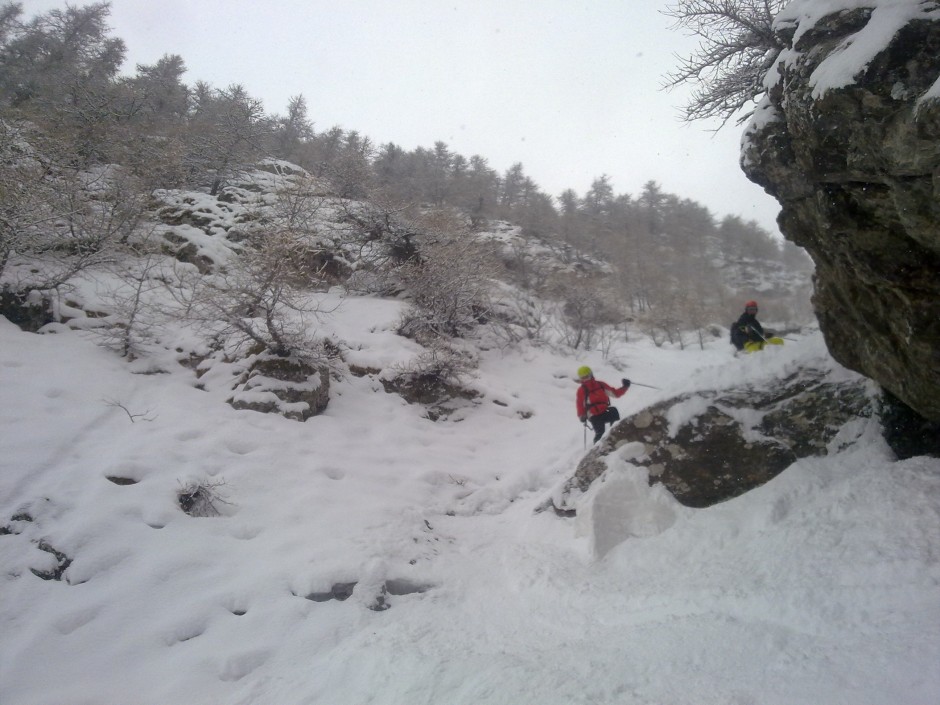 Exiting the Couloir, It's not over till it's over!!!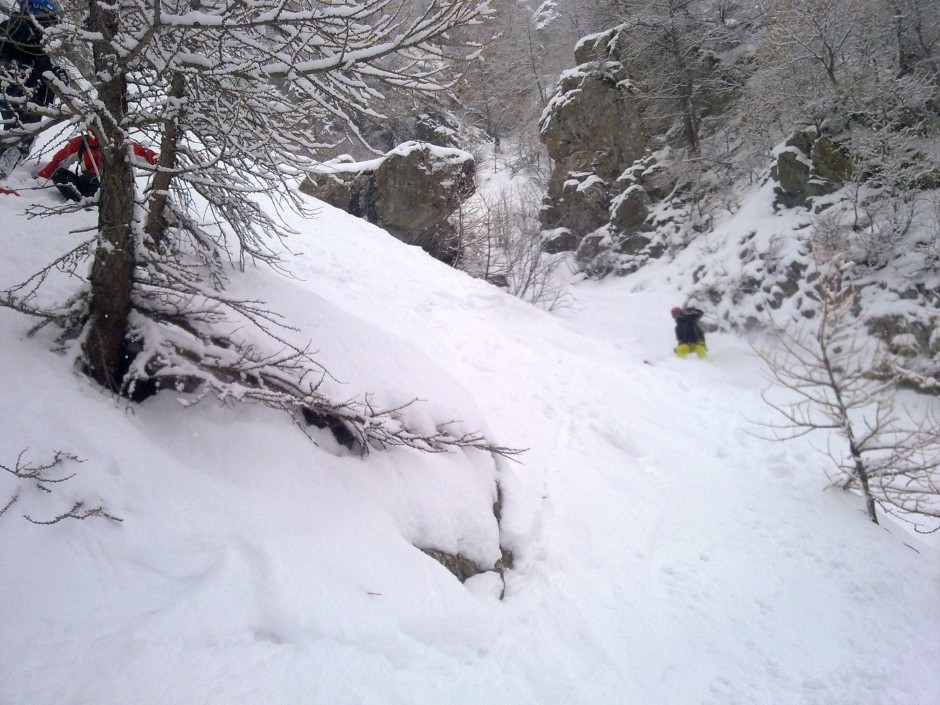 Powder glades to the road from here, These shots were so good. We skied under a special place here on the way out, I looked up to say hello to the boys as I ripped the shit out of these trees for them!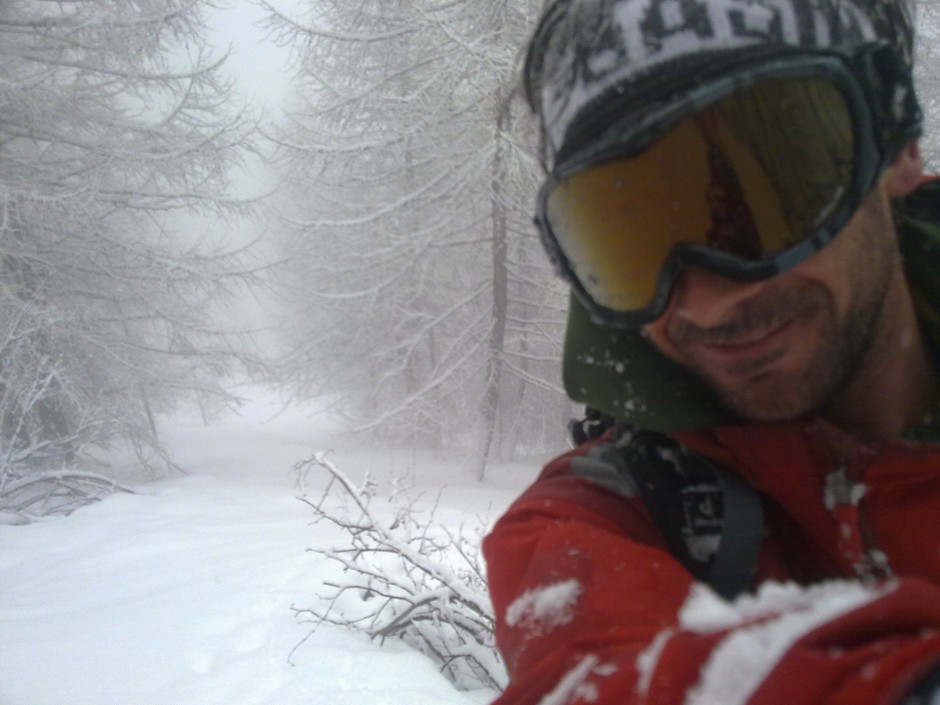 Last lift, about 10 people or so waiting for it as the coolest boxes ever come out of the cloud. So cool that the sky just barely started to open at the end of the day.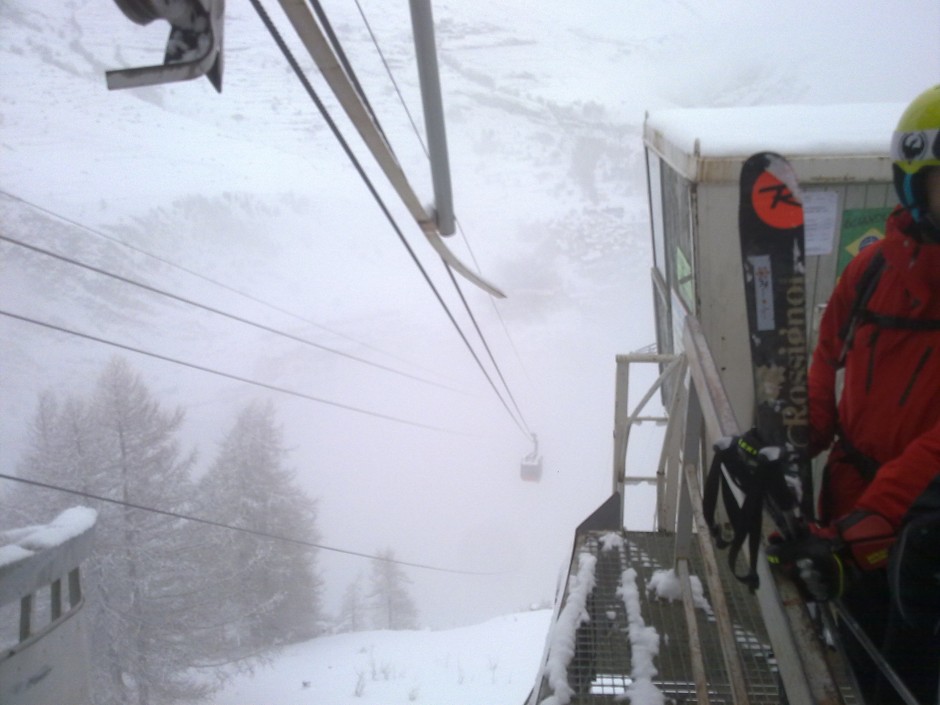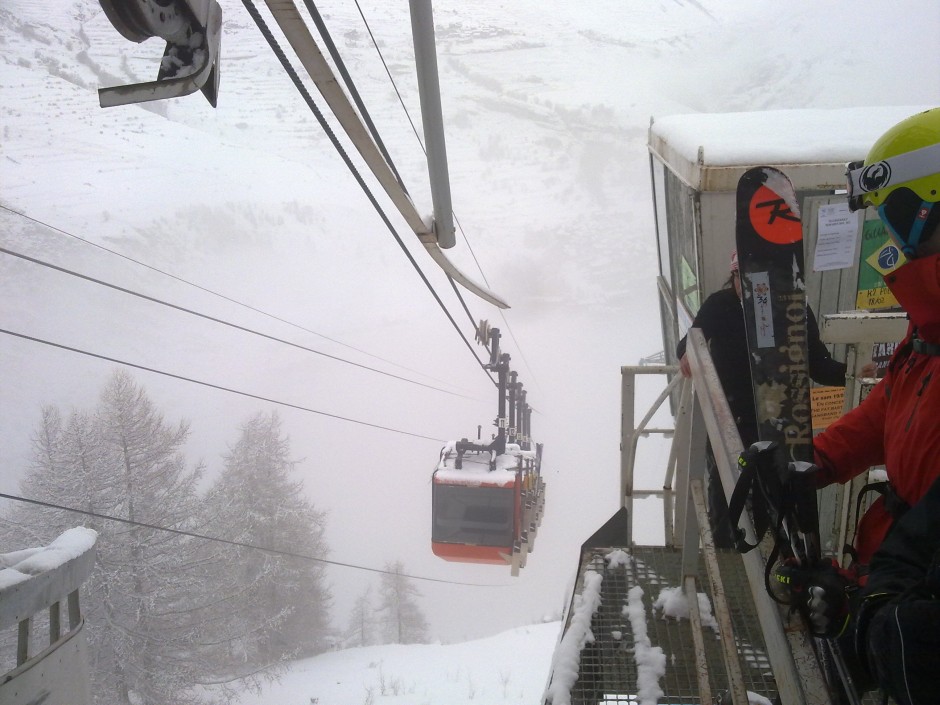 And as we got to town for beers at the Castillan, we watched the Queen try to show herself for the first time today.
I couldn't choose from the photos but the next photos were all taken over about a 30 minute period. So for all the powder folks who think that is what its all about, You need to spend some time here and experience moments like this when you really don't care about the snow but more about where you are.  This place is magical!  Although I don't call it home, it's times like these when it starts to feel like it.  I said it once before and I will say it again, It's not about the snow it's about the terrain!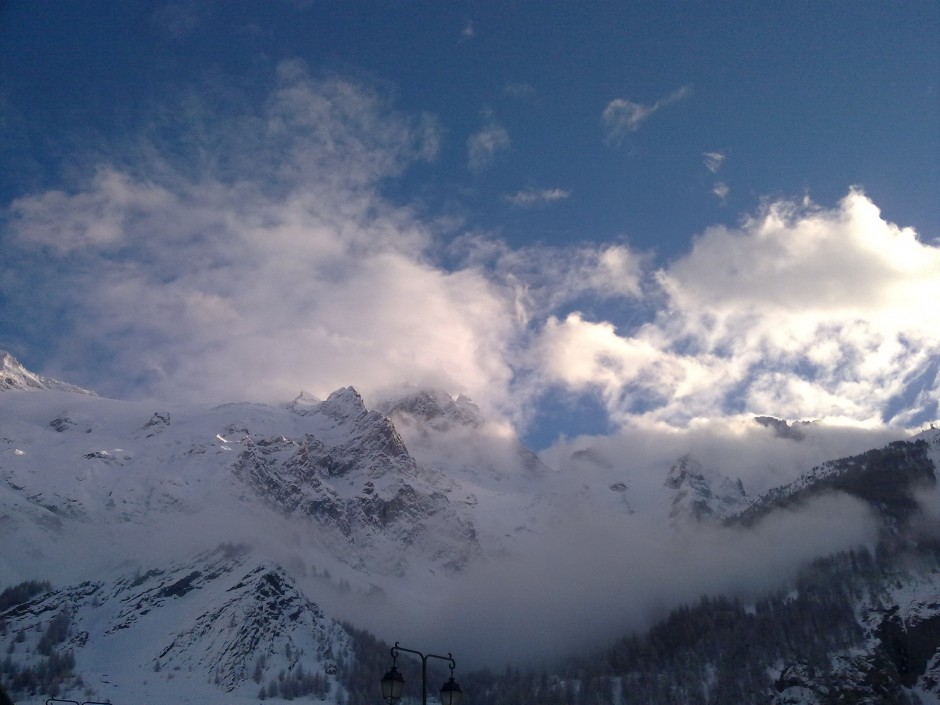 Le Rateau just trying to show her endless ridge!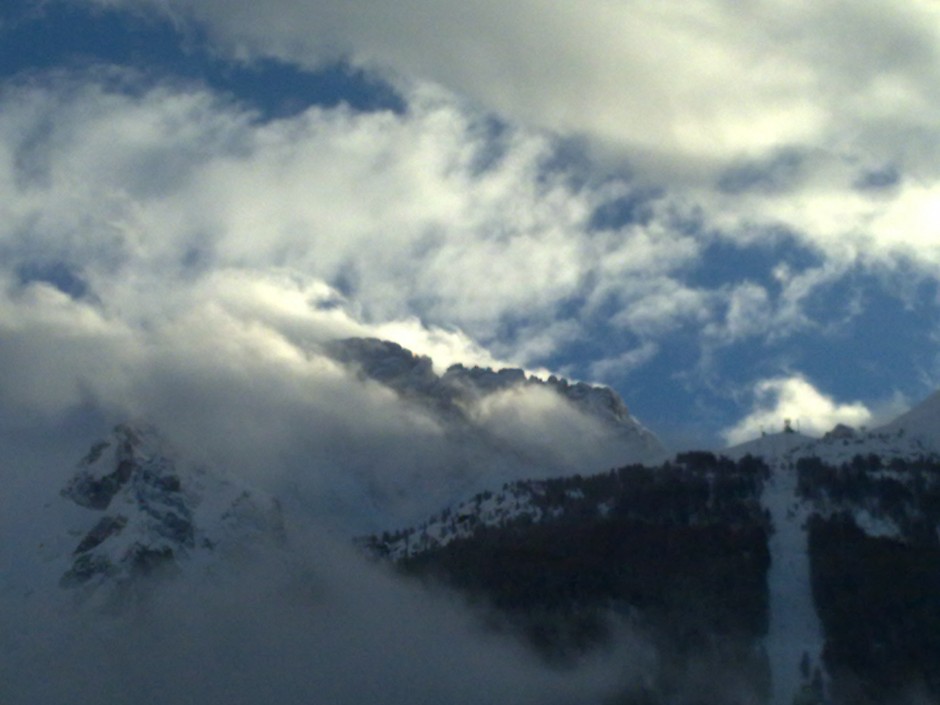 The first view of the day during apres ski beers!
Pretty wicked light and I don't know about you but Le Enfetchore looks pretty white to me!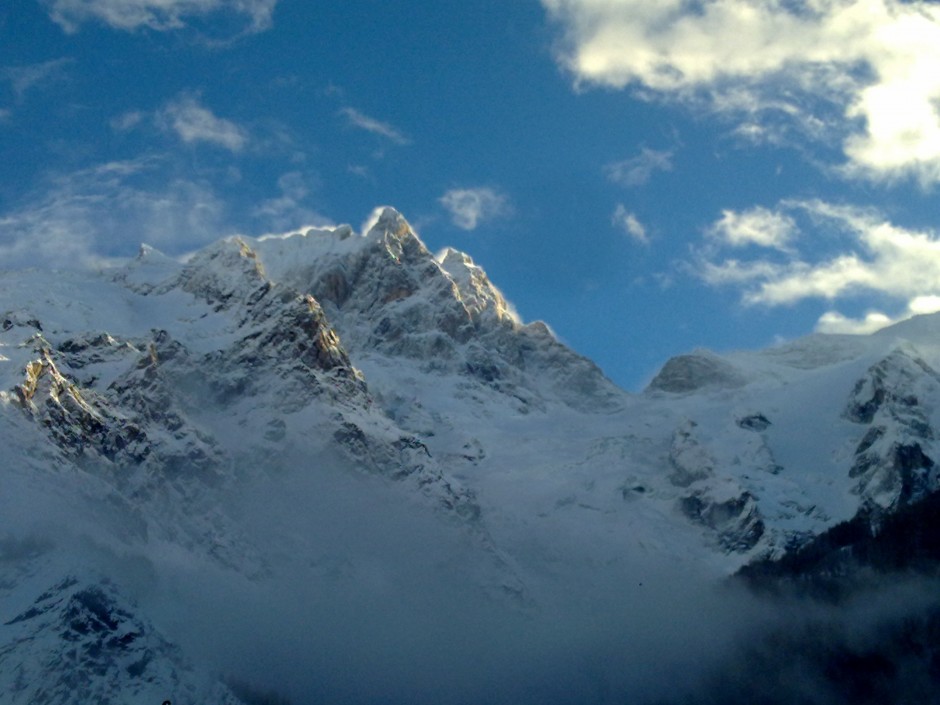 The Tabuchet getting some nice coverage and some afternoon light as well, Looks like winter to me.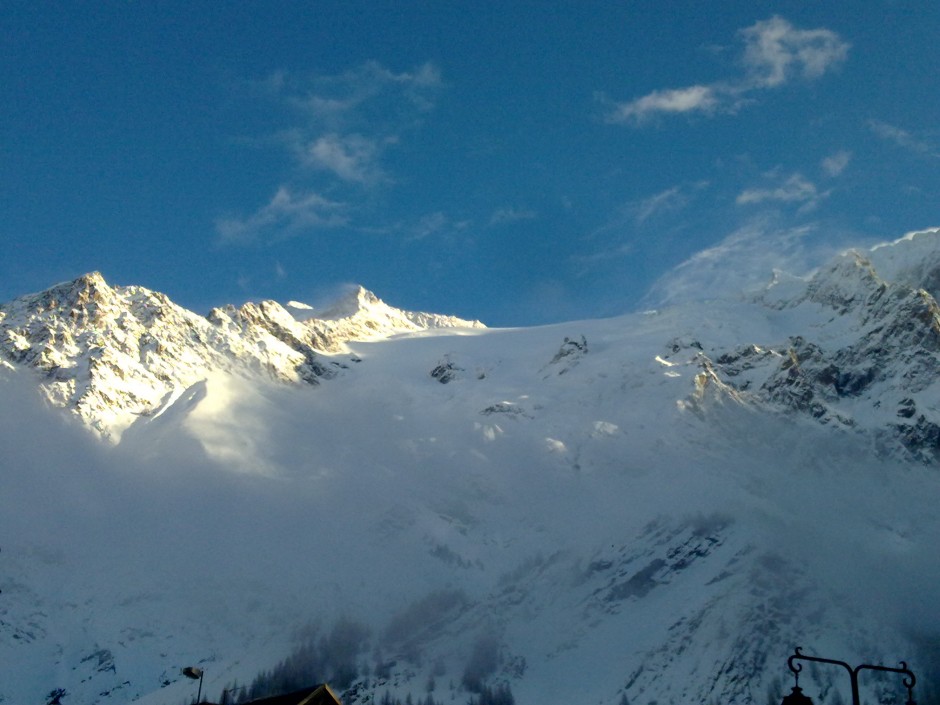 Le Enfetchore!  One of the best day tours on the planet!
From the last photo till the next was about a 10 minute window!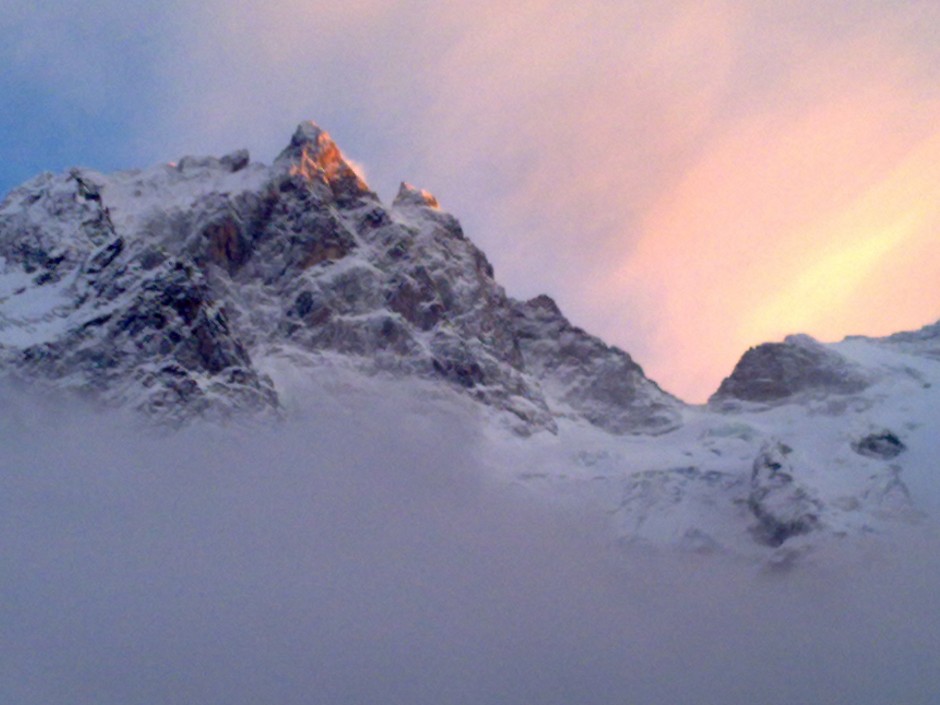 and out of no where we got this light!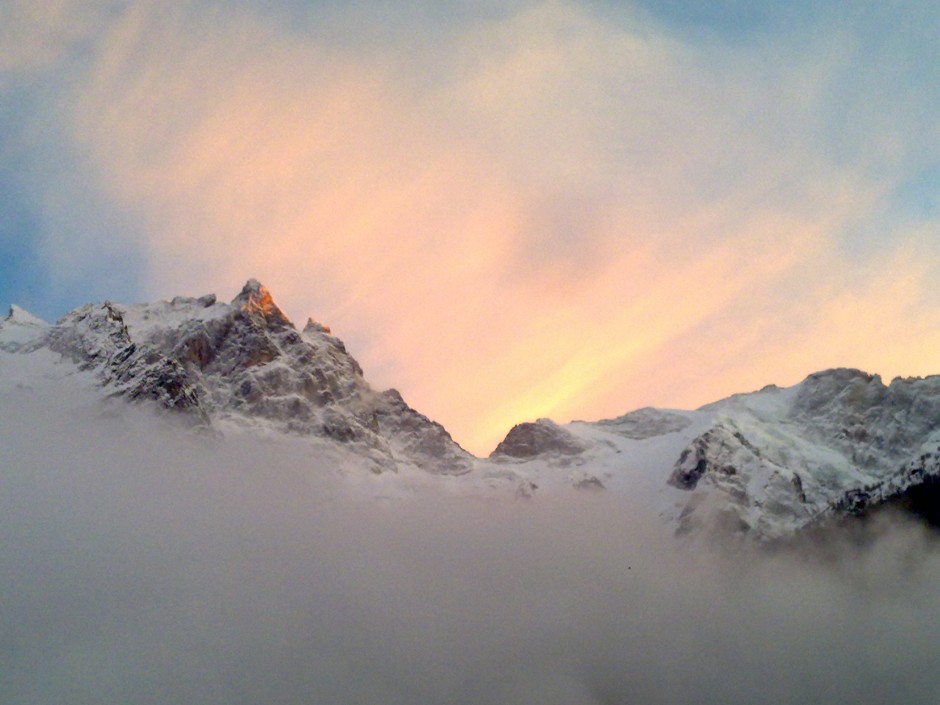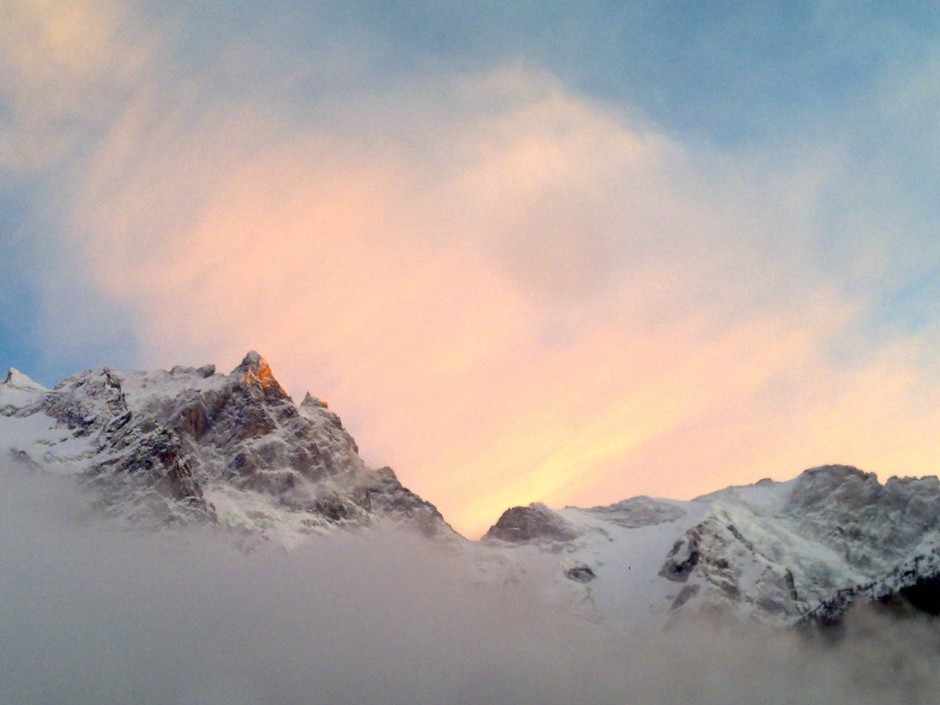 Hope you enjoyed, Ski you next time in La Grave!
Joey