Let me apologize for the late start and phone shot photos from someone who makes no claims what so ever to be a photographer. After last year I thought I would never fall behind on this again and try to keep these posts short, but after 3 weeks of some of the best skiing I can remember in years I realized I had been skiing more then taking photos and organizing life. So here I am playing catch up and giving you one long ass blog. Sorry, they will be shorter in the future and more focused stories, but let me just throw 3 weeks in a nutshell at you and share my psyche about the best lift in France. I arrived after two days of hell, delays, lost bags, (my ski bag was found in Portugal 4 days later, thanks United for the 70$ ski bag fee) hitchiking after spending the night in the Grenoble train station and the usual pains, but I made the opener, which to nobody's surprise didn't happen due to huge amounts of snow and risk 5 avi conditions. This is what I arrived too:
Maybe some ski potential coming in?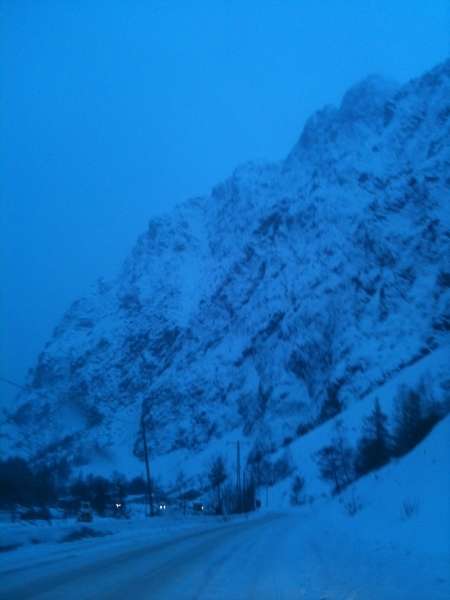 That's the side of my house below the church plastered. What's cool is that snow has been sticking to the side of the church for over week now. If it can stick to the church like that, then where else on this steep ass mountain is snow starting to stick? That's the fun question that a La Grave Skier has to ask themselves.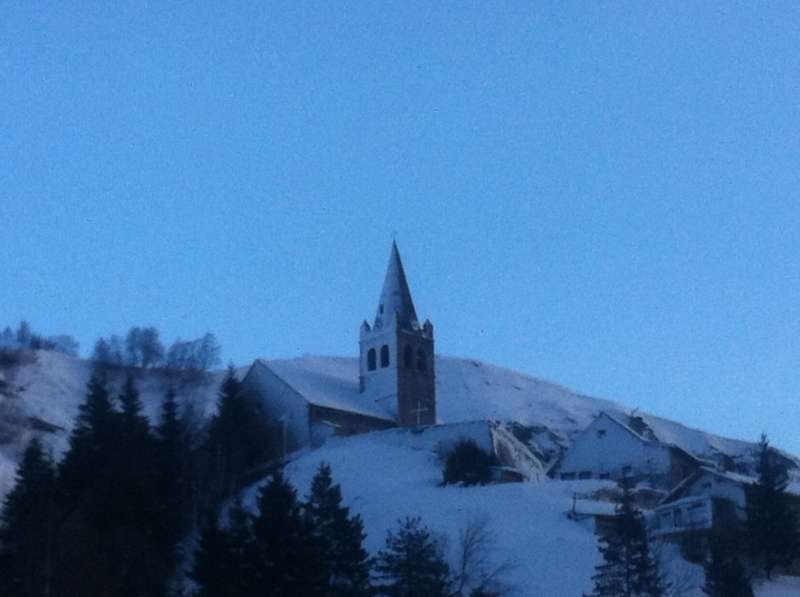 That's my car when I arrived. I finally got it out and moved it to town, I had to spend another hour digging it out days later, and after I dug it out I went to lunch and the plow put everything right back on my car so I had to dig here twice that day. She started first try this Year again!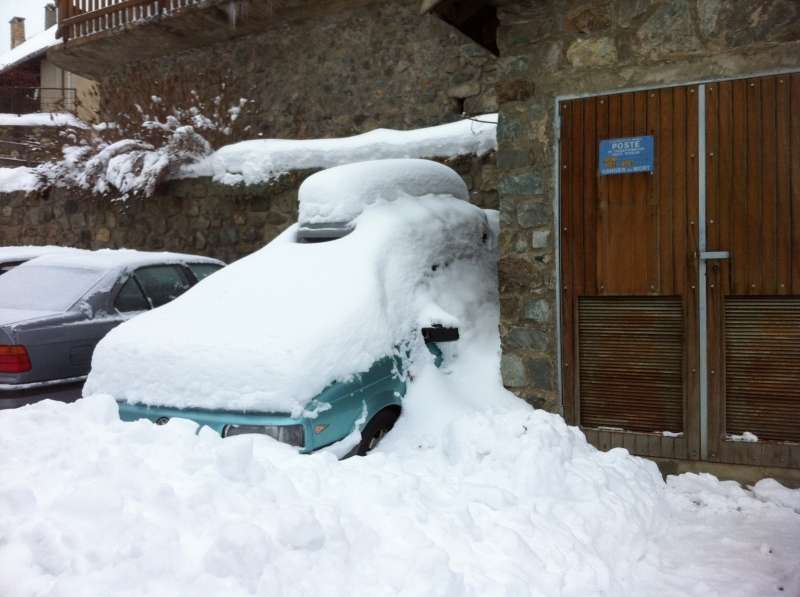 My front yard looking towards the Col!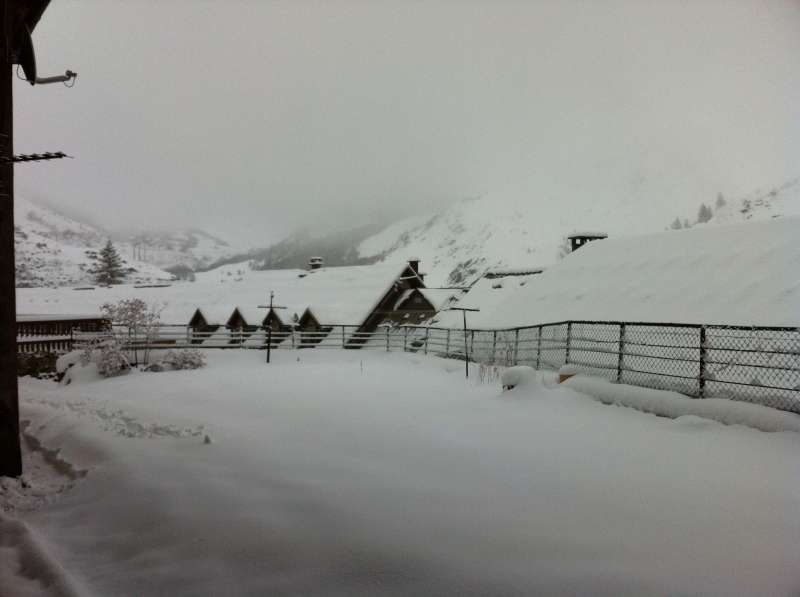 My front porch looking straight out, but she was hiding this day!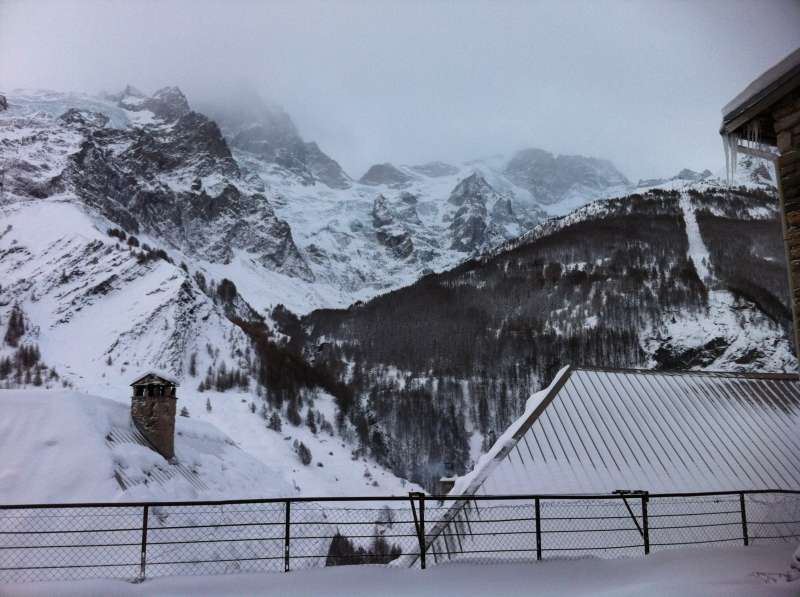 First view of the lift opening day! Look at the Cue?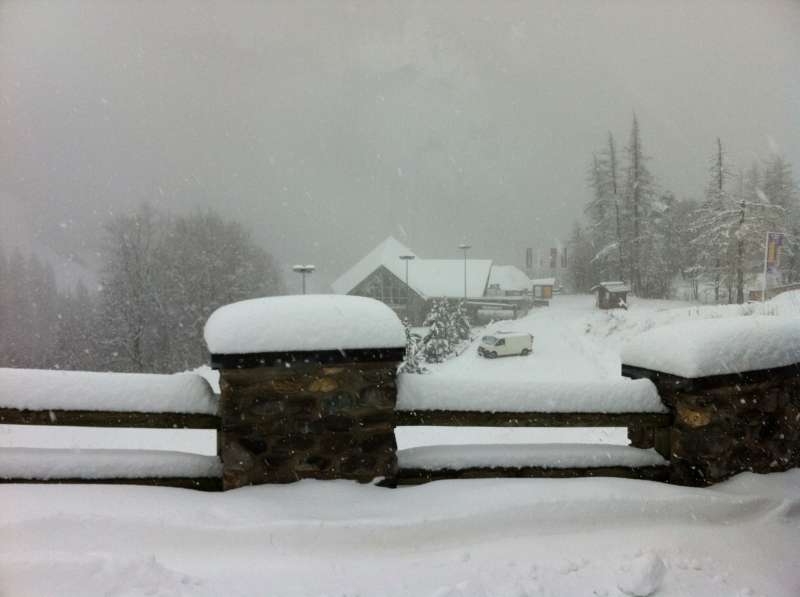 Yep about 5 or so people in line there!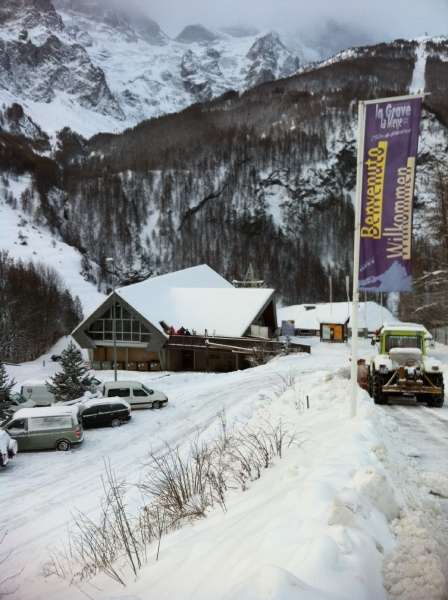 Aurélien couldn't be happier he just got his pass to the best lift in the world!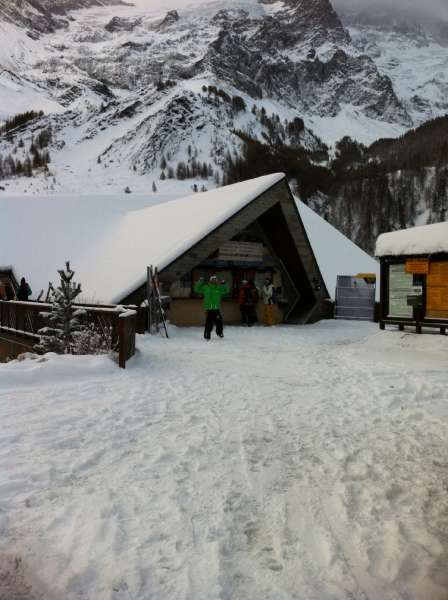 Close to a meter of snow on top on opening day and that's the line?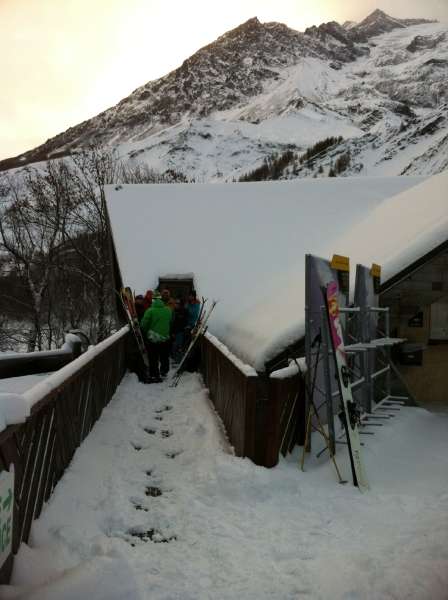 Villa feeling the stoke to be back and in a cue with some damn special people!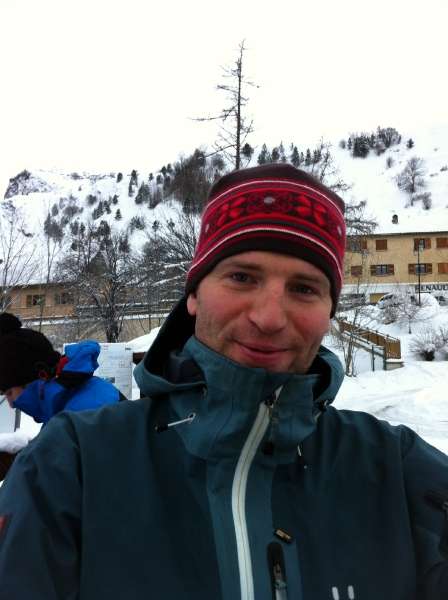 Ptor living his dream!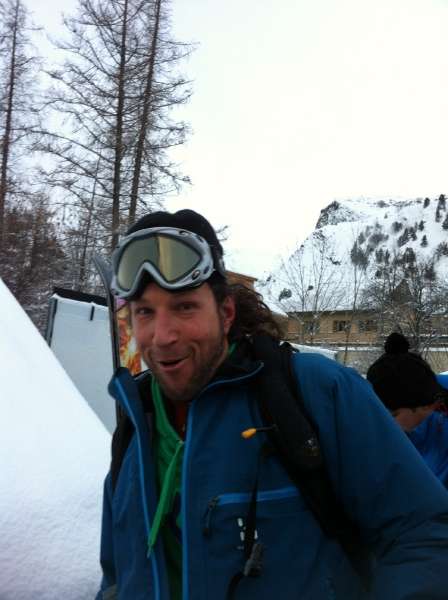 The Vibe minutes before commission told us no 🙁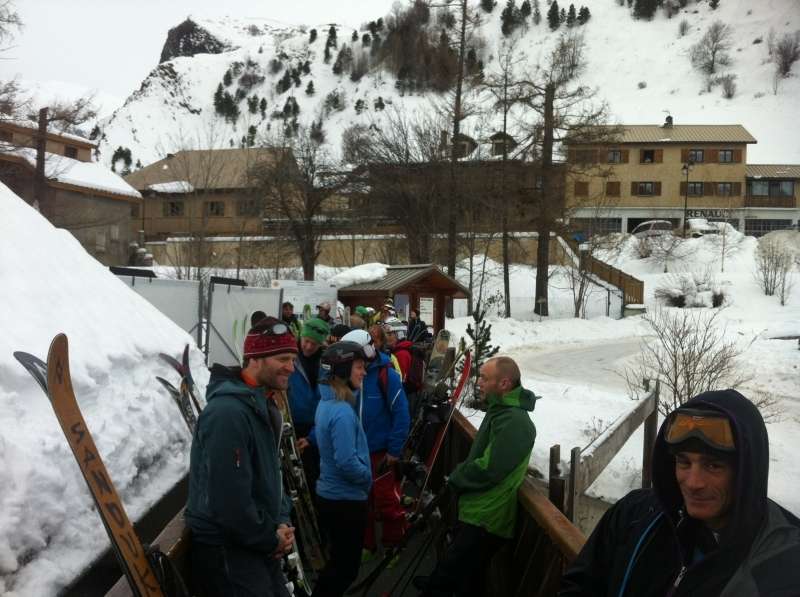 But they did open eventually 2 days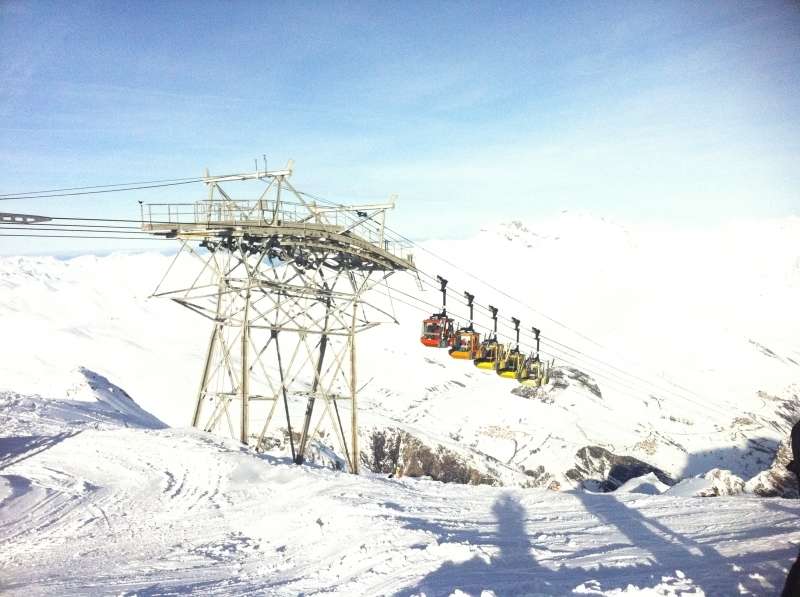 That's what La Meije looked like the first time I saw it from 3200 this year! 🙂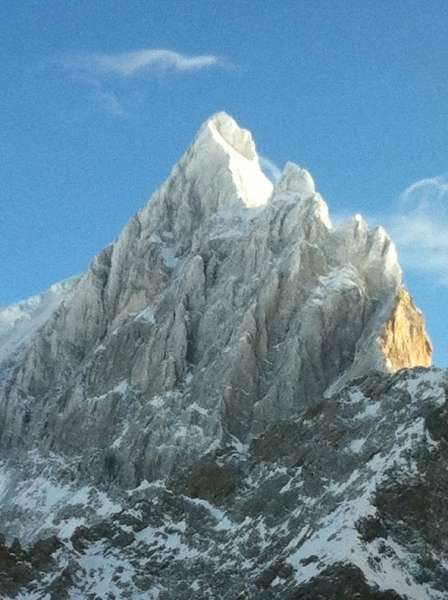 Opening day Girose!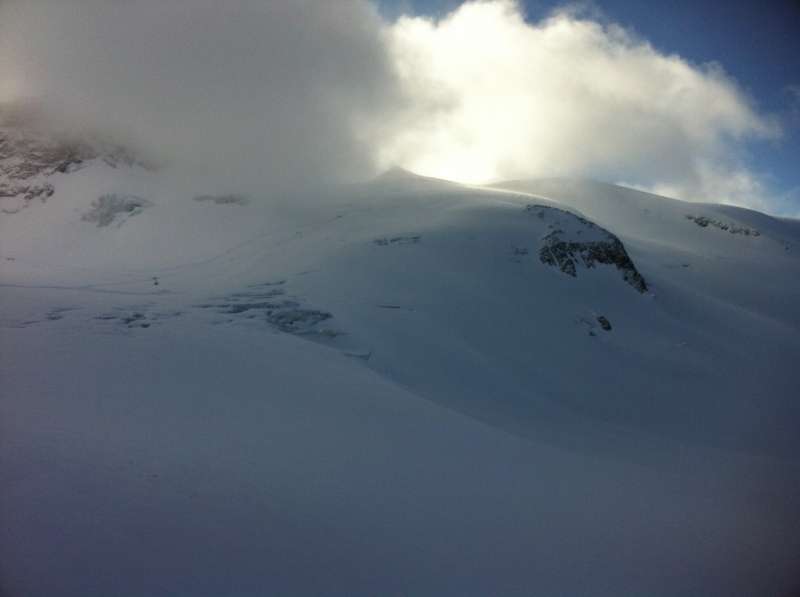 Opening day Avalanche!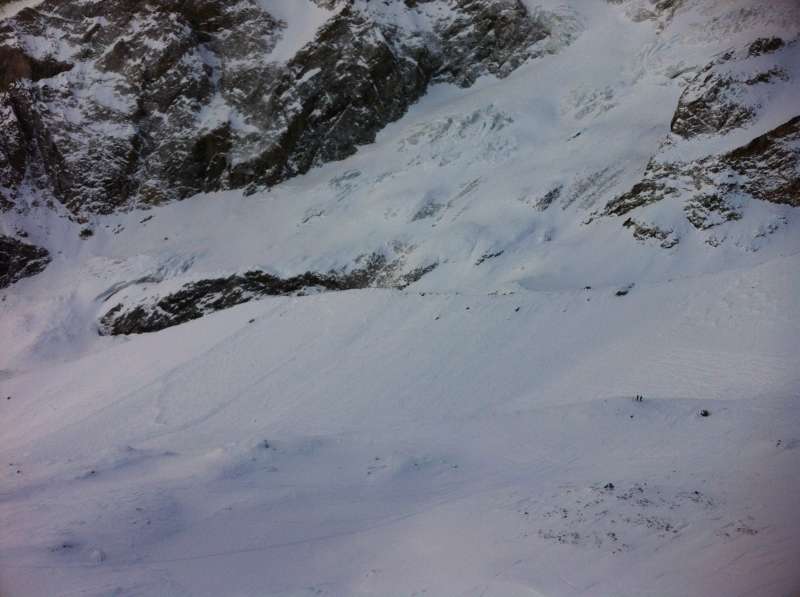 The Crown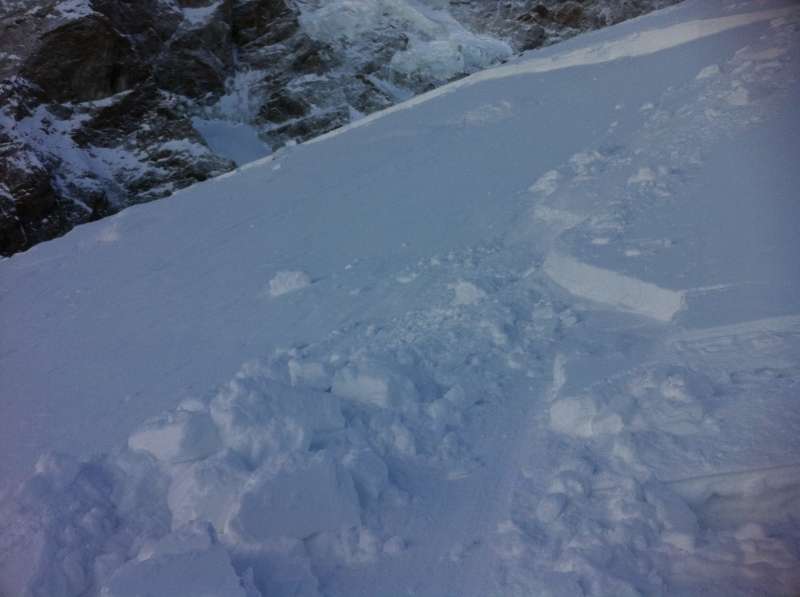 Looking down the debris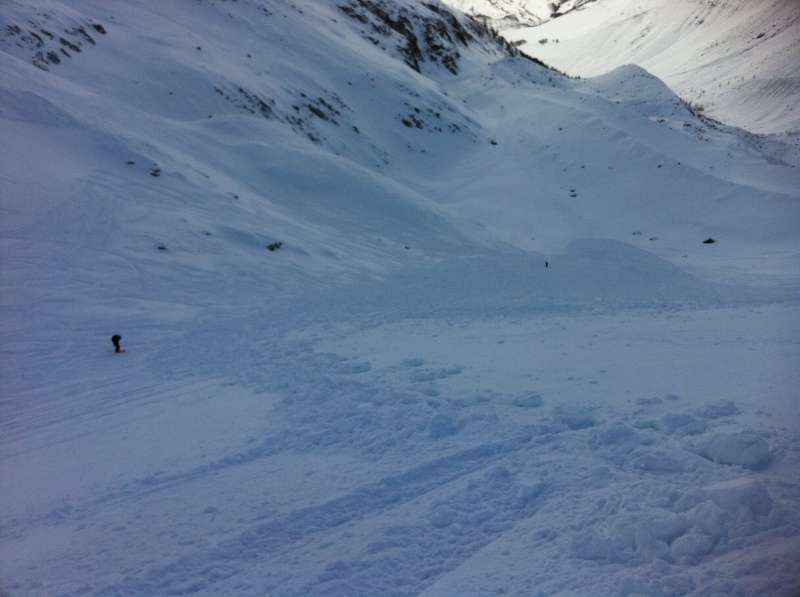 Rescue efforts were pulled together quickly as no one new if anyone was in it!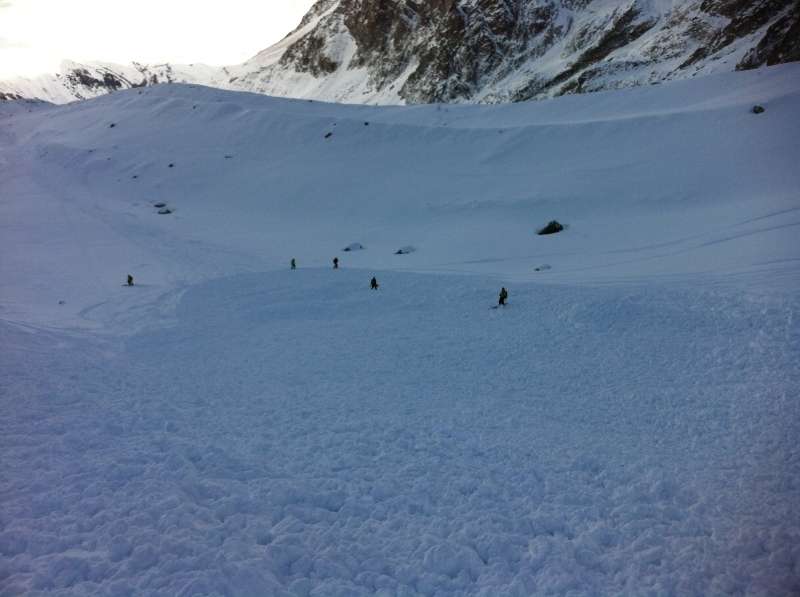 Recco was in the house within 10 minutes or so and Helicopters with Dogs and more Recco within 25 minutes or so.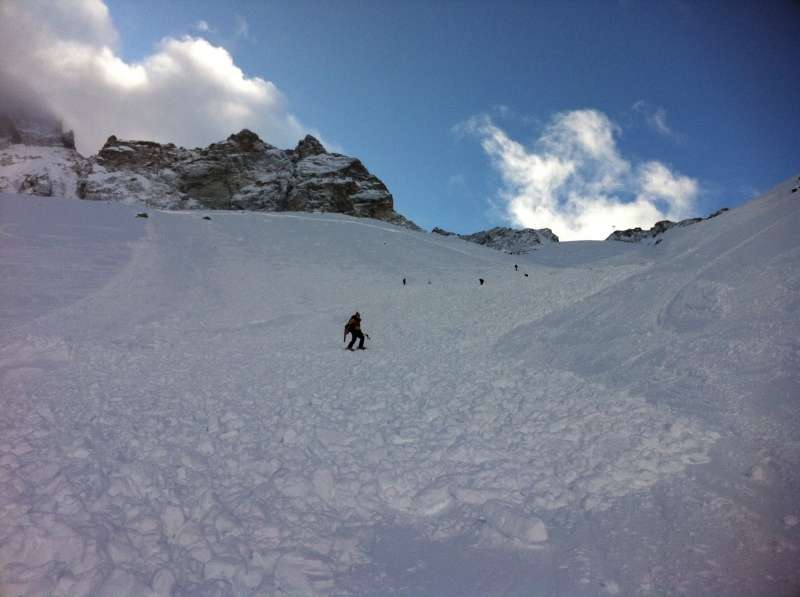 The following link is a first hand write up from some one who was involved in the slide.
http://www.tetongravity.com/forums/showthread.php/235104-La-Grave-Opening-Weekend-Avalanche-TR
Never thought I would ever see, one of La Grave's nominees for best ski bum, Matt's with an Ipad.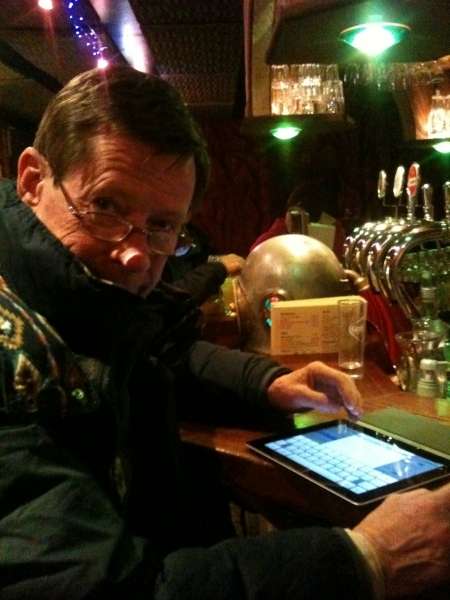 Kurt's Birthday Dinner after the opener.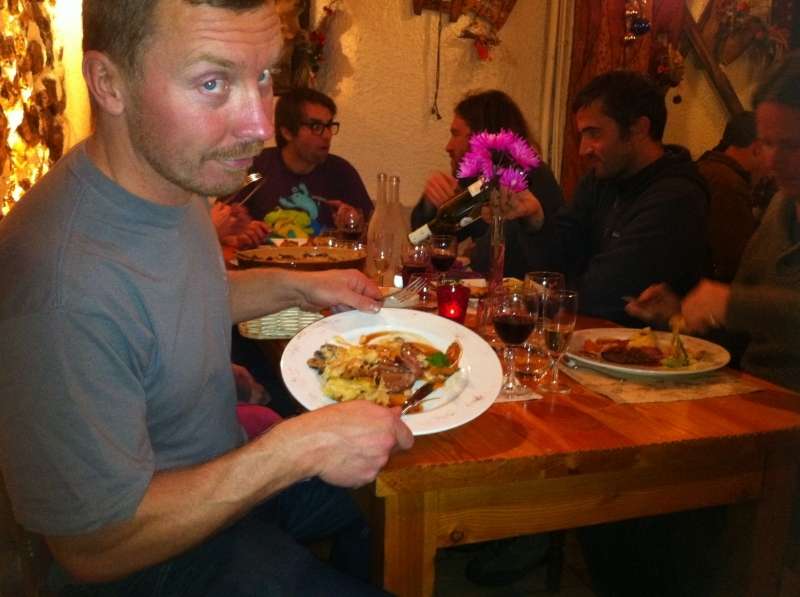 Kurt Rocking his birthday suit!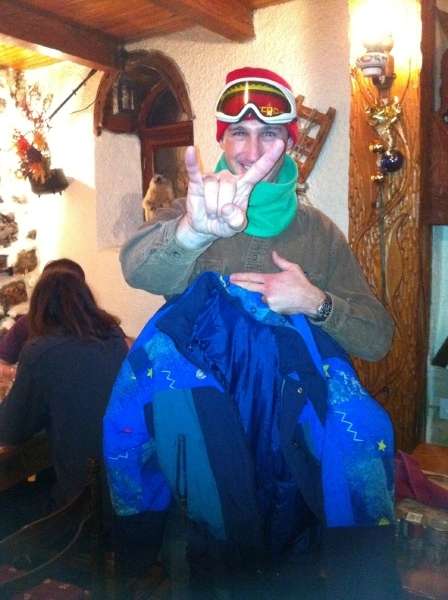 Kurt promised he would wear this, Let's see?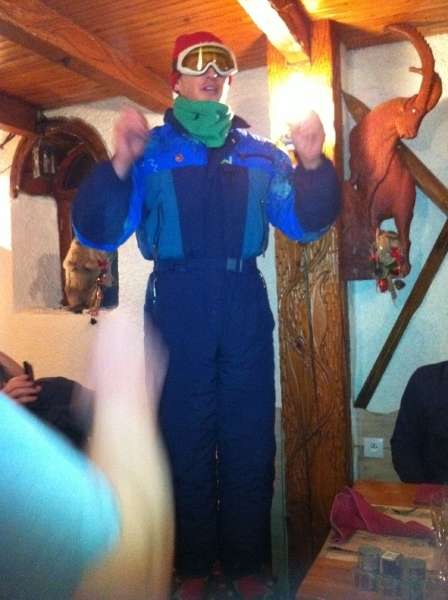 First Dinner party of the year at the house!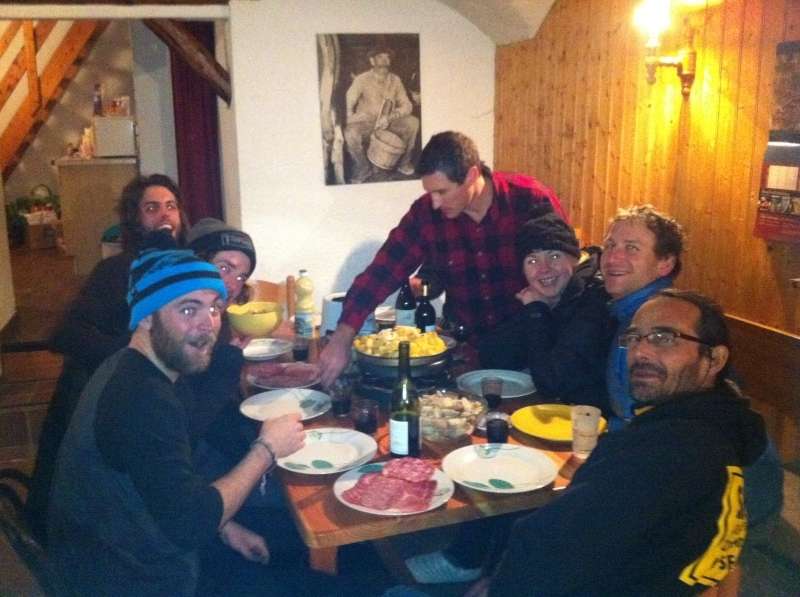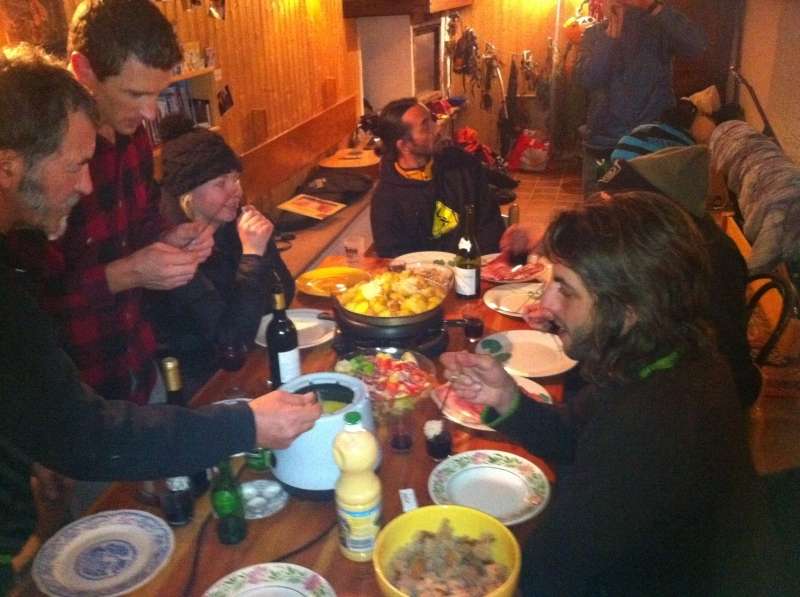 The following video is worth watching till the end just hear Kurt talking about skiing in La Grave!
Plastered, This is the West Face of the Rateau and the Upper Trifide in December!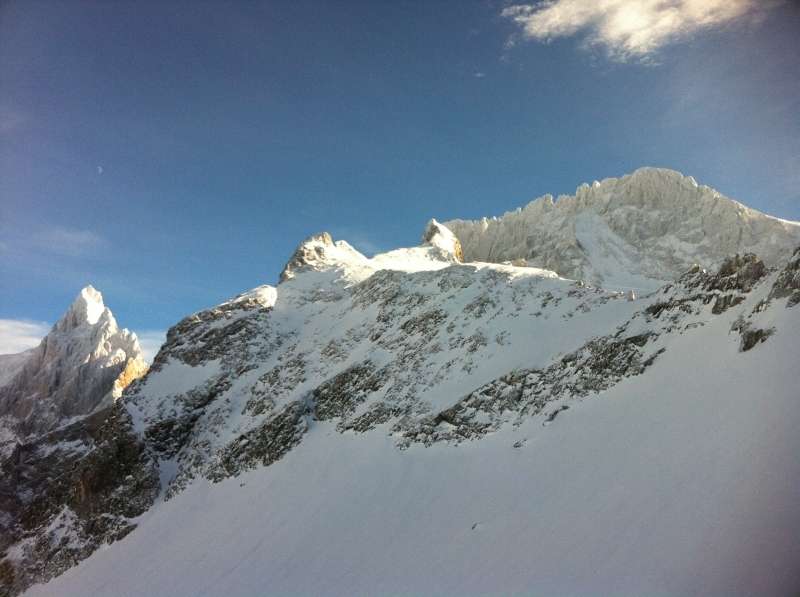 It's starting to stick already!
Pic La Grave on the same day!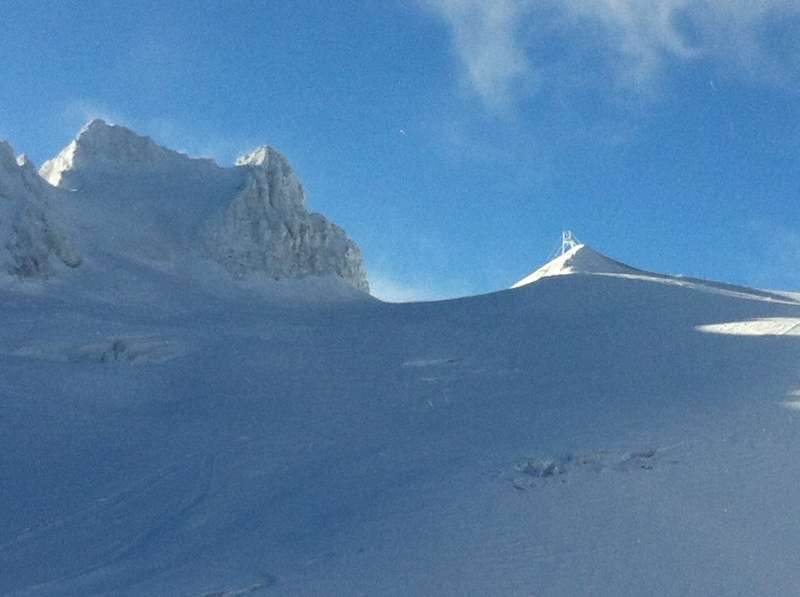 Don't have to say much about the next one.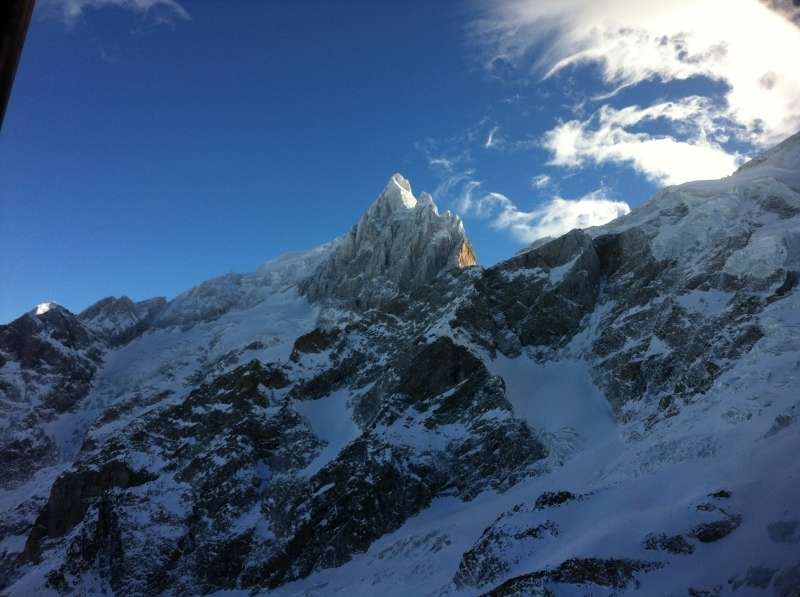 A Peppered Chancel but so fun to paint it up for the first days of the season. Bobby and Matt living the dream.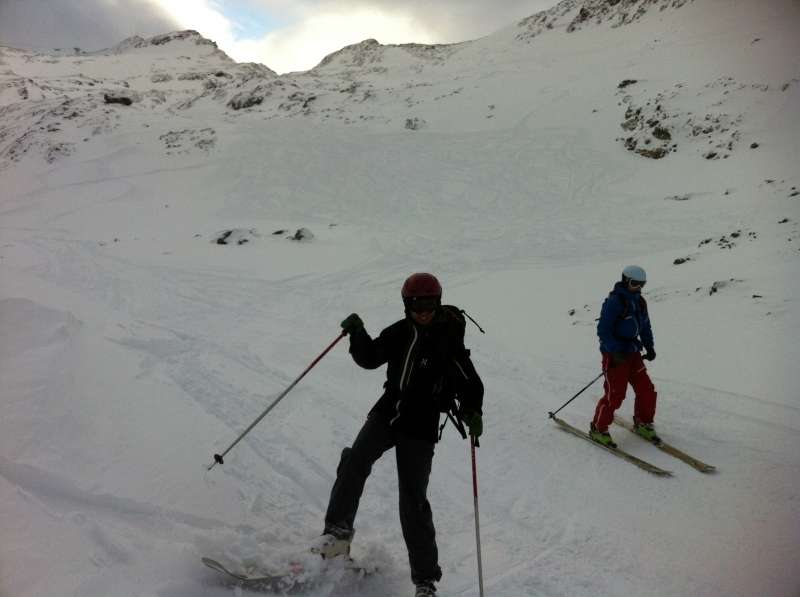 First Vouter of the year for me with Kurt!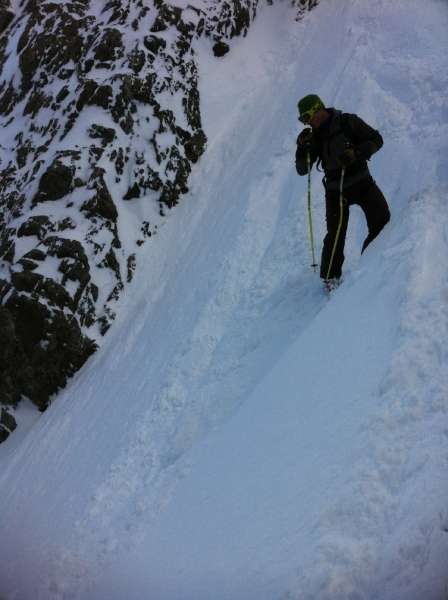 It Didn't suck!
T2 in December for those who care!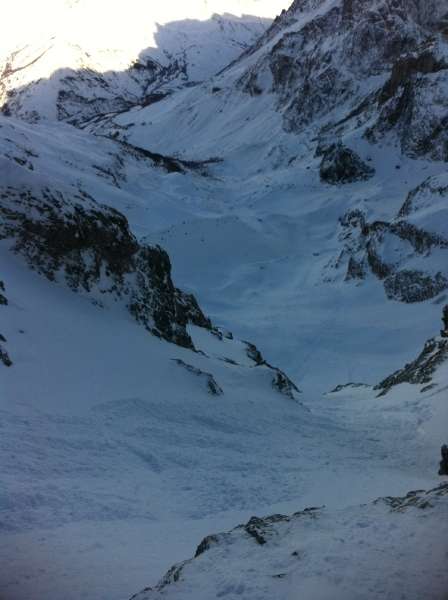 Bananne and one of the smoothes ski guides I have come to know.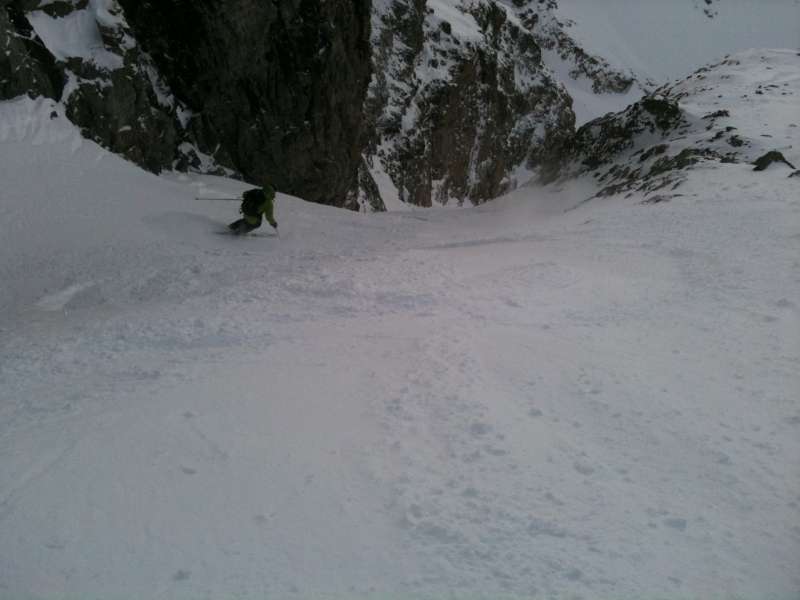 Slaying it!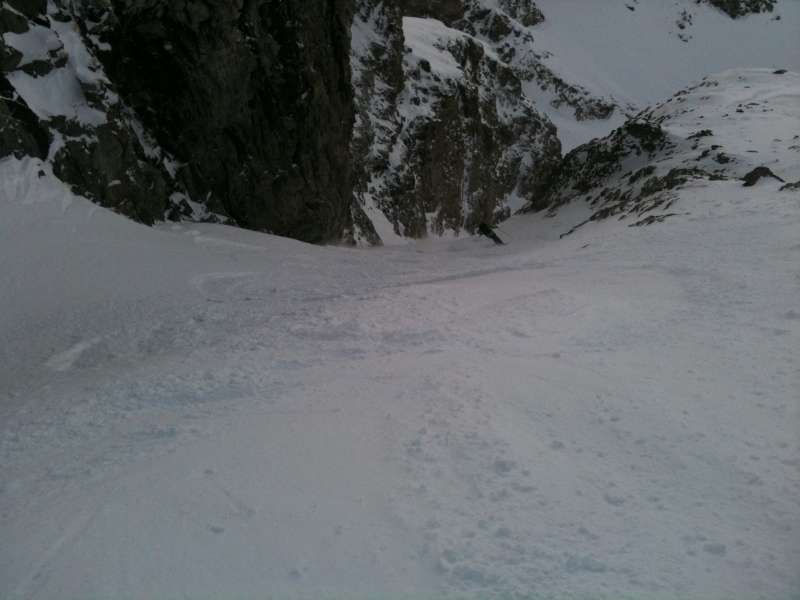 Straight into the Freaux in December mind you.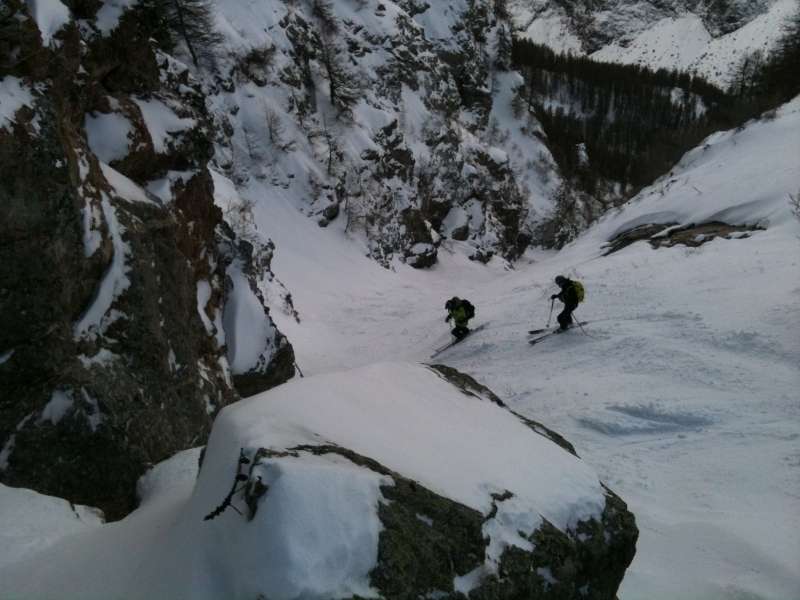 For snow nerds everywhere, a small example of creep on my car window, and yes Chris was in the House.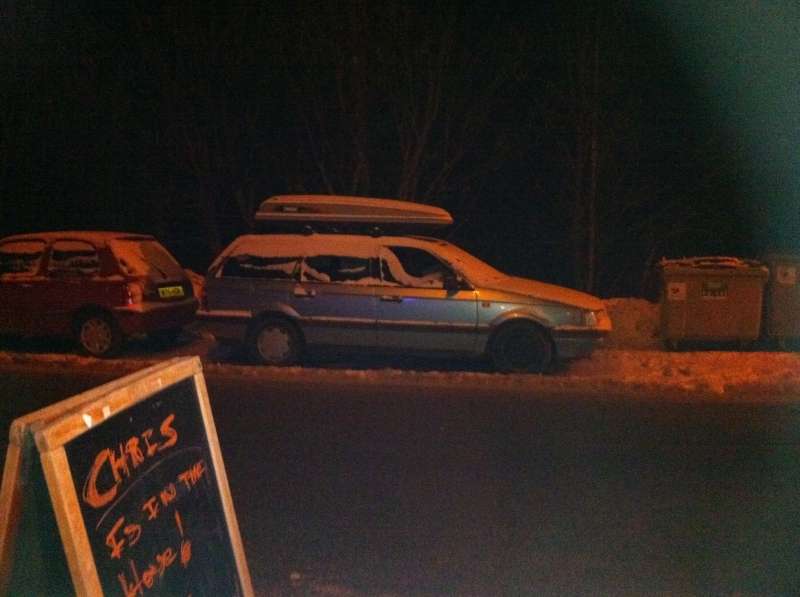 But for a real creep photo, check out this monster!
I watched that thing stretch for about a week before she snapped.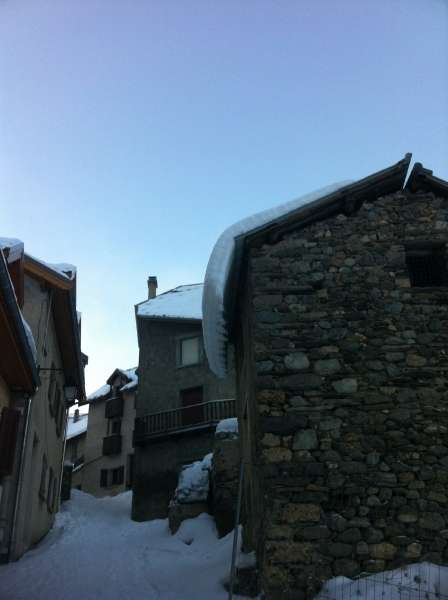 Santa Klauss is coming to town!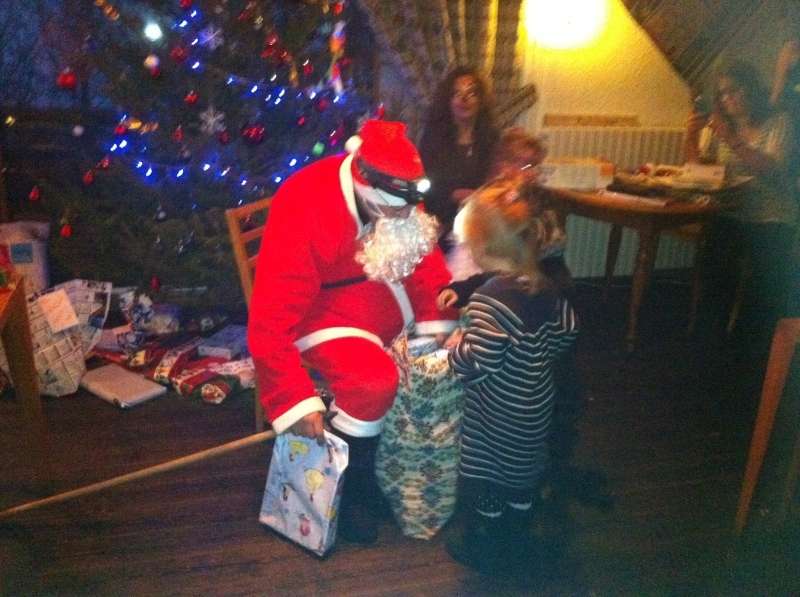 Does anyone else notice how much Russ looks like Santa Klauss?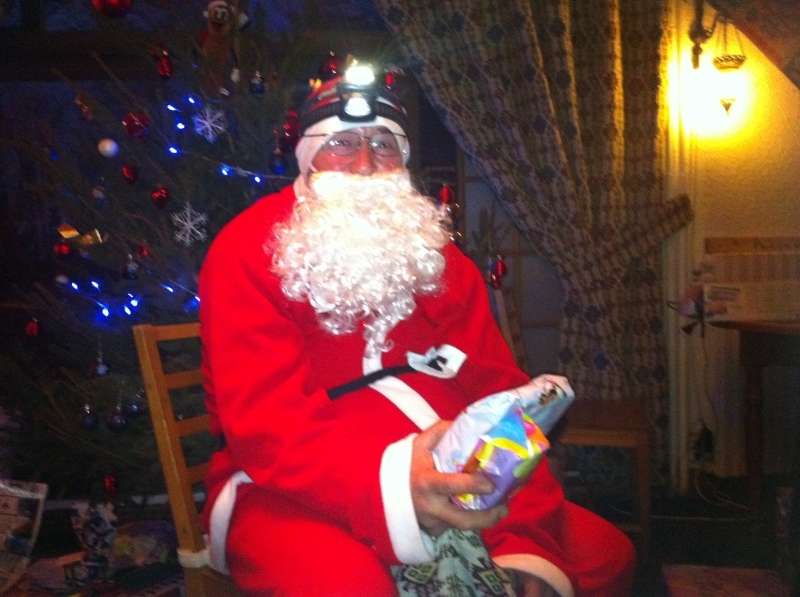 I didn't know Santa drank Whiskey!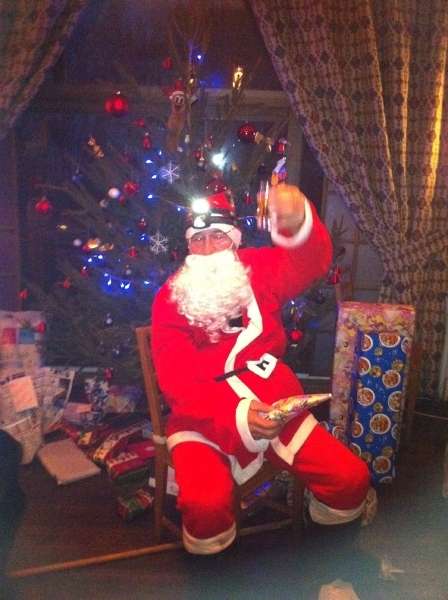 My secret santa present but I guess not too much of a secret when it came from the only Turkish person in the room! 🙂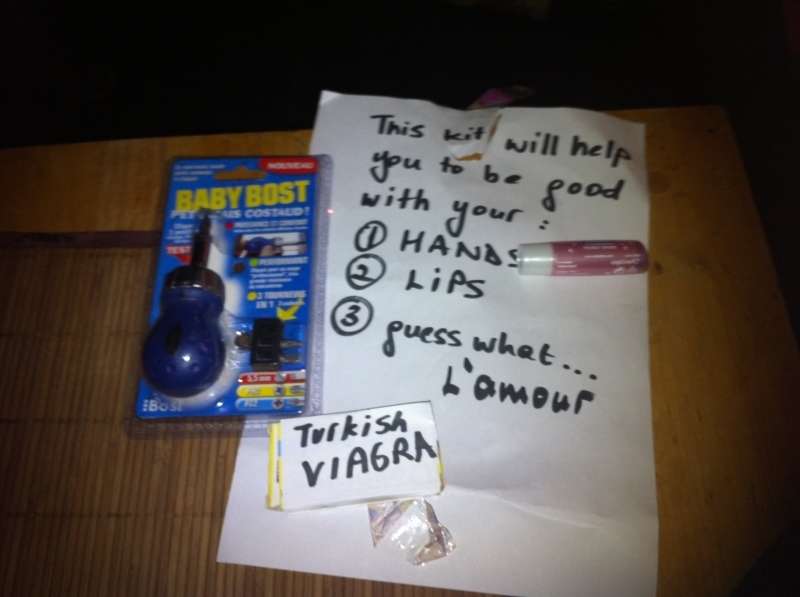 Aysegul getting a whip from her secret santa!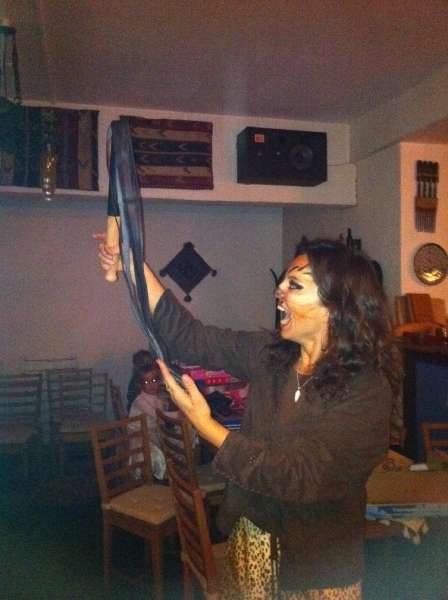 The Lang family,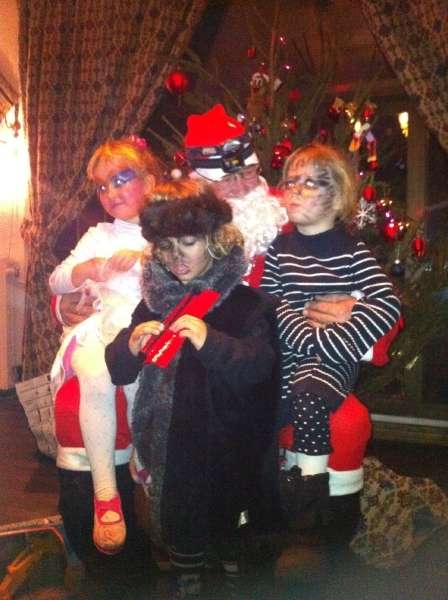 And with Grandma and the folks!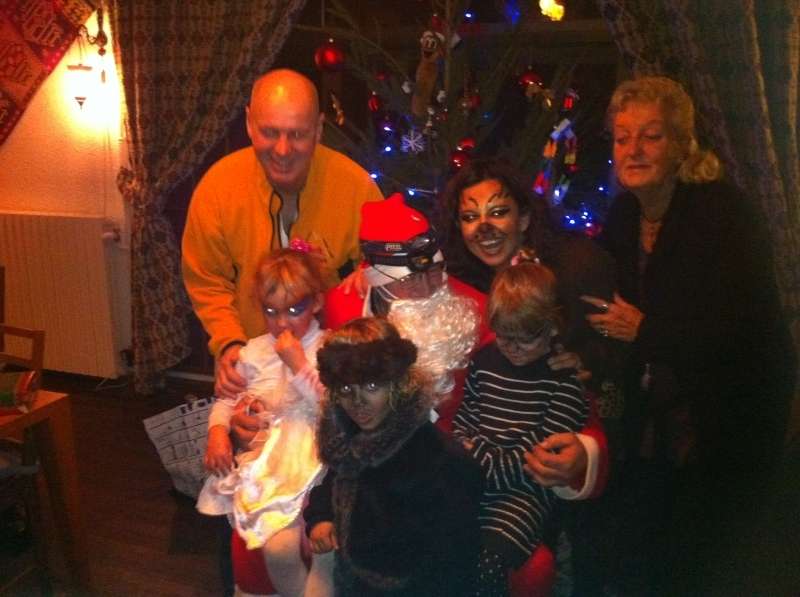 Xmas Dinner!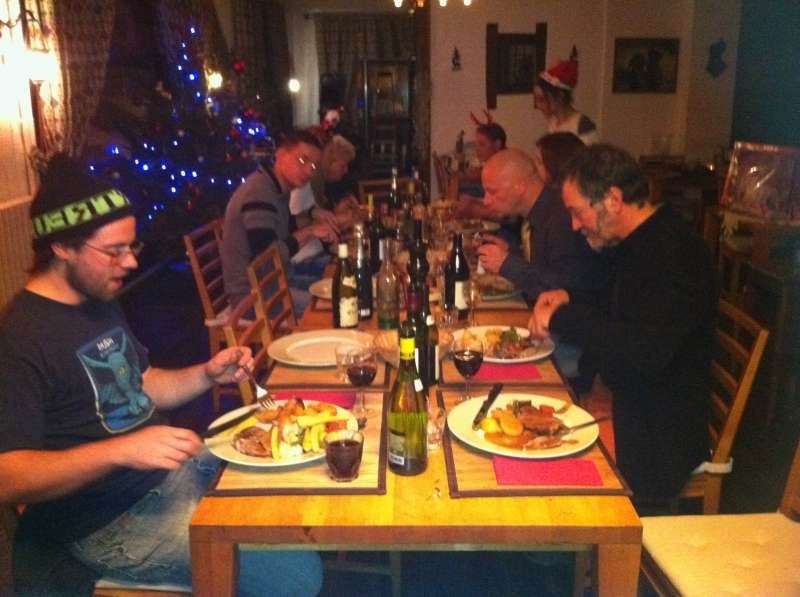 Followed by the first open mic of the season.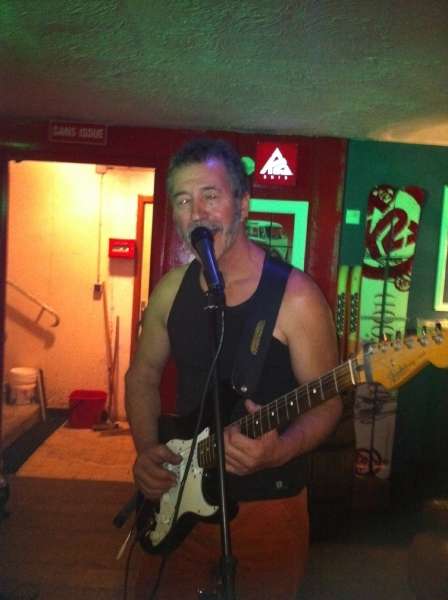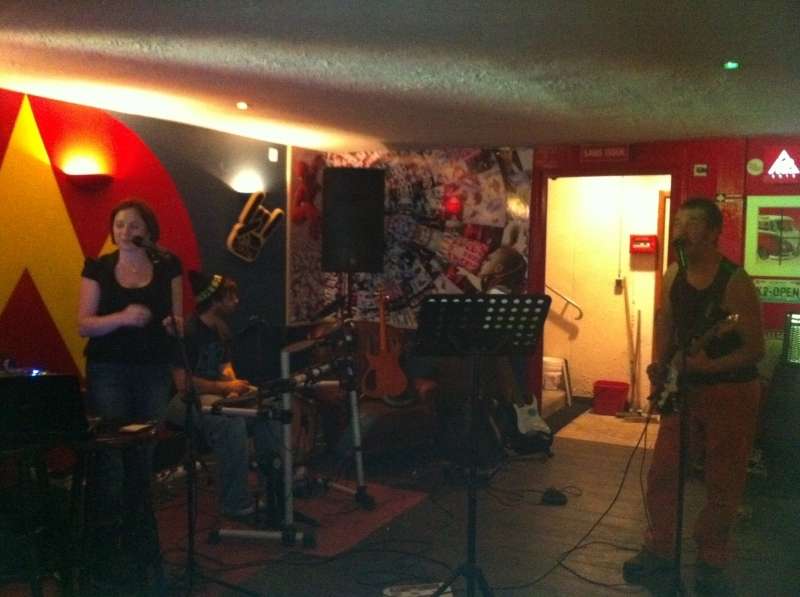 Rescue in La Voute!
While with a strong team of friends and a small window to ski La Voute quickly before temps spiked. We encountered these two men a 900 meters into the descent or so after following tracks in the night before and not making it out. They spent the night and we encountered them boot packing up the center of a very Considerable hazard on a big slope. We gave them food and water and spent the next 2 and a half hours skiing them out. We made them harnesses from the rope using a bolin on a coil. They were very grateful to have encountered us and as far as I know , no one else skied the line that day. Moral of the story, don't ski without a kit in La Grave and don't follow tracks!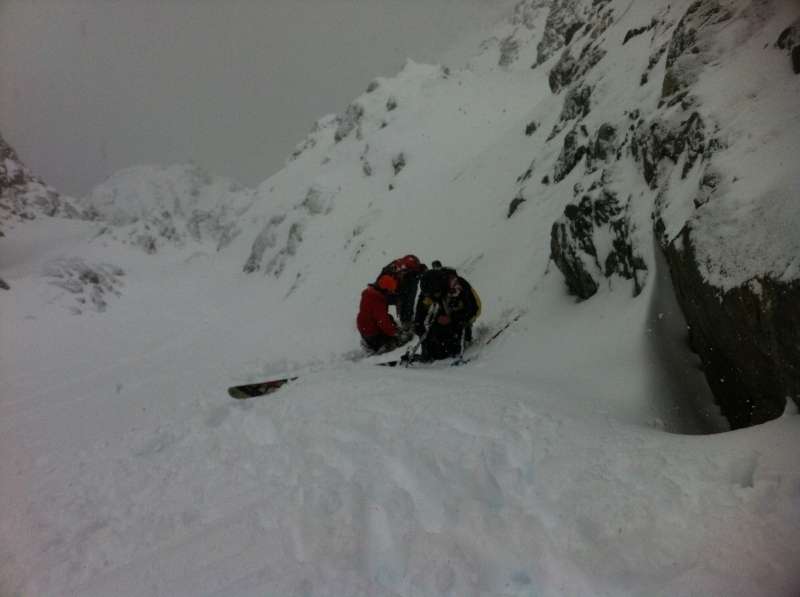 Despite slow rescue efforts due to extreme fatigue, Villa still ripped the shit out of this untracked beauty.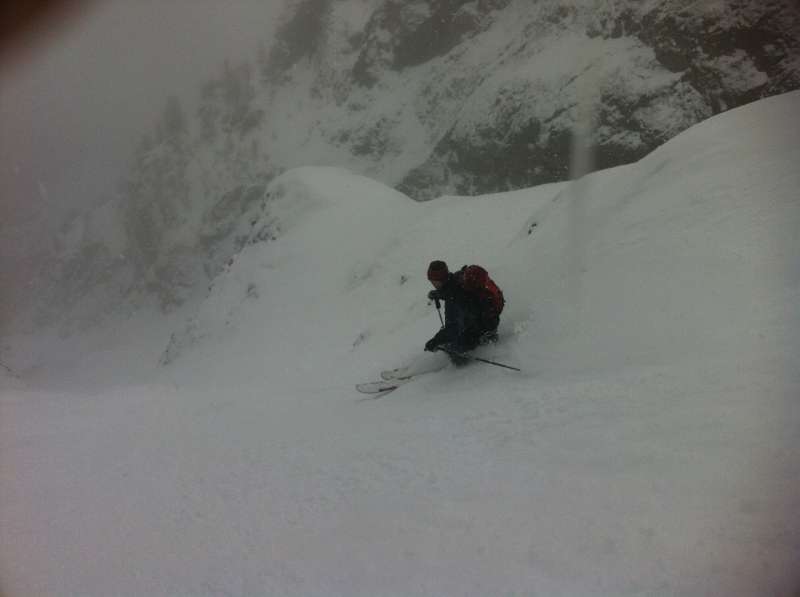 Did I mention that skiing in La Grave without visibility is not advisable. 😉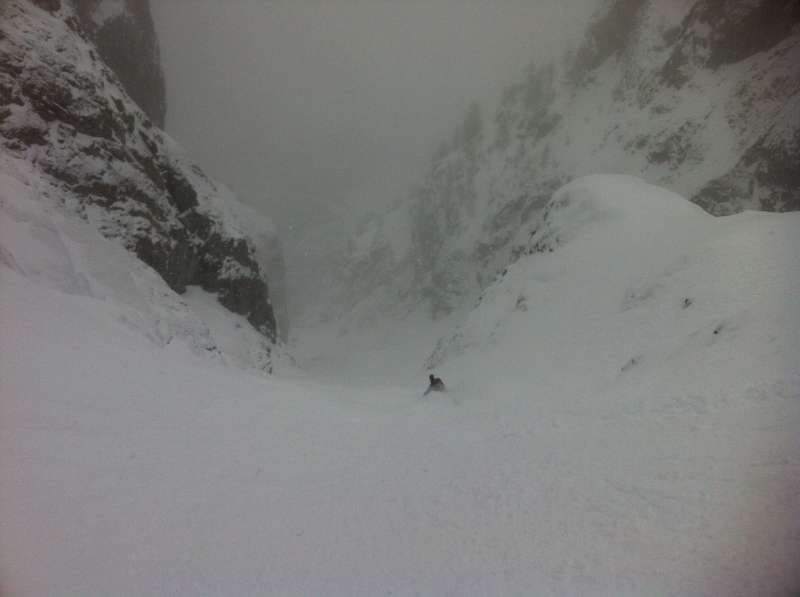 Matt taking sloppy seconds!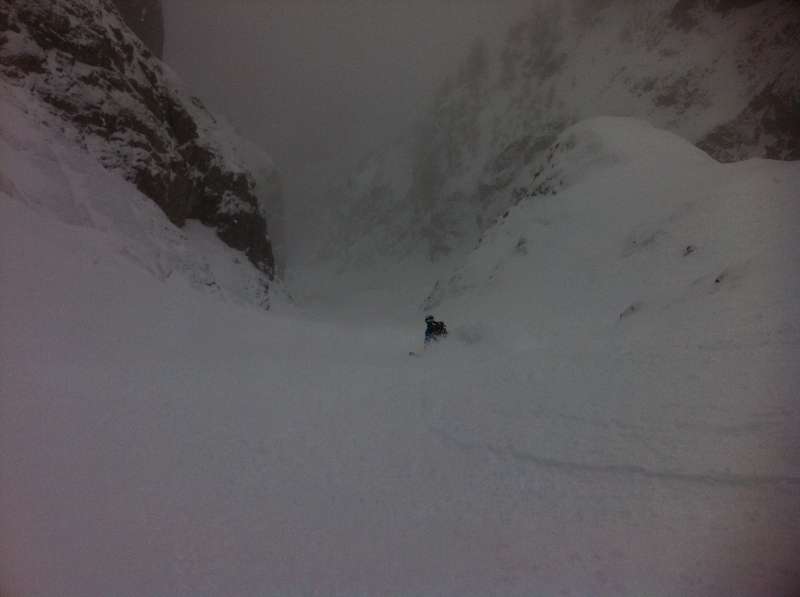 First Full moon party at 3200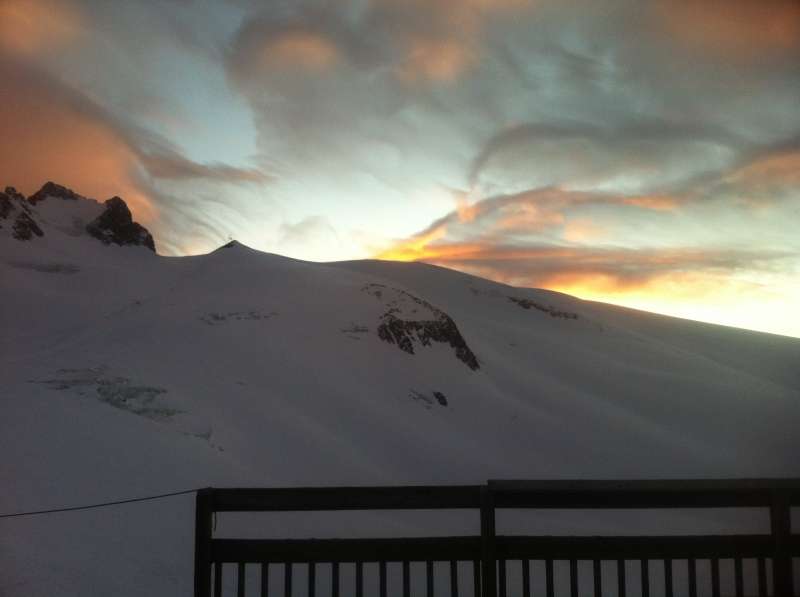 Can't do it justice with this photo!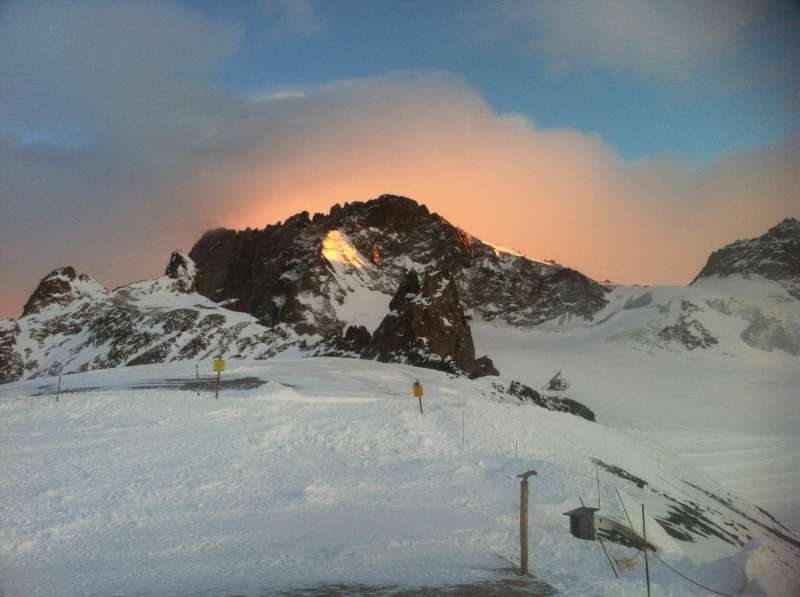 As good as it gets!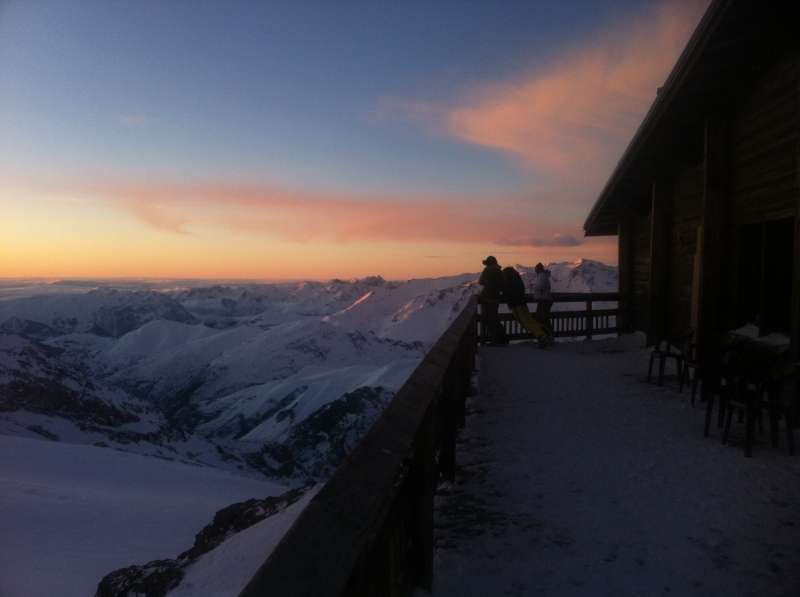 Speechless!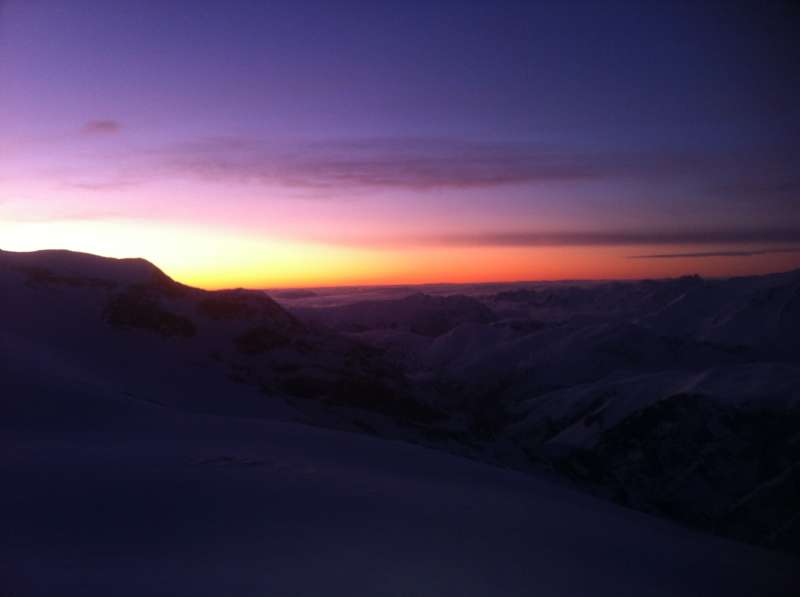 Dj ing it up at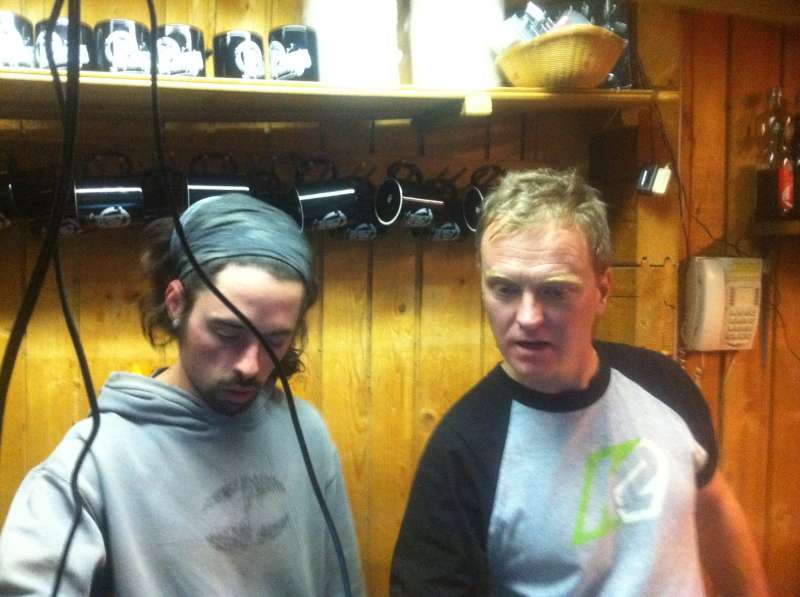 The Crew getting ready for a moonlit run from 3200. We skied at about 11:30 and never used our lamps once! 🙂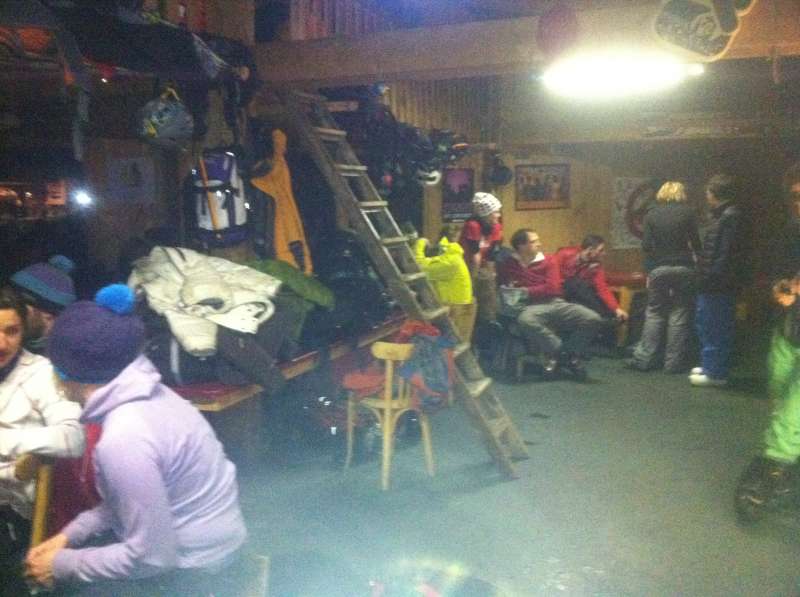 Tom striking his best pose!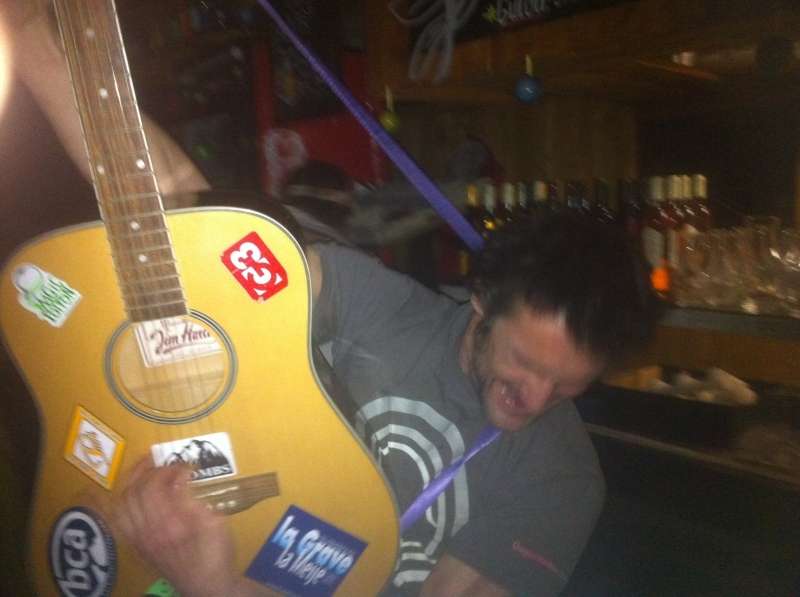 Sorry for all the stuff, more to come, but hopefully more skiing.
I truly am in the greatest place on Earth!