La Grave Early January!
Well were to begin.  So it's been awhile and I apologize,  So much has happened since the last post, staying busy, and loving La Grave more everyday.   I have not taken so many photos, so I guess this will be more story line then photo based.  But I have a few small treats to support the story.
So New Years with the Swedes Per and Josephine Ås.
Two of the nicest people and possibly the prettiest skiers on this mountain. No kidding, if you ever get a chance to watch these folks ski,  Simply beautiful,  but watch out,  there kids are gonna kick there ass some day growing up in this terrain with amazing parents like this.   Every year they have an amazing New Years party up in Les Aires.  Such a beautiful home with beautiful people,  a great way to bring in the New Year.  The Swedish people are some of the nicest people you will ever meat,  Just don't date one, take it from me, Ok, no more X ranting,  lets get back to New Years!
Fireworks, good people, good times, a yearly tradition now for me , 3 of them,  Can't wait till the next one.  The highlight of the evening besides the good company was the food.  We ate everything from the local village and farms all the way down to the Lamb.  So good, maybe one of the best meals I have had in France.  The surprise for me was the Reindeer Heart.  Apparently the Swedes like to eat animal hearts and Reindeer seems to be a nice delicacy in those parts.  Notice the picture in the slides, and how it is served on the Swedish cracker.  I have to admit, it was damn good.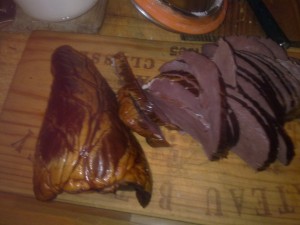 After dinner we all made it to the K2 pub to join Pella and Isha for some blues music and dancing ,  I don't have much to show from that night, as I might of been a little disoriented by the time I got there, I do remember dancing , and I do remember the strange man in the one piece for some odd reason.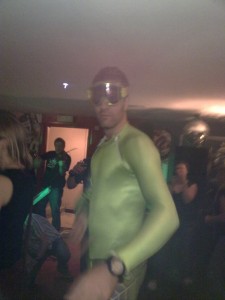 Another Highlight is my good friend and ski buddy Lars (also a Swede)  came over to the dark side and bought some dynafits and AT boots,  I don't know if he is feeling ok or not,  but welcome to the club Lars. Maybe not that exciting to hear about but if you knew Lars you would be a bit confused as too why the switch.  Stoked for his new gear though.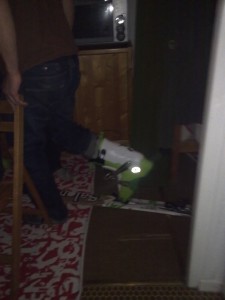 Last but not least for social events. Villas little girl had a really nice birthday party, She was so funny, Ptor brought his little boy over and she instantly went over and grabbed him.  A man killer in the making and Ptor's boy played hard to get,  Wish I had a photo, but you can see from the cake photos, she was partying hard and new what she wanted.  🙂 It's these little parties that make La Grave what it is with people like this.
Ok, a bit of skiing,  The best thing I have for you is the Freaux, and opening it on days like the one I am about to show is why La Grave is so special to me.  To be able to drop lines like this at will without permission is the freedom that lures me to La Grave.  And the fact that I got to do it while working doesn't suck either.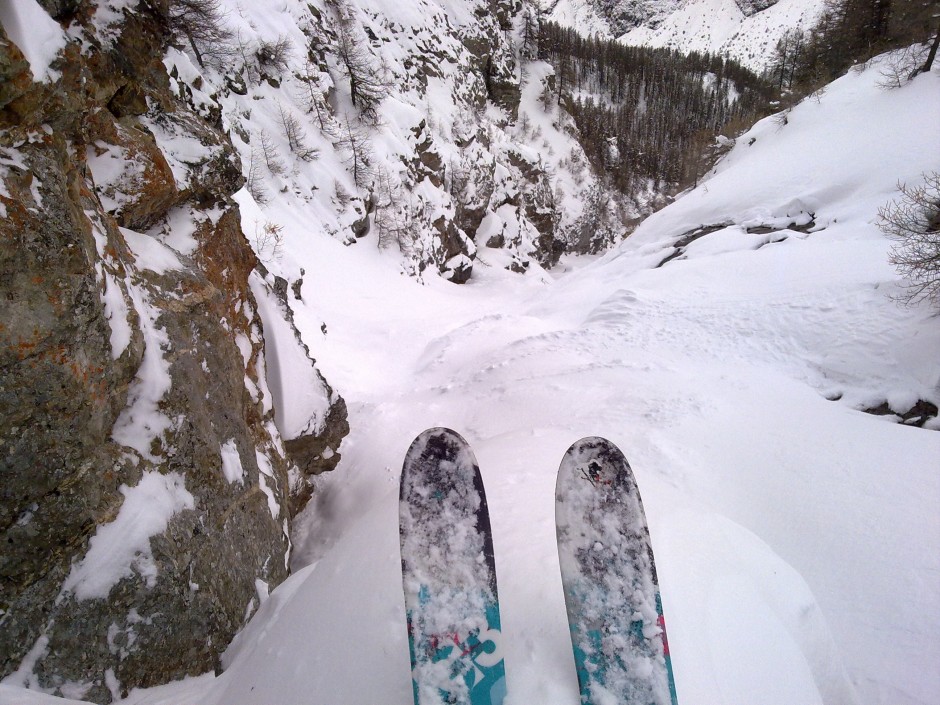 When we got to the top, it was warming fast on a risk 4 day with no tracks in the couloir.  It was not quite a risk 4 day, but there was quite a bit of new snow and with the temps and isotherme rising,  it had some small manageable concerns.  After dropping the first cut and pushing everything into the couloir.  I fealt pretty good about stability,  The big concern was how wet and heavy the lower elevation snow might be to ski.   Turned out to be creamy goodness the hole way.   Timing was perfect, Powder on top,  Cream in the middle, and a little bit scratchy in the exit, but not bad by La Grave standards.  An amazing run and one of the highlights of the year for me. Pretty Happy clients too,  The Spaniards are fun,  These guys were from Madrid and I had a blast with them.  Got to practice a little Espanol too.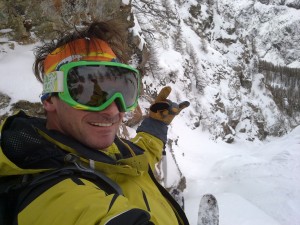 So that is it in a nut shell.  But let me take the time to tell you why this last 2 weeks has been amazing.
La Grave is an amazing place if you live here, you will know why,  But if you just visit and leave when it's good you will never know the true beauty of this place.
So the word is out that the snow is not so good, or some other place got more, so all the powder snobs chase the snow with the rest of the powder crowds and stand in line while there day gets tracked out in the first hour.  Or the best is there is no visibility so we are not going up today. These have to be the best days you could have here. Hire me and I will show you why.  We have had some nice pulses and the wind has helped buff it out when we were waiting for more snow.  But it's been relatively good, had plenty of powder days,  and I am yet to wait in line or fight for a full tram cue to get my spot.  Even through the holiday,  a little busy, but nothing to wait for and plenty of uncut turns to be had over and over.  Just amazing, that people will only come here when it snows.  I think its great, I like having this much terrain to choose from, good or bad snow,  It doesn't matter,  What is bad snow anyway,  Dougie said no bad snow , just bad skiers.  So while you chase your stash, and miss out on ours, we are only becoming better skiers. And I don't have to wait in line for you.  It's always good somewhere, hire a guide.
Ok, last but not least,  That shot over my ski tips in the Freaux is over my G3 Manhattens,  After a 3 year run with the company,  They have dropped me due to a new Marketing manager, who wanted a resume and application from me and is looking for high profile athletes etc. , But anyone in the industry knows what that does to a companies budget, Look what happened to Rossi.  Anyway  the old manager left on Maternity leave and was awesome and one of the best in the business I will miss her and all the best with her new baby and life.   I hope the new guy figures it out and gets it someday.  Embarrassing enough for me, I took a client to the page to show them what I was using and explain my gear and where to find it and I could not find me there anymore.  They never even told me 🙁  and that is how I found out.  So be it,  the ski ripped, I really did like it and I will miss it.  But Communication will always be just as important as a product and that was dropped.  They do make some amazing shit. And there are certain Items I will not trade for any other in the business, but you will have to ski with me to find out what they are.  No more plugs from this guy.  All the best to the company, I hope they figure it out someday, that anyone could look good on paper. They really have come a long way though, and there motive is a unique and inspiring one for a guide like myself.
So that brings me to looking for skis!!!  If you want to have free marketing,  thats right,  I sell skis, To rich people, the ones that are willing to go to the store and pay retail for them. Not Johnny bro Bra can I get a deal,  but if you sit in your office and don't see what I do you will never know this.  So not asking for budget, Money, Contracts and travel budgets that part of the industry ruins it for me anyway.  I just need product so I can keep doing what I was meant to do. I need something I can rely on , and people that I can rely on.  Hit me up if you want a free billboard, the cheepest marketing investment your company will ever make.:-)  That's right, just keep me in the equipment that I need and you get a free display in one of the most incredible freeride destinations on the map.   How cheap is that, just product and no money expected.  If your really a marketing pro and savvy in the industry , you do the math, how much does product cost versus ads or highly paid athletes.   Come on hook a brother up ,  This boy needs some sticks. You will get the most sincere feedback, reviews and info from someone who beets his gear silly.
I know it's late in the season, and I didn't have word from G3 until this week, which sucks because I turned down offers and now it's too late in the season, and I am SOL since most folks have distributed for the season.  I know there were a few of you out there that offered me gear, and I stood by the support I was getting and still thought I had.  If your still available, let's talk. I wish I would of known, but if your around, you know what I do, then get a hold of me.
Too all my other sponsors and the assistance I have received.  You guys rock,  thanks for allowing me to do what I do.   You know who you are,  and hope to ski you all soon.  To all my clients a big thanks for allowing me to have the job I have,  Thanks for all the referrals and this year has been an overwhelming response and bookings are filling fast.  So if your finally gonna take that dream trip to La Grave, the best Steep Skiing anywhere of it's kind from a lift, then find me and book me soon, 2011 space is limited and going fast.
Ok that's it till next time.
Joey
Ps:  Highlights of the week,   St. Christoph is getting skied, La Rama is in and skiing perfect.  The Pan continues to get slayed.   And the Enfetchore was opened this week by two bad ass snowboarders, and they slayed one of the sickest exits I have ever seen.  Nice one boys, you know who you are, thanks for the inspiring , pretty tracks.  Last but not least, the Teleski to 3550 opened last Saturday, and the Glacier has been skiing perfect to say the least.  Nothing like cold refrigerated snow, but watch out up there, some of the holes are wide open and right down the middle and blind until they are right there .
PSS  coming next time:  My first video cuts that will be sure to please,  from some of the big runs.  Also Stay tuned for my first product review for all you low tech binding users that ski harder then a rando skier and actually freeride on your AT gear.  The full comparison,  Onyx Vs Dynafit  Who will win,  I will compare all pros and cons and hopefully answer your questions once and for all.