PLEASE BE SURE TO READ THE WHOLE BLOG!!!! There are movies at the bottom and I am putting the photo gallery slideshow at the bottom this time, Click on a photo in the gallery to see them all open into a viewer at the bottom of this page!  Enjoy!
One more disclaimer before reading this blog!  We have embraced the game of G.N.A.R. here in La Grave and play it in good fun in the spirit of Shane and what he did to keep skiing fun.  So if you think we are ego pumping snobs, well we are, but we are also trying to get G.N.A.R. points around here.  So if you don't know what is going on just check out this link and watch an awesome movie. http://unofficialnetworks.com/gnar/
With that being said, before you read on, I just want you to know that I am the best fucking skier on this mountain and I am so much better then you! 😉
La Grave with Joey Vallone January February 2011!!!!!
Ok, so it's been awhile, and I'm back.  Sorry for the delay it's been busy here for me.  I spent some time putting together a movie for you and using Imovie for the first time. So cut me some slack, the video is from my phone, and I never edited or cut a movie before.
So whats been going on in La Grave.  Well it didn't snow for a long time here and it just puked on us yesterday and looks like more coming tonight so that's a good thing.  There was about 30cm total yesterday, but some spots felt like there could of been more. It made for a nice powder day and more to come.
Despite the rumors that there is no snow in the Alps,  I would like to call total bullshit on that.   We have been skiing some amazing things around here.  And La Grave, even though firm has been absolutely amazing.  Some awesome corn runs to St. Christoph, the Querras got hammered and looks pretty white to me, so if your not afraid of ski touring there is plenty of cold smoke hiding in these hills if you know where to look.
All the powder footage in my movie below and the photos were taken in the First week of February when everyone was complaining about the snow.  I love it when it doesn't snow here,  Because no snow ,  means no people.  The skiing is quite technical in these conditions too,  I think its a great way to train, but the thing I like most is that it  separates the skiers and filters out technique real quickly.  You really can see if someone knows how to ski or not when they are not just whipping by on there fat skis in powder. You can tell right away who only skis powder and won't ski hard pack!
Doug said it so many times, "no bad snow, only bad skiers"
What's even better is  we get the whole lift to ourselves.  The people that are skiing here day in and out are a different breed and my hats off to all that share the spirit of this terrain.   The Traverse back to P1 on both sides has been a true test of a skiers technique, and is actually one of my favorite parts of the mountain. If you think it sucks, then you need to ski it with me some day and I will show you why it's really fun and how to make it not hurt so much! :-0
So some updates about La Grave.  Still quiet, and nobody here so if you like solitude that is easy to find.  But it did just snow so I think we are about to get the snow snobs here to crowd this place up again soon.  We shall see.   So I have been skiing to the road off the Girose quite a bit lately and not too bad,  a small bit of walking to get out but totally worth it.
The Girose Glacier is Scary as hell and quite open this year.  It's been skiing great, for the last month, but you could easily ski into the blue room.  And what is gonna make the Glacier more interesting is that we just had new snow and some south wind moving snow onto the Girose so those holes are still there and quite open, but there just covered now,  It will be real interesting to see what happens once the 2 Alps people start pouring down there on the weekends. Don't get lazy on the Girose as  you can see from this next photo.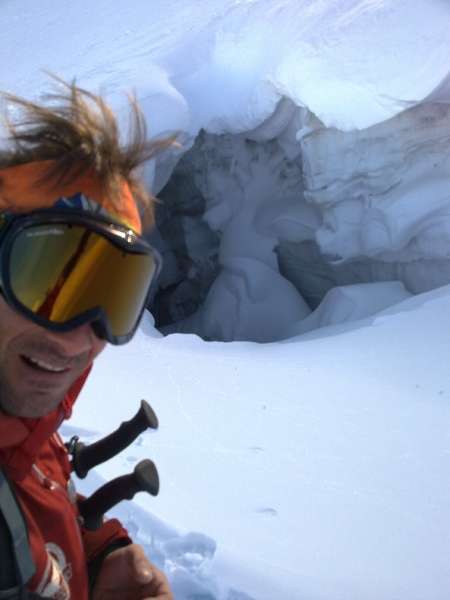 Yes those are ski tracks below going right over that scary bridge.  This is right in the middle of the classic line and there are quite a few folks with out packs or harnesses skiing right over this thing. The Dark and cold blue room.  I really do believe there could be people in there right now.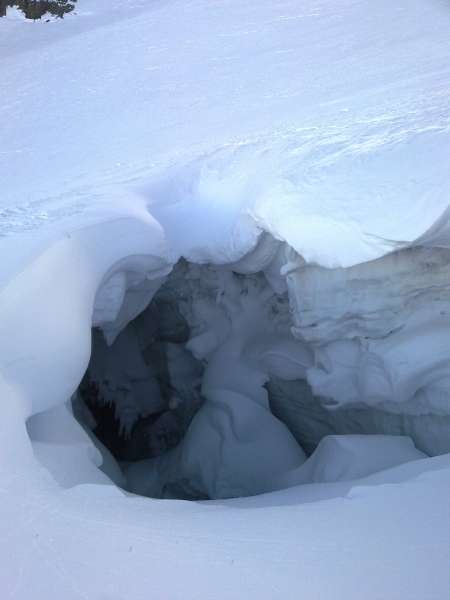 Some other fun news from around town,  Sergio hosted an air guitar contest at La Plage Macoomba.  Sergio was being Sergio and totally entertained. I also run an open mic for the local musicians and of course my own pleasure every Monday night at the K2 Pub.  A big thanks to Pelle Lang and Aisha of the skiers lodge for making that possible.  If you are in town and looking for something silly and fun to do on a Monday, come on down and grab the Microphone, its full of Surprises.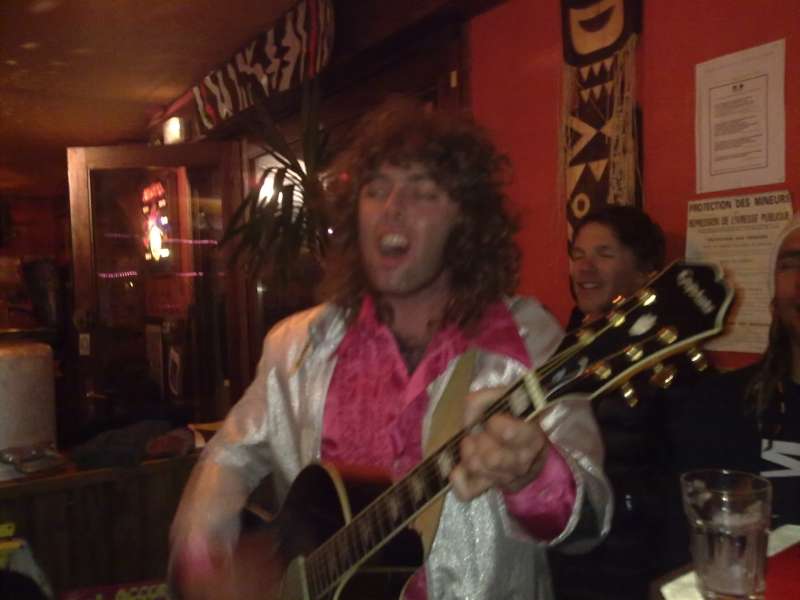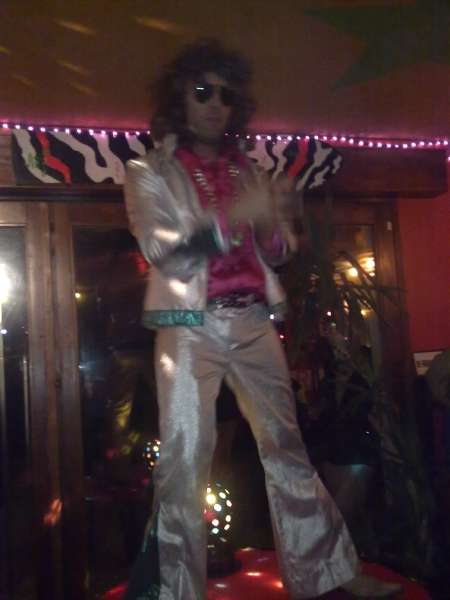 So my week of Privates involved the crazy, Christoph Cousins.  These guys are great and as you will see from the movie and photos to follow we had a wonderful week.  This is my Third year working with these guys and I don't know why they keep coming back.  But I do know that we get it done when they are here.
Here a few photos from the week but you can watch the rest in the slideshow below or even better watch the movie below.  We had a nice storm to salvage the week about an hour away in Mt. Geneve, but even with all the snow over there and none in La Grave, we still only did two days over there,  You just can't beet the vert and the terrain.  Even when its bad its still good.
There were Joey Anchors!
There was boot packing!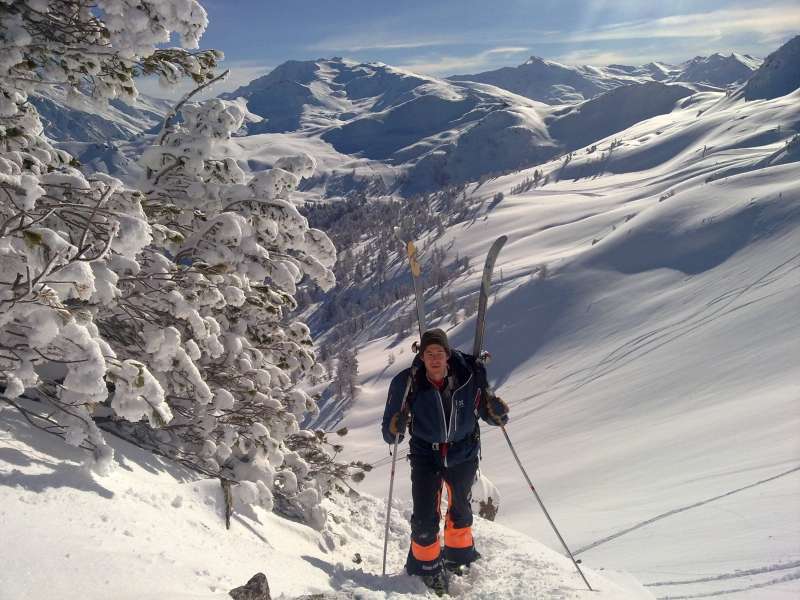 And there was some more Boot Packing!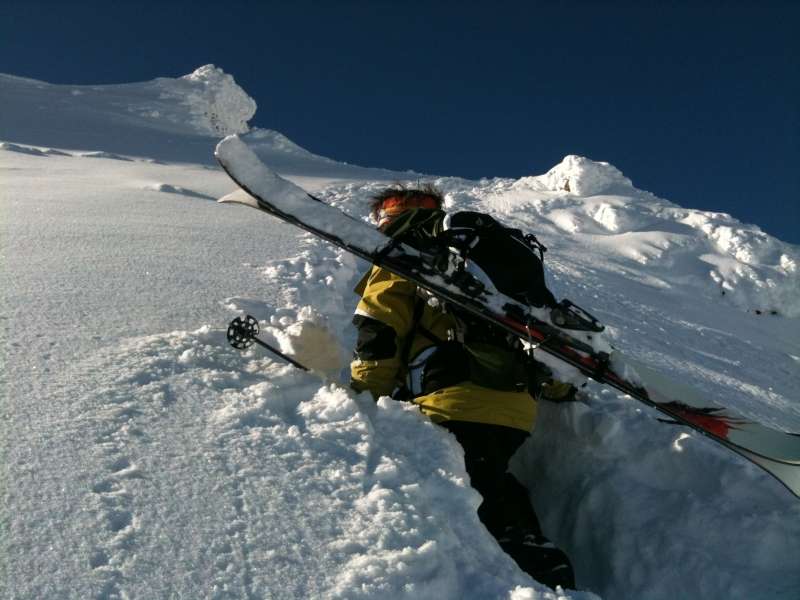 Then there was some shit talking and ego pumping as we played our own game of G.N.A.R.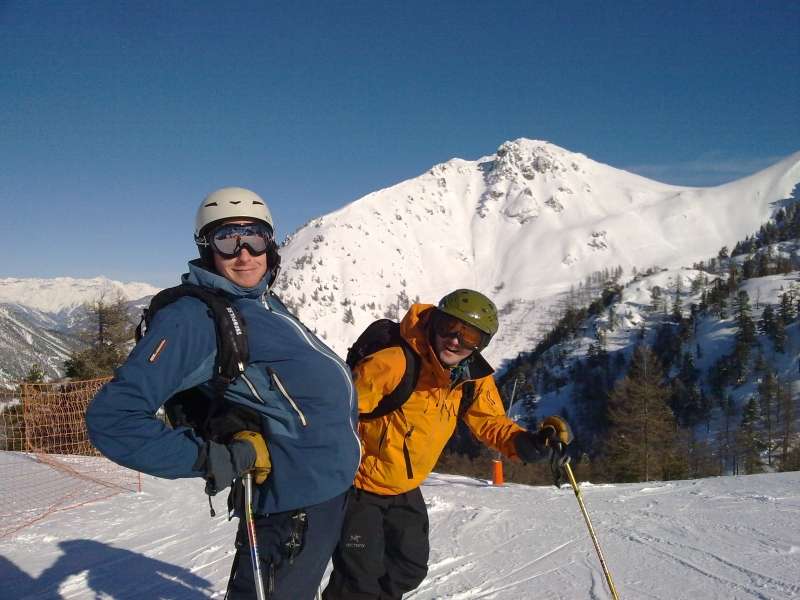 There were some avalanches!
There was some sleeping!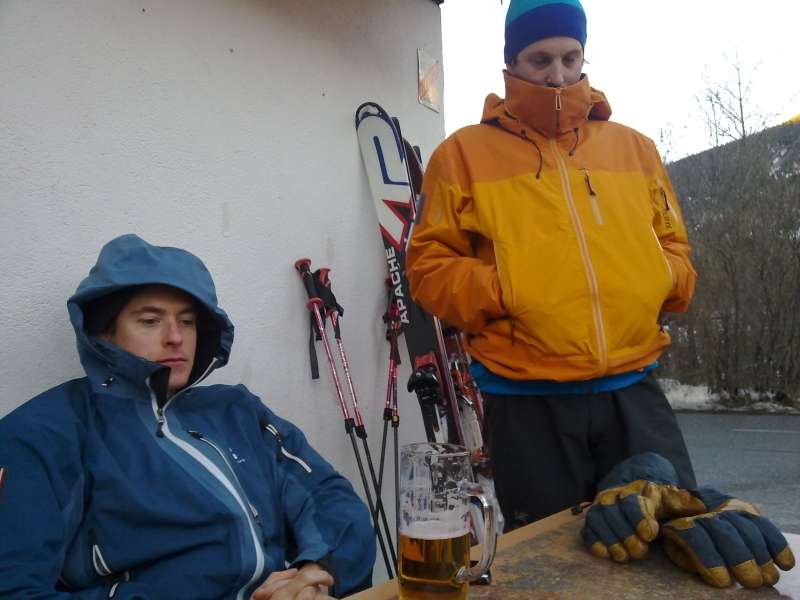 There was some more sleeping!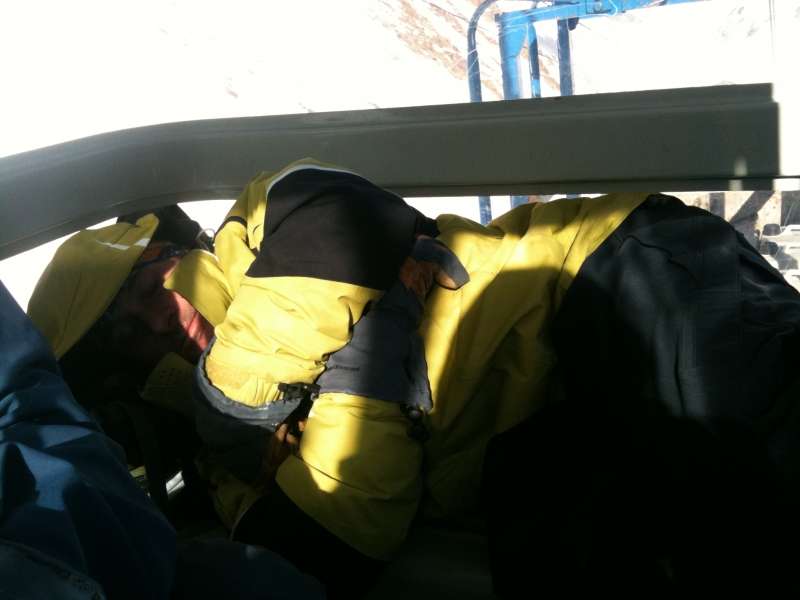 And of course some skiing,, Here is La Rama in perfect corn conditions.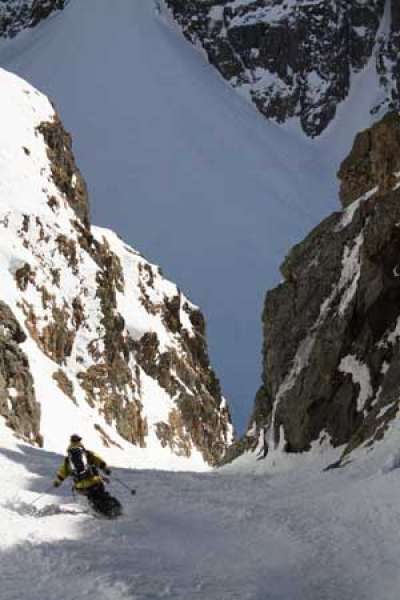 There was some hitch hiking!  The littlest car imaginable picked us up and I sat on Christophs lap in the front seat. Too Funny,  and this cute little french girl picked us up and I was practically in her face, but she didn't seem to mind 🙂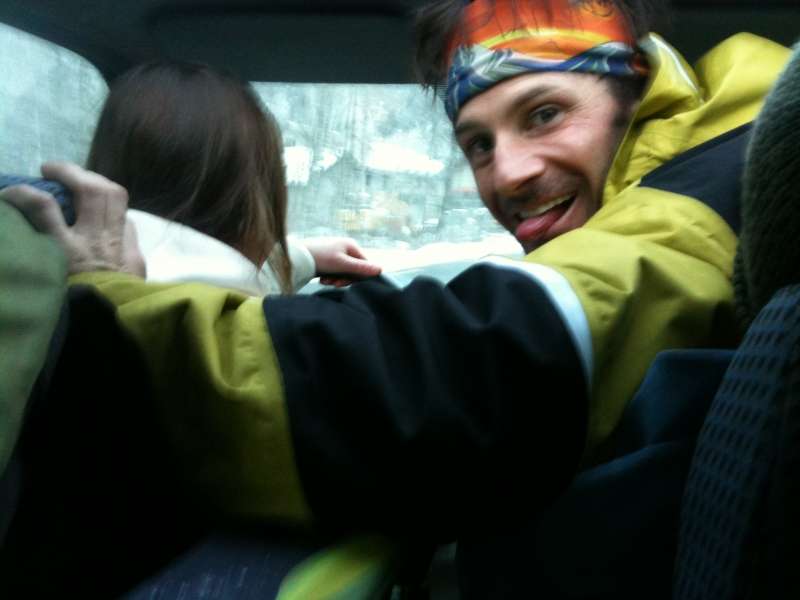 And of course there was some folding pole plants in some steep, firm couloirs where falling just wasn't an option.  Thanks Erin Smart for snapping this photo of how bad the skiing is in the Alps is right now.  Despite skiing powder in Italy the day before, I still prefer La Grave even in these conditions,  You just can't beat this terrain, the vertical and the technical skills it takes to ski here when it hasn't snowed in awhile.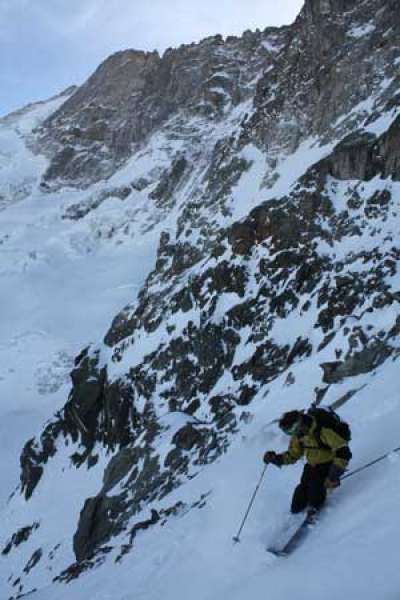 But of course there was powder, and we did get to float through some cold smoke as well!
So that is our week in a nutshell!
My Radder then you attempt at my first movie
I am gonna share some photos from last year with these boys in a very special run that Chad Vanderham and I equipped some anchors in on one of our many Couloir hunting days together.  This run is called in the middle, and I didn't ski it for years but finally went back to it a few years ago and realized how special it is,  Well I shared it with the Christophs last year and I believe guiding this run would of made Chad proud.  As of now I think maybe only 12 people or so have skied this line.  I don't show it to everyone, but if your lucky and you hire me in the right conditions, I might take ya there too.
This is a photo of me lowering Chad in for the first time to make a rappel route in. We established two very "alpine" anchors for the rappel route in.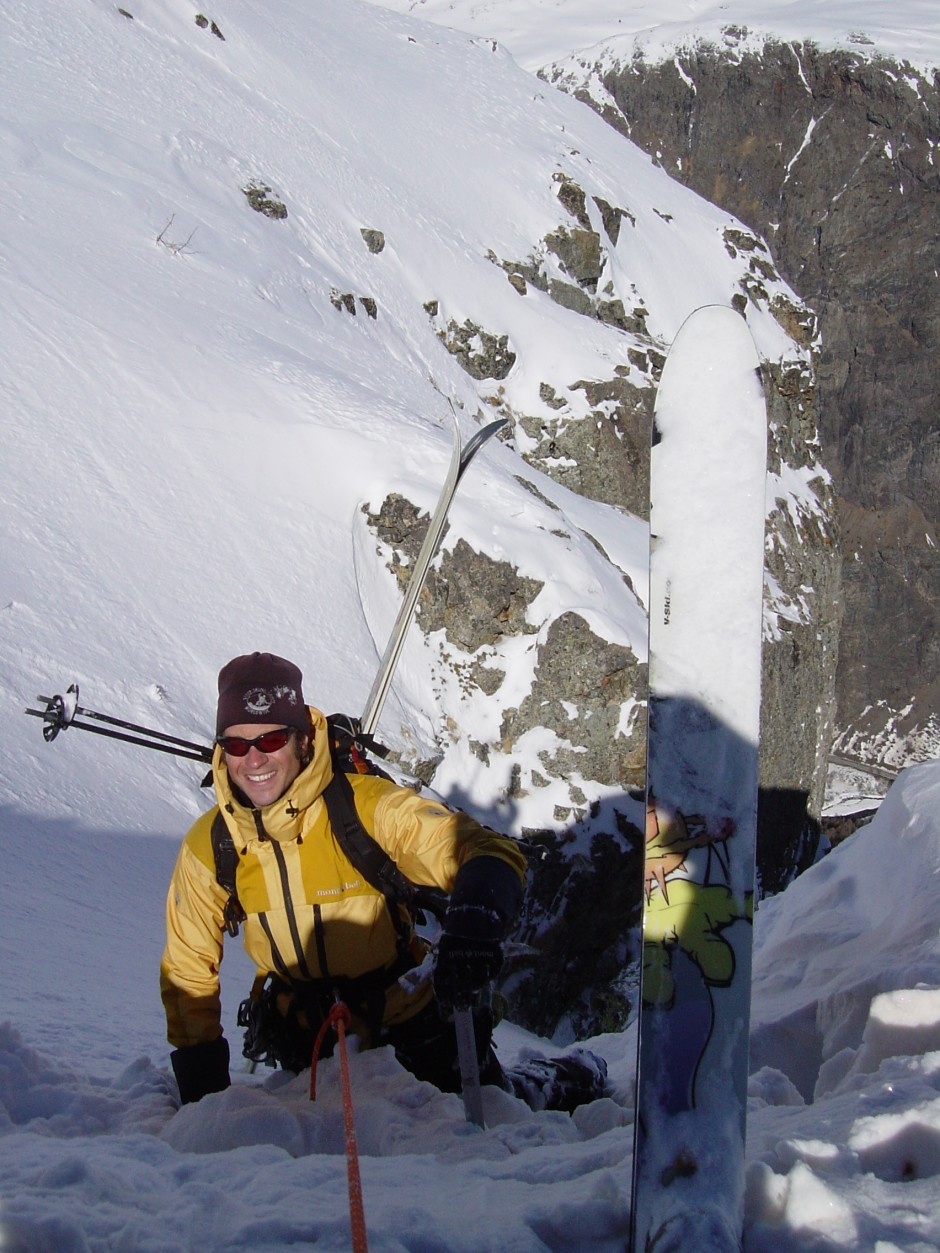 Happy to be back in a beautiful line. My job doesn't suck!
Looking up the second and last rappel!  Christoph being radder then you !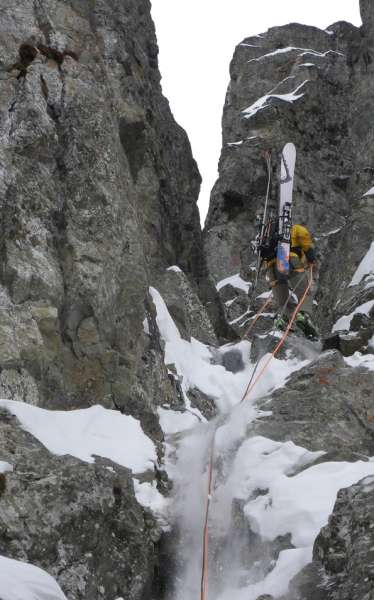 The view doesn't suck!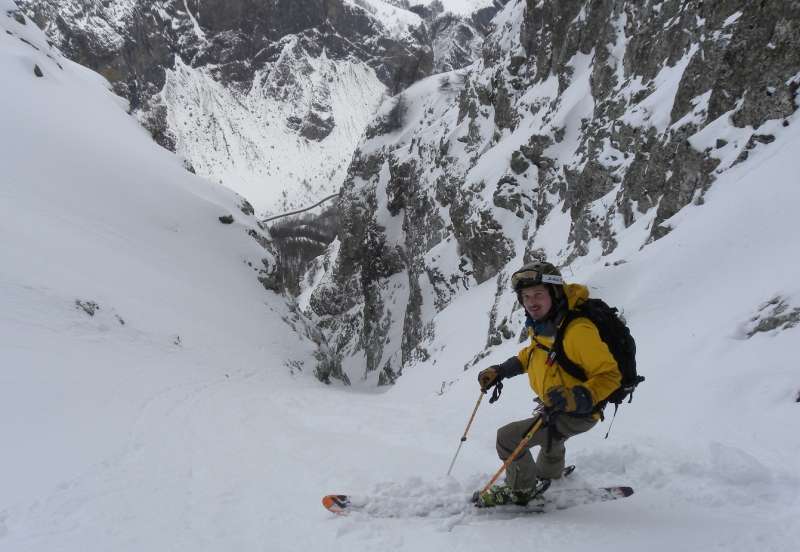 Truly one of the most beautiful lines in La Grave, and opening it with clients for the first time was really an honor! All I can say is that Perfect would be an understatement for this line and the conditions we had!
Those are not G3 skis on my feet, I swear!, It's all in your head folks! Does anyone want to hook me some boards please!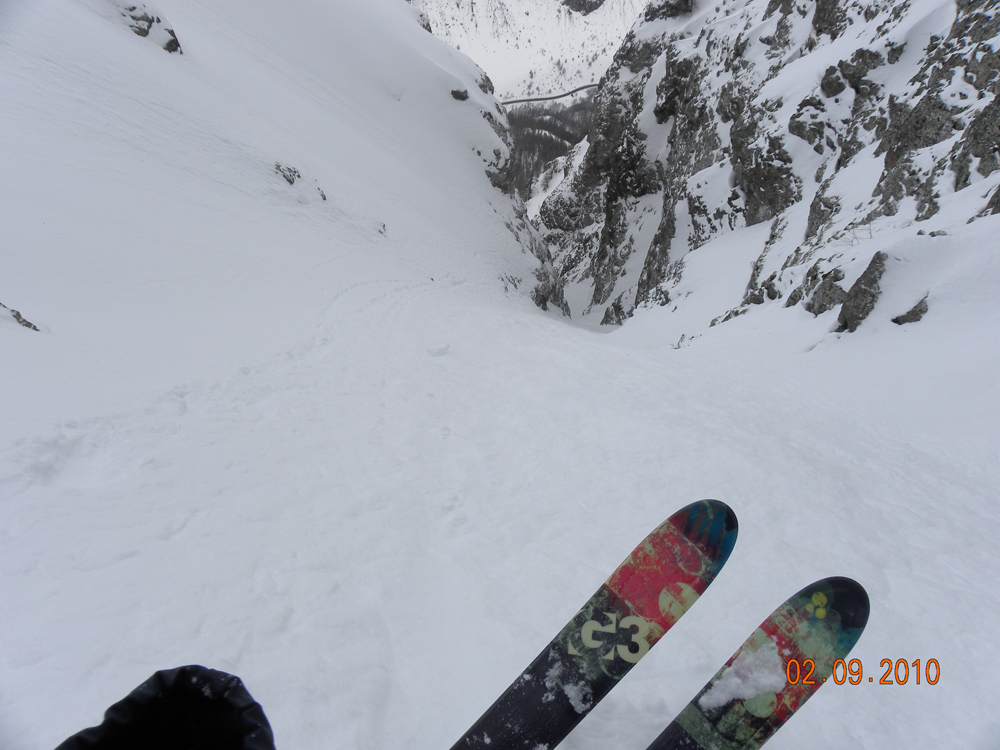 Christoph posting up and calling his mother to tell her He is about to rip the shit out of this run!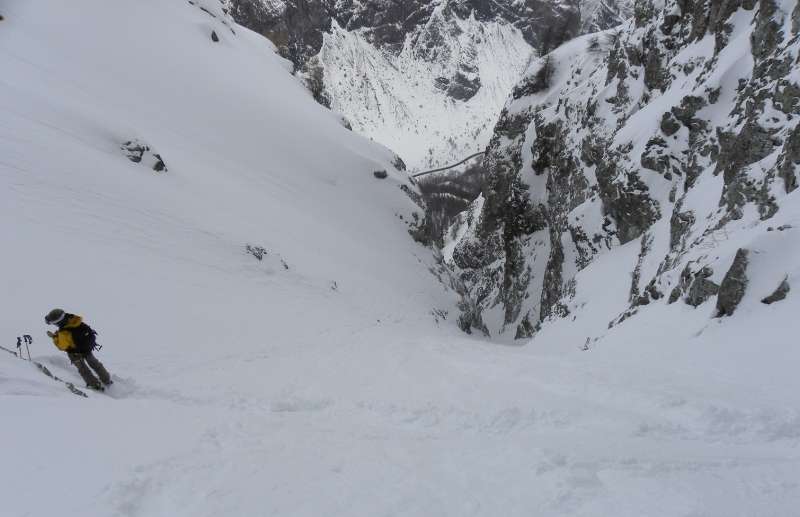 Some steep and narrow skiing at the choke and above the air,  Christoph is seen in this photo being radder then you!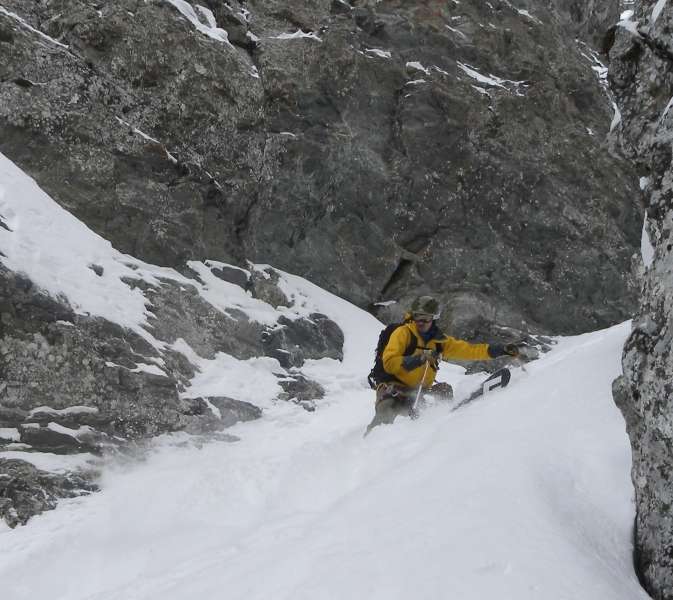 Negotiating the air,  This is the spot in the couloir where you want to leave all your sand if your still carrying any!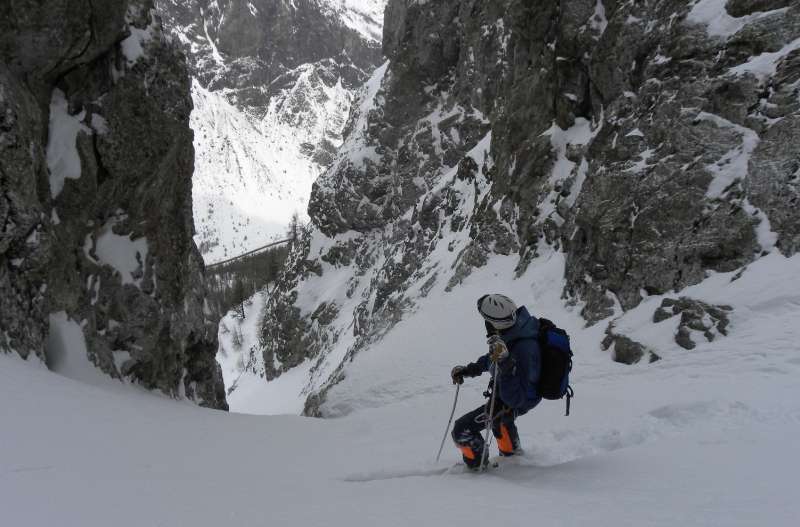 Just after the air and still a shit ton of skiing left, the line doglegs out right and skis fall line to the road from there.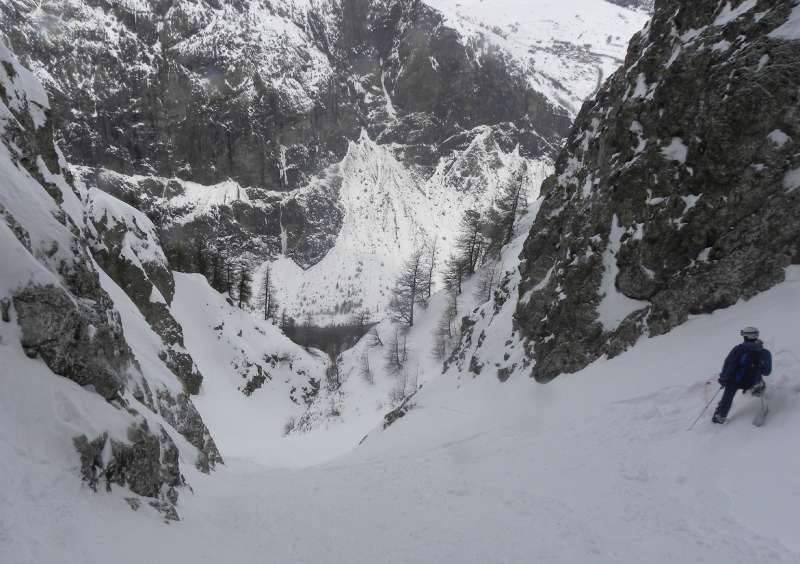 Christoph getting some  freshies and as usual being below the guide 🙂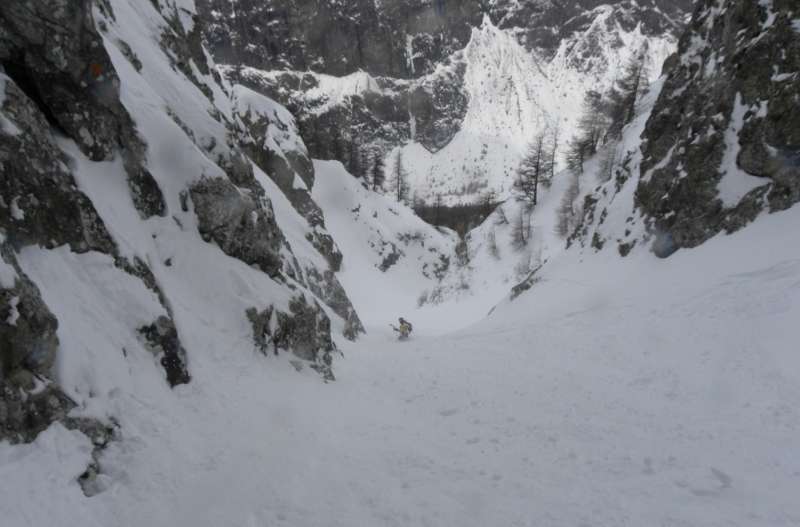 And that is in the middle! Or at least what Chad and I called it!
So I just took the next photo today, it's  February 16th and it was taken around 5:00 PM from my front porch! Pretty white up high folks, this is a photo of no snow in the Alps!If you know what your looking at I bet the Enfetchore is money right now.  The North Faces are coming in folks,  Time to give up your sacred little powder stash and come on out for the big leagues!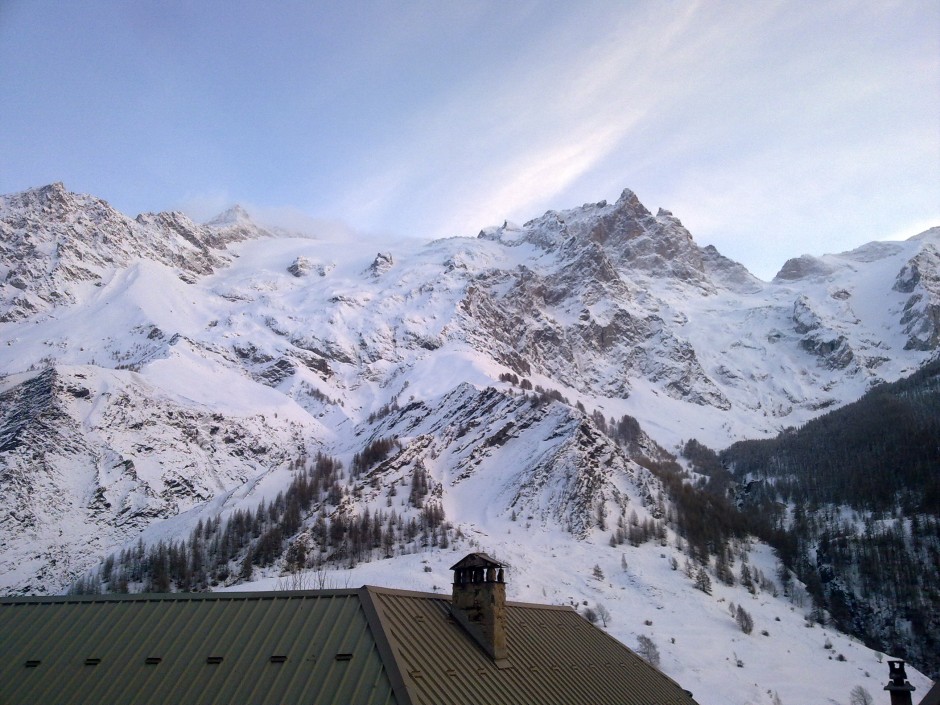 NEWS:  And  A Few Shout Outs:
The skiers lodge now hires fully certified UIAGM/IFMGA waiters, so if you think you have what it takes send Pelle Lang a resume!  Congratulations on the new job Tyler Jones!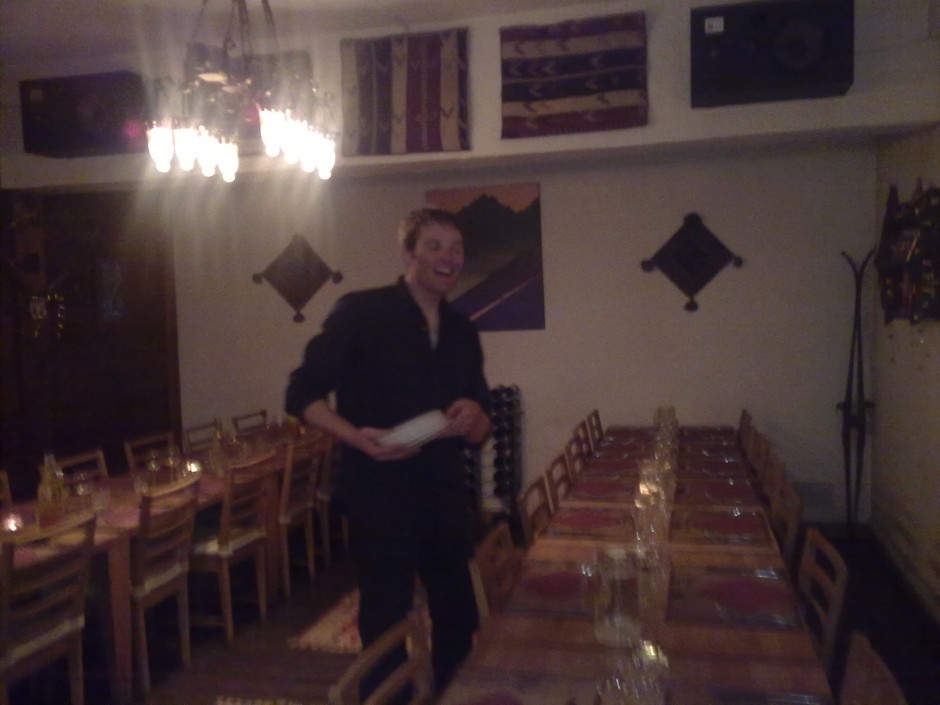 I have to thank Deuter USA for hooking me up with the best ski pack I have ever used, I have some Freerider Pro packs in my fleet now so be sure to try it out when your in town skiing with me!  Check it out on my home page through the link under my sponsors! If you are considering a new pack for skiing, I highly recommend checking one of these out,  Email me if you have any questions!
Also I am still looking for a ski sponsor,  Someone want to support a broke, single, old washed up  has been mountain guide :-)!!!!!! Show me some love PLEASE!!!!
Just for your viewing pleasure a nice bonus!
I am adding this  so you can see what goes down in town, The Next video shows you what local Swedish boy Lars does to stay in shape for the big lines here in La Grave! Also you will see the Sergio going live with his air guitar to I love Rock and Roll by Joan Jett!!!I did not cut this video, its just the raw takes,  Enjoy  For more information on how to ski like Lars go to Circus on Monday nights in the Salle de Fett and when your done come to my open mic to drink some beers and sing with me!
So I hope you enjoyed reading my blog this week, and I hope to see you in La Grave, with or without snow,  It's always good somewhere, just hire a guide!  Hire me! 🙂